| Voice in the Crowd |
On My Honor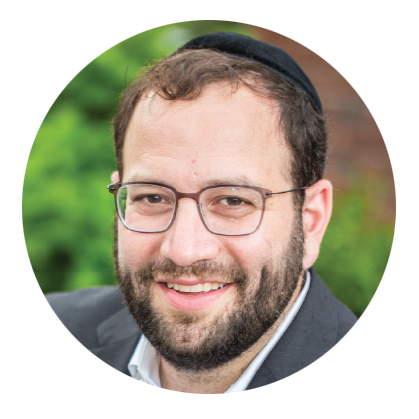 | July 17, 2019
Imagine — me being feted at the yeshivah dinner
L
ast month, my wife and I were honored at our sons' yeshivah dinner.
A dinner, for those who don't know, is what mosdos used to have before matching campaigns and charidy.com were invented. It's similar to the online campaigns, just you have to find a babysitter, look for parking, make small talk, listen to speeches, and try to catch the waiter's attention when it looks like everyone except for you got grilled chicken with a mashed-potato tower and snow peas. In exchange for that sacrifice, you get a journal which will then remain on the dashboard of your car for several months, making thumping sounds against the glass every time you stop short.
I had always thought that being guest of honor was just a thing you had to do, a hot potato passed from parent to parent, and when your turn came you manned up and smiled for a picture and then bugged people to pay for ads celebrating you. You twisted your bar mitzvah invitation list inside out, somehow imagining that the same people who sent your son $18 would now sign $360 checks for half a page in a journal.
But it turns out that being parents of the year is real, a designation based on an internal poll sent to hundreds of yeshivah parents. They fill out an intense questionnaire, and the respondents overwhelmingly felt that we were the best parents in the school.
Just kidding — it's really the first thing. (We are decent parents, baruch Hashem, but there are surely better parents out there, the types who invest time in teaching their children to ride a two-wheeler instead of hoping for the best and reasoning that no one is still riding a tricycle at 15, which is my personal approach.)

Your turn will come too. You'll have also have to wonder if leveraging so many relationships will mean that you'll have to put ads in every single dinner journal until forever and your estate will be divided between dinner committees.
Until it comes, you can ponder these random he'aros from a guest of honor.
I can fill three journals with the imaginary ads from (former) friends who apologized and told me they missed the deadline and really tried to put in an ad. To them I say: Enjoy the extra 250 dollars. Use it well. Go find new friends and take them out for dinner.
Also, at the dinner, people were wishing us mazel tov and I struggled to find an appropriate response. "Im yirtzeh Hashem by you" doesn't really cut it: After all, no one is sitting around wishing they can be guest of honor at a yeshivah dinner.
Gold is better than silver — I know that, but I never remember if bronze is worth more or less than platinum. These are words that get little use outside of dinner journals, and someone should consider changing the categories to indicate cost: Maybe summer-home page, then unit page, and finally, just a plain old bungalow page.
And on a serious note. I know it's the style to say no when being asked to serve as guest of honor. I'm familiar with most of the dinner-speaker jokes about they couldn't find anyone else and I lost the raffle, ha ha ha. But, assuming you appreciate your child's rebbeim, menahelim and the school's administration — which I do — then you know that they are all working above their kochos.
They are generally underpaid, and if they're reaching your child, it means that their hearts and minds are all in. Is the argument of "we don't like kavod" or "it's too hard to ask other people" even appropriate when you're being asked for help by people who have thrown personal cheshbonos away a long time ago?
So if and when the question comes, remember the rebbeim, morahs, and teachers who fight off exhaustion, personal pressure, and the first signs of strep to teach; remember the administrators who are always fighting to make payroll — and just as soon as they succeed, they have to start all over again; remember the boys or girls whose learning and davening sustain the world and consider saying yes.
That itself is enough to make you deserve the award.
---
L
ast year, my rebbi, Rav Yosef Elefant, addressed a group of talmidim and their wives at a weekend gathering of alumni. It was after the leil Shabbos seudah, and he was advising us how to raise holy children in an era, and in a culture, in which unholiness comes at you so fast.
In typical fashion, Rabbi Elefant candidly looked at the crowd and said, "It comes down to the fact that none of you have the courage to fight back. Three strong parents, three couples with conviction, could save an entire class."
According to his data — culled from hundreds of conversations with young couples on his frequent visits to America — it always starts with one or two kids in the class who have the new tablet/smartphone/iPod/app. Those kids create the initial excitement and from there, it almost instantly spreads to "everyone has it." Soon enough there are only a few holdouts left, the ones who live under a rock and clearly don't know chinuch and don't understand that you can't make a child resentful and of course, how will they teach their children to make smart choices if they don't give them choices?
By then it's too late.
But, my rebbi said, back when those first two kids came to school bursting with eagerness to talk about their new toy, the parents still had a choice. A few confident parents could have gone to the menahel and made it clear that the majority, the rest of the class, felt violated and they wouldn't accept it. At that point, the menahel would have listened.
Rabbi Elefant continued with more practical advice as well, but the challenge he issued came to mind again recently.
A friend who runs the camp choir was describing the intense pressure that comes from parents who feel that their child must have a solo — in some cases, because the next Avraham Fried is waiting to be revealed to Klal Yisrael, and withholding the solo is cheating the public;or because the child's entire development and educational success rests on his or her singing the high part to "Nafshi" in a lousy camp mic.
The others in the discussion, veteran camp people, chimed in with stories of their own.  About the parent who came up the first day of camp to make sure their child wasn't in a bunk with too many out-of-towners, about the one who threatened that she would report the camp if they wouldn't show her visible proof that everyone else in the bunk was fully vaccinated; about the grandfather who offered to fund the air-conditioning in the camp beis medrash if his einekel made the starting five on the basketball team.
Parents, it turns out, do know how to advocate for their children — it's not that they're too shy or diplomatic. It just has to be something that they really care about. Just pretend, for a moment, that the kid who came to school showing off an unfiltered smartphone did something really terrible, like steal your kid's solo….
Originally featured in Mishpacha, Issue 769. Yisroel Besser may be contacted directly at besser@mishpacha.com
Oops! We could not locate your form.
>