| For the Record |
Not Mir-ly Another Yeshivah
| September 6, 2022
Yeshivah students across Israel knew that Rav Leizer Yudel had a "weakness" for bnei Torah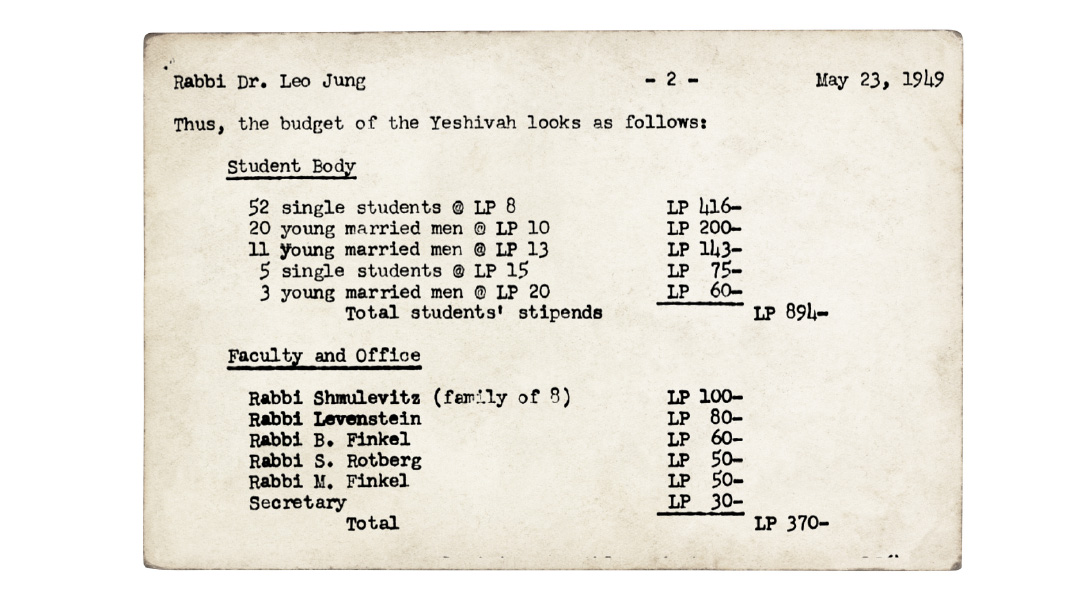 Title: Not Mir-ly Another Yeshivah
Location: Jerusalem, Israel
Document: Mir 1949 Budget
Time: 1949
Just weeks after the armistice ending the 1948 War of Independence was signed, the Mir rosh yeshivah, Rav Leizer Yudel Finkel, turned to the legendary Rabbi Dr. Leo Jung in New York for assistance with his fledgling yeshivah in Yerushalayim. With a student body of 91 and stipends still paid out in Palestinian lira, the monthly budget rounded out to the whopping sum of LP 1,264. As the Palestinian pound had been pegged to the British pound until the end of the Mandate a year prior, this amounted to an annual budget of over 15,000 pounds for the nascent yeshivah.
As he had done previously, Rabbi Jung continued to assist the yeshivah, even obtaining funds for a building from one of his well-heeled congregants, the great Torah supporter Samuel Kaufman.
Rav Leizer Yudel, having escaped to Eretz Yisrael from Europe in 1941, spent the war years apart from his beloved yeshivah, which had fled across Asia to Shanghai. He first settled in Tel Aviv near his son — and future mashgiach of Mir — Rav Chaim Zev Finkel. The latter was one of the founders of the Slabodka branch in Tel Aviv, Heichal Hatalmud. Though Tel Aviv was teeming with Torah scholars, chassidic rebbes, and yeshivos, Rav Leizer Yudel made it clear that his stay there was just a stopover on his itinerary.
In 1944 he founded the Mir Yeshivah of Yerushalayim, with ten Yerushalmi talmidim in a modest shul in Batei Milner, not far from their current location in the Beis Yisrael neighborhood. Rav Isser Zalman Meltzer, at great personal sacrifice, sent top talmidim from his own Etz Chaim, which formed the nucleus of the original elite group at the Mir. The yeshivah grew slowly but steadily into the great citadel of Torah we know today — now the largest in the world, with close to 10,000 talmidim.
As the beis medrash continuously shifted from one temporary location to another, Rav Leizer Yudel provided even the single students with monthly stipends — as he had done in Europe — since the yeshivah was unable to provide proper accommodations for its growing student body. Yeshivah students across Israel knew that Rav Leizer Yudel had a "weakness" for bnei Torah and would somehow always find a way to support those in need, even beyond the walls of his own beis medrash.
Rav Leizer Yudel's children figured prominently among the faculty, including Rav Chaim Shmuelevitz, his son-in-law, who had recently arrived from the United States; future rosh yeshivah Rav Beinish Finkel, who had spent the war years in Eretz Yisrael; and his youngest son, Rav Moshe Finkel. The latter would spend decades both fundraising and assisting behind the scenes, and passed away in 2004. Rav Moshe's son was the popular maggid shiur Rav Elya Baruch Finkel.
The legendary mashgiach Rav Chatzkel Levenstein had also recently arrived, following his years at the helm of the yeshivah in its Shanghai exile and then a two-year stint as mashgiach at the Mirrer Yeshivah in Brooklyn. He'd remain as the mashgiach in Mir Yerushalayim, until acceding to the request of the Ponevezher Rav to assume the same position in Ponevezh in 1954, after the untimely passing of Rav Eliyahu Eliezer Dessler.
Yerushalmi Mirrers
Among the prestigious group of founding talmidim of Mir Yerushalayim were soon-to-be-renowned tzaddikim of Yerushalayim, rabbis, roshei yeshivah, and Torah leaders, including Rav Chaim Brim, Rav Nota Freund, Rav Mendel Atik, Rav Yudel Shapiro, Rav Moshe Shea Landau, Rav Yosef Salant and several others. The longtime baal korei of the yeshivah, Rav Yechiel Zilberberg, arrived from Torah V'yirah. Years later, Rav Nosson Tzvi Finkel would describe how welcome he felt among the "Yerushalmi Mirrers" who adopted him as one of their own.
The First of Many
Rounding off the list of rebbeim is Rav Zalman Rotberg, the son of the Luna Rav, Rav Tuvia Rotberg, who was a close student of the Chofetz Chaim. Rav Zalman studied in Grodno and Mir, before being forced to return to Grodno to avoid a draft notice. His relationship with Rav Shimon Shkop grew stronger, and he slept in Rav Shimon's room.
Due to the military draft, Rav Zalman immigrated to Eretz Yisrael along with his close friend Rav Shmuel Rozovsky, future rosh yeshivah of Ponevezh. In 1946, Rav Zalman was invited to serve as the first maggid shiur in the newly established Mir in Yerushalayim. He remained there through the mid-1950s before departing to found his own yeshivah in Bnei Brak, named Beis Meir in memory of his father in-law, Rav Meir Karelitz.
(Originally featured in Mishpacha, Issue 927)
Oops! We could not locate your form.
>