| Double Take |
No Place Like Home
| November 13, 2019
"Who would want to be in an institution when they could live in a real home with their own family?"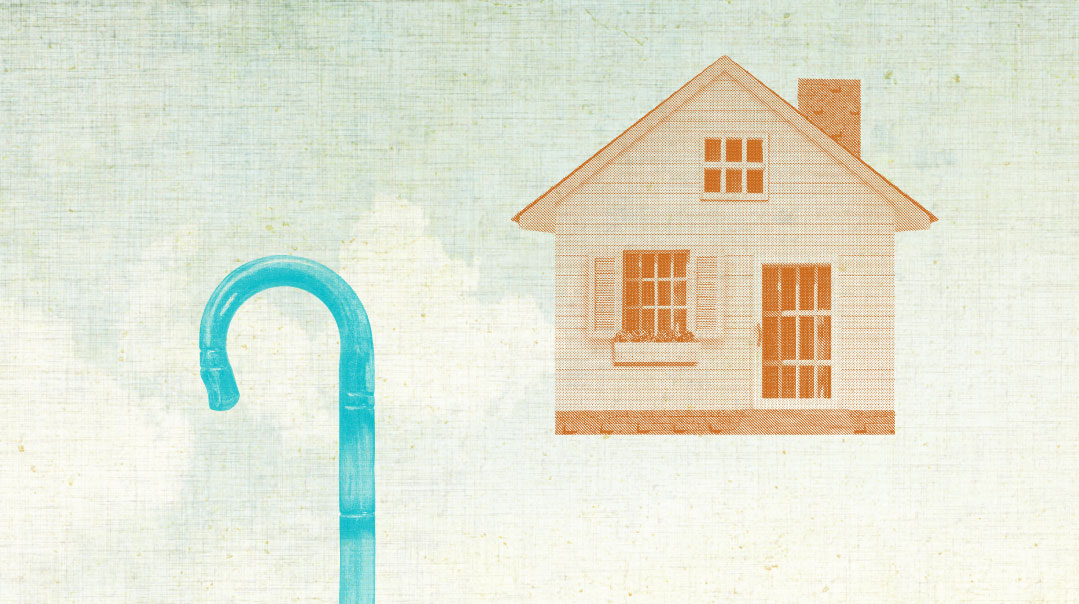 Yaeli: If you'd only help me a bit, we could keep Mommy in our own loving home
Binyamin: You can't expect us to become martyrs for your cause
I
t was Leah Gross on the phone again.
"Sorry to bother you, Yaeli," she said. "I just knocked on your mother's door and she didn't answer. I doubt it's an emergency or anything, but maybe pop over and check if she's okay?"
I had just walked in from a four-hour shopping marathon with my kallah. We'd gone from the sheitel salon to the mall and then across town for her makeup trial. She looked radiant; I looked as exhausted as I felt.

"Sure, Leah, thanks for calling, and for being such a good neighbor to Mommy. We're lucky you keep checking in on her."
Bassy flitted up the stairs, a shopping bag swinging from each arm. "Thanks, Ma! I'm finished! Going to rest."
My shins were aching. I was craving a coffee. Maybe one of the others could go check on Mommy?
But Libby was at work and Mali was in the middle of baking, and I hated asking Shulamis — she was only a daughter-in-law. I lived the closest, in any case.
I sighed and headed back out. No point in a coffee I had no time to savor. Hopefully, if all was okay, I'd be back within the hour. And if it wasn't, I doubted even coffee would be enough.
Libby called later. "I saw your text, how's Mommy?"
I put the phone on speaker so I could start preparing supper. Everything was off schedule, thanks to the emergency call. "She's fine. I mean, she was asleep on the couch, and she left out some food, probably overnight, and there were flies all over it, but she's okay. I don't know how long we can continue like this, though."
"Right. We've been discussing it, Binyamin and I. We're having a meeting tonight, 9 p.m. at Mali's house, to discuss our options — just letting you know."
I stared at the screen. Letting me know? Wasn't I the one dealing with the daily crises, wasn't I the one who kept asking them to help out? And I was making a chasunah.
"Thanks for letting me know," I said, my voice tight. "I have a bit of a crazy schedule, actually. Can't we push it off to tomorrow?"
"Not gonna work. Mali's hosting some event. If you can't make it, I guess we'll fill you in afterward."
That was too much. I might have been the youngest, but I was the one most involved in Mommy's care, and of course I was going to be part of the decision-making. "Don't bother," I told her, trying to keep the edge from my voice. "I'll be there."
The meeting ended up taking far too long. The house was quiet when I got back, and Pinny was sitting at the kitchen table, swaying over a sefer.
"How was it?" he asked.
"Terrible." I sank into a chair and kicked my shoes off. "They spent the whole time talking about assisted-living homes, like it was a given that we're putting Mommy in one. And I couldn't get a word in, either. It's Binyamin and Libby, Binyamin and Libby, Binyamin and Libby. They were talking about dates and details and paperwork, and Mali went along with everything."
"Shimon wasn't there, I'm assuming?"
"Shimon was on the phone in the beginning, he said he'll drive over when Mommy moves out, to help with that."
"And you said anything?"
"I tried! I asked what's the deal with these homes, why can't Mommy come to live with one of us, but you know how it is. Binyamin thinks I'm still five years old or something. He was all patient, and patronizing — no one has space, no one has time, this is the best solution, Mommy herself would prefer it. But honestly, I'm sure she wouldn't. Who would want to be in an institution when they could live in a real home with their own family?"
(Excerpted from Mishpacha, Issue 785)
>