| Cooks Compete |
Mushroom-Barley Soup
| November 22, 2022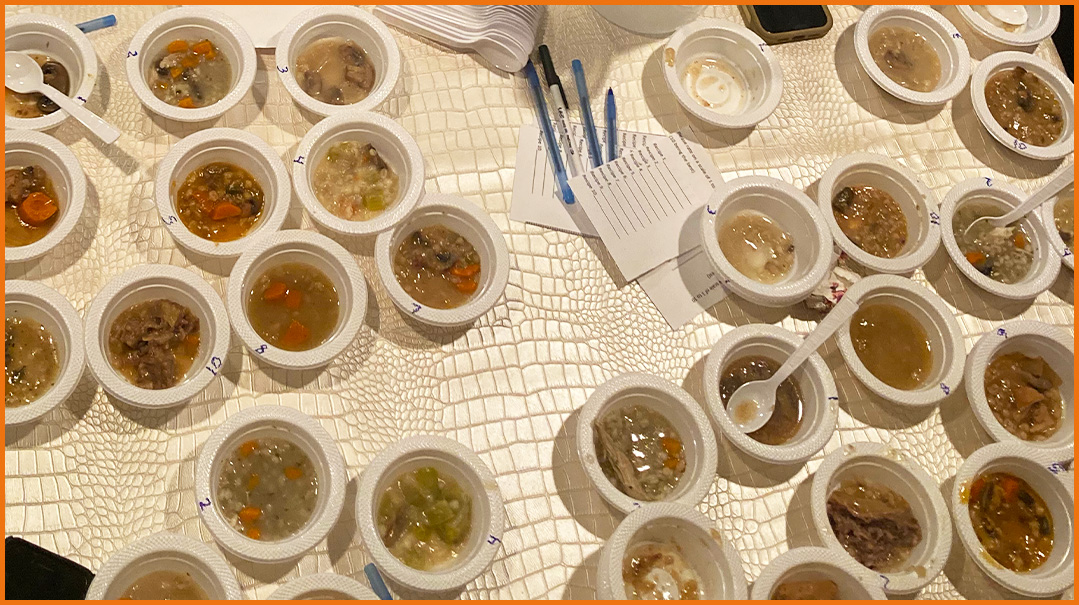 Special thanks to the women of Young Israel of Fair Lawn for hosting this tasting party.
For a hearty, cozy meal-in-one, nothing beats the nourishing power of mushroom-barley soup in the winter. A perfect lunch or dinner that provides fiber, protein, and flavor, a bowlful will keep you full longer and feeling satisfied and warm all day long. Here are our favorites.
Savory Mushroom-Barley Soup
Submitted by J. Lustiger
Edison, NJ
This recipe is based on one I saw years ago in Mishpacha. It's a big hit with the eineklach, freezes beautifully, and can even be made in a Crock-Pot in lieu of cholent.
2 onions, chopped
3 Tbsp oil
1–2 strips flanken
2 tsp garlic or equivalent frozen cubes
3 large carrots, sliced
48 oz (1.36 kg) mushrooms, sliced (amount can be adjusted to your liking)
1 cup raw barley, soaked in water and drained
16 cups water
2 Tbsp chicken soup mix
¼ cup soy sauce
1–2 Tbsp salt
1 tsp pepper
In a large soup pot, sauté onions in the oil for 10 minutes. Add meat, garlic, and carrots and sauté for another 3 minutes. Add sliced mushrooms and sauté for another 3 minutes. Add barley, water, soy sauce, and seasonings and simmer for at least 5–6 hours.
Meaty Mushroom-Barley Soup
Submitted by Lisa Garfunkel
Savannah, GA/Meah Shearim, Israel
This recipe was given to me by a childhood friend. It's super easy and quick to make. It's the perfect winter soup, as it's that stick-to-your-bones comfort food! Everyone comes back for more!
3 stalks celery, chopped
4 onions, chopped
6 carrots, sliced
1 lb (450 g) mushrooms, sliced
1 lb (450 g) short ribs
soup bones
8 cups water or beef broth
1 cup barley
2 tsp salt
1 tsp pepper
Place all the ingredients in a pot. Bring to a boil, stirring occasionally. Lower heat to a simmer and simmer, partially covered, for 1 hour.
Hearty and Delicious Mushroom-Barley Soup
Submitted by Leah Mandel
Lakewood, NJ
You know those Sundays when you have so many errands to tackle? On those busy mornings, I start my week by putting up a large pot of soup. It's so nice to know that when I come home at the end of the day, feeling both accomplished and exhausted, there will be a hearty bowl of soup waiting for me.
I reheat a bowl on Monday after work, have another bowl on Tuesday for lunch… This soup pulls me through the week!
2 large onions, diced
oil, for sautéing
2 cubes frozen garlic
1 stalk celery, chopped
2 carrots, chopped
1 parsley root, chopped
2 cups sliced mushrooms
8 cups water
¾ cup barley
4 tsp salt
1–2 Tbsp onion soup mix
½ tsp basil
½ tsp oregano
½ tsp pepper
In a large soup pot, sauté onions until golden. Add garlic, celery, carrots, parsley root, and mushrooms. Continue sautéing for about 10 minutes.
Add water, barley, and spices. Cook for 2 hours. Enjoy!
(Originally featured in Family Table, Issue 819)
Oops! We could not locate your form.
>