| EndNote |
Mood Mix with Yissachar Dror
| December 21, 2021
Once he released his first single, "Mah Tovu" last year, YISSACHAR DROR has been unstoppable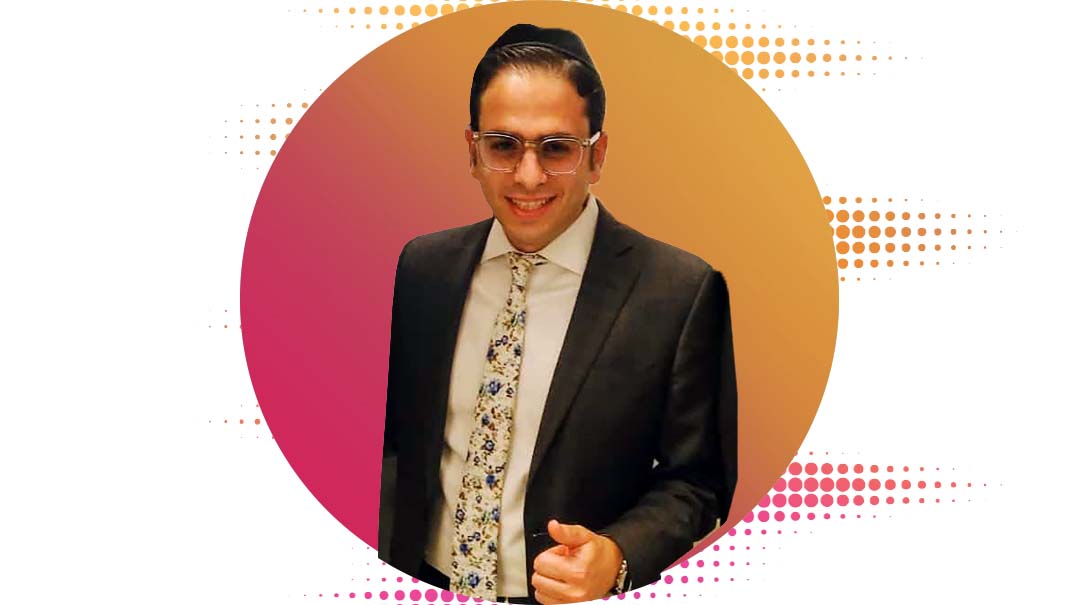 He's been singing with his musical family since he was a kid, and even recorded a song with composer/producer Eli Klein when he was just 13. But once he took a step further and released his first single, "Mah Tovu" last year, YISSACHAR DROR has been unstoppable. In the past year he's released several more hits with his versatile style that inspires listeners from Sephardi to chassidish, as he continues to serve as a chazzan at Rabbi David Ashear's minyan at the Yad Yosef Torah Center in Brooklyn.
MY MUSICAL MENTORS
Professionally, I've learned a tremendous amount from Yitzy Waldner, who composed and produced my releases "Mah Tovu," "SheMashiach Yavo," and "Bo'ee Kallah," among others. In my free time back when I was in yeshivah, I would work on Jroot Radio's Leil Shishi program, which put me in touch with top Jewish music talent. I grew up in Brooklyn but lived in Deal, New Jersey for several years, where I became close to Yaakov Shwekey. He's always inspired me, and one main thing he advised me is "just keep on singing." Yaakov is never fazed by what people are thinking — he just continues to sing from his heart. When you put music out there, you'll always come up against people's opinions, but I'm learning from my mentors to stay focused. Hashem gives each person his own voice and style.
ENGLISH LYRICS THAT GET ME EVERY TIME
"Can the mercy of mere flesh and blood run deeper than Yours, our Creator?" — from Abie's "Mama Rochel." What a plea!
MY ALL-TIME FAVORITE ALBUM
Shwekey's Those Were the Days, Volume 1. I have great memories of being part of the team who suggested those beautiful old songs that just needed to come of out hiding and be sung again.
WHAT I LIKE TO SING ON LONG FRIDAY NIGHTS
I'm usually the chazzan on Shabbos morning in Rabbi Ashear's minyan, so on Friday night I find myself singing zemirot in the makam of the week, which gets me into the right frame of mind for the next morning. A makam is an Arabic type of musical scale, and in some Sephardic traditions — Syrian, Egyptian, and Djerban — the tunes for the tefillot are improvised to fit along the particular makam which fits the week's parshah theme. Actually, my father did not sing only Sephardic tunes — he also sang Ashkenazi and even chassidish zemirot with us sometimes, so I include those too.
THE MUSIC VIDEO I CAN'T WATCH
My father, Yitzchak Dror, was a huge talmid chacham and very spiritually connected. He was niftar in the hospital during those horrific early days of the pandemic. He suffered while we were not permitted to help him — he went three days without a drink — and we believe that he had a heart attack caused by starvation and thirst. The song "Memories" (He was taken from before my eyes, and only I was left to mourn...) by Abie Rotenberg was playing in my head in the aftermath of our family's tragedy, particularly when I felt people preferred to deny or minimize what had happened. I sang "Memories" on an instrument-free music video that came out during the Three Weeks. It was an appropriate time to mourn my father — he had built models of the Mishkan and the Beit Hamikdash, and the tzaar of the Shechinah in exile consumed him. Personally, though, I find it excruciating to watch that video again.
ONE ALBUM I'D TAKE ALONG ON A ROAD TRIP
I would take something new along, preferably from a new artist — and I would actually spend the money and buy the album. As I work on my own music, I can grasp the vast reserves of energy and money and work poured into an album, and the simplest way to support Jewish music is to buy it. I like to encourage new artists — Hashem gave everyone his own unique musical talents, and I try to respect and savor that uniqueness.
A SONG I NEVER GET TIRED OF
Songs go in and out of our lives, each in their time, but one which I keep coming back to is "Shabbos Hayom Lashem," which Baruch Levine composed for Shloime Gertner. I listen to it every Friday to enter the Shabbos mood. I like Shloime's singing in general — the high notes he hits bring out a lot of emotion and he known how to tell a story through song. Both of my Medley of My Soul accapella productions with Ari Goldwag open with Shloime's songs.
A SONG THAT MOVES ME MOST
"Carry On," a single I released in memory of Malky Hirth a"h. Malky passed away when she was just seven years old, after battling leukemia for over five years. Malky, mature beyond her years with her tremendous courage, wisdom, emunah and gratitude, touched so many with the recordings and videos of her singing, dancing, inspiring, and just living her short childhood. Yaakov Shwekey used to sing to Malky in the hospital all the time, and it was Jenine Shwekey who suggested I record the song in her memory.
HOW I LEARNED TRADITIONAL SEPHARDIC NUSACH
As a young teen, I would walk to Shaare Zion, where I loved to hear Cantor David Shiro's hazzanut. Cantor Shiro gave me six cassettes with recordings of the bakashot in their traditional tunes, and I went to Menachem Mustacchi's classes on the bakashot. When I went to learn in Israel, where many Sephardic shuls fill up again very late on Friday night for hours of songs of praise and bakashot, I made sure to be there and experience it. I remember practicing the makam until it became a part of me. I think that Israeli kids absorb this much more naturally during their childhood. I wish the tradition would be strengthened here too.
A SEPHARDI SONG ASHKENAZIM LOVE
Rav Binyomin Eisenberger of Boro Park invited me to come to his camp for a Shabbos to teach Sephardic song. It went down so well that these chassidish boys now sing "Chavivi" every Motzaei Shabbat before Havdalah. They were blown away. And of course, the same is true in reverse — at Sephardic bar mitzvahs, the boys often ask for chassidish songs. Everyone who is open to new things can appreciate these gems.
A SONG WITH AMAZING VOCAL ARRANGEMENTS
I would choose "Nafshi," sung by Motti Steinmetz and Ishay Ribo. The combined vocals are out of this world. I think that if either of them had sung it alone, it would have been "just another really nice song," but the power and the contrast of their voices take it over the top.
MY MOST MEMORABLE PERFORMANCE
When I sang "Bo'ee Kallah" to my wife as I walked down to the chuppah.  I had gone to Yitzy Waldner with the intention of writing another song in memory of my father, but Yitzy insisted that we write something looking ahead to the future instead — "Bo'ee Kallah." Baruch Hashem I got engaged very soon afterward, and when I went to greet my kallah — as is the Sephardic custom, her parents walked her half way down the aisle, and I went out to bring her to the chuppah — I sang it.
(Originally featured in Mishpacha, Issue 891)
Oops! We could not locate your form.
>