| EndNote |
Mood Mix with Rabbi Yoely Kar 
| July 25, 2023
For seven years, his voice regaled listeners on JRoot Radio's "Leil Shishi with Yoely"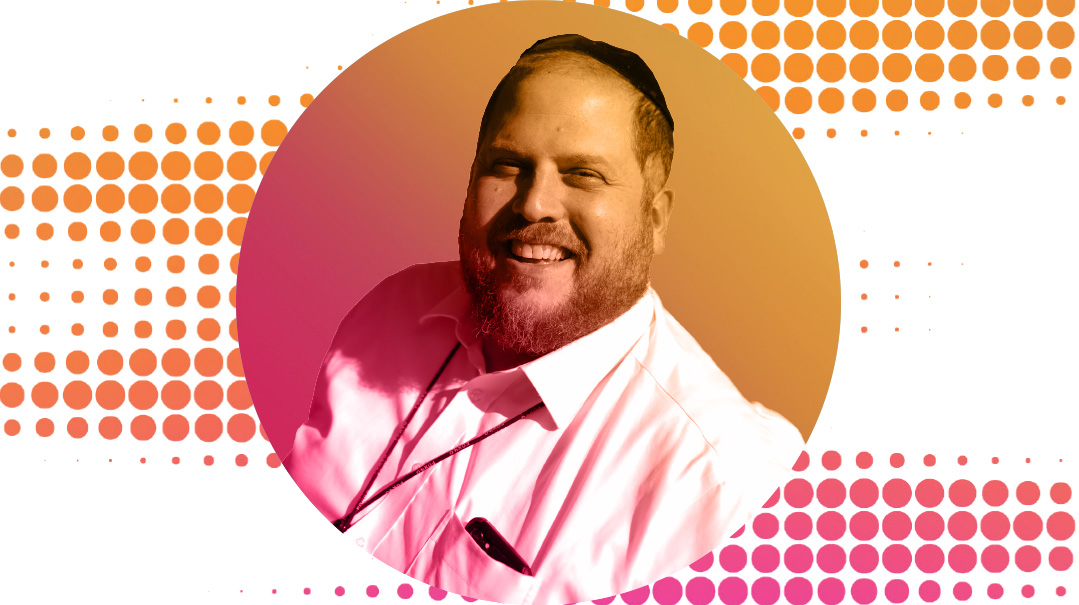 Now in his seventh summer as head counselor at Camp Tashbar in Liberty, New York, Rabbi YOELY KAR loves kids and fun. He headed Ohr Shraga day camp in Brooklyn from 2004-2017, he runs Chai Lifeline's Kids for Chai program and had a stint as manager for Miami Boys Choir director Yerachmiel Begun. For seven years, his voice regaled listeners on JRoot Radio's "Leil Shishi with Yoely," and since the program went off-air, he's been busy producing concerts, kumzitzes, and shows.
A CAMP SONG THAT FEELS TIMELESS
When I was a counselor in Camp Rayim, Yo Aisenstark's beautiful "Tov Lehodos" had just come out. I was a general in the Camp Olympics, and we had to flip a coin, because both sides wanted to use it." (I won the song but lost the Olympics.) It was a hit in camp for many years, and when I came to Camp Tashbar seven years ago and started to use it for Shabbos morning zemiros, the kids still knew it.
A SONG THAT REMINDS ME OF MY EARLY DAYS AS A CAMPER
MBD's vintage "Ohavei Hashem," from I'd Rather Pray & Sing (1977). It was the Hebrew song in color war in Camp Adas Yereim when I was a kid, and the high part — "Or zarua latzaddik" — filled the room with incredible energy.
OUR CAMP'S FAVORITE SHABBOS ZEMIROS
We still sing some classic zemiros, and the boys still jump on the benches when they sing "Yibaneh Hamikdash," but we also do more recent pieces, like Ishay Ribo's "Nafshi," and "Far Dir, Far Dir" as part of Kah Ribbon. When I was a kid, they gave out freeze pops or extra soda to the bunk that sang best. Although we don't do that, the kids still sing enthusiastically, as long as it's the right song. Some songs take off, and some just flop. I've learned that the songs that work are very individual to that camp. A song can be knoking away somewhere else, but fall flat here, and vice versa.
OUR CAMP'S FAVORITE SHALOSH SEUDOS NIGGUN
Shalosh Seudos in camp isn't easy. We want to keep everybody seated and that means no dance niggunim. Moshe Goldman's "Higaleh Na" is a weekly staple.
THE BEST SONG TO START A KUMZITZ
It's impossible to plan. You have to adapt to the crowd. If they're calm, start with slow niggunim, but if they're more energetic, you have to start with more energetic songs, then slow them down.
MY BEST SEGMENTS FROM LEIL SHISHI
We once hosted Yossi Green and challenged him to compose a song on air. Another time, once the shows were videoed as well as aired on radio, we had Yehuda Green giving us a live kumzitz, and another time, 25 choir boys from the Miami Boys Choir sang live in the studio when the Mi Lashem Elai album came out. Listeners would call in requesting songs, which were then performed live in real time. Another memorable show was when Ari Goldwag came on our program to do a kumzitz, and we surprised him by having Benny Friedman walk in in the middle. This was just after Benny had released the mega hit "Yesh Tikvah," which Ari composed. They had collaborated digitally, but it was the first time they had seen each other face to face since the song came out.
MY MISSION IN HOSTING A RADIO SHOW
One reason people enjoyed our show was that my co-host Elchanan Hamada and I would laugh and joke around and have a good time with our guests, and I believe it helped people wind down their week and prepare for Shabbos. Actually, being a head counselor is the same thing — you have to put that best camp spirit forward. One of my inspirations for this was actually Michoel Schnitzler a"h, who showed us that no matter what you're going through — especially if you impact others — you have to be b'simchah. That was how I always signed off the Leil Shishi program: "Always be b'simchah!" 
SOME FUN FEEDBACK
During those years, I could be in a store asking where the salt was, and someone would recognize my voice and come over. A lot of people tuned in to the program, but since it was radio, they only knew who I was if I started talking.
HOW CAMP MET RADIO
We put camp on radio, twice recording live shows at Camp Agudah, and once at Camp Bonim. At Agudah, the campers relived color war on air, giving the audience that taste of the camp feel. At Camp Bonim, campers sent messages to their parents, who heard them on the radio. It was great.
MY FAVORITE SONG ABOUT MASHIACH
I don't let the Three Weeks go by without singing the "Ani Maamin" composed by Rabbi Azriel Dovid Fastag Hy"d on the train to Treblinka. In addition, for many years I was very inspired by the Miami Boys Choir's "Ani Maamin," which sounds incredible with hundreds of people harmonizing. And I recently discovered Reb Moshe Goldman's "Ani Maamin," composed for Camp Shalva. The high part is haunting, like a dream about Mashiach.
A SONG I NEVER WANT TO HEAR IN CAMP
Years ago, we used to announce, "Only Jewish music in camp." Now, we say, "Only Jewish-sounding music in camp." If we hear music with heavy bass, music that you can't sing along to but only listen to its boom, we tell campers to turn it off.
A MEMORABLE ALMA MATER
I once hosted Baruch Levine on Leil Shishi, and he mentioned a song he had composed for Yehuda! called "B'siyata D'Shmaya." I told him I'd actually written lyrics for it as an alma mater in Camp Rayim ("Rayim, my best move by far / I'll always remember, wherever you are….)" Baruch, who was a division head in Rayim at the time, was surprised. "You wrote that? They're still singing it!" I hadn't known he composed the song, and he hadn't known who put the camp words to it.
AN ALBUM I'D TAKE ON A LONG ROAD TRIP
When I'm driving, I find live concert albums have the most energy, helping me along the way. That includes old ones like HASC or Miami, or OHEL concerts, or the recent Eitan Katz Live in Jerusalem. Less polish, but more movement.
HOW WE CONNECTED TO OUR LISTENERS
With radio, it's tricky to count and locate your listeners. Once the station went online though, we could monitor the listeners via computer, and we got very enthusiastic emails. Each January, we had listeners vote for the top ten songs of the year, a poll people really looked forward to and participated in. One year the top spot went to Avraham Fried's "Hafachta," another time to "Yesh Tikvah," and another year to Baruch Levine's "Ufaratzta."
(Originally featured in Mishpacha, Issue 971)
Oops! We could not locate your form.
>