| EndNote |
Mood Mix with Rabbi Dani Kunstler
| October 26, 2021
"Lately I can't get "Mayim Rabim" by Derech Achim (I mentioned them before) out of my head"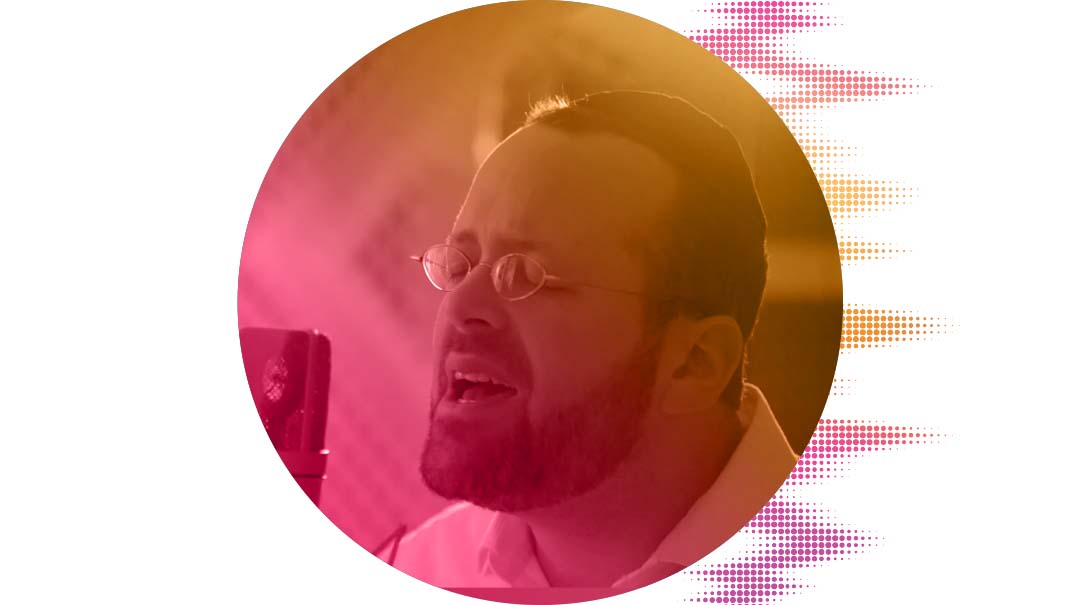 He started out as a child singing with Miami Boys Choir, and went on to produce four V'havienu albums as well as numerous singles. Today, Rabbi Dani Kunstler is a rebbi at Yeshivat Torat Shraga in Jerusalem, founder of TorahAliveIn5.com, and host of Living Lchaim's The Spirit of the Song podcast, which gives over insights, stories, and inspiration behind Jewish music's most popular songs. Son of veteran composer Avi Kunstler and brother of singer/songwriter Aryeh, Rabbi Dani also lectures in yeshivos and seminaries about the power of Jewish music.
THE SONG I CAN'T STOP SINGING THIS SEASON
"The Piacezna Niggun" by the South African duo Derech Achim. I reached out to them a while back to give me some insight to the song for my Meaning of the Music chat (now Living L'Chaim's The Spirit of the Song podcast), and the depth of the composition of this song is astounding and so powerful.
A SONG I NEVER GET BORED OF
Any song that has beautiful guitar picking, background piano, and relatable words or lyrics tugs at my heart and helps me connect. That means I can listen to so many of Eitan Katz's songs over and over. Lately, though, I can't get "Mayim Rabim" by Derech Achim (I mentioned them before) out of my head. It's so beautiful and meaningful, I can listen to it all day.
A SONG WHOSE DEPTH I HOPE MY KIDS WILL APPRECIATE
For so long it's been Eitan Katz's "Lemaancha." Lately I've been trying to give over the inspiration, depth, and meaning of Baruch Levine's "Shabbos Hayom l'Hashem (Chazeik Kiryasi)," sung by Shloime Gertner on his Say Asay album. It depicts the kedushah of the Beis Hamikdash, which we can all get a taste of on Shabbos.
MY FAVORITE ENGLISH SONG
Basically, every Journeys song. I try to sit down at the piano every Erev Shabbos to sing "It's Time to Say Good Shabbos," as I find it always gets me in the Shabbos mood.
A newer English pick is my brother Aryeh's "Keili," which he sings together with Yosef Karduner, and was released right before Covid — which was good timing because the words are such a powerful plea for salvation.
MY STAND-OUT STUDIO MEMORY
Two instances come to mind. The first was after I received and listened to the master of my first album, V'havienu 1. I was so overwhelmed with gratitude to Hashem that I immediately thought of Dovid Hamelech asking how he could "repay" Hashem, and I wrote a song called "Mah Ashiv." It was an unusual moment for me because most of my songs are composed over a piano or guitar, but this one just came to me. I went into the studio the next night and did all the music, vocals, and harmonies in about a half hour — and it made it onto the album. The second was while we were arranging choirs for the song "Sameach" on V'havienu 2. There was one part of the song where I wanted the choir to go "hey!" Scratchy Yenowitz, my close friend and singing partner, was making us laugh so hard we literally had to kick him out of the studio. It took about 40 minutes to record that one word.
MY MOST TREASURED BEDTIME SONG
My father used to play us Yigal Calek's "Hamalach" when I was young. I still love that song, but I usually find myself singing Abie's classic "Hamalach" — or even my own, which I composed for my oldest child 22 years ago and recorded on V'havienu 1.
MY ALL-TIME FAVORITE JEWISH ALBUM
I'm much more into individual songs than entire albums, which is why I so enjoyed the Shwekey Those Were the Days albums, with their great selection of highlights from different singers, composers, and times. I especially connected to "Aibeshter," from an early Tzlil V'zemer album. My brothers and I used to sing it at our Shabbos table growing up. Listening to it takes me back 30 years.
A SONG I'LL ALWAYS REMEMBER BY WHERE I HEARD IT FIRST
Yo Eisenstark's "Tov Lehodos." It was in my second year at Mercaz HaTorah in Eretz Yisrael, at a Friday night seudah. The first-year guys started singing this song and I remember being awestruck by it: It was just so beautiful. A few weeks later I went back home for Pesach and taught it to my father. We then taught it to everyone at the Pesach hotel we went to (The Granit), and by the end of Yom Tov, we couldn't stop singing it.
MY EARLIEST MUSIC MEMORY
I think I was seven years old, growing up in Belle Harbor, New York, when I had a solo in the Congregation Ohab Zedek production singing some Yiddish song about Shabbos. Not too long after that I had the privilege of being a member of the Miami Boys Choir, which gave me many great memories... the European tours, Mendelson's pizza after practice every Sunday, and singing "K'rachaeim Av" together with my father at the first Miami Experience concert.
MY MUSICAL MENTOR
Anything I have in music today is from my father. His love and passion for music can be heard in his own compositions, and can be seen when he rocks a kumzitz. My brother Aryeh has also been a huge influence on me. He co-produces all my music and I turn to him for almost all musical advice these days.
THE MOST UNLIKELY SONG I ENJOY
Avraham Fried's "Koach." I'm much more into slow, meaningful songs. This song, with the speed changes and language switching, was totally not on my radar. But something about the song gives me chizuk, and for many years I sang it at my Shabbos table as the last song going into a long week.
A GREAT CONNECTOR FOR ALL KINDS OF JEWS
Abie Rotenberg definitely accomplished this with his classic "Acheinu." Nowadays, I think Joey Newcomb has brought us a fresh dose of meaningful music that all types of Jews love. "Thank You Hashem" and "Mi K'amcha" are sung by every type of Jew, all over the world, and everyone is connecting to it.
MY FAVORITE KUMZITZ MOMENTS
Anytime I have a chance to play a kumzitz with members of my family is always special. My father usually joins me once a year for a kumzitz in yeshivah, and my brother Aryeh and I did an incredible kumzitz in yeshivah right before Covid. But my favorite is when my sons Moshe and Yaakov play along side of me, creating the ultimate "Kunstler Kumzitz" experience for me.
(Originally featured in Mishpacha, Issue 883)
Oops! We could not locate your form.
>