| EndNote |
Mood Mix with Motti Feldman
| January 18, 2022
London born and bred, he's now based in New York, where he was a member of the Yedidim choir and is a lead guitarist for the A Team Orchestra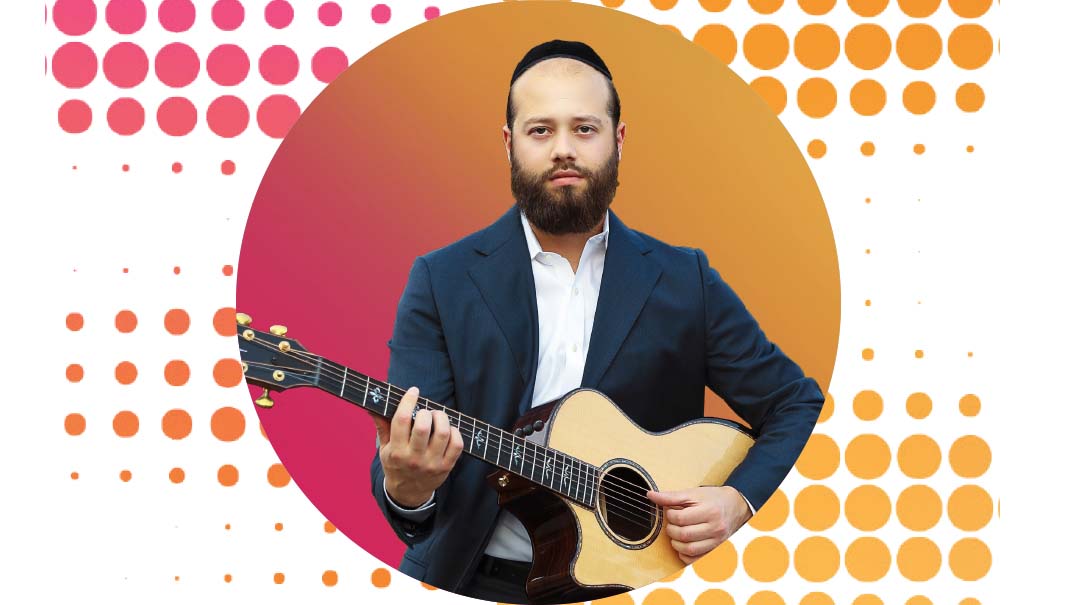 For music fans who keep an eye on the latest music videos and wedding clips, guitarist / vocalist MOTTI FELDMAN has become a familiar presence. London born and bred, he's now based in New York, where he was a member of the Yedidim choir and is a lead guitarist for the A Team Orchestra. As a guitarist, he's equally at home on acoustic and electric instruments and has played for countless albums, singles, music videos, and concerts. For the past year or so, Motty has been following his heart — moving away from wedding dance music and singing and playing music of the soul at kumzitzes, bar mitzvahs, and other events around the US. His playlists include a rich variety of beautiful songs from original composers and timeless classics.
THREE SONGS I PLAY AT EVERY KUMZITZ
"Saba Kadisha" by Lipa, which is a pretty new release, is always being requested ("Ich vell zein ehrlich... b'teshuvah sheleimah lifanecha"). Then I generally sing the beautiful Miami Boys "Ani Maamin" from It's Min Hashamayim, which has become a classic, and Beri Weber's "A Heim," about our yearning to return home to Yerushalayim.
A FRIDAY NIGHT ZEMER I'LL NEVER SKIP
I sing my father's traditional zemiros, including the Pshevorsker "Menuchah V'simchah," which is not a typical niggun.
WHEN I BECAME A PROFESSIONAL MUSICIAN
I took guitar lessons as a kid. My mother let me know that if I didn't practice, the lessons would stop so I did start to practice more seriously. When I went to yeshivah in Eretz Yisrael, I left my guitar at home to focus on my learning. I also learned a couple of years in kollel where I hardly played either. But then, when I had to support my family, I started to play again and found myself getting pretty far in the industry. I'd like bochurim to know that: That you can make the most of your learning time in yeshivah, give the music a break, and still make it in the music industry later. There's no conflict.
MY GO-TO MELAVEH MALKAH SONGS
I love Amit Listvand's fast "Keili Chish Goali" from his Shehecheyanu album, which Mona Rosenblum arranged — it happens to be my father's favorite song so I especially love playing it. And Pinny Ostreicher's "Eliyahu Hanavi" is Melaveh Malkah favorite.
A SONG THAT GIVES ME CHIZUK IN DIFFICULT SITUATIONS
"Carry On," from Lipa's album A Poshiter Yid. Amazing song, plus amazing arrangement by Hershy Ginsberg and Motti Cohn. The song is about Yaakov Avinu standing in the dark facing an enemy and about how there is always light at the end of the night: "We all have moments struggles day to day / It just seems easier to throw it all away / And we must remember we can make the climb / A gift of courage from the dawn of time / A voice inside me / Says carry on / You must face your fear and persevere / Until the light of dawn…"
Another one is Meilech Kohn's "Mi Yodeya," about Mordechai Hatzaddik's message to Esther Hamalkah and to all of us: "Maybe whatever you are going through now is the reason that you are here."
MY EARLIEST GUITAR MEMORY
When I was growing up in Stamford Hill, most weddings had a one-man-band and maybe a violin. I think I first heard a live professional guitar when my mother brought me along to a cousin's wedding in New York. I was drawn to it and begged her to buy me one. So she did — she paid 50 pence at a car-boot-sale (that's similar to a garage sale). It was a classical guitar with acoustic guitar strings, right-handed while I'm left-handed, but I took it to a local Chabad chassid, Nosson Negin, who played, and he fixed it up so I could begin lessons with him. That was the first of many guitars. My parents were so supportive — my mother drove for hours or took me on the train to the city to buy my music equipment, which today you can just click and order on Amazon. Support like that stays with children forever.
A SONG THAT MADE ME WANT TO LOOK UP A PASUK
Naftali Kempeh's song "Lev Nishbar," on Ana Elech. He quotes from Rebbe Nachman of Breslov, that "Ein davar shalem milev shavur — nothing is as whole as a broken heart," and adds the pasuk "Karov Hashem lenishberei lev." That touched me in a very profound place and pushed me to look further into this concept. It's also the theme of my newly released kumzitz clip — of Hashem being close to us even in difficult times.
MY FAVORITE ENGLISH SONG
I would say MBD's "Unity," from MBD and Friends (1987). It has a great message. The arrangements were by Ken Burgess a"h, who gave up everything for Yiddishkeit and "walked alone in the desert," which makes the music even more meaningful.
WHAT I LOVE BEST ABOUT GUITAR
Guitar is so expressive. It can suit any mood, from soulful to energetic.
A SONG THAT TAKES ME BACK TO YESHIVAH DAYS
Every year when I clean for Pesach I find the old album Ben Ahuv from Israeli singer Udi Davidi. I had that with me in yeshivah, and I always loved Davidi's singing.
A SONG THAT'S A GREAT CONNECTOR FOR ALL KINDS OF JEWS
The Berdichever Niggun. Sing it anywhere, and you feel people connecting.
ONE ALBUM I'D TAKE ALONG ON A ROAD TRIP
I'd choose either Ishay Ribo's Bamah Kahal Ahavah or Mona 4. I see both Mona and Ishay as two standout composers who have each written new chapters in Jewish music. I love the sophistication of Ishay's music, and I've accompanied him when he's appeared in the US.
MUSIC THAT HELPS ME UNWIND
When I leave a wedding, I usually drive home enjoying the quiet, without music at all. But any soft, smooth music, like shmorg or restaurant-style music, is calming.
A SONG I NEVER GET BORED OF
"Asher Bara," by guitar virtuoso Yosi Piamenta a"h. So many years later and it still generates such great drive when played at a wedding, especially the high part.
(Originally featured in Mishpacha, Issue 895)
Oops! We could not locate your form.
>