| EndNote |
Mood Mix with Eliezer Rabinowitz
| May 17, 2022
Former Miami Boys Choir member and soloist (think "It's Min Hashomayim")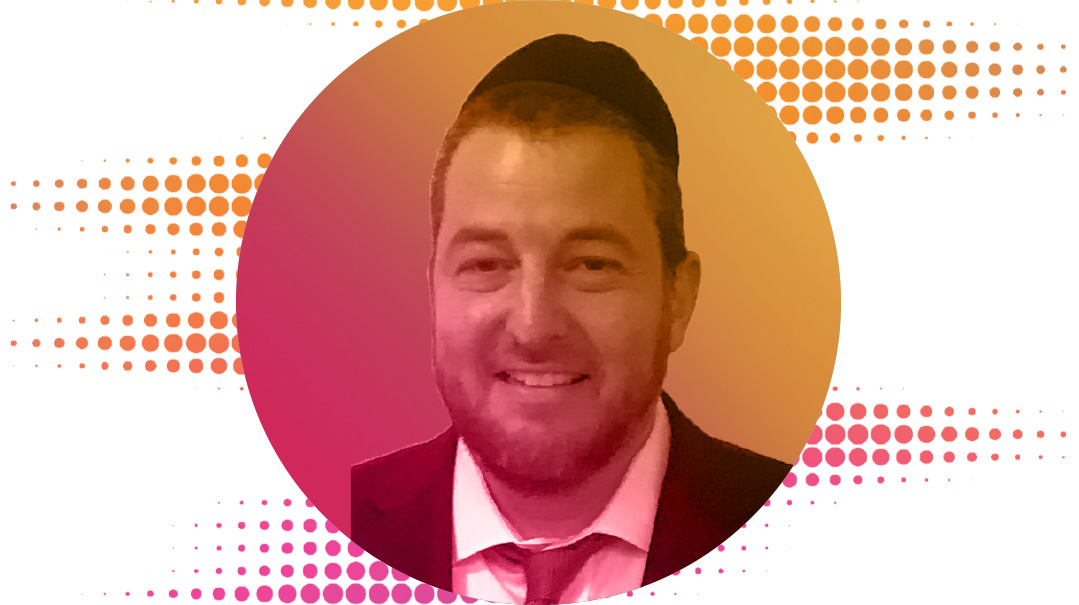 Eliezer Rabinowitz is a popular voice teacher and trainer in Lakewood. He served as a baal tefillah for the Yamim Noraim, is a singer at simchahs, teaches guitar, and arranges children's choirs and singing clubs.
THE MUSIC I CONNECT TO MOST
Mostly the music of my younger years, the 1990s. MBD, Miami Boys Choir, or Country Yossi albums from that period are my most loved musical zone. Whenever I happen to hear those songs play, I just have to blast them and not be interrupted. Of the more contemporary material, I enjoy Zusha, because it's a completely new sound, and Lipa, because of his incredible talent and the chiddush he brings.
A SONG THAT HAS AMAZING, ORIGINAL VOCAL ARRANGEMENTS
What comes to mind is Shalsheles Junior's "Modeh Ani." Yitzchok Rosenthal (who was in Miami Boys Choir with me, and got driven to the rehearsals in the same carpool) is a musical genius.
MY FAVORITE ENGLISH SONG
Abie's "Lulei Sorascha," which is like the heart of a Yid speaking. And some of the Marvelous Middos Machine songs are a close second, like the Teshuvah song, with Dr. Doomstein's epiphany in the middle, "You mean I can change?" and the Kosel/Sinas chinam song.
A SONG THAT GETS ME INTO SHABBOS MODE
My memories of Eretz Yisrael are intertwined with  "Gut Shabbes, Gut Shabbes, Gut Shabbes..." with the song then fading into the siren sounding over the neighborhoods.
I also find that when I listen to Regesh's "Av Harachamim, Heitiva Birtzoncha es Tzion" [Regesh 7 – Shabbos II] with those magnificent soaring trumpet arrangements, I feel something of that Erev Shabbos sunset.
ONE ALBUM I WOULD TAKE ALONG ON A ROAD TRIP
Shmuel Kunda's. Part of his brilliance were the cool personalities he created, and the way he captured their quirks throughout the albums.
THE MOST COMMON CAUSE OF VOCAL STRAIN 
All vocal technique can be boiled down to two principles: self confidence, and bypassing the throat. The nasal cavity, and not the throat or the lower part of the mouth, should be used when singing, and once you master that, years of strain will melt away.
A SONG I WISH WE COULD BRING BACK INTO THE CICRCUIT
"The Gedolei Hador" from Miami.  Sruli Williger was the child soloist on that song, which is pretty complex musically, going out of the chord family multiple times. Some say the words are actually Reb Yom Tov Ehrlich's lyrics. It's beautiful — I would love to hear it being played again.
And does anyone remember Dedi's song, "Ateret Zekainim"? That's another song I think is a shame we have lost. It would be perfect for third dance at a wedding. Another beautiful "lost song" is "Yismach Moshe" from Journeys Volume II.
MY FAVORITE SHALOSH SEUDOS ZEMIROS
The Torah Vodaas "Mizmor LeDovid," that we used to sing in Camp Ohr Shraga. It has a nice beginning and then reaches a crescendo with "lo ira ra," which is repeated many times. I don't know who composed it, but that part is very moving.
A SONG THAT GIVES ME CHIZUK IN DIFFICULT SITUATIONS
"Omnom" by Dedi, the lyrics of which are taken from the words of the Ramchal, about Hashem's complete control over all situations, no matter how out of control those situations seem. I keep listening to it over the years.
A SIGNIFICANT MUSICAL MOMENT
There were many times when we practiced and perfected a harmony over hours of work, but I didn't understand how it fit into the song. Then when the tape came out, or we were on stage for the concert, I understood the talent embedded in Yerachmiel Begun's vocal arrangements. For example, in "Mi Yidmeh Lach" [It's Min Hashamayim] we didn't know that our harmonies were the intro for the adult choir's key change, and on Miami Experience IV, when we sang "Avadim hayinu lePharaoh bemitzrayim… bemitzrayim… bemitzrayim" we only heard at the dress rehearsal how that fit into the medley, with the adult choir.
MUSIC THAT HELPS ME UNWIND
The entire series of Regesh albums. One of the things that makes them so wonderful is Yisroel Lamm's arrangements. The calm simplicity of his music, and the use of trumpets, are really special.
HOW I WARM UP A CROWD FOR A KUMZITZ
I learned this from the school of hard knocks: You cannot start a kumzitz with a complicated song. The simpler the better, something easy that everyone knows and can sing. Depending on the age of the crowd, that can be Carlebach, Dveykus, an easy Avraham Fried song, or something newer, such as a song from Eitan Katz or Naftali Kempeh.
A SONG I CAN NEVER GET BORED OF
No matter how many weddings I attend, I'm still affected by the traditional "Od Yishama." It is so timeless and meaningful, and it strikes a chord of real excitement every time a new couple enters the Jewish world.
AN INSTRUMENT I WISH I COULD PLAY
Drums. I grew up watching my older brother "bongo-drumming" on the table at home, and I actually took drum lessons as a ten-year-old and again as a 14-year-old, but I couldn't do it. Although I'm right handed, I drum with the left hand, yet with my right foot. A left-handed, right-footed drum set does not exist, but that's just the way my coordination is wired.
A SPECIAL MIAMI BOYS CHOIR MEMORY
I sang "My Zaidy" together with Moshe Yess a"h at Miami Experience II. The best part was that Yerachmiel rented a room in the Park House Hotel in Boro Park for us to rehearse. As I was singing, Moshe Yess was ad-libbing along with his own funny lines. His personality was larger than life, he was so funny, and he seemed to be playing guitar with 25 fingers. Later I sang the song at Brooklyn College. I was 11, and didn't really understand what I was singing, but the audience was moved to tears.
(Originally featured in Mishpacha, Issue 911)
Oops! We could not locate your form.
>