| EndNote |
Mood Mix with Cantor Benjamin Muller
| September 12, 2023
Cantor Benjamin Muller is one of the senior chazzanim of the frum world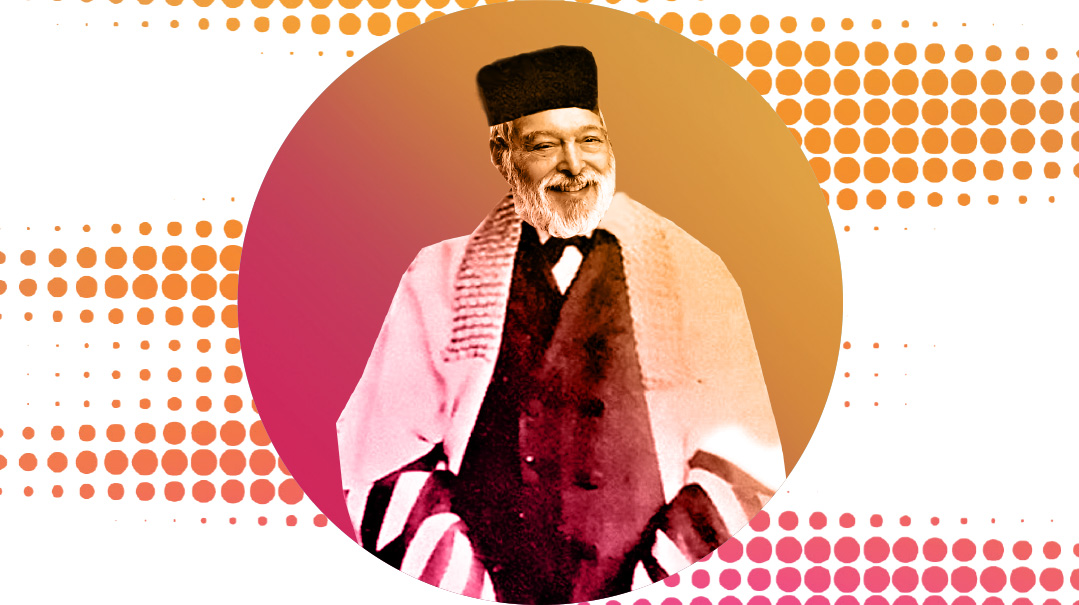 Beloved for his warmth as well as his legendary tenor voice, CANTOR BENJAMIN MULLER is one of the senior chazzanim of the frum world, having served in Johannesburg, Montreal, and, for the past 48 years, leading the tefillos at the large Shomrei Hadass shul in Antwerp. As a devotee of Yossele Rosenblatt's nusach and style, he's the patriarch of chazzanim in more ways than one: He's the father of Chazzan Yossi Muller, Chazzan Yisrael Muller, and Chazzan Rafi Muller, and the uncle of Chazzan Zevi Muller of the West Side Institutional Synagogue, New York City. His first-night Selichos at Shomrei Hadass are broadcast annually on Belgian national television, and he has been knighted in Belgium for his distinguished contribution to Jewish music.
THE NUSACH OF MY CHILDHOOD
I was born and raised in Geneva, Switzerland, where we had a most wonderful baal tefillah by the name of Reb Chaim Fuchs a"h. As a child, I really learned from and was inspired by his rendering of nusach throughout the year, but especially on Rosh Hashanah and Yom Kippur.
THE SONG THAT GETS ME INTO THE SPIRIT OF THE YAMIM NORAIM
The entire nusach and the traditional melodies of the first night of Selichos evoke just the right mood in preparation for Rosh Hashanah.
WHEN I START PREPARING
My wife always remarks that soon after Shavuos, without even noticing it, I'm already humming the Yamim Noraim tunes. But officially, I start preparing by the middle of Av.
HOW THE CONGREGATION EMPOWERS THE TEFILLAH
The Kaddish before we begin Mussaf sweeps up the entire tzibbur in its momentous traditional nusach. Other points where the congregation davens out loud together, adding inspiration, are Unesaneh Tokef, Kol Nidrei, and Yossele Rosenblatt's beautiful Kaddish Shalem at the end.
THE BIGGEST CHALLENGE OF BEING A SHALIACH TZIBBUR ON YAMIM NORAIM
The challenge is to feel what the mispallelim expect from the chazzan in order to lift them up. It's not one isolated element such as voice, melody, or interpretation, but a combination of many factors. Mainly, the mispallelim expect their chazzan to understand and be connected — and help them to connect — to both the literal and underlying meaning of every word in the machzor, as well as its deep spiritual implications. This is actually not a simple task at all. In my opinion, a chazzan who is focused on showing off his voice and talent misses the whole purpose and the real reason he has been appointed to serve as a shaliach tzibbur.
MY MENTORS IN CHAZZANUS
I was a young teenager when I first heard recordings by Yossele Rosenblatt, and they brought tears to my eyes. Even though I had a nice voice as a kid, I actually never dreamed of becoming a chazzan. Later, as a yeshivah bochur, I heard pieces by the phenomenal Chazzan Yehoshua Wieder a"h (1906 – 1964), a fantastic davener. I became very inspired by Chazzan Wieder, and wanted very much to try and daven the same way as he did. Later, I was influenced by many others, gaining something from probably every great chazzan of the Golden Age of Chazzanus.
MY FAVORITE TUNE FOR KEDUSHAH ON SHABBOS
The South African choirmaster and composer Reb Avrohom Mordechai Himelstein composed a "Na'aritzcha" that is second to none. We sing it in our shul with the choir on special occasions such as bar mitzvahs. I learned a lot from Reb Avrohom while I was the chazzan in Johannesburg.
WHAT A CHAZZAN SHOULD NEVER CHANGE
Among baalei tefillah, the nusach is considered "miSinai," meaning it's as if it was given together with the Torah, and not a single part of it should be changed. Obviously, there are some piyutim and prayers that do not have one specific nusach, such as Lecha Dodi and Keil Odon on Shabbos and some piyutim on Yamim Noraim where various appropriate melodies and tunes can be incorporated, but even there, the shaliach tzibbur must be very careful not to lower the holy level of those passages.
THE MOST EMOTIONAL PART OF THE DAVENING FOR ME
I can't really say that it's always the same section, but "Hineni, he'ani mimaas," the chazzan's prayer before Mussaf, is definitely very moving for me, as are L'Keil Orech Din and the Malchuyos, Zichronos, and Shofros sections of the Shemoneh Esreh.
MY FAVORITE YIDDISH SONG
One of my favorites is "Keili, Keili Lamah Azavtani," composed by Bernardo Olshansky, as sung by Yossele Rosenblatt. Another is a very emotional song by an unknown composer, called "Bnei Heichala," which depicts the special atmosphere of Shalosh Seudos in the beis medrash, as the light is already fading and only shadows are visible. I learned it some 40 years ago from a baal tefillah here in Antwerp named Reb Feivel Tyberg a"h.
HOW I COMPOSE
In my yeshivah years, I was a talmid of Mirrer Rosh Yeshivah Rav Chaim Shmuelevitz. He once told me, "Binyomin, a real talmid is not the one who knows all of his rebbi's Torahs, but the one who can answer a difficult kasheh as his rebbi would have answered." As a chazzan, I sing compositions from the great chazzanim such as Rosenblatt, Kwartin, Hershman, Glantz, Wieder, the Koussevitzky brothers, and many more, but the one I really feel in my neshamah is Yossele Rosenblatt. One day, I decided to apply what I had heard from Reb Chaim Shmuelevitz and sat down at the piano to compose an original piece of chazzanus the way Yossele Rosenblatt would have composed it.
I chose the tefillah "V'al hakol yisgadal v'yiskadash," which is recited before reading the Torah on Shabbos and Yom Tov. The following Shabbos, I sang it in shul and was wondering what people would say about it. Our late rabbi, Rav Dovid Moshe Lieberman a"h, grew up listening to Yossele's recordings and knew all of them by heart. After Shacharis, when I passed his seat and greeted him with a "Gut Shabbos," he said to me, "The 'V'al Hakol' you sang today is beautiful, but I can't remember which of Yossele's recordings it's on.' At that moment I knew I'd succeeded."
A NIGGUN THAT NEVER GETS OLD
I can think of two niggunim that will probably be popular forever: Yossele's Shir Hamaalos, and the classic melody for Adon Olam.
AN ENCOUNTER I'LL NEVER FORGET
Some years ago, a Yid here in Antwerp who was a descendant of the Sanz chassidus donated a sefer Torah to Laniado Hospital in Kiryat Sanz, Netanya, and he invited both me and our late rabbi, Rav Dovid Moshe Lieberman ztz"l. The Klausenburger Rebbe, Rav Tzvi Elimelech Halberstam shlit"a, was present when I was honored to sing at the seudah. I sang the "Ahavah Raba" composed by the late Yehoshua Wieder, and when I finished, the Rebbe signaled me to approach. He gave me his hand and said, "If I would be as great a rebbe as you are a chazzan, I would be the greatest rebbe in the world!" I replied, "Rebbe, it is the opposite — if I would be as great a chazzan as the Rebbe is a great rebbe, I would be the greatest chazzan in the world."
MY MOST MEANINGFUL PERFORMANCE
Some years ago, I was invited to participate in a concert at Lincoln Center in Manhattan on Yossele's yahrtzeit. All the chazzanim were to sing pieces composed by Yossele, and the piece I was assigned was the famous "Hamavdil." In my hotel room, the night before the concert, I was mentally rehearsing when I suddenly wondered why Yossele had sung on the recording only the first few stanzas and the last one, but had omitted the ones in the middle. The question intrigued me, and I fell asleep still pondering it.
Then I dreamed that Yossele was standing before me and smiling. I was overjoyed to see him, and, in my dream, asked the question that was bothering me. Still smiling, Yossele explained that in his time, recordings had restricted space, and if the piece was very long, it would be split in two: half on the front of the record and the other half on the back. "Hamavdil" in full was too long to fit on one side, so he had to skip some paragraphs from the middle. And then Yossele added the following: "But don't worry, the melody is all there." He waved to me and I woke up. I immediately took a siddur, and when I applied the melody to the missing passages, it fit perfectly. The next evening at the concert, I sang the whole piece, including the words Yossele had omitted on his recording.
OUR FAVORITE PIECE TO SING AS A FAMILY
"V'af Hu," from the Yom Kippur avodah, as sung by Yossele Rosenblatt in duet with Samuel Malavsky, and the "Areshes Sefaseinu" from Mussaf Rosh Hashanah, composed by Charles Heller.
IF I COULD SING WITH ANY CHAZZAN IN THE WORLD, I WOULD CHOOSE
My sons! All three have outstanding tenor voices and are first-class chazzanim.
MY FAVORITE PIECE OF NUSACH
"Ochiloh Lakeil," from Mussaf of the Yamim Noraim.
THE ONE RECORDING I WOULD TAKE ON A LONG ROAD TRIP
My favorite piece of chazzanus, "Ana Avda," sung and interpreted by the late Chazzan Dovid Koussevitzky at a concert he gave around 60 years ago.
MY MOST MEMORABLE AUDIENCE
On the 50th anniversary of the Warsaw Ghetto uprising, I was commissioned to compose a special symphonic work. I composed a full-length symphony called "Tears of Fire" for solo tenor, choir, and orchestra, which was a collection of songs and prayers reflecting all the persecutions suffered by our people throughout the generations. It was performed at a prestigious concert hall in Brussels before thousands of people representing all of Belgium's Jewish organizations, and in the presence of His Majesty, King Phillip of Belgium. The reaction of the public was overwhelming — the king was the first to stand up and he led a standing ovation.
(Originally featured in Mishpacha, Issue 978)
Oops! We could not locate your form.
>