| EndNote |
Mood Mix with Avrumy Jordan
| March 28, 2023
Avrumy Jordan has created Pesach memories in locations from Connecticut to Cancun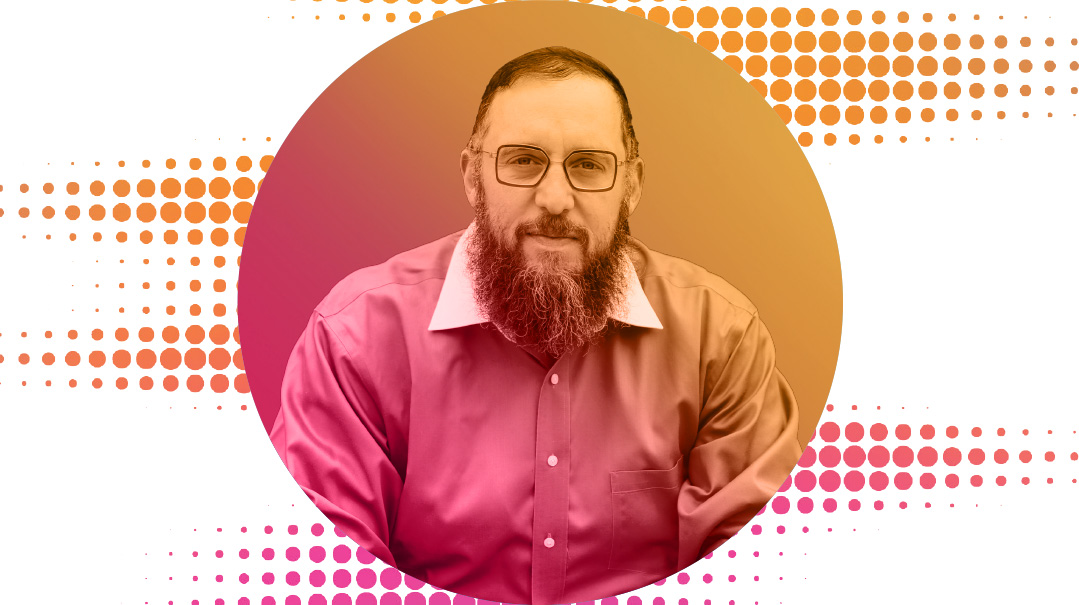 A veteran Pesach program director, AVRUMY JORDAN has created holiday memories in locations from Connecticut to Cancun. Born in Sydney, Australia, and living in Monsey for over 20 years, his book #LifeThoughts, an Amazon bestseller, is full of one-liner wisdom for a good chuckle.
A SPECTACULAR MOMENT FROM A PESACH CONCERT
One Pesach, a new singer called and asked to take the stage. I invited him to come sing a Hallel medley together with Lipa. He had just released his first single and his high notes —and general sweetness — really took the crowd. Maybe you've heard of him? Simcha Leiner.
A BACKSTAGE BLOOPER
I had produced a dinner, and the theme song of the video we made was the Neil Diamond classic, "Coming to America," about downtrodden immigrants arriving to a life of freedom in the US. The entertainer at the dinner was Dudu Fisher, and he was going to start his set later in the evening with that same song. But as the video started and that iconic intro played, Dudu dropped his bottle of water and went running for the stage door, thinking he had missed his cue!
MY STRONGEST SEDER NIGHT FLASHBACK
When I was growing up, my father created a family classic: Right before the section on the Four Sons, we always sang the English version — "Said the father to his children…" — to the tune of "Found a Peanut [Clementine]." I've passed it on to my children and can barely make it through without crying as I think of him.
OUR FAVORITE SHABBOS ZEMIROS
Rabbi Baruch Chait's "Horachaman," from the Rabbis' Sons Shalom album. I grew up in a house of brothers and we would all harmonize on this as we klopped on the table. It's something my family has continued all these years later, including cousins around the world from Melbourne to London.
SONGS THAT TAKE ME BACK TO YESHIVAH
On Motzaei Shabbos we'd hang out at Kever David Hamelech with the Diaspora Band. There was always a kumzitz, and the songs still echo deep within me.
A SONG THAT TAKES ME BACK TO MY GRANDPARENTS
All the old Yiddish folk classics. My grandmother escaped from Cologne, Germany, on the last boat to Australia before the outbreak of World War II. She was just a young lady then, and she built her own family Down Under. If I ever hear "Az der Rebbe Elimelech," I remember her teaching it to us and can even smell the "4711" perfume she wore.
A SONG THAT ALWAYS WORKS TO WARM UP A CROWD
Regesh's "Shalom Aleichem" has always been a favorite crowd-pleaser. Best to start it slow and then build up momentum to get the crowd energized.
AN INSTRUMENT I WISHED I PLAYED
Harmonica. It is so transportable and can add such life to any matzav.
A SONG TOO COMPLICATED FOR ME TO SING, BUT THAT I still LOVE
"Nisht Gedayget Yidden," because my Yiddish isn't good enough to get it out, but the energy and hope engendered in the song still keep it one of my favorites.
WORDS THAT GET TO ME EVERY TIME
"Last night he passed away, it's the first time that my father heard me pray," from Country Yossi's "Deaf Man in the Shteeble." If I'm driving, I have to pull over as the tears flow. As an Australian who moved across the world over 30 years ago, I missed a lot of opportunities to sing together with and for my father. When he passed away ten years ago, those words hit me hard, as I know he can now hear me."
MUSIC THAT TAKES ME BACK TO MY CHILDHOOD
When I was growing up, we used to go on vacation to the mountains in the snow in August, and in the car we played the cassette tapes my older brother had sent us from Israel: HASC 1, 2, and 3, and Country Yossi and the Shteeble-Hoppers. We played them in turn, then flipped to the other side and listened again and again. I knew every chord by heart. Then I remember getting MBD's The Double Album when it came out. It was a big excitement. It was really Jewish and real music.
MY EARLIEST CONCERT MEMORY
Shlomo Carlebach came over to Australia in 1979, for a concert that my father helped arrange as part of Rebbetzin Jungreis's Hineni movement. I remember Shlomo sitting down on the steps of Sydney's Central Synagogue and inviting the children to come sing with him. It was far from the prim and proper chazzanus recitals the community was used to. I was among those children, and Reb Shlomo's niggunim, with their simplicity and depth, still have the power to uplift me. I think his music matured over time, too. The longer he composed, the deeper his music went.
A SONG I CONSIDER UNDERRATED
8th Day's "Lo Alecha," from their Lucky album. When I heard this song for the first time, I played it over and over. The words are incredible ("If you hear me singing this song, you know that I'm trying…The highest time is to try…"), but the song is lost on the album, because not every song can be a hit (and not every hit is a home run either). I hold that 8th Day is the Diaspora Yeshiva Band of today's generation — their music is not really for playing at chasunahs, but it really speaks to the soul.
MY FAVORITE YIDDISH SONG
Avremel Fried's "Tatenyu." Besides the sweetness of his delivery, the song somehow transports me. It's a niggun I use when learning and very often for davening too.
MY FAVORITE HEBREW SONG
I'm an old soul. My favorite Hebrew tracks go back to Duo Reim and that vintage.
MY CURRENT FAVORITE ALBUM 
Loving Eitan Katz's new album Sh'or Yoshuv Mishmar. Brings back amazing memories. Flying out to L.A. last week, the people next to me had to hear me singing along for five hours.
(Originally featured in Mishpacha, Issue 955)
Oops! We could not locate your form.
>