| EndNote |
Mood Mix with Ari Baumann
| February 15, 2022
Get in the Adar groove with keyboardist Ari Baumann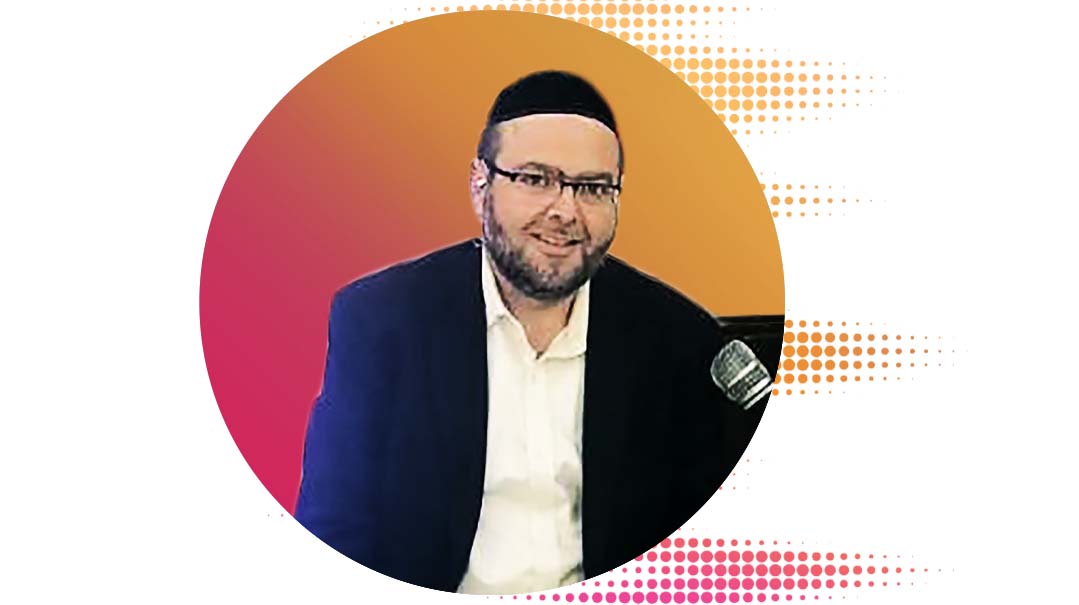 From the time he received a Casio VL Tone synthesizer as a Chanukah present when he was 11 years old, ARI BAUMANN has been playing the keyboard. His first paid gig was at age 13, and he's been a popular one-man-band and orchestra leader in Flatbush for three decades. Ari is credited for giving a start to singers Michoel Pruzansky, Tzvi Silberstein, and others who first performed with him at events. Ari is always on call to bring music to Jewish patients, hospitalized or homebound. He's also the producer of the Purim Fever comedy series and the Zaidy Avi children's album.
A SONG THAT GETS ME INTO THE ADAR MOOD
That's "Mishenichnas Adar," hands down — the "Misheh misheh mishehnichnas Adar, marbim, marbim, marbim besimchah" version, the tune of which is actually an ode to the slaves' cotton picking ("Jump down, turn around to pick a bale of cotton…"), but was somehow elevated.
THE SINGER I'D LOVE TO INVITE TO MY OWN PURIM SEUDAH
Joey Newcomb, because he's so real and sings from the heart and I think he'll bring out simchas Purim in an amazing way. I've farbrenged with Joey and he just gives good vibes and is fun to be around. We had a great time doing some skits together in a series of commercials for shulpace.com.
MY FAVORITE PURIM GIG
On Purim I play in the house of Rabbi Avi Davidowitz (Rabbi D. of Oorah fame) who is the rosh yeshivah at TAB (Torah Academy of Brooklyn). Every year I marvel at the connection students and alumni have with Rabbi D. Young people of all types stream into the house. They may be far away from the yeshivah world, but every year they come back to their rebbi on Purim. Once, over 20 years ago, I played there on Purim together with Yossi Piamenta a"h — that stands out as a special memory with unforgettable warmth and flavor.
HOW I CREATED THE PURIM FEVER ALBUMS
Going back over two decades, a couple of guys who liked to sing and I were going to go over to a friend who had a home studio — then a rarity — to record some Purim songs and comedy. After Shacharis that day I met a good friend who decided to come along and watch. He wasn't intending to get on the mic at all, but suddenly he said, "Let me show you guys something I did in camp," and he took a phone and got on the mic. What followed was the infamous "Chaim Mordechai Brecher" classic prank-call comedy. It was done totally off the cuff, no rehearsals, and those were all real calls!. We were laughing so hard that we had to run out of the room, and when you hear the caller coughing, he was really laughing too. That was the first volume, and it was probably the funniest week of my life.
MY OWN FAVORITE PURIM FEVER TRACK
The best and the most famous is the "Brecher's" spontaneous comedy on the first volume. A lot of people have posted that as a clip online, by the way, just titling it "Chaim Brecher prank call" with no mention of Purim Fever at all. I'd say to them, "If you want to steal it, fine, but at least say where it's from." Another favorite is "My Lexus," from Purim Fever Volume 2. It's a call to roadside assistance, which people enjoyed a lot.
OUR MOST MEMORABLE FEEDBACK
There was a lady who called about a segment we put out in another language, complaining that it should have been censored, but we won't go into that. I gave her money back, and thankfully no one else who bought the tape understood it. There's someone who always calls to tell me how happy the comedy makes her, and one year she gave out Purim Fever in her mishloach manos.
MY FAVORITE TWO LINES OF ENGLISH LYRICS
"Oh Hashem every step I take you guide / Every day I know you're standing by my side." Michoel Pruzansky is a very close personal friend, and these lines are from an incredible song on his album Pruzbul called "You're Watching Me," about an American Jew who was saved from injury in the Sbarro pizza blast by an Israeli offering him his place in line. The Israeli is injured and travels to the US for surgery, where he asks his indebted American friend to pick him up at the airport, which then saves him from the Twin Towers attack. It touches me, because it reminds me of standing in Manhattan and watching from the Javits Center as the second Tower fell. We are just so not in control.
A SONG THAT GIVES ME CHIZUK
At the moment, I'd turn to "Mi K'amcha Yisrael" by Joey Newcomb and Benny Friedman. I think of all the incredible organizations we have that help out Yidden in any situation.
MY CURRENT FAVORITE WEDDING DANCE SONG
"Eliyahu Hanavi Zachur Latov." It can wake up the room, again and again.
THE PERFECT VOLUME FOR WEDDING MUSIC
The musicians can't get lost in their own world. They have to watch people's faces, to see if they're enjoying it or cringing. (I don't mean those people who make a point of standing in front of the speakers, then make all kinds of faces and stick their fingers in their ears. Just. Move. Away.)
THE SHABBOS ZEMIROS I NEVER SKIP
Menuchah V'simchah. I sing the Oorah tune (it's actually Shlomo Carlebach's).
AN OLD SONG I WISH WOULD MAKE A COMEBACK
Amudai Shaish's "Boruch Hagever." I loved that song. Actually, I still play and sing it, and made it one of my signature songs. People know me for it, and the room still really gets pumping.
A SONG I CONSIDER UNDERRATED
My own "Od Yishama." It was released on an album by Boruch Aboud called Netzor, produced by Yochi Briskman and arranged by Yisroel Lamm. The album had potential, but didn't really take off, and my beloved song is among the losses.
I composed it while I waited for the car mechanic, accompanied by banging on the steering wheel, and recorded in those pre-smartphone days by calling up the voicemail in my house.
(Originally featured in Mishpacha, Issue 899)
Oops! We could not locate your form.
>