| On your Mark |
Meet… Sarah Einhorn  
| June 21, 2022
Sarah Einhorn runs a website that's a database of trip suggestions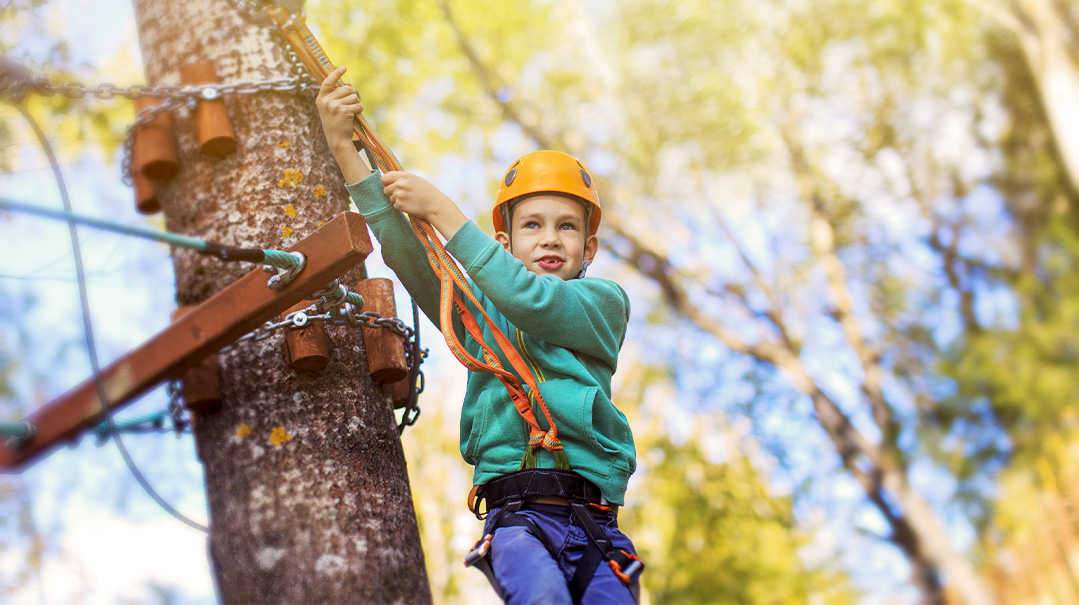 For years, my phone line was flooded with calls from acquaintances who wanted "some place to go." Everyone knew that trips were my passion, and I had a great mental database of attractions. If I have a free hour in my day, I'm out exploring a little-known local park or lake trail. If it's an entire afternoon free, I could be on a scenic hike or skiing on artificial snow or at a glassworks studio.
When the kids are off from school in the summer, you'll find us far from home exploring beautiful vacation spots, packing the days with activities and sight-seeing, water sports, museums and everything in between.
Friends would call when their boys had a few days off from yeshivah and needed to do something fun. They wanted suggestions for Chol Hamoed destinations, family summer overnights, major trips for day camps, and halcyon venues for dates. I enjoyed sharing my experiences, and for years, I'd been publishing pictorial articles about my trips in the Jewish Press, Mishpacha Jr., the Jewish Echo, betweencarpools.com, the Lakewood Scoop, and other publications.
Making the Leap
In 2018, I decided to run with it. I left my day job, which was very decent but felt stifling, and developed my own website, beentheredonethattrips. It was a big jump, and a little scary.
At home, with lots of free time at my disposal, I began to organize the material from all my articles and vacation albums and set up a user-friendly website. Naturally, the most fun part was visiting more attractions so I could write them up.
It was clear to me from the beginning that my site would be based on personal experience and recommendations. I know how super-annoying it is when you get to a venue chosen from a brochure or website and find it doesn't match the glowing description. The information on my website isn't material you can get on Google or on the attractions' own websites, because I've actually visited every single place. My pictures capture what the place looks like in real life —no photoshopping! — and my reviews are honest and thorough.
A lot of people who cared about me were concerned that I left my job. They asked me how I thought I could make a living off my hobby. Truthfully, it's still developing, but with creativity and hard work, many doors have opened.
When I left my job, I also began to do outdoor photography shoots, because I think it's important to open a few avenues for supplementary income.
The project grew, and word spread. During high season, such as Chol Hamoed or summer bein hazmanim, the website gets between 20,000 and 30,000 views.
Currently, we cover over 600 destinations throughout Eretz Yisrael (where we lived for five years); seven European countries (my husband is European, so we've had opportunities to travel there); Canada; and many of the States. We've covered the Northeast region pretty thoroughly, except for Maine, and we've visited California, Colorado, South Carolina, Louisiana, and Florida. By now, attractions contact me to request a review on the site, but I'll only cover places I personally visit.
Hundreds of viewers contact me with their questions and I'm happy to share information freely. On the side, I do personal trip planning and find accommodations as a service for clients.
We have just redesigned the website to offer the convenience of searching by area and category. We're now working to set up a way to search by distance, so you can find trips within an hour's drive of wherever you're located.
Around the World…
Discovering little-known gems, like the ArcelorMittal Orbit slide in London's Olympic Park gives me a thrill. Then there are the simpler pleasures which the younger kids adore, like the friendly chipmunks at Sapphire Point Overlook in Colorado. Some venues are more staid, such as museums, but I tour them anyway so I can offer something for everyone on my site.
I have a passion for the beauty of water. Waking up to watch the glory of sunrise over the water from a balcony is my number one enjoyment. Seeing animals in their natural habitat, like whale and dolphin watching, is also thrilling for me.
When I take a trip, I try to stay at least a week. I find that less than a week makes it hard to fit in everything the area has to offer. That's why road trips aren't really my thing. I like to settle into a place and experience it fully, not pack up every night or two. We generally don't revisit places unless we have a compelling reason (family visit, or passing by). The world is so big and there are still so many new places to see!
I keep a spreadsheet with information about places I'd like to visit, often inspired by looking at the green spaces on Google Maps, or by searching for plane tickets by price.
In the winter, I usually travel somewhere with my husband (who isn't naturally an adventurer but an incredible sport), and in the summer, the eight of us do a family bein hazmanim trip for around two weeks, with children of all ages. We also take advantage of Chol Hamoed and random days off to travel.
Family Friendly
Almost nothing creates great family time and memories like a trip, though you need to tailor it to your own family's strengths and interests. We're a pretty fit (or determined) bunch, so hiking and climbing and water activities work well for us. My philosophy is to be a sport about going away with kids of all ages. If I wait until my kids grow up to enjoy life, it will be a long wait, so I'd rather enjoy the moment.
We often get complimentary passes from a place I'll be reviewing, so my kids have enjoyed incredible ziplines over canyons in Colorado riding from mountain to mountain, some expensive theme parks that normally wouldn't be in our budget, and a private speedboat tour in New Hampshire.
I've ridden in a hot air balloon, and taken a personal helicopter tour over New York City to watch the sunset over Manhattan. Those weren't family trips, but they were fun!
We don't like to travel more than five hours on the road without a proper stop. We're based in Monsey, so that means the Poconos, Lancaster, Newport, and Vermont are all relatively local. If we're going somewhere further, we need to make a proper stop and do something on the way. Sometimes we fly, using miles. I try to do budget-friendly trips, and I'd rather spend more money on experiences than on luxury.
When we travel, I pack food, and don't rely on buying much at our destination. While there are a lot of kosher food options available throughout the US, I don't want to get bogged down in food shopping while we're away. Searching for kosher products in supermarkets or unfamiliar stores, paying double New York prices for a kosher loaf of bread, or waiting on line in grocery stores are not my idea of a vacation experience. Of course, the occasional kosher restaurant stop is fun, but relying on eating out would be way above our budget.
Within the US, we've found ordering in advance from a Walmart Supercenter near the destination to be a great hack. Walmart Supercenters have everything, and we can easily order, then stop by for them the day after arrival, loading the car with gallons of water, fruit and vegetables, OU products that we use, and toiletries.
Although I'm an adventurer, I'm very practical. As much as I'd like to, I can't think of a way to get on an African safari adventure or visit Australia anytime soon, and I accept that.
At the end of the day, it's an incredible world to experience on vacation, but yeshivah, school, and family simchahs are nonnegotiable. Our family lifestyle has to be at the heart of things. There are two guidelines I set to anchor us. The first is to go to places where there's a minyan nearby (even a temporary one). Secondly, I do not go away overnight without my husband.
Branching Out
Covid brought about a big shift in the business aspects of the site. Day camps in New York weren't sure if they'd open. When they ultimately did, trips were a big headache for the directors. Venues either didn't want to open at all, or wouldn't accept groups.
I stepped in by reaching out to venues with whom I had a prior connection to through my reviews. I asked those that were open if they wanted me to recommend their attraction to day camps and bring them group bookings, in exchange for a commission. This worked amazingly for both sides. I sent the camps on cool trips within the Tristate area, and the venues were happy to have solid bookings through a liaison whom they trusted, rather than rely on uncertain advertising to bring the crowds in.
I kept this up over the next summer, providing day camps and camps with exciting trip options and coordinating girls-only waterpark trips, while maintaining a great working relationship with the operators, to everyone's benefit. If a camp has visited an attraction before I recommend it, I tell them to book directly with the attraction since they've been a past customer. Many day camps and camps have been reaching out to me as word spreads between camp directors.
During midwinter break, I organize snow-tubing trips at low group rates.
Connections really help things work out. Last year, a few camps were rained out of a waterpark due to a storm. They weren't able to reschedule, which left one of the camps at a total loss; this had been their major trip. I was able to arrange for them to go to a major indoor amusement park, on the same day.
Recently, I've also started to work with MYS Events, helping coordinate kosher vacations at hotels and resorts.
What I love about all the things I do is being part of people's most enjoyable moments.
Most Common Request
"Can you suggest a place that we can go away to for Shabbos, within walking distance of a minyan?" This is a challenge! I know you want somewhere far enough out-of-town for it to be a vacation, yet somehow in-town enough to have a reliable minyan. And within easy driving distance from New York. Don't assume that all Chabad Houses have a minyan, either. Some do and some don't.
Approbation for Our Nation
It feels like a responsibility to be the face of Orthodox Jews to many non-Jews. One indoor attraction that I sent a lot of groups to in that first Covid year loved the Jewish groups so much that the owner freed up some days of the venue's summer schedule just for Jewish groups.
Craziest Travel Experience
We'd been traveling in Europe and were returning home from Amsterdam Airport with four small children, when our flight was canceled due to a storm. There was chaos at the airport and we stood on line for ten (!) hours before rebooking for the next morning. And our suitcases had been checked in, so we had a good time shopping…
Get It Right
A number of camps were meeting at a waterpark, but one just didn't arrive. We realized they had just put the name of the park into Waze. But the park had two locations, and they followed Waze to the wrong one, driving too far away to get to the right place in time. Another time, a different camp was heading to a bowling alley, and they didn't give their bus driver the full address. He drove them to a different bowling alley. Luckily, the place was able to accommodate them, but they lost their deposit at the other venue. So always double check the address before heading out.
A Hidden Treasure
Assateague Island National Seashore, near Ocean City, in Maryland. It's a stunning natural park — a strip of land between the ocean and bay, where you can see wild horses in their natural habitat.
(Originally featured in Family First, Issue 798)
Oops! We could not locate your form.
>