| On your Mark |
Meet… Leah Kestenbaum | October 25, 2022
Leah Kestenbaum started Cheer Up Treats, sending Shabbos dessert to people going through a difficult time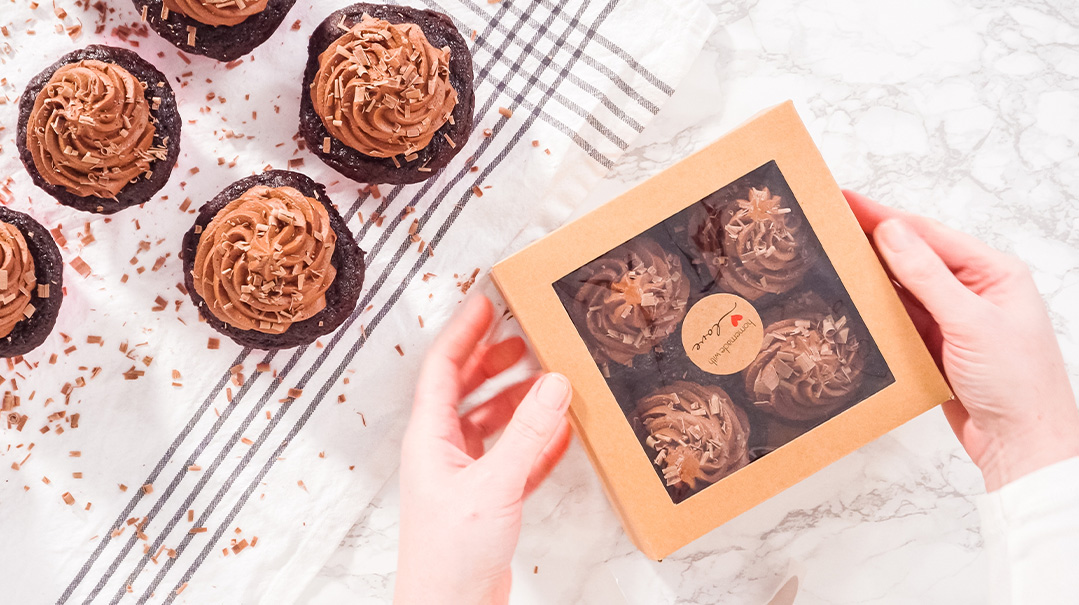 I grew up in Brooklyn, in a chesed-oriented home. That atmosphere gets into your bones.
I believe that thoughtful people have the most refined personalities. My parents are that way, both in small and big ways. Every week of the summer, my parents fill vases with flowers and put them on the tables in our shul to elevate the atmosphere.
They've also been coordinating Shabbos meals for a girls' group home in Brooklyn for over ten years. They'd heard that 30 girls needed food for Shabbos, and they sent everything — challah, dips, soup, mains, and desserts. After a while of doing that on their own every week, they coordinated the efforts, and now, each week, people contribute food. They drop it off at my parents' house, and my parents deliver it to the home. Here and there, as a teenager, I'd bake something for the home for Shabbos.
When I was in high school, we had a chesed program, and I chose to do weekly baking for Chai Lifeline families. I'd bake fancy cupcakes and buy those three-tiered cake platters from Amazing Savings and wrap them up nicely. I guess the seeds of my initiative were sown back then.
Creating Connections
I'm musical. I play guitar, piano, drums, ukulele, all by ear, and I compose music, too. I was curious about becoming a DJ and taught myself. Before I moved to Israel, I'd do women-only events, like bas mitzvahs. I was the DJ at Camp Simcha. I DJ now in Israel for seminaries and Neshei events.
I love to get people motivated. Connecting with others is important to me. A good DJ can connect with the audience, understand the mood, and sense what type of music they want next. It involves reading people. I probably got into the field because it was a way to express my musical and artistic side, but it definitely involves people skills, and I like creating music that makes you feel a connection with others.
We moved to Eretz Yisrael pretty soon after we married, a little over three years ago, and have been living in Ramat Eshkol. I don't think we'll live here forever, so I cherish every moment.
"I'm Here With You"
Last spring, I was going through a hard time and had a particularly challenging day. I was venting to a friend about it. It helped, and after I felt better, I went to do some errands. When I came home, I found sushi at my door with a note that said, I'm here with you. It gave me a lift, and it got me thinking how there are a lot of people going through difficult situations. We're so limited in how we can help, but we can send them something and let them know we care about them.
What if I could send beautiful Shabbos desserts to people who needed cheering up? I thought. I was making fancy desserts for Shabbos anyway — miniatures, ice cream bars, or cupcakes, and I figured I'd make extra batches. It could encourage people to think of each other and help people feel loved and connected to others.
I wanted it to look respectable, like it came from a shop. I'm a marketing manager and graphic designer, so I created an ad, an application form, and a logo.
That first week, I didn't think much about it. We put out an ad Tuesday night asking people if they knew of anyone who needed cheering up, and if they did, to fill out an application form. I told my husband that these things don't make much of a bang when they first go out. I'm in the business world, and I know it usually takes a while to generate a buzz, but figured we'd give it a shot. It's up to Hashem, not us.
Within the first hour, the emails were rolling in. We were shocked, and I started crying. I was overwhelmed by how many people needed a boost, and I was feeling their pain, but I was also so happy I was able to do something to help them.
Plans and Priorities
We couldn't decide how to prioritize who to give to, so we asked the rav of our shul. He told us medical crises should take precedence, and we added those struggling with marital issues and infertility. We wanted to help people who were in pain in the moment.
There are weeks I have more requests than desserts to provide. In a perfect world, I'd send to everyone. Initially I was afraid we would take business away from the local businesses, so I compiled a list of local businesses that sell similar things. Any time someone emails me, and, for whatever reason, I can't accommodate them, I refer them to the local list so that the local businesses can benefit, too.
The original plan was to have everyone pick up their boxes from my house. But I saw on the forms that a lot of people were in America and wanted to send to their friends or family in Israel, and they couldn't do that without a delivery service. So I had to figure out how to do delivery.
My husband suggested I call a friend who's been here for little bit longer and has a network of people, and ask if she knows anyone who'd want to donate an hour to deliver the desserts on Friday morning. When I asked my friend, she said she wanted to do it. She has a car, and we go together every Friday morning. She drives, and I leave the packages at the doors.
Soon after, her sister got involved, and she also helps with deliveries. We each do half.
Outpouring of Kindness
My mother always says, "If you give, you get." Right after we started, I was speaking to an acquaintance, and she asked me, "How can I contribute to this?" She gave me enough money for supplies for more than seven weeks.
Then people started contacting me — random people or people I knew — and donations were coming in. I never had to ask anyone for money. All these donations make me feel so supported, that I'm doing the right thing. It's amazing that people want to be a part of it.
People have reached out — from Cleveland, from Brooklyn, from Baltimore — wanting to start a branch of their own. We help them get started by sending them order forms and branding material, and giving them free aprons and delivery bags.
I jumped right into this. Sometimes people ruminate over an idea and then it ends up falling by the wayside. They can get bogged down with technicalities and give up before they even start. This initiative taught me that if you have something you want to do, jump right in.
It got me thinking: I bet no one who started an organization really thought that deeply into it when they started it. They saw a need, made a move, and figured everything else out afterward.
Organizations that change millions of lives and raise millions of dollars a year were all started by one person capitalizing on that one moment. Sometimes you just have to be the Nachshon and jump right in. There was no big event or something traumatic or crazy that happened that made me do this. You don't have to go through something in order to think about others and go beyond yourself.
I'm just a regular girl. Anyone can make a difference.
Instant Stress Relief
Composing music. I walked down to the chuppah to a song I composed for my wedding.
Before Company Arrives
I'm always afraid I won't have enough food, and right before Shabbos, I'll make a batch of poppers. Then, of course, I always have leftovers.
Signature Dish
Gefushi — gefilte sushi (recipe from kosher.com). Don't knock it until you try it.
Most Interesting Thing in My Fridge
Wine from Reb Chaim Kanievsky. We use a tiny bit in Kiddush every week.
Favorite Tune
I like slow, beautiful songs that uplift. My favorite is Im Eshkachech, composed by Rabbi Mordechai Twerski and sung by Lev Tahor.
(Originally featured in Family First, Issue 815)
Oops! We could not locate your form.
>