| On your Mark |
Meet… Giti Fredman  
| August 15, 2023
Giti Fredman started "Just Bake It" workshops, where she brings people together to create delicious memories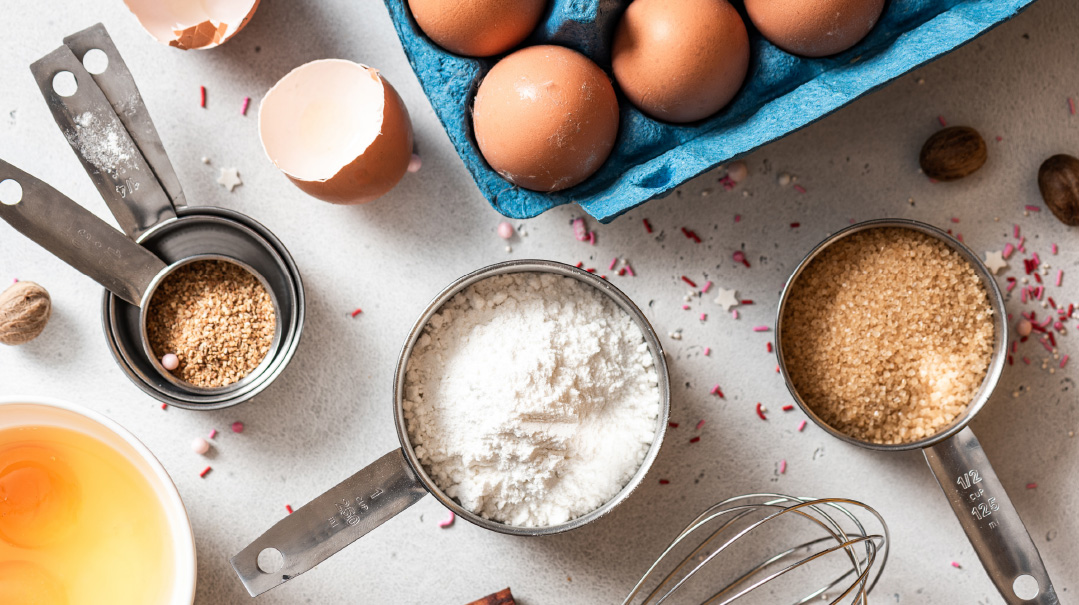 I've been baking since I was eight years old. One year my Hungarian Bobbie came to us in Lakewood for Pesach. I was 11 at the time, and I have a distinct memory of my Bobbie showing me how to make sponge cake. She rolled up her sleeves and folded the batter not just with her hands, but with her whole arm. She didn't teach all the grandchildren how to bake; she chose me, and it gave me confidence that she saw I had potential.
My mother encouraged my baking, signing me up for Sunday baking clubs in elementary school and a professional cake decorating course in high school. That inspired me to take my desserts to the next level. My mother let me have free reign in the kitchen, even though I was messy, and I would regularly make desserts for Shabbos, Yom Tov, and simchahs.
When I was in tenth grade, my Bobbie was nifteres, and I inherited her Kitchen Aid mixer. With it, I continued to hone the talent she had seen in me.
I was so into my baking that once, at parent-teacher conferences, the principal told my mother that I should apply myself to academics, suggesting that I study more and bake less. My mother came home from conferences and hid Bobbie's mixer.
Well, I found it and kept baking.
Starting Out
I was fortunate enough to begin my married life in Jerusalem, where my husband was learning in Rabbi Yitzchak Berkovits' kollel. After my bechor was born, my mother encouraged me to start my own baked goods business. I started selling caramel nut logs, which were replicas of the Siegelman's version, strawberry shortcakes, mini parfaits, royal icing custom simchah cookies, and yodels.
I advertised in Mishpacha and the Newcomer's Guide, and from there it was word- of-mouth. People would call from America and order baked goods for their relatives in Israel. The bulk of my business was for bochurim and seminary girls.
One day, my former principal called to order her daughter a birthday cake. I couldn't resist and asked her, "Do you remember when you told my mom that I should bake less?" We had a moment.
I share that story at the beginning of every Just Bake It workshop, and I follow it up with a brachah to the participants that they should also find their special gift and share it with the world. We feel our best when we use our strengths, work to our strengths, and more so, when we share our strengths. This is something I learned from Rabbi Berkovits. He taught that every couple has a unique contribution to make in the world. It's not enough to just develop your gift, you must share it and teach it to others.
Challah Bakes
My husband and I spent around 13 years working in outreach. After we left Eretz Yisrael, we joined the Seattle Kollel, and then we ran Aish Minnesota. During those years, my challah bakes were the easiest to recruit for and the fastest to fill up, whether it was a small one in my kitchen or a big one with hundreds of other Jews.
I have a lasting connection with the people I taught to make challah. I randomly get texts from people I haven't seen in years saying, "Thinking of you and making challah this week, Shabbat Shalom." I introduced them to this mitzvah, and every time they bake challah, that connection is renewed. It's a zechus, especially because a family is more likely to sit down together for Shabbos when there's fresh homemade challah.
One day, I was telling my business-minded brother and sister-in-law about the demand for challah bakes, and they suggested I turn it into a business. I thought it was a great idea, but I did absolutely nothing about it. Fast forward a few years. We had finished doing outreach in an official capacity and moved to St. Louis with our four kids, and I saw an opportunity to bring this germ of an idea to life.
Now I run Just Bake It workshops for showers, bas mitzvahs, family reunions, board meetings, girls' night out — whatever people want. We spend around 90 minutes together, and I walk participants through the steps of making a delicious baked good, whether it's challah, babka, cinnamon buns, pretzel challah, or bagels.
While We Wait
What I do while the dough is rising, which is around a 20-minute window, depends on the crowd. If it's a Jewish crowd, I talk about each ingredient from a ruchniyusdig perspective. For example, I explain how water is compared to Torah. If there are little girls in the audience, we might have a dance party. I created a musical playlist with songs that reference the various ingredients.
In the summer, I run Just Bake It workshops for camps, and when I share the story of how everyone has a special gift from Hashem, I ask the girls to think about their own gift. I notice that little girls are eager to share, but high school girls are reluctant. The teenagers tell me they'd feel more comfortable   sharing what their friends' gifts are. I wonder what happens between the little girl stage and the high school one that they're scared to share their strengths?
If it's a corporate crowd, I emphasize team building. I play a game I developed called, "Identify with the Ingredient." I talk about the character traits of the ingredient. For example, how sugar is like compliments and kind words. I ask the participants, "Who on the team is the sugar? When do we need to be more like them?"
As much as I enjoy running workshops for all types — especially since you have an opportunity to make a kiddush Hashem — my passion is working with Jewish women. I loved running the Great Big Challah Bake for the Shabbos Project in Chicago and bringing the Challah Bake back to life in St. Louis.
During the Great Big Challah Bake season, other cities order my Just Bake It kits, which include pre-packaged ingredients. This cuts down on the prep for challah bake organizers but makes my life more intense. Even just opening the bag, filling it, attaching a sticker, and sealing it is so much work. An amazing friend, who has a sister with special needs, suggested I collaborate with day programs where adults with developmental disabilities can learn vocational skills. I'm proud to say that we're now partnering with Keshet and Libenu in Chicago.
Something special happens in my workshops because you're sharing an immersive experience. It's very sensory, you're using your body, you're not just sitting and listening, you're part of the process, you're creating. Food brings people together. It connects us, and after we part we're left with sweet memories and something delicious.
If you were a pasta, which type would you be?
The curly one, because it has character and it's all over the place
If you were a season, which one would you be?
Summer, because I'm intense
What would your superpower be and why?
Time management, so I would upset less people
(Originally featured in Family First, Issue 856)
Oops! We could not locate your form.
>