Marketing Revitalized
| July 17, 2019
Subtlety is a word that does not exist in Hebrew, by the way — not a coincidence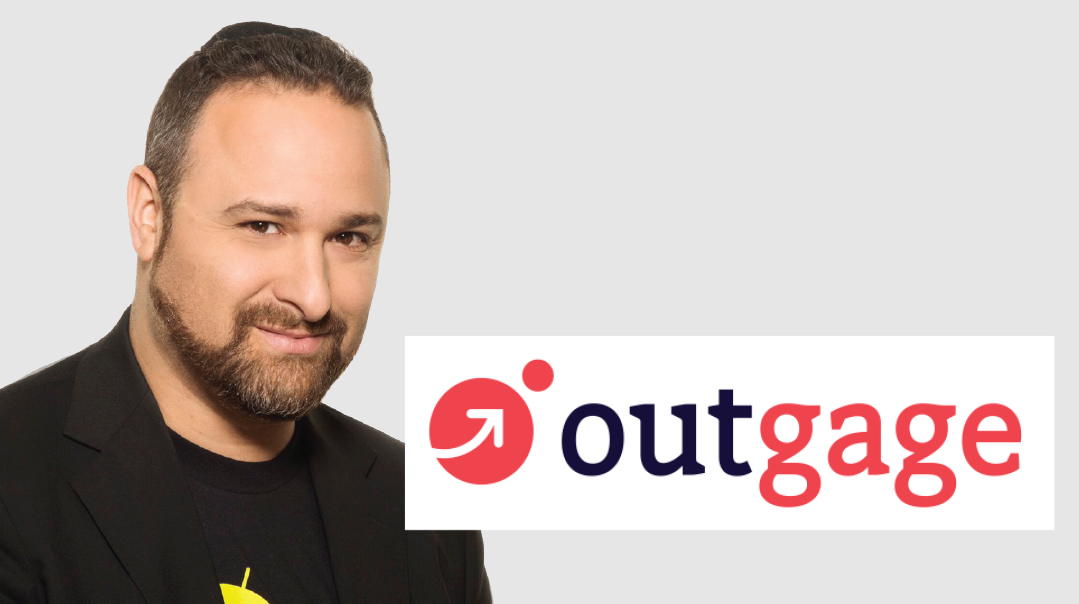 Hillel Fuld Consults With Outgage
W
hen businesses are looking to promote their product, they often want to go the creative route and stand out from the competition, and at the same time, produce something that is true to their brand. Mika Kayt is the founder of Outgage, a B2B marketing company that works on direct-mailer campaigns for companies like Google and Zendesk. Outage launched five years ago and has developed through true iteration and innovation. Tech and start-up expert Hillel Fuld sat down with Kayt to consult on ways to take her business to the next level.
HILLEL: Let's kick it off. Tell us who you are and what you do.
MIKA: I'm Mika. I'm the CEO of Outgage, which is a B2B marketing company. You could think of it as the Mailchimp for direct mailers. Marketing is the growth engine of all companies — they need to get to customers, but it's really difficult to cut through the digital noise these days. We're not opposed to digital marketing, but we do understand that there are more engaging ways, and they're not necessarily online. Offline, there's a whole world called "direct mailers." Direct mailers could be flat, like postcards and flyers, or they could be dimensional. Dimensional mailers are more like gifts and packages that people really love to receive, especially if they don't feel too bribey or cheap. We help our customers get to their potential audience in a fun and engaging way through these mailers. We connect their direct mailer efforts to the digital world, where their recipients go to a landing page, do some call to action, and get full visibility of the whole funnel, like they're used to in other marketing channels.

HILLEL: So if that wasn't clear, we have a serious marketer on our hands here. You've been working in marketing for a number of years, but the bottom line is that there's nothing quite like getting something physically shipped to you from a company. Where is your business located right now?
MIKA: We're growing. We're split between Israel and the United States. In the US, we're near Denver, Colorado. That's where our operations site is. Our research and development is in Be'er Sheva. All roads led to those places. I was in San Francisco until recently, for over five years. But now there's a rush out of San Francisco.
HILLEL: Because of the prices?
MIKA: Yes, it's super expensive because of: A) rent and B) talent. It's really hard to get good talent there with all the competition. And C) having an e-commerce part of our platform, we need extra money to maintain it, and sales tax-wise, California is the most expensive place. I work out of Be'er Sheva, our CTO is there, and it's also great for us in terms of talent and all of that, instead of Tel Aviv.
HILLEL: Where in Be'er Sheva?
MIKA: We work in the industrial area right next to the university, so that's great for us and for talent as well. You knew us as Take & Make when we started. Take & Make got that name because we were in the do-it-yourself crafts industry. We helped YouTubers, which was a huge thing back then, and still is.
HILLEL: Still is.
MIKA: Yes, but it was just growing at that point. We were going when the boom started. There were maybe five or ten super big influencers. What we did was help them create merchandise kits to go alongside their instructional videos, which is super helpful in a few ways. It helped them monetize in a way that didn't sell out their brand; it was just about their content. And also, it really engaged their users to do the craft along with them because they had the exact materials that they needed from that person in order to do it. It's a super difficult industry, B2B2C.
HILLEL: B2B2C is the hardest.
MIKA: Super hard because you have a few users to take into consideration. You need to build a brand, but you're also wondering, what's going to make this sell more? There are dozens of different factors, and you can't always know what they are. Anyway, we were quick to shy away from it, but then one of our first investors, AOL, came up to us, and asked, "You guys do creative things, how about you do gifts for our next event?" We thought, "No. We only work with YouTubers and Etsy sellers now, and this is our space." Then, we were like, "Okay, wait a minute. They want hundreds of gifts right now, we're selling one-offs. Maybe we should consider it."
HILLEL: Scale this thing.
MIKA: Exactly. Anyway, we did this gift for them. And we actually said to them, "You know what? We'll do this for you, but because of the way our platform was built, you have to make an instructional video to go along with your gift." They gave out Zen gardens that they had to be put together following an instructional video. After that, we shied away from the whole video thing and got into corporate gifting. I went from Los Angeles at that time to San Francisco. There, we started working with all the cool companies in the Valley for their corporate gifts. We were working with Google, Salesforce, and Twitter.
Hillel goes on to talk about branding yourself, how to take a small company, and get in touch with big giants without being afraid to expand. 
HILLEL: Let's talk about that for one second. You say that super casually like, "Oh, I started working with Google." Every start-up dreams of working with Google and Salesforce. How did you manage that?
MIKA: We worked with Google in Israel first, and they introduced us to the right people in the US office. That was our way in, initially.
HILLEL: That's a very valuable lesson. People often say, "I have my," let's call it, "focus as a company," right?
MIKA: Yes.
HILLEL: "I have my focus, and this is outside of my focus; I'm not going to do it," even though this is a relationship that could potentially lead to something massive. People might think "We love Google, but if I'm a start-up and looking for paying customers, then I'm not going to engage with the Google campus. It's not going to be paying me." I don't know what your arrangement with them was, but in general, oftentimes start-ups miss out on opportunities because they don't play the long game. They don't realize that while this might not drive your revenue today, this person might still be able to help. It's important not to miss out on opportunities because there's no short-term gain.
Mika goes on to discuss the power of memorable gifts and what makes her company stand out from the others.
 MIKA: Here's a question I always ask my marketers. What are gifts that you remember?
HILLEL: It's things that I use and that are useful to me. Three weeks ago, I was scrolling through my Facebook feed, and I saw an ad for shoes. The ad popped out at me, and that's in and of itself a little extraordinary because I don't really engage with ads, none of us do, really. But it jumped out at me, and I was like, "Those shoes look really nice." So I looked up the company on Twitter. I sent them a tweet, and I was like, "You guys, your shoes look really awesome." They DM'ed me and said, "Give us your home address." So I did and they sent me a pair of $200 custom-made shoes.
MIKA: Oh my G-d.
HILLEL: I was like, "Okay, guys. That was super awesome of you. How can I help you?" They said, "Listen, if you know other influencers, we'd love to share with them." So I made introductions to like 15 different influencers with, cumulatively, millions of followers. And they made a pair of shoes for each one of them. Each one then tweeted about the shoes. Their servers basically exploded. I'm wearing the shoes right now.
MIKA: They're nice. It's all about delighting your customers. That's what we're noticing. We can get insights into the whole world of gift giving, but we collect a lot of those insights, and that's how we're also helpful to our customers. We don't want to necessarily give people a super expensive gift. They don't want to feel bribed, and we don't want to give them a really cheap gift either, because that impacts your brand. There's also the uniqueness and the messaging around it. These are things that were super helpful.
HILLEL: There's a famous story about the first big sale of wine that Gary Vaynerchuk made on his YouTube channel years and years ago. Somebody came in and ordered a lot of wine. Gary was like, "Okay, now this guy is an amazing customer who I want to preserve, and I want to build that relationship, but what can I do now?" He's like, "Yes, I can send him a thank-you note but that's obviously not very meaningful." So he opened the guy's Twitter account, followed him, and learned that he was obsessed with a certain football player. He sent the guy a jersey with the player's signature, and the guy sent them back a video saying, "I will never buy wine from another company until the day I die." Because he spent a few extra minutes really personalizing that gift, he created an immense amount of delight. That's really what it's about. That's your business.
Mika now asks Hillel for some PR tips to boost their company's profile. 
HILLEL: Okay, so let's talk about next steps. Where are you going?
MIKA: We've been under the radar, but now, we're planning our rollout to the world, both product-wise and marketing-wise. I'd really love to talk to you about PR.
HILLEL: Let's talk about it. One thing most people don't think about is what the role of PR is. There are basically three types of PR. There's big PR news, "You raised $5 million dollars, or you raised $10 million." Something that's worth press but it's not the whole world. You reach out to TechCrunch, you give them an exclusive so that they have incentive to write about you. It's a big story but not massive, that's one. The second type of PR is, let's call it — I hate this word because it's a buzzword, but there's no better way to describe it — "thought leadership PR," meaning you're not writing about yourself, you're writing about the industry. Again, when I think energy drink, I think Red Bull. When I think corporate gifting, I'm going to think about you because I read an article that you wrote on Forbes about trends and corporate gifting.
MIKA: There is a lot of education to be done still, because it's a new space for a lot of people.
HILLEL: A hundred percent. That kind of PR, I call "subtlety" — it's basically the way I explain the difference between sales and marketing; subtlety is a word that does not exist in Hebrew, by the way — not a coincidence. Then, finally, the third type of PR is the hardest kind but maybe the most effective — let's call it "inbound PR." When TechCrunch is writing a piece tomorrow about corporate gifting, they reach out to you and quote you on it. When Bloomberg is writing a piece about how HR departments are scaling, increasing sentiment and brand loyalty, they come to you.
MIKA: Are you saying each one comes in different phases?
HILLEL: Not necessarily, they could be in parallel.
MIKA: Yes, but the inbound won't come before the content, right?
HILLEL: That's not true. Wait, hold on, let's not mix up the words "content marketing" and "PR." I'm talking about content like on your blog. The company blog, that's not PR at all, that's you writing about the industry, you interviewing people. Once you do that at scale, let's say for two years, you've been writing content every single day, and when I Google corporate gifting, you're number one, two, four, and six on Google. When I go to YouTube and search for corporate gifting, you're all over the place. When Bloomberg's writing an article, they're going to be like, "Okay, who am I going to pitch? Who am I going to talk to?" They'll know you're the expert. It's a longterm process. Finally, Hillel and Mika talk about staying up-to-date on the latest technology. 
HILLEL: So you're working at the intersection of sentiment, loyalty, gifting, and data. How do you measure your success?
MIKA: Until now, it was super hard to measure. We had to do everything manually, like sending out packages and then copying and pasting tracking numbers into FedEx to see if they arrived at each destination. It was so hard.
HILLEL: You end up dreaming about copy-paste.
MIKA: Exactly. It would be like, "Hillel didn't get the package yet. Okay, it's supposed to be arriving tomorrow. Okay, I'll check in tomorrow. Okay, Hillel still didn't get it." Then I was at the mercy of the salespeople because I needed to go to them and ask, "Could you please follow up with Hillel? He was supposed to get our package and it's a timely thing." "Hillel, this is Mika from Outgage. Could I please interest you in…" Then it would go down the telemarketing route. We wanted it to be a more natural flow for both sides, so we noticed that Airbnb was putting these codes into their promotions. We found out that's how they could measure how many people converted from the gift.
HILLEL: Where's the code, when they get the gift?
MIKA: They have a promotional code on the postcard. That was really smart of them. That's how we started connecting with analytics, landing pages, and getting people to actually convert from offline to online.
HILLEL: Love it.
MIKA: This was a whole world that we decided to focus on.
HILLEL'S TAKE 
"While advancements are being made in marketing technology and customer-engagement techniques, anyone who has ever received anything physical from a company he loves will tell you it is the most effective type of marketing. The problem is that physical mailers, or sending customers things by mail, requires what is basically a whole production line, which is, of course, something most companies don't have the capacity for. Outgage simplifies that, basically enabling any company to bring delight back to its marketing. The team is strong, the investors are strong, and the market is hungry. I am a fan."
(Originally featured in 2.0, Issue 4)
>