| 2.0 Feature |
MAKING WAVES 
| August 14, 2019
The Story Behind Innovative Pool-Sharing Service Swimply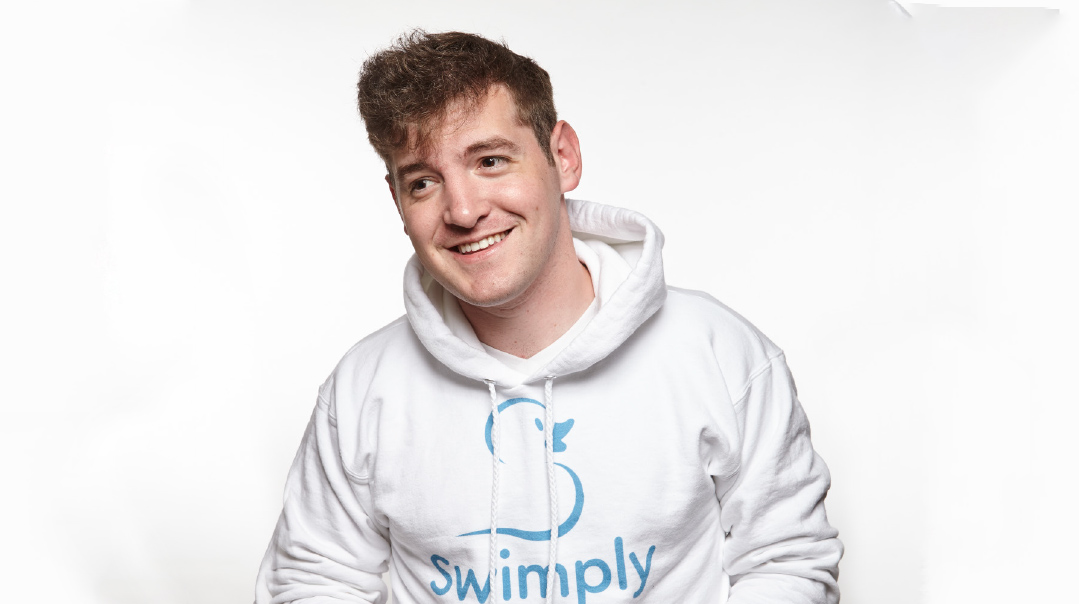 During the summer of 2016, 19-year-old Bunim Laskin was bedridden and recovering from surgery in his family's home in Lakewood, NJ, when he got an idea. The oldest of 12 children, he was familiar with a little chaos and craziness, especially in the summer when school was out. Though his parents owned a Suburban that seated 14, getting the family out of the house for a day trip — let alone a vacation — was quite an ordeal.
Laskin's bedroom overlooked his neighbor's backyard pool, which had been installed for her grandchildren, who rarely visited. "I asked her if my family could use her pool, since it seemed empty all the time," Laskin says. His neighbor agreed to let the Laskins use her pool on the condition that they contributed to the cost of maintenance. His parents agreed, offering to cover 25 percent of the expenses. Soon enough, his neighbor was renting out her pool to seven families, with each putting in 25 percent. Before long, she was making a profit.
Three years later, Laskin, now just 22, is the founder and CEO of Swimply, the world's first pool-sharing service — kind of like an Airbnb for pools. The company services thousands of people who want to "escape locally," as Swimply's tagline describes it. "It's changed the game for so many, because now you can have a pool without owning one," he explains.
GETTING HIS FEET WET 
Excited by the concept he'd come up with, Laskin went on Google Earth to search for all the homes in his area with pools. He then knocked on all those doors to share how they could use them to make some extra cash. "I got a lot of 'nos' right off the bat," Laskin says, "which was actually a great learning experience, because I knew what that felt like face-to-face. I was already entering as a rejection veteran." But he persevered. Eighty doors and four official sign-ups later, Laskin placed an ad in the local paper announcing the service, and people started calling. Laskin credits his early success with starting small. "It gave me an incredible amount of data," he says. "I was able to deal with every user on the phone and figure out what they were looking for in a pool and why they wanted it. So when it came to building our first website, I already knew so much." Just two weeks later, those four initial pools had turned into 32.

 GAINING STEAM 
After that summer, Laskin traveled back to Israel, his birthplace and home until age 14, to continue learning in yeshivah. At that point in his life and career, pool sharing was a hobby, whereas his Torah learning and commitment to Jewish growth were Laskin's highest priorities. Though he had made more money during that summer than he had ever made before, Laskin felt he could grow more in his Torah knowledge and personal development, so he went back to Israel for that, ignoring the temptation of business. While in yeshivah, he became friends with a boy whose father is a creative producer at Warner Brothers. When this new friend shared Laskin's idea with his father, Moshe Hirsch, Hirsch called Laskin and said, "We're making this happen." "He got involved because he was passionate about a yeshivah guy applying his innovative attitude not just to Torah but also to the world," Laskin explains. Hirsch promoted Laskin's business and took on a mentorship role, asking him questions that made him think, and helping him bridge the yeshivah and business worlds. "He helped me make the transition slowly. I didn't feel like I left any of those values behind," Laskin says. "He made it clear to me that in the business world, there are ethics and morality. He removed that working-versus-learning stigma." Miami, Florida
THE INITIAL SPLASH 
Laskin came home from Israel before Pesach of 2017. For the next phase, he started small. At first, he was still following his normal schedule, dedicating about 10 percent of his time to the business. From there, he began dedicating 20 percent of his day to it, increasing it to 30 percent, and then more, until his business venture eventually became the prominent part of his day. At this time, he officially launched the company's first website, then called PoolForU. About three weeks later, the hard work already started to pay off. MSNBC heard about the company and briefly mentioned PoolForU on the air. After that, the start-up's site traffic surged. "That was when I was really convinced I was onto something," he shares. The 32 pools turned into 75, and things were growing. It was then that they realized they needed a name change. PoolForU could be spelled too many different ways, and Laskin was looking for something more userfriendly and easy to search. To nail down the new name, he wrote 100 different options on a piece of paper and read them all aloud, until he felt that one stuck. Swimply stood out as a memorable name that could really take things to the next level.
 DIVING IN FULL FORCE 
After the name change, Swimply got tons of press on sites like Lifehacker and Lonely Planet. Within two weeks, the company had thousands of registered users, and pools in 22 states and Canada. People were attracted to having affordable access to a luxury. Laskin found that Swimply appeals to a wide demographic, ranging from college students seeking study breaks to businessmen renting pools on their lunch hour. Once Swimply got its press in 2018, Laskin started raising real capital. He raised $30,000 of pre-seed money (funds that help a start-up get off the ground), showed investors what he could do with that, and then followed up by raising $1.2 million of seed (money that helps take a start-up to the next level once it's operational and has consistent revenue). With that money, Laskin hired a chief operations officer, chief technology officer, two full-time customer service representatives, and part-time programmers and designers. Also around this time, Laskin got in touch with Asher Weinberger, entrepreneur and 2.0's managing director, at an event for Tribeworks — an organization aimed at helping Jewish start-ups. The two instantly clicked. "Asher was passionate about Swimply the way I thought only I could be," Laskin says. "He really helped us grow at a time when I really needed it. Now, he's a fundamental part of our team as chief marketing officer." In terms of the structure, about 68 percent of Swimply bookings are "whim-based," meaning someone decides they want to go swimming, so they book a local pool for later that day. About 32 percent are event-based — pool rentals for birthday parties, photo shoots, and other events. People can also book pools for regularly scheduled use, such as every day for multiple hours for months at a time, if they want to use them for swimming lessons, aqua therapy, lifeguarding courses, or the like. There are many options to choose from, including three degrees of privacy. Users can choose to book a pool that's "not private, kind of private, or super private." A super private pool is in a separate area that cannot be viewed from the owner's home or the surrounding areas. Laskin uses a commission-based model. Swimply takes 25 percent of what the host charges, which includes a 10 percent service fee from the swimmer. Currently, the average pool costs between $50 to $60 per hour. That being said, the prices really vary. The cheapest pool now goes for $16 an hour in Houston, TX, and the most expensive is $150 an hour in San Jose, CA. Swimply currently has pools in 26 states and Canada, and plans to begin operating in Australia as early as November, when the summer season gets started down under.
HOLDING WATER 
"The way it works is you book a pool on our app [now available on iOS and Android.] Then you get an e-mail with the address, and entrance and exit instructions — how to enter the pool area, how to exit the pool area," Laskin explains. "The hosts receive the request and can accept or decline. Once they accept, Swimply takes care of the rest of the process." Safety is naturally a top priority of the company. Each pool is examined by a third-party franchise called PoolWerx. It's a business that certifies the pool and makes sure all is up to code before the listing goes live on the site. Partnering with pool maintenance and contracting companies like Poolwerx also helps Swimply's supply continually expand by facilitating cross marketing. Then, after the pools are on the app, they have a review system to keep the accountability going. Any pool that falls below a 3.5-star rating gets removed. In the future, the company plans to offer pop-up notifications to pool owners when their pools are in need of a tune-up, and instead of the pool owner having to pay out of pocket, the money will be deducted from what's owed to them by Swimply. While potential hosts also might feel uncomfortable about strangers on their property, Laskin says that once they see how fluid and effortless it all is, they become more at ease. Plus, all users receive background checks before being able to book, so hosts can have that extra assurance. Users are also required to sign a liability waiver before arrival. At this point, the company has placed around 100,000 people in pools with zero incidents, not counting a damaged beach chair and a light fixture that was broken by an errant basketball. To compensate the owner, the swimmers were charged for the damage. And if pool owners are nervous about guests overstaying their welcome,  Swimply has a solution for that, too. Because of multiple bookings occurring one after another on any given day, guests know they have to clear out of the pool area in time for the next visitors. If a host or subsequent guest reports that a user overstayed their pool visit by more than 15 minutes, that visitor is charged an additional fee.
THE NEXT LAP 
The way you expand at a tech company, Laskin says, is by figuring out what your users are interested in and giving them more of what they want. He offered the example of Airbnb understanding that their users are travelers who want more than just a place to stay, so they started offering "Airbnb Experiences" with local hosts. As for Swimply, Laskin wants to expand into additional areas that users may be interested in. First off, he's discovered that many of the pool owners also have tennis courts, basketball courts, grills, and hot tubs that they can rent out along with their pools. "Right now, Swimply is democratizing the luxury of the swimming pool," he says. "We're thinking that Swimply can evolve into democratizing any kind of luxury." Of course, managing a start-up comes with all sorts of new daily challenges. Laskin's biggest is one he calls "the chicken and egg": "Every location needs to have the supply of pools, or swimmers will get frustrated at the lack of selection," he explains. "But, at the same time, the supply needs to have swimmers who are in demand or pool owners get frustrated at the lack of activity. It's a balancing act that takes a lot of data-driven testing and marketing to accomplish so it doesn't become a circus."
ABOVE WATER 
Laskin says his life changes by the day, but he makes sure to keep his own personal seder. He'll wake up and head to Shacharis. Then, if he doesn't have any special meetings, he'll learn at the beis medrash until 10 a.m. General office hours at Swimply run from 10 a.m. to 6 p.m., and they make a big effort to integrate Torah learning into the workday. "We begin every day with a thought on Pirkei Avos," he says. During the day, Laskin is often in meetings with different Swimply teams. He'll discuss their digital marketing strategies, public relations, creative ideas, and meet with the company's CPA to talk about how the market is responding. He says that each day is also filled with innovation. "We're constantly working on solving problems that are stunting our growth and coming up with fresh ideas to improve the Swimply experience," he says. "Then, we delegate. As the oldest of 12, I'm good at that part." After work, Laskin learns at a local night-seder program and goes to Maariv. Then, he'll work out and end the day by responding to any additional e-mails that came in. "I deal with people in all diff erent time zones, so there's always something to do," he explains. At night, he'll also get his thoughts together for the next day's Pirkei Avos idea. Like many entrepreneurs, Laskin chose a path that can be lonely when other people in your circle are doing diff erent things — it's a life that requires real tenacity and passion. "When 95 percent of your friends aren't living lives that resemble yours at all, it can be diffi cult," he shares. "There are days when I think Swimply will rise over the world, and then there are other days when it feels like it will all disappear. It's an emotional ride if there ever was one." He continues, "I live by the idea that ignorance is bliss. If I had known everything involved on day one, I never would have started. Now, I take it day by day and focus on knocking it out of the park — I know that's what I'm going to do with Swimply."
(Originally featured in 2.0, Issue 5)
>