| True Account |
Looking Forward, Going Back | November 8, 2022
Kristallnacht was the night it all imploded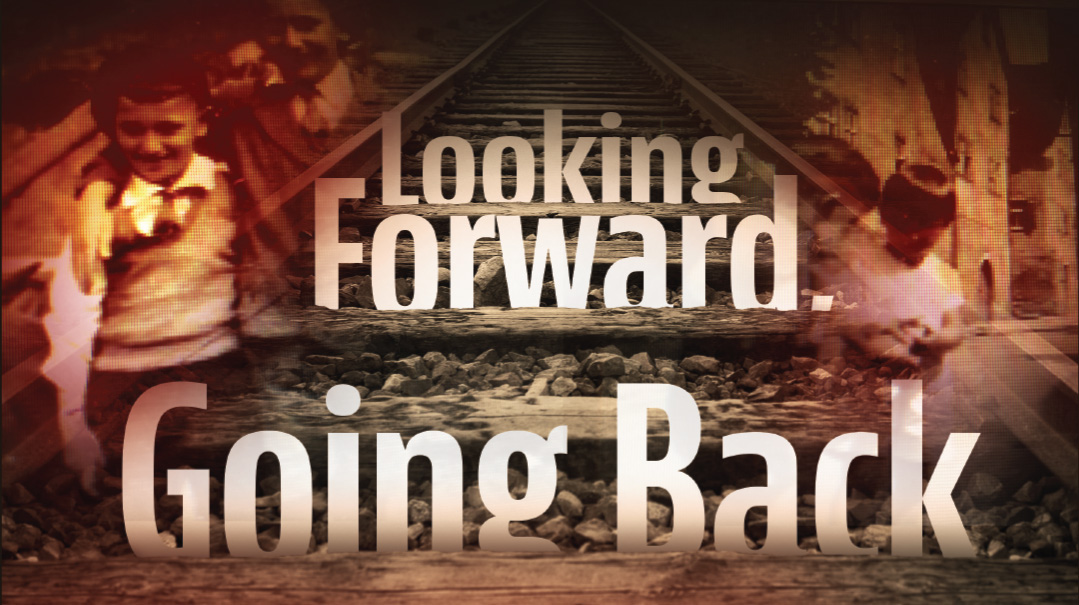 By David Weichselbaum, as told to Tzivia Meth
Hessdorf, Germany. August 2022
I never dreamed I would go back to Germany. After fleeing the Nazis as a child, I had no desire to return to my birthplace. But here I was, standing in the yard of my childhood home. My grandchildren had been asking me for years to take them, so we arranged a six-day tour of the sites in Germany that were significant settings in my youth. Between my wife, children, grandchildren, nephews, cousins from Israel, and myself, we were over 30 people.
This wasn't actually my first trip to Germany. I'd first gone back in 1961, on business. I was just starting out as an accountant, and one of my first clients wanted to open a business in Frankfurt. I told him he had to give me a day or two to think it over. But I didn't want to lose the client, so I went. Years later, in 1995, I went back again, accompanied by my wife and grown children.
Now, we congregated in the large yard between my grandparents' house and my parents' house. On the outside, the house looked exactly the same as it did when I was growing up. That's where I told everyone my story.
I was born in 1929 in Würzburg, Germany, and we lived in the nearby village named Hessdorf. It was a farming town, with only about 300 people and about 15 Jewish families. I can still see the farmers going through their fields with a plough. There were no tractors, and no one in the town owned a car.
In our little town, everyone knew who we were. My family had lived in the same town for over 250 years. My grandparents, all the way back to my great-great-grandfather, were butchers. We had a slaughterhouse in the town going back 250 years. But don't picture slaughterhouses like they have now in Chicago, where they do thousands of shechitahs. In our family business there were one, two, three cows shechted a week. We had a wagon and a horse named Hilda, which we used to pick up the cows and calves from the surrounding farms.
Most people think everybody in Germany kept the same Yekkish customs, but it's not true. My father's parents made Kiddush like you do — they made Kiddush and then washed for Hamotzi. My mother's parents, from the same little town, did the opposite: they washed for Hamotzi and then they made Kiddush. In fact, most of the towns in Germany had their own minhagim.
There was no cheder in town in my time. So, my brother Bert and I — he, all of six and a half, and I all of eight — traveled to the yeshivah in Würzburg every Monday and stayed for the week. We returned home on Friday. How did we get there? We rode our bicycles from Hessdorf to the railroad station, which was about two miles away, parked them there, and then took the train to Würzburg. We never tied the bicycles up, and for the year and a half that we made the trip, they were always there waiting for us each Friday. But when we came back after Kristallnacht, they were gone. That's how we knew things had really changed.
In the years leading up to Kristallnacht, my father was under the impression that nothing would happen to him, even though Hitler had been in power since 1933. My father had served in the German army in World War I for four years and was awarded medals. He also felt secure because for the most part, the neighbors continued to treat him nicely. There was somebody I remember very clearly whom we called the "Five Dollar Lady" (though obviously it was not five dollars, but five reichsmarks). My father had loaned her a bit of money in earlier years, and despite Hitler's cancellation of all loans to Jews, she was determined to pay it back. But she couldn't be seen with my father — after 1935 Jews and non-Jews were not allowed to be seen talking to each other or working for each other. So that's where I came in — I rode on my bicycle to her house once a week, and she paid the five-mark installments toward the loan each time. I had to make up cover stories in case I was found too near her house, like I had gotten lost. It was people like her that made my father believe he could remain in Germany.
But Bert and I began to feel the change in the air. Sometime around 1937, a bunch of teenagers stoned us while we were walking into the village. By that time there were only a few Jews left in Hessdorf, and I said to my father, "Isn't it time to get out of here?"
"No, nothing will happen to us," he said. "I know every farmer within a 20-mile radius. I sell to them, I buy from them, and help them out in many ways. And besides that, I don't know where to go. I don't want to go to America — it's the treifene medinah. I don't want to go to Eretz Yisrael — some of my family members who've gone there have strayed in their observance. Staying here is the best for me."
So we stayed, but things continued to get worse. One time, some teenagers were beating me up, and our next-door neighbor grabbed one of the kids and said, "Why are you fighting with him all the time? What did he do to you?" Two minutes later the Gestapo came to arrest her. That's what it's like when you live under a dictatorship.
My trips to Würzburg with Bert went on for a little over a year. On November 9 and 10, 1938 — Kristallnacht — we were there, staying with my mother's first cousin. The doorbell rang at five o'clock in the morning. It wasn't an electric bell — it was the kind where you pull the string. All the men in the house came downstairs: my mother's first cousin Gustav Gruenbaum, his father-in-law Mr. Koenighoeffer, and my brother and I. I remember it was a long staircase — and there, at the bottom, two Gestapo men were at the door with guns drawn. They told us to step outside and look to the left. We did, and saw smoke going up — that was the synagogue on fire. Then they told us to get back inside. They put the two men into handcuffs and took them away in a police car. They ended up in Dachau, but we didn't know that at the time.
We were left with the two women, Mrs. Gruenbaum, our cousin's wife, and her mother Mrs. Koenighoeffer. One was in her twenties and the other probably in her seventies. What were we to do? Nobody wanted to tell us.
We went outside, and we saw all the broken glass everywhere. It was Thursday morning, and we had no way to contact our parents. We were two boys alone, nine and a half and seven and a half years old, and we had to decide on our own what to do. That was the toughest part.
Without too many options, we decided to take the train back to Gemeuden Friday morning, as we did every Friday. It's hard to believe that two little kids would take the train by themselves after Kristallnacht, but that's what we did. No one bothered us on the train, but when we got to the railroad station, our bicycles, for the first time in a year and a half, were gone.
We walked back to our town — about two miles — and our parents were not to be found. Our house had been completely ransacked. The windows had been shattered. It was an unbelievable wreck. Every piece of glass and every mirror was smashed on the floor. All the linens were taken out, and whatever preserves we had (like jelly) were thrown on top. Every piece of silver was gone. You have to understand, this was the Gestapo's work; they didn't come from our town. They would send them from Berlin — the Germans were smart enough not to use locals, who respected my father.
But where were our parents? We were told they were in my grandparents' house. Only my mother was there, though — my father had been thrown in jail. However, a priest came to my mother on that same day, Friday, and said, "I will get your husband out of jail." And he did. He came home before Shabbos. My father had a relationship with every non-Jew in town.
Things began to deteriorate quickly for us. In 1937, a year earlier, the Germans had confiscated my father's horse and wagon he had used to pick up the calves for shechitah. But now, after Kristallnacht, the Gestapo decided to make the transaction official. With my father sitting at his desk, the Germans pointed guns at his head and insisted that he sign over the property to them. So now, of course, the transaction became "legal."
But it was a different matter when they asked my father to sign over the property of the Jewish community. There were very few Jews left, so they asked my father to do it. We were all in one room — that was the only room in the house that was heated. We didn't have running water, nor did we have central heating, yet that room had a belly stove in it. My father told my brother and me to leave the room. I know he told them before we left the room, "I'm not signing over something that doesn't belong to me." That was my father. What happened after that, we never found out. But he never signed it, that I can tell you.
After this run-in with the Gestapo, my father finally realized it was time to get out of Germany. He tried every connection he could think of, and in the end, his sisters in the United States were able to arrange for us to immigrate to England. We left Germany on August 25, 1939 — exactly one week before World War II broke out. My grandparents — my mother's parents — stayed behind. They perished in Theresienstadt.
The trip out of Germany was far from simple. The plan was to ride by train through Germany and the Netherlands, and then take a boat across the Channel to England. But when we reached the Dutch border, the Gestapo ordered us off the train. They searched us to make sure we had no gold or diamonds on us — I remember my mother was searched in a very undignified way. And even though they found nothing, we were not allowed to get back on the train. We were left stranded at the Dutch border. And since we were only allowed ten marks apiece when we left Germany, my parents had to pay our last pennies to get on another train.
We arrived in London absolutely impoverished. Laws intended to protect immigrants from taking away jobs from the locals meant my father was not allowed to work in England , but my mother did take a job as a maid. She never once complained. We lived in one room, poverty stricken, but my parents somehow managed to have guests for Shabbos.
When the war broke out, we were separated from our parents and put on a Kindertransport to the English countryside. We stayed in a village named Stotfold. There were other Jewish children with us, but nobody spoke German. And my brother and I didn't speak one word of English — not one word. It was like dropping your ten-year-old child in the middle of China. We were put up with a goyish family who were very nice to us. What did we do about kosher food? For breakfast, we ate shredded wheat with the Johnson family. And the rest of the meals we had in a central kitchen — it was in a large barn — with the other Jewish children.
We only stayed in Stotfold for about nine months. In the spring of 1940, we received a letter to return home to London — our visas to the United States had arrived. The problem was that the ship, the Scythia, was due to leave on Shabbos. My father asked maybe ten rabbanim whether he could leave on Shabbos. He didn't want to leave on Shabbos, but they all told him, "You're crazy — it's a sakanah to stay in England." But that was my father. I think we walked maybe three hours to get to the boat on Shabbos. But we did board on Shabbos in the end.
We went to live on 84th Street in Manhattan. How did we survive? We had a railroad apartment, so named because all the rooms are lined up in one row. We rented out these rooms to boarders and that's how we paid our rent.
In preparation for our trip, I contacted the caretaker of the Jewish cemetery, a fellow named George Schnabel. He's a non-Jew, but a real tzaddik. I think he takes care of the cemetery without compensation. He's 77 years old — I believe he was born in 1945. What made him get involved in taking care of the Jewish cemetery? One day when he was a child, he was walking with his mother to school, and he asked her, "Why is this piece of land empty? Every other place has a house on it."
She said, "There were once Jews living here, and that was the spot of the synagogue where they prayed."
"I didn't know anything about Hitler at the time, I didn't know anything about Jews, I never heard about a synagogue," George told me. "I started to study it and I was flabbergasted by what Hitler did."
So he took it upon himself to look after the cemetery.
On my last trip, 27 years ago, I saw that there were stones on all the matzeivos. I was very surprised. How many people could be coming 50 years after the war? I'm probably the oldest person still around who knows anything about this place. It turns out that George was the one putting the stones there.
He told me, "As long as I'm alive these people will never be forgotten. Every Pesach and every Rosh Hashanah I put a stone on every one of the graves."
But not everyone is like that. I had asked George, in advance of the trip, to go to the house where I lived as a boy and ask if I could bring my family inside. But I never heard back from him. After I sent him repeated messages, he finally confessed the truth. He'd gone to the house, and the owner said he would not let us in. But George didn't stop there. He went to the mayor of the town, the Bürgermeister, and the Bürgermeister insisted that the owners let us into the house. So he did get us into the house, and all of us trekked through it after hearing my story in the courtyard.
We later went to Rav Samson Raphael Hirsch's grave — it's in the New Cemetery in Frankfurt — and also to the grave of Rav Seligman Baer Bamberger in Hochberg.
The only fly on the ointment of this whole trip was the bus and the bus driver. We had hired a private bus for the trip, since we were 16 people. When we arrived at the cemetery where my ancestors are buried, I signaled to the bus driver to pick us up in one hour — I couldn't communicate with him because he only spoke Czech — so I made some clear hand signals. But when we got out of the cemetery, we were waiting, waiting, waiting. And it was 104 degrees outside. We waited an hour and a half outside the cemetery. But then, the people whose house was right next to the cemetery, without any prodding whatsoever, came out with cases of soda for us to drink. They wouldn't take any money from us. So that was a nice part of the mishap. On Erev Shabbos, though, we were supposed to go to Dachau, but we decided not to in the end — we couldn't trust the bus driver and didn't want to take the chance of spending Shabbos in Dachau.
I agreed to do the trip strictly for my grandchildren, who had wanted me to go already for many years. They found this trip extremely moving and meaningful. As far as I'm concerned, I don't feel particularly at ease in Germany — I would not want to live there under any circumstances. But on the other hand, I also consider my wife's perspective: When you see someone come out and offer you cold drinks — having just emerged from the Jewish cemetery — somewhere there's hope, I'd like to think.
A Sacred Trust
Let me tell you an interesting story about Rav Bamberger, who founded the yeshivah where I learned in Würzburg.
The rav of Würzburg in the early 19th century was Rav Avraham Bing. As he neared retirement in the late 1830s, Rav Bing was afraid that a Reform candidate could become the next rabbi of the city. He knew that the community wanted a college-educated rav, so he was determined to find his own Orthodox candidate. Rav Bing decided that Rav Seligman Baer Bamberger was the right man for the job. Knowing what could happen if Rav Bamberger didn't succeed him, Rav Bing told his young colleague that he must take the position.
Rav Bamberger resisted. "I'm not taking the job — the bimah is in the front of the shul. I'm not doing it," he said.
(The bimah's placement in the front of the shul, as opposed to the center, was not strictly against halachah, but was a trend being pushed by many Reform adherents.)
Rav Bing was not swayed: "Look, you'll be able to change it eventually. You've got to take the job!"
Rav Bamberger fasted for three days and he still didn't want to take the job, but Rav Bing eventually convinced him.
During Rav Bamberger's tenure as rav of Würzburg, Rav Shmuel Salant, the chief rabbi of Yerushalayim, came to visit the city and stayed with Rav Bamberger over Shabbos. And, of course, Rav Salant davened in the main shul — that was the only shul; basically, everybody davened there. But the bimah was in the front, so what were they going to do with Rav Salant? Should they give him an aliyah or not? In the end they did call him up, and he took the aliyah.
When they were walking home together, Rav Bamberger said, "You must have some questions for me."
Rav Salant said, "No, I have no questions."
Rav Bamberger replied, "You're not going to ask me why the bimah's in the front?"
Rav Salant said, "If it's good enough for you, it's good enough for me."
How do you like that? It's a true story, and eventually Rav Bamberger did move the bimah back to the center of the shul.
David Weichselbaum has been a CPA for the past 65 years and is still working at age 93. He has been active in the Queens Jewish community and at various times has served as president of Young Israel of Queens Valley. His wife a''h was past president of the sisterhood.
This article is dedicated in memory of Mrs. Ruth Weichselbaum a"h, who passed away shortly after this interview was conducted.
(Originally featured in Mishpacha, Issue 935)
Oops! We could not locate your form.
>