| Cooks Compete |
Lokshen Kugel
| January 24, 2023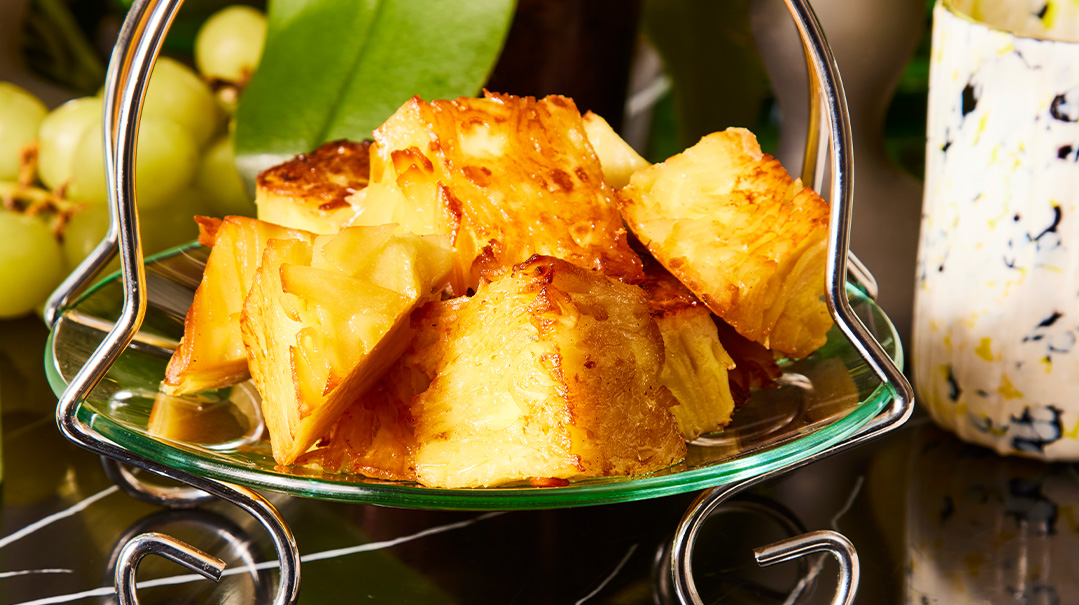 Before meat boards, before pulled beef pizza, and even before sushi — there was lokshen kugel. Around since the 1500s, the name itself conjures up imagery of shtetls, large pots on the fire, and wrinkled grandmothers mixing ingredients lovingly with no bag of noodles in sight.
Here are a few crowd favorites, approved by our taste testers.
Spoiler alert: they all use packaged pasta.
Mrs. Bider's Famous Lokshen Kugel
Submitted by Dina Ginsberger, Jackson, NJ
This kugel was made famous by my mother, Mrs. Surie Bider, who got the recipe from my grandmother, Mrs. Bashie Ullman. My mother makes it for mishloach manos every year, and it's also given out weekly by The Chicago Center in their Shabbos food packages. Enjoy it warm and cold!
YIELDS 1 9X13-INCH PAN OR 2 ROUND PANS
1 10-oz (280-g) bag lokshen noodles
½ cup (1 stick) margarine
4 eggs
1 cup Coffee Rich
¾ cup sugar
1 Tbsp vanilla sugar
½ tsp salt
Preheat oven to 350°F (175°C).
Cook lokshen noodles according to package directions. Drain and immediately return to the pot. Place margarine into the warm noodles and allow it to melt. Add eggs one at a time and mix. (I recommend beating the egg in a separate cup first, as the noodles are hot.)
Add the remaining ingredients and mix. Pour into a greased 9x13-inch (23x33-cm) baking pan or into two round pans. Bake uncovered for 1 hour, or 45 minutes for round pans.
Savory Lokshen Kugel
Submitted by Nechama Miller, Lakewood, NJ
Lokshen kugel is our favorite treat from my mother-in-law. Although we make it too, we can never get it to taste like hers because she doesn't use measurements. She says, "Just add more oil and onions!" The trick to getting a superb flavor is to sauté the onions on a high flame (make sure to watch it carefully).
YIELDS 1 VERY FULL 9X13-INCH PAN OR 1 11X16-INCH PAN (depending on whether you like it higher or wider)
3 10-oz (280-g) bags Kemach broad lokshen, cooked and drained
5 large onions, diced
oil, for sautéing
8 large eggs
1½ Tbsp kosher salt
2 tsp coarse black pepper
1 cup + 2 Tbsp oil for greasing pan
Preheat oven to 350°F (175°C).
Sauté the onions in a generous amount of oil until well done but not burnt.
Mix the eggs and seasonings well. Add the lokshen, sautéed onions, and 1 cup oil and mix until combined.
Grease a 9x13-inch (23x33-cm) or 11x16-inch (28x40-cm) baking pan with 2 Tbsp oil. Pour the mixture in and bake for 1 hour.
Sweet Lokshen Kugel
Submitted by Esther H., Far Rockaway, NY
Recipe from Culinary Creations by Bnos Zion of Bobov (published 1998)
I enjoy using recipes that are simple and delicious. This one fits the bill. I also like the fact that it's not loaded with oil and sugar. On occasion I've added a shredded apple too. It's always a winner.
YIELDS 1 9X13-INCH BAKING PAN
1 12-oz (340-g) pkg wide noodles, cooked and drained
½ cup oil
1 cup unsweetened applesauce
1 cup sugar
1 scoop vanilla sugar
½ cup dried cranberries (optional)
3 extra-large eggs
cinnamon, for sprinkling
Preheat oven to 350°F (175°C).
Let the noodles cool slightly. Add remaining ingredients in the order listed, except for the cinnamon. Mix together well.
Pour into a greased a 9x13-inch (23x33-cm) baking pan and sprinkle lightly with cinnamon. Bake for 1 hour.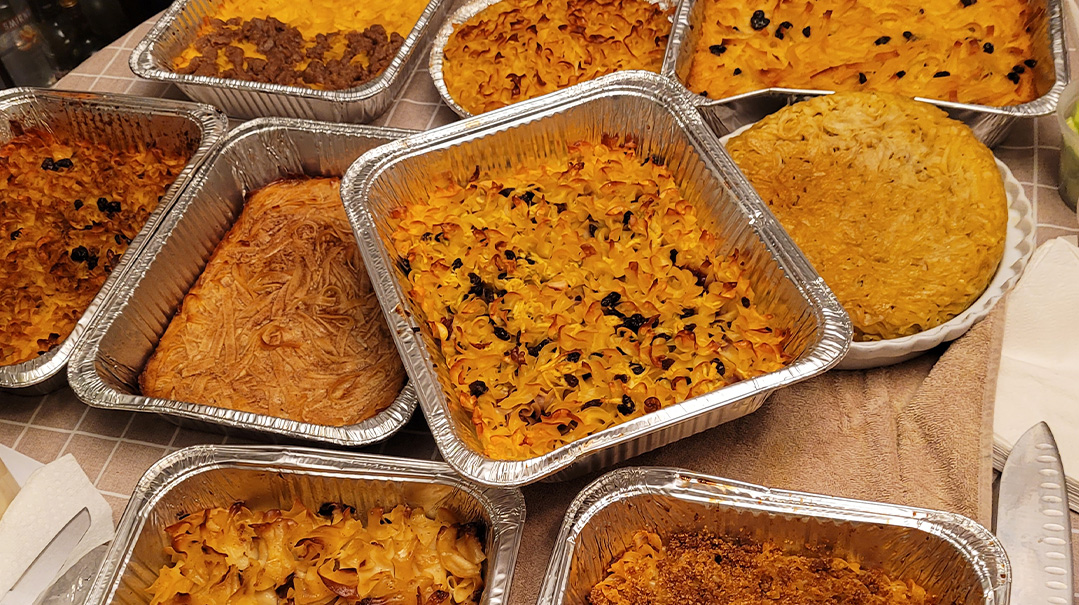 Special thanks to the women of Waterbury for hosting this tasting party.
(Originally featured in Family Table, Issue 828)
Oops! We could not locate your form.
>