| True Account |
Listen Up
| November 23, 2021
"Shayna does have some hearing loss. But we have a solution,"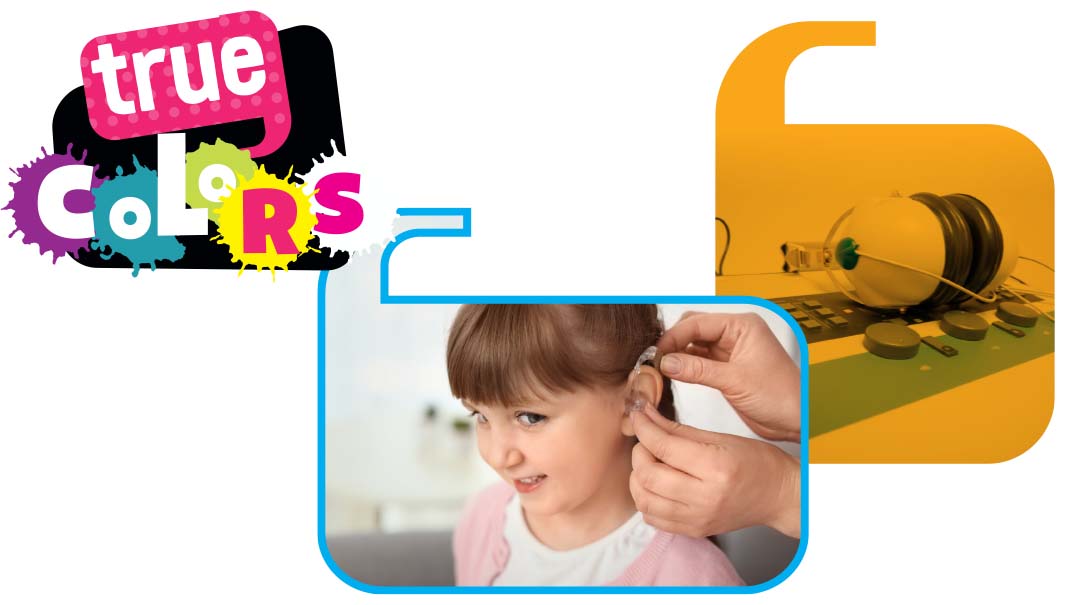 Most of us were born being able to see, hear, and smell. People who were born seeing, hearing, and smelling never imagine that one day, they're going to end up not being able to see, hear, or smell. Some people lost their sense of smell after contracting Covid. Something like that happened to me, but it was a much more important sense that was altered — my ability to hear. And the change was permanent.
I was in first grade. My teacher was writing a math problem on the board, and as she wrote, she said: "Two plus shoe equals roar." My nose wrinkled as I glanced at my open math book. That didn't sound right. In fact, it wasn't right. It said two plus two equals four, not roar. And my teacher did not say two. She said shoe. But every single person mishears things sometimes… there was no problem. Until there was. Things like that kept happening, and I found myself asking people to repeat themselves more and more often. Of course, my parents noticed and I could see they were worried and kept whispering to each other about me. They didn't know if something was really wrong with my hearing, and if there was, if it would just get better on its own. Finally, they decided to take me for a hearing test.
We had to drive a long way to a children's hospital in Manhattan to do the hearing test. My mother told me that we would be going into a special booth and that I would need to repeat everything I heard. She told me to try and listen as well as I could. I swallowed nervously, 'cause listening the hardest I could didn't always mean I heard right.
When we got to the hospital, we went through big, rotating glass doors and rode up in an elevator to the hearing department. There was a small waiting room with books and toys. We sat down, and my mother silently pulled out a Sefer Tehillim. She started davening fervently, and my heart knocked against my ribcage. I knew she was davening that we would leave with good news, that nothing would be found wrong with me, and that we would all be happy and healthy. I didn't play with any of the books and toys, but just sat quietly next to my mother and nibbled on some snacks she had brought for me.
After a long wait, a door in the corner of the waiting room opened, and a lady came out. Her hair was short and blonde, so blonde that it was almost white. She called: "Shayna?"
My heart gave a huge jump. My mother whispered "That's us," and squeezed my hand real tight as we stood up. The lady said her name was Noelle and showed us where to go. She brought us down a long hallway and into a bright green office. We sat down and Noelle asked my mother tons of questions. They talked for a long time. I sat quietly again and waited. Then we had to go down another hallway and into a blue and gray office that was sort of narrow and left me feeling like I didn't have enough breathing space. There were strange diagrams on the wall and pictures of the insides of people's ears that kind of grossed me out.
"Today we're going to play a little game, Shayna," Noelle said as she led me inside a small booth. There was strange machinery there, two cushioned chairs, and a little window from which I could see the other side of the office, where Noelle was going to sit when she tested my hearing. My mother and I sat down on the chairs and Noelle gave me something like a set of headphones to wear. Then she went back out, shut the door, and settled in her seat so I could see her through the small window.
Noelle asked me to do many different things. For example, I had to repeat words I heard her say. Then I had to raise my hand whenever I heard a beep. Sometimes it was quiet for a bit too long while I waited for the beep, and I could see Noelle watching me through the glass, and I kept wondering if there were beeps I couldn't hear. I felt nervous as the testing went on and on. Noelle told me it would be like a game, but if that was a game, it was a terribly long and boring one. The metal headband pressing against my head started hurting halfway through, too.
Just when I thought it would never end, Noelle opened the door and said we were done. "You did very well, Shayna!" she said, and I felt so glad that the test was over and that I'd done well. But then she turned to my mother. "Unfortunately," she said, "Shayna does have some hearing loss. But we have a solution," she said cheerfully. And then she said the words that changed my life: "We will fit Shayna with hearing aids." My mother cried the whole way home.
A little while after my hearing test, I got my first pair of hearing aids. They were hot pink, bulky, and uncomfortable. A few years ago, I got smaller, more comfortable hearing aids that blend in with my hair, so most people don't notice them. At school I use an F.M. system. My teachers wear a special microphone, and I attach a small piece to my hearing aids, which transfers each teacher's voice straight into my ear. That makes it easier for me to hear them clearly. I also got a hearing teacher, who does schoolwork with me (I'm not quite sure why she's called a hearing teacher). Twice a week I have to daven at home and meet with her for an hour while my class is davening. It gets frustrating when she dismisses me late and I'm late to class.
There are some other challenges, too. My hearing aids hurt the back of my ears when I wear them all day, so I usually take them off after school. That means I don't always hear my family members clearly and I have to ask them to repeat themselves often. It's harder for me to hear when my siblings are noisy, which is a lot of the time. And when my little sister screams, which is also often, it makes hearing so much more challenging and I miss a lot of what people say. That happens on the school bus as well, because it's also noisy. COVID-19 has complicated things, too. Everyone's voices are more muffled because of their masks and it's impossible to lip-read. When we were doing virtual school on Zoom, there was one teacher who taught in a room with an echo and I couldn't understand a word she said.
There's an expression that I really like. It sums up what I have learned through my difficulty with hearing, and it sums up my attitude to living a happy and normal life despite my challenges: I may not be able to change the direction of the wind, but I can always adjust my sails to reach my destination.
(Originally featured in Mishpacha Jr., Issue 887)
Oops! We could not locate your form.
>