| EndNote |
Like You Were There
| May 30, 2023
Baruch Hashem, when I listened to this, I knew immediately we had captured the evening in its entirety, so when you listen, you feel you were there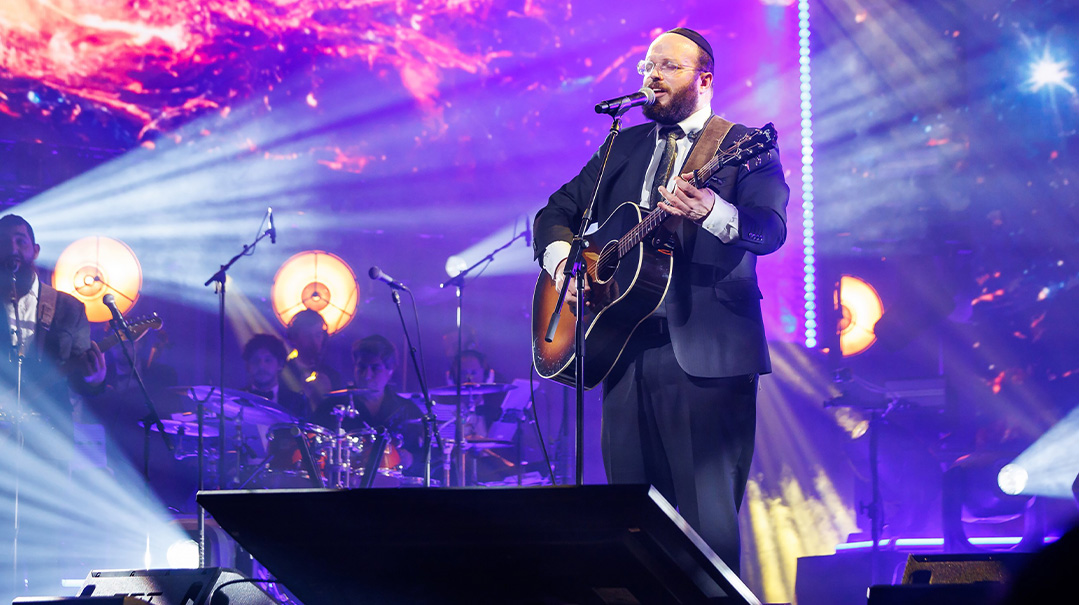 Photo:Chaim Twitto
Hatching up with EITAN KATZ is always well worth it, because the Far Rockaway–based singer and songwriter simply doesn't stop doing his thing, and recent months are no exception. With the release of LIVE IN JERUSALEM III on Lag B'omer, the experience of Eitan's live Chol Hamoed Succos kumzitz concert for men and boys in Jerusalem is available to one and all, 21 tracks with the feel of that Chol Hamoed joy, the daily grind far away, the unity and elevation together with thousands of voices joining in pulling you back to that bubble of spiritual embrace.
"The biggest fear when putting out a live album is that it won't capture the beauty and energy of the live event and won't hit as powerfully," Eitan reflects. "But baruch Hashem, when I listened to this, I knew immediately we had captured the evening in its entirety, so when you listen, you feel you were there.
"When you're doing a live event, you know that so much is up to Hashem," Eitan continues. "I think this is the first time ever that I played out an entire concert program as planned, to the last note. As you'll hear, Live in Jerusalem III is less of a concert than a simchah. We sang songs that everybody knows and loves, because part of the geshmak of the album is everyone's involvement."
When he says "songs that everybody knows," he doesn't only mean his own "Lemaancha" and "Ki Karov," but also vintage Yom Tov songs like "Vesamachta," "Hoshia es Amecha," the timeless "Baal Shem Tov Niggun," and even "Utzu Eitzah" — not typical concert picks. The mix of these classics with newer, high-energy songs is an uplifting combination, with a very eclectic, "real life" feel. The crowd was up and dancing, and you can feel that energy on the recording as well.
It's common for live recordings to have overdubs and extra music tracks added in the studio afterward, but this wasn't necessary on Live in Jerusalem III, because the microphones were placed so effectively within the crowd.
"The engineer who mixed the album has worked on a lot of live albums, but he said he had never heard such intense crowd participation," he says. "To be honest, it also makes a difference to how I feel onstage. True, I'm leading the crowd, but I don't feel under spotlight in the same way, with the same pressure, when everyone is singing along. We were all in it together."
His previous release, a few months ago, was the well-received Sh'or Yoshuv Mishmar album, which offers seven vintage but little-known niggunim sung in the yeshivah. "Every Thursday night after mishmar, one of the rebbeim teaches a chassidish niggun, and some of these niggunim become staples at get-togethers or chassan tishen," Eitan explains. Some of the songs originated in Modzhitz or other courts, but they have never been recorded outside of chassidish circles. "Obviously this was going on for many years before I came to learn in Sh'or Yoshuv, but it was a beautiful opportunity for me, together with a choir from the yeshivah, to take part in sharing these niggunim."
(Originally featured in Mishpacha, Issue 963)
Oops! We could not locate your form.
>