| Family First Feature |
Letters and Light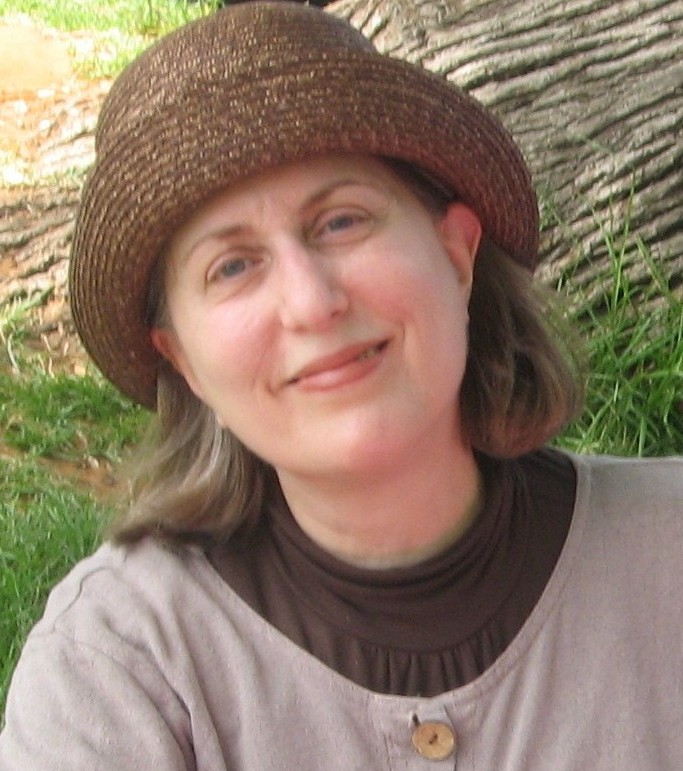 | June 26, 2019
In the visionary art of Sarah Fox-Ashrei, a picture is more than something pretty to look at — it's an avodah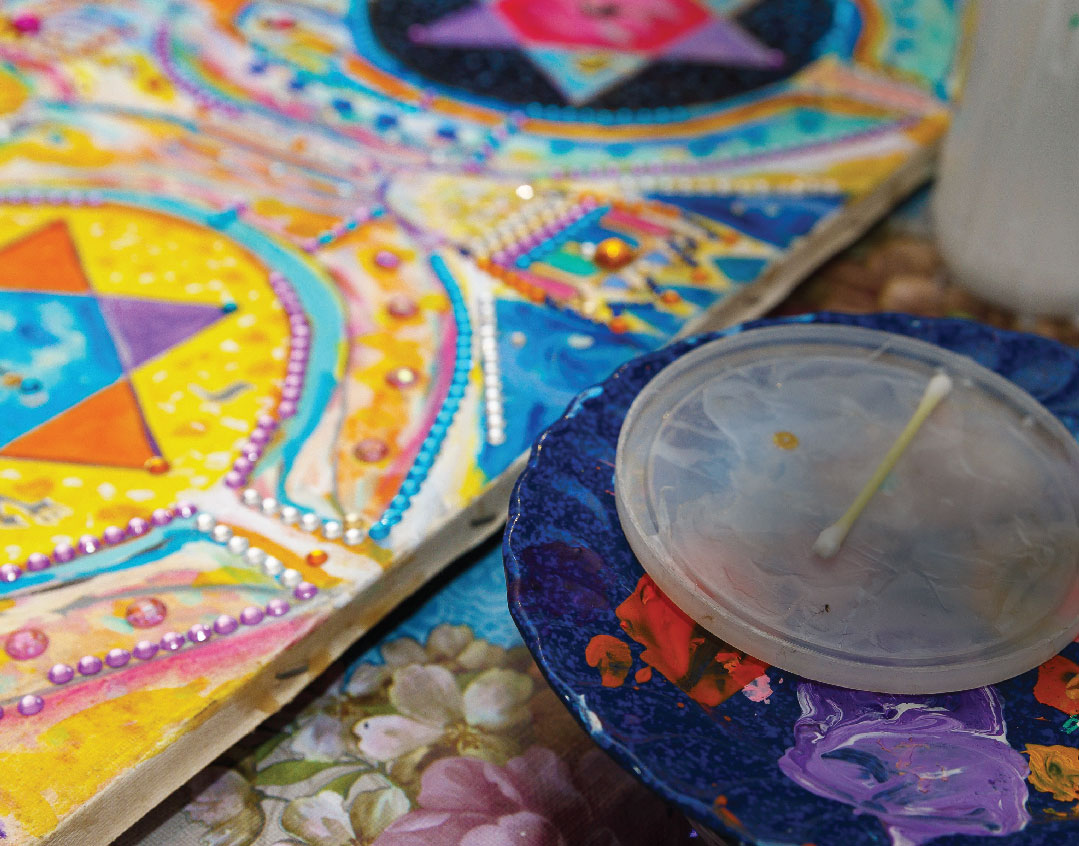 S
itting in the apartment of Sarah Fox-Ashrei, where the walls are filled with colorful paintings incorporating the alef-beis and other Jewish motifs, it's hard to believe she was ever an all-too-typical American girl who knew almost nothing about Torah and mitzvos.
Yet as she speaks about her life's journey, which has taken her from California to the Jewish Quarter in Jerusalem's Old City, it's clear Sarah has always had a spiritual pipeline that not only nourished her searching soul when she was young, but continues to inspire her today.
A Grandfather's Gift
"My story begins, I'd say, when I was five years old," says Sarah. "My grandfather gave me a birthday present — a little Hebrew siddur with a cover made from olive wood that had a picture of the Kotel on it. My grandfather's father had made a trip to Jerusalem around 1900, and he had bought this little siddur. And because I was small, my grandfather decided to give it to me."
Many years have passed since then. Today Sarah is a grandmother. But when she tells the story of that long-ago birthday when she was a little girl living in Upland, California, there's a light in Sarah's eyes, an excitement in her voice, that makes time fade away.
"When I opened it," she continues, "I knew those letters were connected to my soul. From the age of five to twelve, I kept the little siddur under my pillow. I had a little flashlight and I would take out the siddur and shine the light on it and stare at the letters until I fell asleep.
"I had awesome dreams, which I dreamed hundreds of times, and I still dream them until today. In one dream I saw the angels in Shamayim forming the shape of the letters of the alef-beis as they danced and sang Hallel to Hashem."
Sarah's family wasn't religious, but her father was a firm believer in Hashem and was strongly connected to his Creator.
"My father would tell me, 'If you're going through a test, ask G-d to help you. G-d will help.' He would say the Shema with me when I was small, and also Tehillim 23. Every night, before he went to sleep, he would thank G-d for the good that happened to him that day. Then he'd ask G-d to help this person who was having problems and that one.
"My father revealed to me that there's a Creator Who is aware of everything we think and do, and that we have to constantly thank Him and ask Him to help us make the right choices and succeed."
Sarah connected to G-d in her childhood through her art and dance, which was her way to thank G-d for all the good He gave her. When she was young, nature was her inspiration — the sky, the trees, and the wind.
But once she left childhood behind, that pure connection to Hashem was harder to maintain. Hard but not impossible, because another dream from her childhood had showed her a way.
Focus on the Light
In the second dream, says Sarah, she was walking on a narrow bridge — she wryly comments that she hadn't heard the Breslov song at that point in her life — and going toward a Golden City.
"I heard a voice from the heavens say, 'If you look only at the light coming from the Golden City, you'll get to the Golden City.' "
Of course, that was easier said than done because, as she explains, below the bridge were boats filled with beautiful people. "They were wearing beautiful clothes and singing beautiful songs and dancing beautiful dances, and they were waving to me to join them.
"I knew that if I stopped walking to stare at these beautiful people, I'd be blown off the bridge and into their world. But if I ignored the beautiful people and only focused on the Golden City, I'd arrive at this place of light."
When she was a child, Sarah only knew that the dream had something to do with her relationship with Hashem. Today, her interpretations of this dream and others are deeper and reflect her greater understanding of Torah: The Golden City is, of course, Jerusalem; the beautiful people are the 70 nations of the world, who are trying to distract the Jewish People from fulfilling their true purpose in the world with their endless pursuit of things that have no meaning.
"If we're focused on our own song," says Sarah, "the song of our soul — and not the songs of the 70 nations — we'll reach the Golden City and the Shechinah of the Beis Hamikdash."
It's not the sort of dream you'd expect a young child living in sunny California to have over and over again. After all, wasn't she already living in the Golden State? Why did she feel so strongly that she needed a Golden City as well?
"The world was so foreign to me," she explains, commenting that she never felt comfortable with her classmates' values. "Who could I share my inner life with? Almost no one. I was constantly asking Hashem, 'What am I doing in this world?' "
On Fire
When Sarah was 12, her family moved to a new house — and her dreams stopped. "In the old house, it was like I had a ladder straight to Heaven. But now I was 12, I was moving into junior high school, and there was so much impurity all around me."
She later attended university at UCLA, where she studied art and dance. But her neshamah was painfully aware it was out of place; her loneliness and feeling of being different continued, until she received help from an unlikely source. One day a non-Jew asked if she was Jewish. She warily said yes. He then told her that he knew of a young Jewish man she should meet.
"That was my future husband, Shlomo. He was someone I could talk to. He was so pure and so good. Even though he's the opposite of me — he 's grounded, while my head is in the clouds — we can communicate. B'ezras Hashem, we're walking toward Hashem together."
It was fortunate that they were both on the same spiritual wavelength, because the night before they were to be married Sarah had another dream — and it was terrifying.
"For the first time in many years I dreamed about the Golden City, but it was on fire and everyone was screaming," she recalls. "The next morning, I told my mother, 'Something is wrong. I can't get married today.' "
Naturally, her mother was upset about this unexpected change in plans. But Shlomo, who had grown up with even less of a connection to Yiddishkeit than Sarah, took his future wife's concerns seriously. They got a telephone book and went through the listings in search of an Orthodox rabbi.
"We went to the rabbi's house," Sarah recalls, "and I asked him, 'Why can't we get married today?' And he said because it was Tishah B'Av. He married us on the 11th of Av, and he brought kosher food and kosher witnesses, who sang Hebrew songs."
Reaching the Golden City
The young couple's path to Yiddishkeit began in San Francisco. It was the late 1960s. The Hippie movement was in full swing. Nearby was a haven for wandering Jewish souls, the House of Love and Prayer, the synagogue established by Rabbi Shlomo Carlebach, and there they received their introduction to Yiddishkeit. In 1974, they moved to Eretz Yisrael, living first in Tzfas. Two years later they moved to Jerusalem. Today they live in the Jewish Quarter, where they are part of the Zilberman community.
"I felt such gratitude to be in Eretz Yisrael," Sarah says. As always, that gratitude was expressed in her art and dance. But instead of using the wonders of nature to express herself, she returned to the source of inspiration of her early childhood — the alef-beis letters. As her knowledge grew, she began to incorporate elements from the Sefiros and stories from the Torah as well. And always, her paintings incorporate Hebrew letters, which, she says, are "letters of light, the foundation of all Jewish creativity and spiritual growth."
"One of the reasons why I could never learn Hebrew was because when I was in ulpan, I'd get stuck on the first word," she says, laughing. "Every single letter, every single word was such a revelation. When I saw chareidi people dressed in black and white, I said, 'Oh! They're walking alef-beis letters!' "
Memories of Light
Sarah comments that the most important thing she has learned since being in Eretz Yisrael is to focus only on what you want to happen. "Don't talk about what you're afraid of. Speak about what you want to happen. That makes it come closer."
That wisdom is at the foundation of her art: "The light of the Beis Hamikdash, which is the light of the Shechinah, is my focus. Always."
The way that light is transmitted might be through imagery related to the Jewish months, or the Twelve Tribes, or Yaakov's Ladder. She'll first paint the images — often using bright, vibrant colors — and afterward embellish the images with sequins and rhinestones.
"The sequins and rhinestones represent points of prayer and points of gratitude," Sarah explains. "Prayer and gratitude are what give us our light, because when we pray and thank Hashem, we become a vessel for Hashem's light."
"People often ask me how I have the patience to put on so many sequins and rhinestones. My kavanah while I'm working is either that I'm putting jewels on the Beis Hamikdash to light up the world, or that every sequin represents a Jewish soul that's returning to Eretz Yisrael to fulfill the mitzvos wholeheartedly. Therefore every shining sequin I put on my paintings is a mitzvah and prayer."
Another element Sarah will sometimes employ in her work is a small mirror. For instance, in an early painting of the Twelve Tribes arriving in Eretz Yisrael there's a representation of the Beis Hamikdash. Below it is a small, circular mirror.
"The mirror represents Malchus, which represents us," Sarah explains. "The mirror is saying that no one can rebuild the Beis Hamikdash but us — one more mitzvah, one more good thought, one more good word, one more prayer. And then boom! Geulah! It's like when a woman is ready to give birth. She's thinking, what else has to happen before the real labor starts? It's like that for geulah, both for us as a nation and for the individual.
"We don't know what we need to do, what tests we need to go through, what yearning we have to feel, what prayer we need to say — until suddenly it's there and we've broken through and we're about to give birth to our highest potential, which is why we came home to Eretz Yisrael.
"My whole perception is that we don't learn Torah — we remember the Torah we learned in the womb, the Torah our soul is connected to. Coming to Eretz Yisrael is to remember who we are, why Hashem put us into this world — how with our particular talents we can fulfill our spiritual purpose in this world and come close to our Creator. That's what we're trying to remember."
Until recently, Sarah's art was primarily for herself — the means through which she could express her gratitude to Hashem and express the Torah connected to her soul. "It was between me and Hashem," she describes. Occasionally, when someone came and asked for a painting, she'd create one especially for them: a painting of their name or a prayer for shidduch, for example.
The Fox-Ashreis' main parnassah has come from davening for 40 days at the Kosel for people who need a yeshuah, good health, a good parnassah, and the like. Now, though, as she's getting older — and as she and her husband want to help marry off their many grandchildren — Sarah is bringing her art to the wider world.
Last winter, she was honored with a one-woman show at the Shelter Art Gallery, a Jerusalem gallery for chareidi artists. She's also in the process of having prints made of her paintings and creating a website.
As we finish our talk, Sarah leaves me with one last thought to take on my journey home. "My paintings are a prayer for the light of the Beis Hamikdash to fill our lives," she says. "But we're all remembering the Beis Hamikdash, each in our own way."
(Originally featured in Family First, Issue 648)
Oops! We could not locate your form.
>