| On Site |
Let's Do Lunch!
| April 3, 2023
There are more than a few good takeout places on the Continent. So why is everyone flocking to Hoffy's in Antwerp?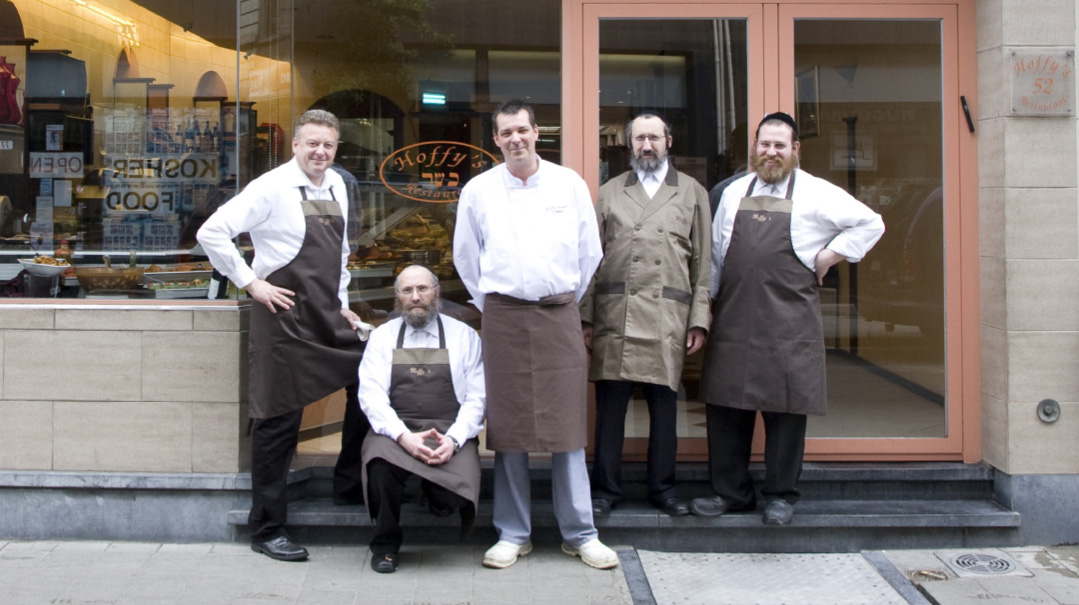 When Pinchos Hoffman and his wife came to Antwerp after the war as penniless immigrants, any work would do — even selling cut-up fish door-to-door. Their fish store eventually became iconic, but who would have thought the restaurant their sons later opened across the road would become a major attraction for a secular clientele curious about kosher?
The storefront window on Antwerp's narrow Lange Kievitstraat draws us in, as we eye the L-shaped counter packed with a mouth-watering display of authentic heimish Jewish food.
It's a gray, chilly Thursday morning and we've made our way to Hoffy's, past the arches of the railway bridge, then a left turn just one block before the downtown diamond district. On the narrow sidewalk outside, a chassidish girl talking on a kosher flip phone passes with a laden stroller, while two tourists with straw hats and ponytails seem glued to the window. They're inspecting the egg rolls and creamy mashed potatoes, beef and sauteed liver, schnitzel and chicken stir-fry with a little curiosity and a growing appetite.
Inside, it's all brightness, hustle and bustle. Besides being a busy heimish takeout, Hoffy's is a restaurant offering white-glove dining. A varied crowd mills around the takeout counter, unwrapping their scarves and breathing in the savory smells; behind it, four older chassidish men whisk around with quiet efficiency. Customers point out their favorites and Yumi, Yanky, Leyzer, and Moishi Hoffman serve, weigh, heat, and wrap the portions.
"I've been a Hoffy's customer for 35 years, from when I used to come here with my parents," a woman from Amsterdam with two young children shares. "We drove in from Amsterdam (150 km away). When we make the drive to Antwerp, our first stop is to make an order at Hoffy's, go do our other shopping and come back here, taking the food home for Shabbos. This kind of kosher variety is not available in Amsterdam, so it's a party for us here at Hoffy's." She says she's still buying the same gourmet traditional fare as her parents bought; her favorite is the melt-in-your-mouth steaks swimming in mushroom sauce.
Another customer is a Jewish tourist from Switzerland, visiting the reputed restaurant for the first time, while a local balabusta shares her secret — she comes here for her kugel every week.
This Jewish melting pot — kippot serugot and headscarves, bare heads and platchedige hats — is matched by the medley of food. Colors and flavors from East to West of the Jewish world, from lamb and couscous to stuffed peppers, to kishkeh, griben and galeh share space here. The display meanders from meats to poultry to fish, sides, and colorful salads, closing at the far right with a selection of desserts: a flagon of frullato, traditional sachertorte, and other gateaux from Antwerp's equally famous kosher bakery, Kleinblatt.
Granted, this place serves great food, but there are more than a few good takeout places on the Continent. So why is everyone flocking to Hoffy's?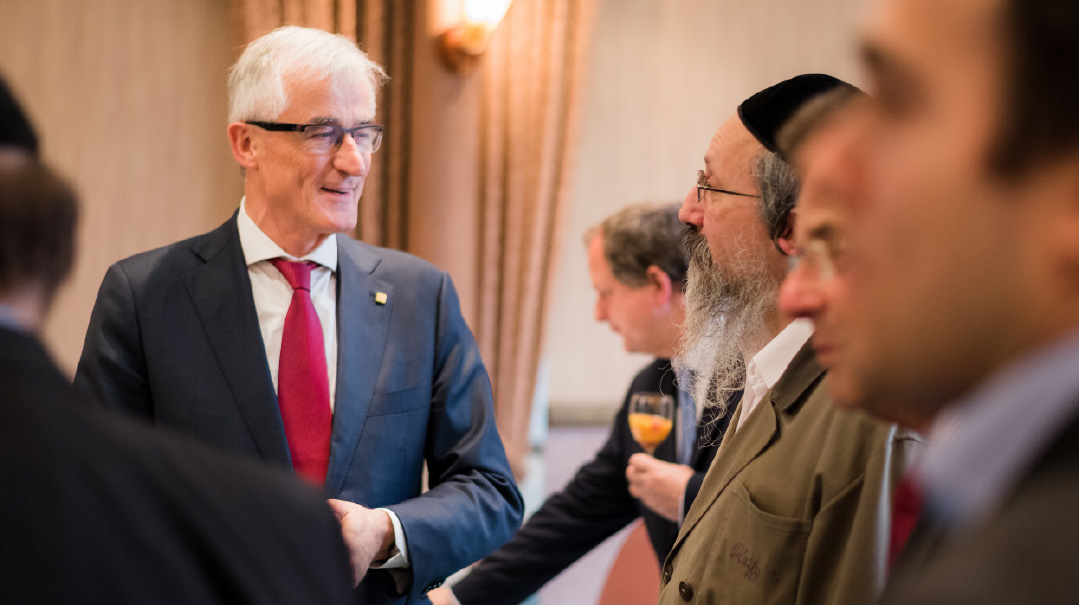 Yumi gives Geert Bourgeois, founder of the New Flemish Alliance and currently a member of the European Parliament, a lesson in kashrus along with an authentic heimish lunch
Like an Old Friend
Orthodox and hip, kosher and cool: the meals presented by the Jewish Hoffman brothers in Hoffy's, their restaurant-cum-takeaway, are one big culinary paradox." So begins Brussels journalist Marijke Libert's photographic book Hoffy's: The Jewish Kitchen.
And Orthodox and hip it certainly is.
The busy heimish takeout is decorated with artfully strewn giant marshmallows, petals, vases and candles. There's also a stand with stacks of Libert's coffee table book in both English and Flemish, with the Hoffman brothers taking turns to autograph the book for their customers. This buzzing area gives way to the restaurant, with its à la carte menus, artistically plated appetizers, and curated wines. But here there's a dramatic difference from the take-out crowd in front: None of the diners are chassidish, and in most cases, they're non-Jews, or entirely secular.
Mr. Moishi Hoffman walks through the restaurant, working the tables. Though almost all the diners are bareheaded, chatting to their chassidish chef and host is clearly part of the Hoffy's experience. For many of them, he's like an old friend. He introduces us to a client at the back table, a diplomat at the Hungarian Embassy in Brussels, who's come in for his rib steak, a good business lunch with plenty of Hungarian flavors.
"All good cuisine is Hungarian," the  diplomat comments. "And at Hoffy's everything is fresh. But I'm a client for 47 years, and besides the excellent food, there's something else here — you feel at home."
Besides speaking the three basic languages of heimishe Antwerp today — Yiddish, Hebrew, and English — the Hoffmans are from a generation fluent in both of Belgium's national languages: Flemish and French. Since their mother was German-speaking, they picked that up, too. Moishi chats with his customers comfortably in all these languages — and mamme lashon, too. One fellow who puts on a small yarmulke when he enters start a conversation with us in impeccable Galitzianer Yiddish. He's driven in from Paris for some business and for lunch at Hoffy's.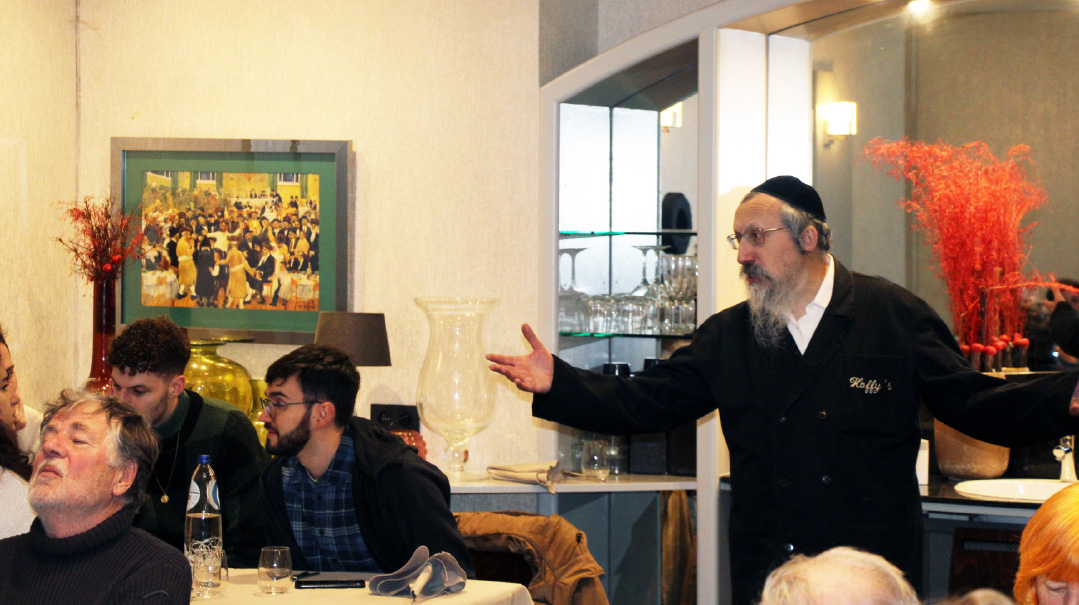 Yumi says he often finds Jews among the secular groups that come in. "Someone even asked me for tefillin"
Bridges with Blintzes
An arched doorway at the end of the tables takes us to a small function room. A group of three dozen non-Jewish German tourists is seated for lunch, enjoying a taster menu of traditional Jewish cuisine. As the appetizer is cleared, Yumi Hoffman, still in his Hoffy's overall, stands up to speak.
Beginning confidently in German, he engages them in a conversation about what kosher means, then explains the basic concepts of the Jewish kitchen. The crowd listens and chuckles at his jokes as he speaks about milk and meat and shechitah and checking animal lungs and washing strawberries. Being waited on and served delicious food with a helping of explanation and humor on the side is certainly a nonthreatening way to expose non-Jews to the world of Orthodox Jews and chassidim.
Later, we ask Yumi if he's ever come across assimilated Jews in these non-Jewish tour groups. He looks serious for a moment. "Yes, many times. Someone once asked me for tefillin, and I called the local Chabad bochurim over to put them on him. Another time, Chabad bochurim had come into the restaurant shortly before Rosh Hashanah to blow the shofar, and an Italian tourist burst out crying. She remembered being taken to shul as a little girl to hear the shofar.
"We will never know how many Jewish children in Belgium were left with Catholic families or convents during the Holocaust and never reclaimed," he continues. "Just a few weeks ago, in a group of senior citizens from nearby Brasschaat, an elderly man told me that his mother was Jewish but raised by Catholics and he was married to a gentile. He wanted to know more about Judaism, so I sent him on to one of the rabbis in town."
The Hoffmans view their business as a chance to make a kiddush Hashem, to show the human face under the black hat, and that translates into less prejudice and good business relationships with non-Jews.
But how did this secular clientele find their way to sampling glatt-kosher blintzes, kreplach, and shlishkes in such a heimish locale?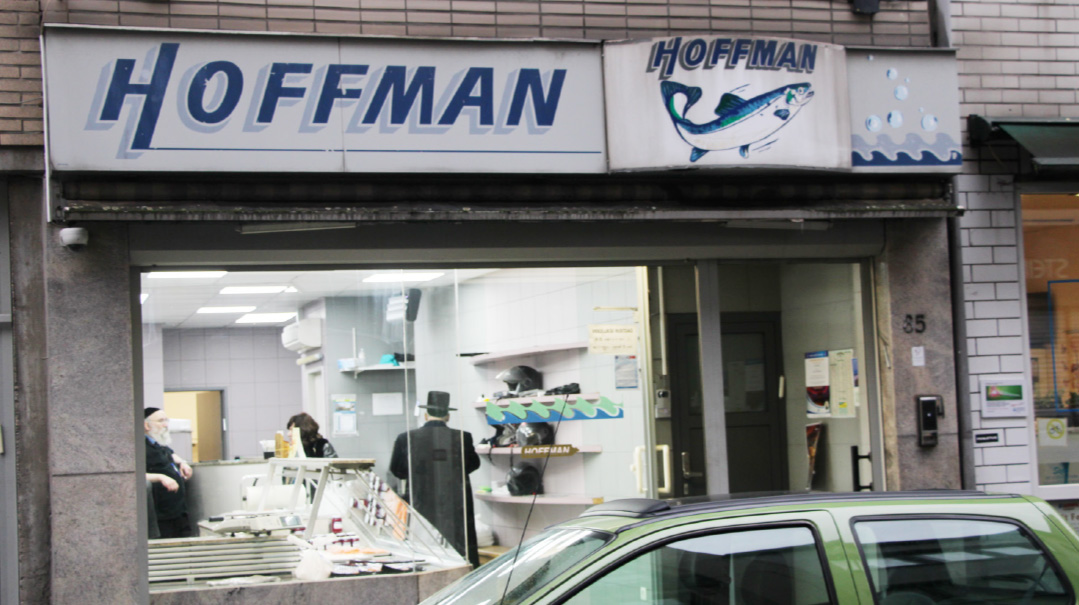 With freezing hands and warm hearts, the Hoffmans put the pain of the past behind and created a future for their growing family
We're Staying Put
The senior Hoffmans arrived in Antwerp in 1948. Mr. Pinchos Yisroel Hoffman, who had raised his family in Pupa before the war, had, with great siyata d'Shmaya, somehow survived the concentration camps but lost his first wife and four children to the gas chambers. He returned to Pupa and remarried Surah, née Adler, but the Russians forces who occupied Hungary after liberating it from the Nazis were lawless and violent.
"They wanted to shoot my father and take my mother," Moishi explains, "so my parents jumped on a train and ran. They arrived in Paris with absolutely nothing. Some Yid in the station saw them and took them home to stay with him. My father could see that Paris would not work for the family he wanted to build. As soon as he could, he moved to Antwerp, and my brother Aharon was born here."
As the family grew — it would eventually include 11 sons and one daughter — Mr. Hoffman made plans to emigrate to the United States. He went to present his documents at the US Embassy in Brussels, and when the officials passed over him to call a German non-Jew in first, this Holocaust survivor threw down the documents and changed his mind about moving to America. The embassy staff ran after Mr. Hoffman and even sent the stamped visas to the family in mail, but his mind was made up. He would stay put.
Parnassah was an urgent and pressing need. One day, Mr. Hoffman saw a man on a delivery bicycle selling fish. He asked for work, and the man handed him one huge cod. "Here," the man said, "sell this and then pay me back." Mr. Hoffman cleaned the fish, filleted it, and went door to door selling the slices. When he paid the man back, he was given a box of cod to sell. Hoffman's fish business had begun.
With freezing hands in ice all day yet with warm hearts, the Hoffmans put the pain of the past behind them and worked for their children's future. They were unafraid of hard work, and their store, which they ran together for 65 years, with gentleness and mutual respect, became an icon of the community. Once times were better, Mr. Hoffman was the force behind building the city's Machnovka beis medrash.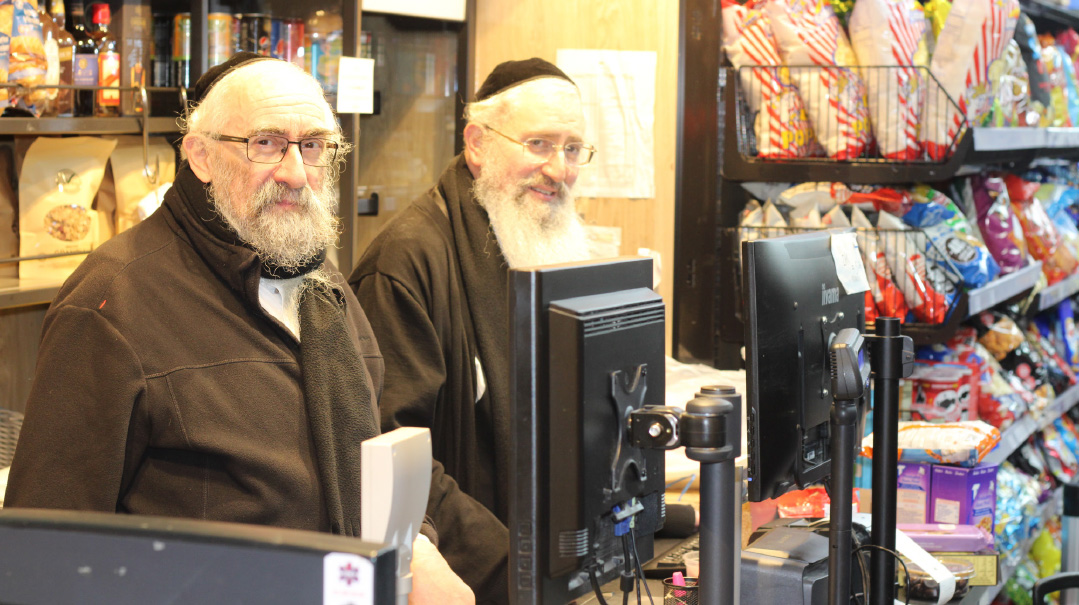 Aharon, the oldest brother, with his son Eliezer at Fruithof. Everyone stayed together on the same street
You're Doing a Restaurant
When the sons grew up, it was clear they could not all support their families in the fish shop. Aharon, the oldest son, opened a greengrocer. His shop, Fruithof, is on the same street, just meters away from Hoffman's fish. He's still there when we peek in today, working behind the counter, laughing with his son Eliezer who works with him. Fruithof still sells fruit, but has expanded to a full range of grocery items too, and serves as the kosher grocery for this neighborhood.
Moishi always had a feel for cookery. "I remember helping my mother cook when I was just six or seven years old, and my mother was a real Hungarian cook. No one could cook chicken in a pot like she could. My father did make marinated herring to sell in the fish shop, but that was it, there was no other prepared food. When I was older, I came to the shop and started to prepare slices of baked salmon. They sold out every day. But I didn't have a future in the fish store, so I went into the diamond business."
His face shutters as he says, "It didn't work out. I was left with no means of support for my wife and children." When his father saw that Moishi had been left high and dry, he invited him to come back into the fish business.
"He was offering to support me. It was a very bad feeling, though. But then my father had a new idea. 'Moishi,' he told me, 'you are going to open a restaurant.' "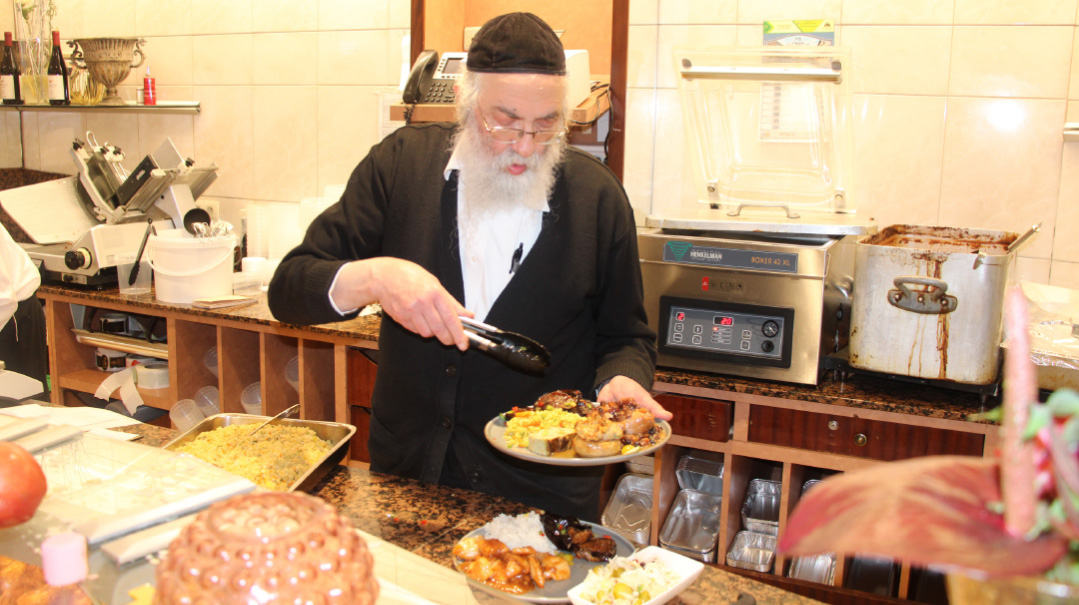 Open the Doors
Moishi went to college to learn the culinary arts and obtain a chef's diploma. The first chassidish Yid to attend Antwerp's culinary school, he obviously couldn't eat anything he cooked there. In 1985, Hoffy's restaurant opened, with Yanky, Yumi, and Moishi Hoffman running it.
There was just one problem: The very conservative heimish crowd in Antwerp was not much accustomed to eating out, except at simchahs and communal events. Another glitch was that the cook Moishi had hired didn't understand the nuances of Jewish food. By 1992, the brothers were ready to close down.
"But my father wouldn't let us," says Moishi. Mr. Hoffman believed his sons could succeed in their business and that the time for a kosher restaurant had come. He encouraged them to  stand outside on Lange Kievitstraat and urge customers — even non-Jewish ones — in.
With no other choice, Moishi ran with his father's concept of opening the doors wider. He went to City Hall to speak to the Mayor of Antwerp. "I came in and suggested to the mayor himself that we create a tour of Jewish Antwerp with explanations about Jewish culture and Jewish cuisine. The mayor jumped up from his chair, came over and hugged me. 'Yes! We have to do this, because our people don't understand you people!' "
The timing couldn't have been better. The next year, in 1993, it would be Antwerp's turn to be honored as Cultural Capital of Europe. This honor rotates among European cities, giving them a year to bask in the cultural spotlight. It involves tourism and exhibitions and events, and the mayor knew that Jewish cultural tours would be a rich addition to the schedule.
The brothers took loans so they could update the restaurant, and with a facelift of the premises and the scheduled tours, the Hoffmans began to make a name for themselves in non-Jewish circles. Moishi admits that not everyone in the chassidish community was thrilled with their move, but their father stood behind them.
The confluence of events might be the practical reason for their success in attracting so much non-Jewish business, but ask Moishi about it and he just points up to Heaven.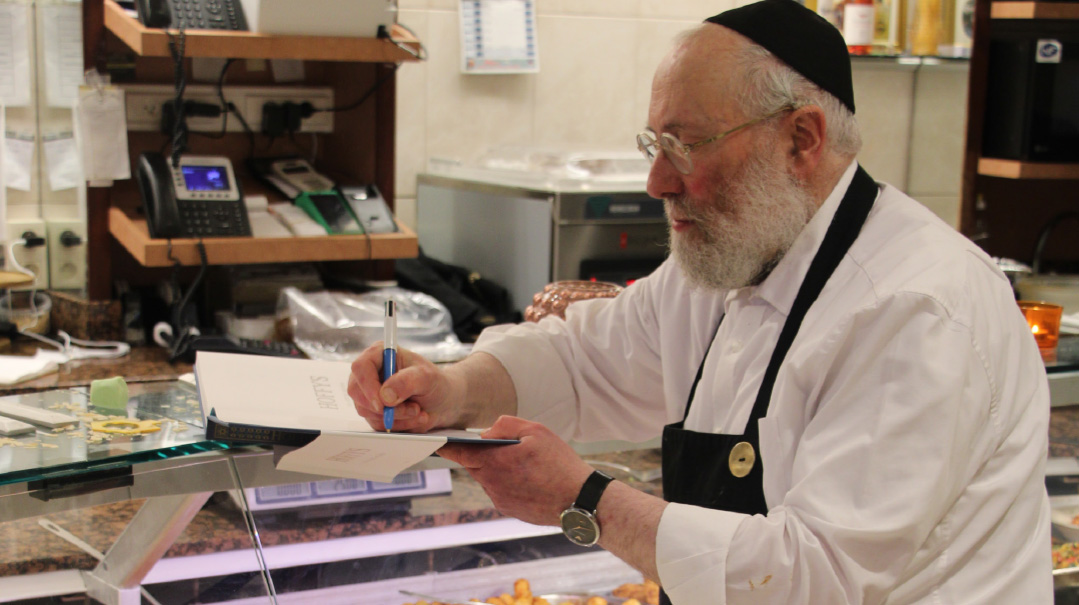 Moishi autographs the book for a customer. An inside look at Antwerp's chassidic life
Food on Film
Rebranding  Hoffy's as a culinary exercise in diplomacy was a great success. It was evident in the bareheaded couples enjoying a great restaurant meal and the groups who want to hear explanations about kosher over a four-course lunch in the back room, as well as  the food orders from all over Belgium. Meanwhile, the Hoffmans continued to welcome Jewish locals and tourists, and became popular caterers for both small and elaborate events, although Hoffy's no longer caters weddings for the general community, only for family. ("I feel calmer now that we don't do chasunahs," Moishi confides. "This way, we can invest more in our restaurant.")
In 2018, the family-run restaurant with its incredible food and often confusing and highly specific dietary laws attracted media attention in the form of a documentary on Belgian television. "We always had non-Jewish customers and groups here, but that made an explosion," Moishi says. The film, which involved a crew dogging the Hoffman family for ten days, brought customers and more reporters in its wake, and soon a Dutch documentary is scheduled to provide them with similar exposure in the Netherlands.
Hoffy's: The Jewish Kitchen, a photographic portrait of the family and its recipes, was a natural follow-up. The striking photographs, taken by "the best photographer in Belgium," according to Moishi, don't focus only on their family and stores but offer an inside glimpse into the world of Antwerp's chassidish life, traditional yet oh-so-colorful.
"We've been asked many times to open a branch in Brussels, but right now we're staying local," Moishi comments. He says he'd rather keep doing his thing well than spread it out.
Although a lot of clients are drawn by the Jewish food, Moishi's team has a professional handle on Belgian cuisine too. Endive, he says, is typically Belgian, as is a large part of his fish menu. Come New Year's Day, he gets orders from non-Jewish clients hundreds of kilometers away all across Flanders, and he knows just what to send for a traditional family festive dinner.
When the Conference of European Rabbis met in Belgium, Hoffy's was the only outside caterer to be allowed in to the country's parliamentary buildings. It wasn't long afterward that the brothers were invited to the Holocaust Museum in Brussels for a meeting with Queen Mathilde about the community. She asked Moishi if the chassidish community is happy in Belgium, and was curious as to why there was a kehillah in Antwerp but not in Brussels. She also knew not to shake his hand.
As we're about to wind up the conversation, Yanky comes over with a large leather diary to consult with Moishi. Can they host a large group of tourists for lunch on the same day as a sheva brachos that's already booked?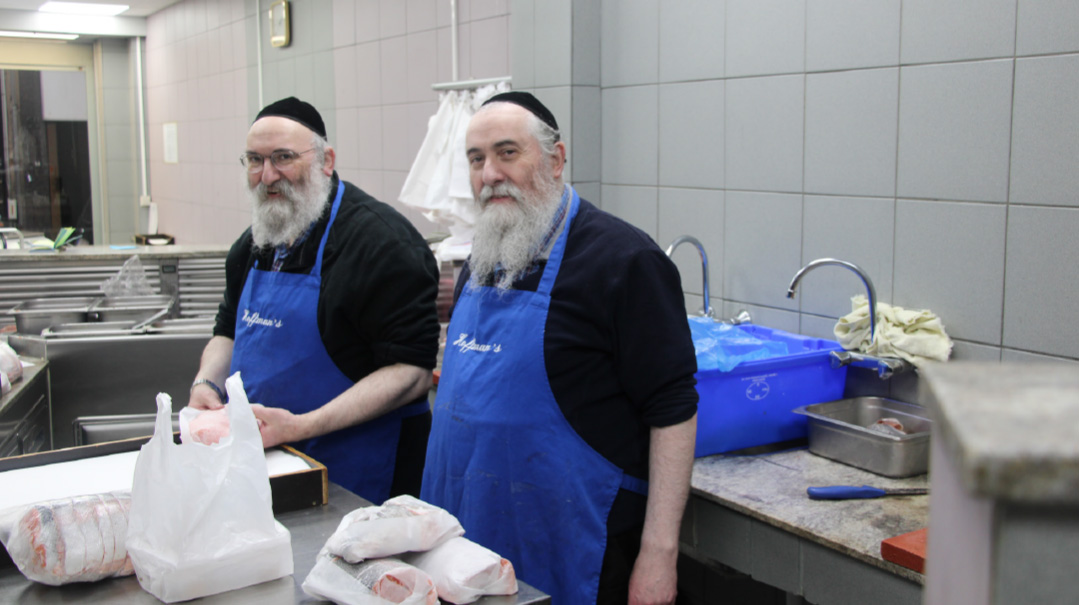 At the fish store, Yossi and Chaim continue the family trade. Mrs. Hoffman's homey kitchen is still behind the shop
This Was the House
We head across Lange Kievitstraat to the fish shop, which still stands where it has been since the 1970s. For 20 years before that, it was on the other side of the railway bridge.
Back then, all the Hoffman children joined their hardworking parents in the store, wrapping and delivering the fish orders. Today, the two sons who are the proprietors, Yossi and Chaim, welcome us as they clean and cut the shiny sides of salmon. Their sister, Mrs. Reisy Berger, is briskly checking trays of eggs at the side counter. Like their brothers on the other side of the street, these Hoffmans, too, have been up since before six, davening and learning before getting to work.
At the back of the fish store is a full kitchen in simple white. It looks like a real Yiddishe mother's home base, sparkling clean, neat and comfortable, with a kettle on the counter and siddur on the table. "This was the house," Yossi Hoffman says. "My parents lived here upstairs, and this was my mother's kitchen." There is much warmth in his voice. "Ah getriyeh mamme. She worked hard with my father to provide for the twelve of us, and every day, managed to cook us a hot lunch, right here."
On the wall, near a comfortable recliner, hangs a list of the children and their contact numbers, tailed by a local doctor's number. It's clear that until recently (Mrs. Hoffman senior passed away in 2021) this was the heart of the clan. Yossi spreads out some photos of the family and of the original fish shop on the other side of the railway bridge. Here's his father serving in the shop, here's his mother surrounded by her sons. Here is the family grouped around a huge Silver Cross baby carriage ( I wonder how they managed to maneuver that around the narrow sidewalks?), and here are Yossi and Yumi, the twins.
Next to the fish shop is Hoffy's events hall, which regularly hosts bar mitzvahs and sheva brachos. Now I'm starting to understand why some of the locals nicknamed this stretch of Lange Kievitstraat "Hoffmanstraat."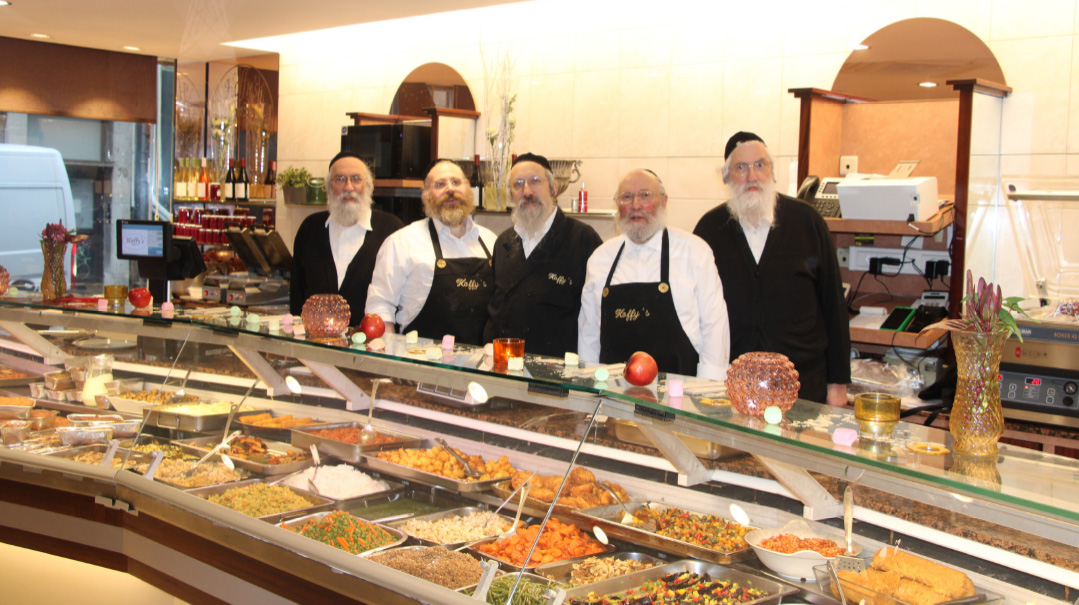 Good food is a family affair: Leyzer, Mr. Gestetner (an employee), Yumi, Moishi, and Yanky
Over the Obstacles
As we circle back across to Hoffy's, dodging cars, bikes, and delivery vans, a non-Jewish  Belgian couple arrives and is welcomed. "It's our first time here," the woman explains to me. "Our good friend is in the police force, and he's chief constable of this area. We asked him where the best Jewish food is, and he said it's Hoffy's, hands down."
Yanky is obliging a tourist by autographing a copy of the book. Some of the brothers are already in their seventies, all of them more-or-less white bearded. And although they're each different in character, they've figured out their roles in Hoffy's. Leyzer, the second-oldest brother, is usually behind the counter. Yanky has a practical mind and runs the administrative side, meaning that he's usually in the office. Moishi cooks, directing a team of two Jewish and two Belgian chefs. Yumi is the spokesperson, welcoming the groups of non-Jewish tourists and giving them a half hour's introduction to kosher — and always with his repertoire of quips and jokes to keep the guests chuckling. Their brother Mordche, who lives in London, owned a fish shop in Stamford Hill, which is now run by the next generation of the family and produces its own brand of Hoffman's fish products and herring. He happens to be visiting Antwerp and is in and out of the kitchen. "We fight, of course," Moishi says. "But we make it up half an hour later. It's just the stress of work."
The mashgiach pokes his head out of the kitchen for a minute. Like the Hoffmans, he's been here since six a.m. to light the fires, as the entire establishment is under the town's mehadrin Machzikei Hadas kashrus. And like everyone else here, the restaurant has to contend with a national ban on shechitah, which means that Machzikei Hadas sends its shochtim to Poland, and the meat and poultry is imported. The exacting standards mean that at times Moishi's kitchen cannot use any cauliflower, or only strawberries from certain sources; yet the talent that enables him to create every sauce from scratch, including perfect pareve cream sauces, easily gets him through these obstacles as well.
As busy as Thursday is, Sunday lunchtime is even busier. And there's been a big demand for vegetarian dishes. "More and more Belgians are vegetarian, so we cater a huge menu for that."
As we finish our visit with a group picture, Yumi very kindly and efficiently packs and shrink wraps a delicious supper for us to take back home.
A business of this nature may be temporal, he says, but packing hot meals and comfort for those who need it, whether they've fallen on a period of financial instability or illness, is a merit he hopes he'll take along, after 120, to the Next World.
(Originally featured in Mishpacha, Issue 956)
Oops! We could not locate your form.
>