| DMCs |
Learning to Fly | August 29, 2023
"Loser, you're a loser," my classmates taunt, pointing at my cleft lip while I shrink into hopeless oblivion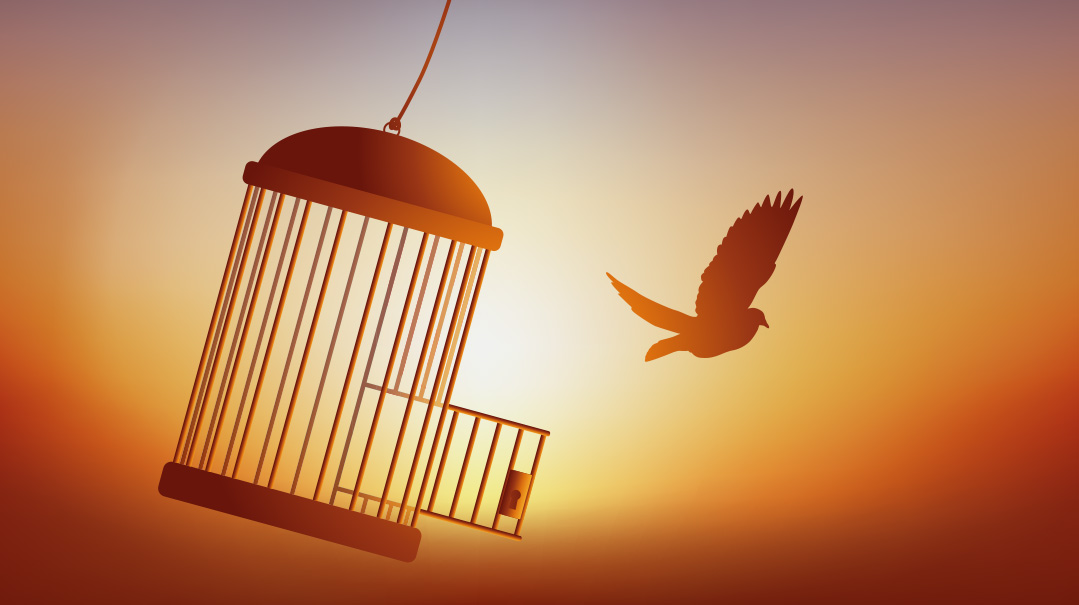 As told to Devorah Grant
I
grip my red and black suitcase tightly and step out of my parents' car, my palms clammy, heartbeat uncertain. My pillow is with me, as well as my purple blanket — beacons of security in the unknown that lies ahead. We're here, at the famous ranch. The ranch is made for girls like me. As I glance up at the metal horse just outside the brick building, I wonder if this will be a place where I'll finally be allowed to be me….
"Loser, you're a loser," my classmates taunt, pointing at my cleft lip while I shrink into hopeless oblivion. Just two more hours until home.
Here, I hope it will be different….
I meet the clinical director in the lobby, and my muscles begin to relax. She seems friendly, kind, and non-judgmental, as do the staff members who wave as they walk past. A fish blows gentle bubbles in the fish tank nearby; the water ripples. As I say goodbye to my parents, a butterfly of hope begins to flutter in my heart.
I'm led into the high-ceilinged dining room, where I'm introduced to the other girls and staff members. Over a colorful supper, we chat, slivers of our stories emerging. There's a certain ease to it, a warmth. No one here expects me to have it all together, and that's so different from anything I've ever experienced before.
 During tenth grade things get really bad. I face days of isolation. My thoughts and emotions are working faster than I can keep up. I feel useless, hopeless, like my world is caving in. I don't know how to escape before everyone realizes.
Here, it feels different.
After supper, we leave the main brick house and make our way across the path toward the cottage where we sleep. My roommate isn't here yet, so for now I have my own room, and I take advantage of the space and privacy to unpack and organize, adding my own touch to this place that's going to be mine. Here's my pillow and my blanket, all ready for a good night's sleep. I wonder if I'll get any rest here….
I'm 15 and it's way past three a.m. Every time I close my eyes, intrusive thoughts rear their ugly heads, with relentless voices of doom, gloom, and despair, the ticking clock in the background reminding me that I only have a few hours left to rest. We have a school counselor, Riki, but nobody wants to be seen going to her. Still, I need help. I'm going to go see her tomorrow.
And that had been the beginning of this healing journey.
The morning dawns bright and early, and I have to think twice before I remember where I am. Oh, the ranch. The wide, green expanse of 18 acres of land is beckoning from the window, the duck pond glistens in the winter sunlight. As I get dressed, I think of the equine therapy I've been told about, wondering what this day is going to bring.
I feel a little lost at first, adjusting to my new environment. I don't like change, and this place is all about change. The clinical director and eim bayit do their best to make me feel comfortable, and breathing through each moment, I find my way.
Today is also when I go to meet Sara, the equine therapist, who introduces me to the horses. I look in wonder at these majestic creatures, soft manes blowing in the breeze, and my shoulders drop, my body easing. Sara tries to get to know my personality, working out which horse she thinks will best suit me. I instantly love Greta, a coffee-colored creature who seems gentle and soft. I'll be back as soon as I can.
We have an art therapy group, too, on that first Thursday. We work with resin, a soft material that hardens and can create shiny stuff — like jewelry or ornaments. Tender becomes firmer on the ranch, and with the guidance of the art therapist, I make a beautiful crystal light that winks at me from the table. I'm actually proud of what I've accomplished, unlike times in the past.
My classmates are scribblings answers; the classroom is silent. Pens race across papers, pages turn, brows are furrowed. All around me girls are working to think, remember, record their vast knowledge of American History. But at the back of the room, I feel the tears bursting at the corners of my eyes as my brain feels like it's going to explode. I'm a loser, I write, again and again, all over that white page at the back of the final. A loser, a loser, a loser. Riki has been helpful, but now I realize I need more. That night I end up in the hospital.
But here at the ranch, I don't feel like a loser at all.
The rest of the day passes with a multitude of other groups and activities. I begin to recognize the names and faces of other girls, and I'm given this diary to use so I can express myself. It's almost Chanukah, and we're asked what we want as a gift. I need to think about what I'll ask for, but something in me recognizes that this whole place and its care is a gift in itself. Falling asleep is easier that night.
Friday and Shabbos on the ranch are separate experiences. On Erev Shabbos we have a DBT group, then take turns getting ready for Shabbos. When Shabbos begins, special Shabbos staff come to be with us, and we eat a beautiful seudah, followed by time to play games, chat, and chill. The fears I had about meeting new people are beginning to melt away as I meet other girls who have stories similar to mine: stories of struggle, of adversity, and of pain, but also of courage and growth and triumph. The food is good, the company is great, and though I do miss home badly, I feel safe here.
As the new week begins, I'm introduced to more aspects of life on the ranch. I'm shown all of its nooks and crannies, and begin to learn how the timetable works, including the joint responsibility all of us share for the horses and the cleanliness of the place. I'm given the responsibility of helping with Greta, and of vacuuming, and it gives me confidence that I'm trusted and capable.
When 12th grade begins, we all get jobs to do around the school. I've done a lot for the school in the past, and have so much to give. I wait for my name to be called. When they finally get to me, I'm  given a menial job, the same as 12 other girls. I hear my therapist's voice telling me that if I'm in this world, I'm valuable, but it's hard to overcome the shame and humiliation of not being deemed worthy of a more important job. My self-esteem plummets, my depression deepens. After a hospital stay, someone tells my parents about the ranch.
It's time to find my value again.
The next few months in the ranch has the winter turn into spring, and as the ice melts and trees blossom, a new me begins to emerge. There, among the horses, goats, and ducks, I learn more about myself and relationships than I have in my entire life. There are difficult days, and days where the sun shines brilliantly above, but all of it — the good, the bad, even the ugliness of confronting my story — is healing.
The friends I make and the support I get during my time at the ranch shows me what my therapist had taught me all along: If I am in this world, I have value. My bruised heart, once subjected to taunting and ridicule, is now being patched up, day by day, with acceptance from myself and others.
When it's time to go home after those magical months of healing, the tears come in multitudes. My body rebels when I get into my parents' car, for though I'm glad to see them, the world I remember is hostile, and I don't know how I'll face it. The staff at the ranch tell me that stepping out of my comfort zone here has helped me gain confidence, and now it's time to transfer that to real life. I breathe and pray that their words will ring true.
Some things haven't changed in my life back at home, but to my delight, I find that I have. I find people and places who support me in my journey, and I start to think about careers and life ahead. The depressed, frightened little girl who I was has spread her wings and learned to fly. The impossible has come true.
People don't always realize the power they have over another person's life to cause joy, fear, pain, or connection. And while we all most certainly have immeasurable value, sometimes we need a little help to see it. I do hope after hearing my story that you'll be that person for your friend or classmate in need. Because whatever anyone says and despite any challenges we have, we all deserve to fly.
(Originally featured in Teen Pages, Issue 976)
Oops! We could not locate your form.
>