| Magazine Feature |
Lakewood Housing Goes Through the Roof
| January 20, 2021
As more young couples than ever crowd the town, can they find a roof to put over their heads?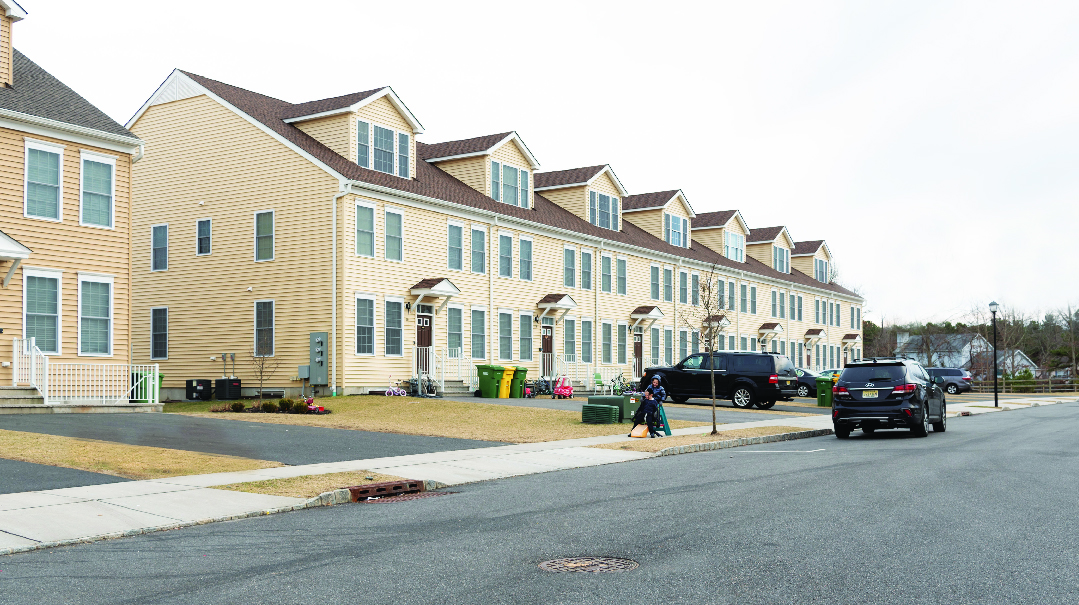 T study by Realtor.com, which was released last month, listed Lakewood as the number one suburb in the country when it comes to rising home prices. According to the report, median home prices in Lakewood increased a whopping 47.6% to $309,000 from October 2019 to October 2020.
The housing boom is a "direct result of the pandemic," Mrs. Blima Goldberger, a veteran realtor with Waxman Realty in Lakewood, told Mishpacha. "The market was definitely moving up before COVID, but ever since the pandemic arrived, it's risen tremendously."
A combination of rising prices, fewer newly married couples moving to Israel because of the pandemic, plus lower interest rates, means a housing crunch, and with it, a rental shortage — particularly of basements, particularly sought after by young couples.
To demonstrate, one just has to open a recent copy of the Masa U'Matan, a local publication considered the go-to for someone seeking a rental, and scan the pages, which in recent weeks has averaged just roughly two pages of listings. Just four years ago, any given issue would have over 17 pages of listings.

In the absence of accurate statistics, excess enrollment in Beth Medrash Govoha, the premier destination for newly married avreichim, is an indicator of the higher numbers. The yeshivah normally averages between 420 and 450 new bochurim per zeman, adding to the 750–800 single students already enrolled. But for this current zeman, which began after Succos, the yeshivah had hundreds more applications than they normally do. Even after Israeli authorities allowed foreign students to enter before the new zeman began, there was still a 25% increase over a regular intake, according to statistics provided by the yeshivah to Mishpacha.
Some of this increase includes the dozens of couples who got married in the last 11 months and would have moved to Israel but were unable to do so, because of COVID bureaucracy or the significant weakening of the dollar.
Moshe Silver, a Brooklyn resident who got married several months ago, told Mishpacha that he would have liked to begin his marriage in Israel but was unable to do so and instead settled in Lakewood.
"I learned in the Mir for two and a half years and did really well there," he says, explaining why he was looking forward to moving back after he got married. "I love Eretz Yisrael and was really hoping to return. But with the country going into a lockdown and our having trouble obtaining the necessary permits, it was just not feasible for us," he added.
Bargain Basements
Low interest rates are the second factor putting the squeeze on Lakewood's young couples. With the price for basement apartments in the town now going for several hundred dollars per month more than they were just two years ago, many current renters feel that buying is a more sensible choice. One such person, Chaim, explained that with his family outgrowing his current basement apartment, purchasing a small home with a rentable basement is now an affordable option.
"It just makes financial sense right now," he said. "A year ago, I may have just looked for a larger basement, but with interest rates where they are, plus what I can charge for renting out the basement, it just doesn't make sense for me to pay so much to rent a basement when I can purchase my own house and pay a mortgage which is roughly the same as my monthly rent."
Mrs. Goldberger agrees that low interest rates — at 2.75% instead of the 4.75%–5.25% range more recently — are a factor. But she also noted that the pandemic has persuaded many people to pick up and move. "People really want to get out of the city — every age and every stage. And there simply is not enough inventory right now, sending prices much higher," she said.
Fellow realtor Yisroel Taub of Re/Max On The Move Realty, has seen the same trend at work. "COVID caused many from New York to want to get out, whether it was because of Governor Cuomo and de Blasio, or because they can now work remotely and want a backyard — whatever the reason is, you just need a few people to start telling their friends and neighbors, and we have a landslide," he said.
Increased demand is the most obvious trigger for a housing shortage, but according to Taub, "the core of the housing crisis is people's reluctance to sell.
"A lot of people who in normal circumstances would have a good reason to sell are reluctant to do so, for various reasons. Sellers are nervous about people entering their home for fear of the virus. If a homeowner lost their job, or had a reduction in their income, they are scared about the possibility of being denied on a mortgage application for the next home they purchase. So, for an old timer living in Jackson or Toms River, why would you sell right now?"
Supply Crunch
COVID is only the latest shock to the Lakewood market, but the upward trend was in place beforehand, because of limited housing supplies. For well over a decade, the town has been the fastest growing in New Jersey, with a 54% population increase between the years 2000 and 2010.
With the 2020 Census results scheduled to be released in the next few weeks, it is widely anticipated that Lakewood will vault into the top five most populous municipalities, trailing only Newark, Jersey City, Paterson, and possibly Elizabeth.
The explosive growth has put a strain on the local housing market, with the "native" Lakewood community greatly affected due to the limited options open locally.
According to Mr. Taub, however, the rental market has long been undervalued.
"Basement rentals are really a byproduct of the housing market in general," he stated. "In my opinion, the rental market has always been artificially holding back the housing market."
Ever since the Westgate development opened up in 2002, followed by the many developments that opened up throughout town, the rental market was flooded, with an overabundance of available apartments. But now, with many developments at full capacity, with some even having a waiting list, basement apartments have been a lot more difficult to find, especially if one is looking to move to an apartment within walking distance of Beth Medrash Govoha.
So can more houses be built in Lakewood, or will space for more housing eventually run out?
According to Mr. Abe Halberstam, who chairs Lakewood's Zoning Board, the answer is, "It's possible."
"The state mandates that we redo the zoning master plan every ten years, and we just did that in 2017," he says. "So, it is what it is. It won't be redone until 2027. And when they do change the master plan, they will take into consideration the natural growth of the community to allow for greater housing," he added, but cautioned that "everything will be done within reason."
Asked about the possibility of rezoning specific areas to allow for small apartment buildings, similar to the Prime Apartment building that was built several years ago on Seventh Street and Madison Avenue, Mr. Halberstam said "anything is possible" but noted that very specific circumstances allowed for the zoning adjustments in that case.
"We approved that building specifically for the reason I mentioned before, which is to take into account the natural growth of the community," he said. "But an apartment building has to be strategically and properly located, in a proper neighborhood, where it won't interfere with local traffic, among other safety concerns," he added.
All of that is in the distant future; but the immediate reality is that Lakewood is bursting at the seams, and under the pressure of COVID and low interest rates, housing is at a premium.
"I'm getting calls from Eretz Yisrael now," says Yisroel Taub, "from people who want to purchase a house remotely, and have their brother or mother-in-law look at houses for them."
(Originally featured in Mishpacha, Issue 845)
Oops! We could not locate your form.
>