| Knesset Channel |
King Bibi of Machaneh Yehudah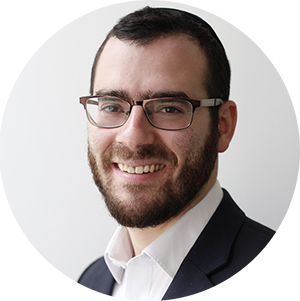 | January 30, 2019
Israel's election season is underway, and it looks like a giant shidduch scene.
Former chief of staff Benny Gantz, the most sought-after catch of the election, is being frantically wooed by all on the center-left, with potential mechutanim ranging from Yair Lapid to Moshe Yaalon. Across the aisle, Bayit Yehudi is an unhappy home after Bennett-Shaked abandoned the marriage, taking their dowry (in the form of large numbers of voters) with them, and leaving the feeling of a nasty divorce in the air. Prospective political spouses are introduced by political matchmakers and meet discreetly out of the public eye.
But from left to right, all those engaged in the political speed-dating are keeping their eye on one man: Binyamin Netanyahu. "King Bibi," Time crowned him in 2012, but after a decade in power, this seems too modest; the prime minister bestrides Israel's political scene in imperial style.
So with Israel's lesser politicians far away from the Knesset, busy trying to formulate an answer to their silver-tongued nemesis, Knesset Channel headed for the open road. The mission: to ask voters, from Likud to Meretz, why Netanyahu is the most likely candidate to be Israel's next PM, for a record fifth term. Here is the official account of my Israel-hopping quest to understand the only word in Hebrew that matters nowadays: Bibi.
It's six o'clock on Thursday night when I head into the warren of stalls that is Jerusalem's Machaneh Yehudah market. In search of the highest concentration of Bibi-philes in the Land of Israel, this place is an obvious choice. Machaneh Yehudah is salt-of-the-earth sabra territory.
Shabbos is in the air, as shoppers of all religious persuasions haggle over fruit, challos, and sunflower seeds. The pulse of the place is infectious, giving me the courage to stop random passers and ask what in my native England is a taboo question: Whom will you vote for?
But where to start in the hunt for flesh-and-blood Likudniks? Almost immediately I strike gold in the form of a giant poster of Menachem Begin on the wall of a fruit stall. Avraham, a stocky man in his seventies originally from Kurdistan, draws me into the inner recesses of his shop when he hears I want to discuss his mentor. Avraham waxes lyrical about the simplicity of Israel's leading citizens. Benny Begin sometimes buys his fruit here, as do various members of the Supreme Court.
The reason Bibi will be reelected, he says, is simple. "Hakol tov!" he exclaims. "Our economy is doing well, tourists come from all over the world to Israel. Even the Arabs want our help and are making peace with us. When have we ever had it so good?"
Avraham's logic is as compelling as his debating style. Israel's GDP has been growing at more than 3% for a decade, and is now higher per capita than Japan. Its start-up economy is the envy of the world, and old enemies such as Saudi Arabia are drawing closer. Bibi has presided over all this, as well as staring down a hostile President Obama, and moving the US embassy to Jerusalem under the current White House occupant.
Just a few steps away, in another fruit store, the Begin portrait isn't quite as good, but the Biblical name compensates for it. Iyov, a middle-aged secular type, agrees that Israel's boom is behind Bibi's success. "It's all good, so why change?"
What about Bibi's supposed corruption? Iyov looks at his teenage son as he answers, "Let Bibi drink pink champagne and smoke cigars if he wants. I'm going to vote Likud." It's only Bibi's total domination of the right that worries Iyov: "I really don't know who can succeed him," he says.
Further down the alley is a fruit store adorned once again with a Begin portrait; its owner proves less politically illuminating. "Talk to Bibi if you're bored. I have work to do!" he grunts.
Ditto for a flower-seller. ("My hand will fall off if I vote anything else.") But a young pitzuchim merchant proves that Bibi is popular across the right. In between serving customers, he says, "Rav Ovadiah said that Bibi is good. If I didn't vote Shas, I'd vote Bibi."
Around the corner from Fruit-and-Begin Alley, Machaneh Yehudah changes. Alongside the raucous fruit sellers and spice merchants are hip cafes, boutique coffee houses, and trendy street-food joints. Scared off by the lack of hechsher at one restaurant, I head for the specialist coffee shop a few doors up.
"I don't know who I'm going to vote for," the hipster barman admits. "I'm not a fan of Bibi, but I think I might vote for him. There's no other choice…"
It's this final sentence that points to possible long-term trouble for the right. Bibi may reign supreme, but people aren't necessarily enamored of him. When the Bibi years are over, will the right find itself in the wilderness, with no charismatic leader to take over?
This question accompanies me down Route 1 toward Tel Aviv as I embark on stage two of this quest, to the land of skyscrapers and Israeli leftism. Unlike Jerusalem, where the Likud won in 2017 with 24% of the vote, Tel Aviv is a left-wing fiefdom, the Zionist Union coming first with 34%.
As iconic as Machaneh Yehudah is to Jerusalemites, Rabin Square is to Tel Avivians. Positioning myself a few meters away from the memorial for PM Yitzchak Rabin, I stop passersby and ask them why the left has been out of power for so long. Most refuse to be drawn, but then someone politely agrees to talk to me. Tousle-headed and around 40, my instincts tell me that Yiftach is a real, live left-winger.
"Meretz," he confirms for me.
So why, I ask Yiftach, does the right keep winning?
"The left isn't trusted on security," he said. "Our way back to power is to talk about social issues and the gap between the rich and the poor in Israel."
What Yiftach is saying is that since the idea of a Palestinian state is so unpopular (support is down to just 37% of Israeli Jews according to a recent poll), the left's big issue is dead. But every time a new party tries to solve Israel's cost-of-living crisis (Lapid's Yeish Atid, Kahlon's Kulanu), they carve out a niche for themselves in the center-left, only to disappoint and disappear. What this proves is that bread-and-butter issues are the potential Achilles heel of the right. If the left forgets the Palestinians and convinces voters that (this time, finally) house prices will come down and wages will go up, they're in with a shot.
As extensive surveys go, Tel Aviv proved a disappointment. Perhaps it was my overly rabbinical appearance, but after Yiftach, everyone was either going to a meeting or incommunicado behind funky earphones.
But as I drove past Tel Aviv's skyscrapers and crowds of young tech types, each in their own world, I realized that this may be the secret of the Machaneh Yehudah Right's success. The Rabin Square Left is simply too busy enjoying King Bibi's boom to convince voters that things have to change. But if they come up with a workable solution to the chronically high cost of living, the right's days may be numbered.
(Originally featured in Mishpacha, Issue 746)
Oops! We could not locate your form.
>