| Inside Israel |
Keeping US Citizens Out
| March 21, 2023
"The overwhelming sense we get from the US embassy is that they don't care"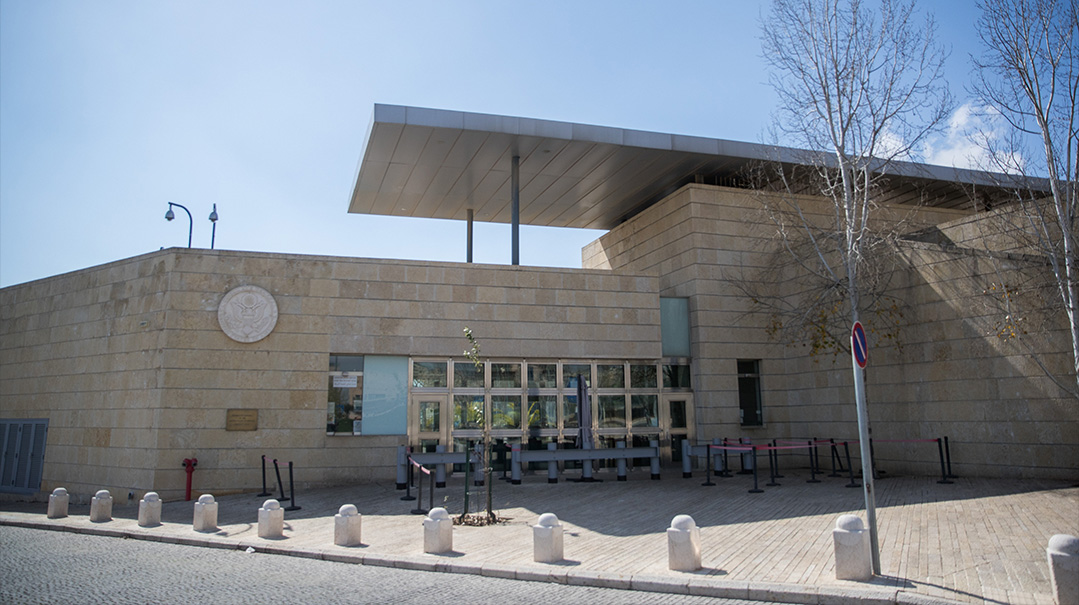 "Sorry, come back in August."
It was an unseasonably hot March morning last week when Rena Zoldan and her husband arrived at the US embassy in Jerusalem. They had obtained a coveted appointment for an emergency passport for their two-month-old to enable them to travel home to Chicago for Pesach.
"My first baby was born in February 2020, and because of Covid, I had to make Pesach in Israel," she says. "I was determined that this time, I would be home for Pesach and have a real break. My whole family is flying home, too, because we booked to come."
But when they tried to enter the embassy, they were told passport rules had changed and, effective that very morning, they needed another document to be eligible for an emergency passport. When Rena tried explaining to the obviously unbothered staffer manning the booth that they had booked this appointment before the rules changed, and that the earliest available appointment for this document was in August, he merely shrugged and told her to come back then.
Estimates of the number of US citizens living in Israel range between 180,000 and 300,000. Most of them have no doubt become accustomed to the lackluster service that now characterizes consular services there, but the chaos that broke out last week represents a new low for the US embassy, which some frustrated Americans describe as a worse bureaucracy than Israel's notoriously sclerotic Interior Ministry.
During Covid, the US embassy shut down more comprehensively, and for longer, than even Israeli government departments. Appointments were extremely difficult to obtain for more than two years. The result: an immense backlog of applications for passports and other important documents.
There was an exemption in place for 18 months to allow Americans to travel on passports that expired during the pandemic. But despite lobbying from Anglo advocacy bulwark Chaim V'Chessed for the exemption to be extended until the backlog was cleared, it ended in June 2022. The sudden surge of passports now needing renewal only made things worse.
Rabbi Paysach Freedman, CEO of Chaim V'Chessed, explained the current problem. In order for new parents to apply for their baby's first American passport, they have to have already obtained a Consular Report of Birth Abroad (CBRA) from the embassy.
Because of the shutdown of services during Covid, it can take as long as seven months to get a CRBA. To allow people to travel sooner than that, there were emergency passport appointments for people who wished to visit family abroad, even without CRBAs.
On Friday, March 10, those emergency passport appointments for people without CRBAs were stopped; the US embassy did not deem travel for family reasons important enough to issue emergency passports. This leaves US citizens stranded until they can get a CRBA, which currently takes several months. As Pesach approaches, Americans in Israel eagerly anticipating being reunited with their families find themselves abandoned by their home country's consular representatives.
It's not just people looking to travel who need passports. A valid US passport is a prerequisite for American citizens seeking a visa in Israel. Without  one, foreigners cannot access basic services like health care coverage. But try getting an emergency passport renewal so you can get a visa, and you will be told that people who need passports for travel are being prioritized.
Desperation and Despair
Speaking to some of those affected by the bureaucratic deadlock reveals a frustration as palpable as their despair. As US citizens, they have a fundamental right to enter their country, but they are being prevented from doing so by apparently pointless officialdom.
The embassy claims the rules have been changed because they've seen evidence of people abusing the system — namely, people requesting CRBAs after being granted emergency passport appointments. Of course, parents would have needed the CRBAs in any event, whether they traveled first or not, so the question of how the natural progression of obtaining documents when short-notice travel is involved constitutes an abuse of the system is anyone's guess.
But justifications aside, the speed and manner of the change have caused utter chaos and confusion.
"The rule change was announced on Friday, March 10," says Rabbi Freedman, "and came into effect just three days later. Meanwhile, people were still able to book appointments even after the announcement of the rule change, so they thought these legitimately booked appointments would be honored."
"The embassy is normally excellent at canceling appointments," observes someone who has frequent interactions with consular services. "Mysteriously, in this case, they didn't notify anyone that their appointments had been canceled. Many people traveled quite a distance to get to their appointments early Monday morning and waited outside in the heat before being told they couldn't enter."
The new US embassy in Jerusalem is situated on a hill overlooking the Talpiot neighborhood. Citizens awaiting admission are made to wait in line outdoors on a broad, treeless plaza.
"There were women there just a few days after birth," says Rena Zoldan. "The man in front of me begged to be allowed to enter because his father was hospitalized, but the embassy staffer just said, 'Sorry, next please.' It was like we're a third-world country, the service was so bad. For the first time, I'm embarrassed to be an American citizen."
Duvy B.*, like the Zoldans, had made an appointment after the rule change had been posted, thinking he'd be covered because it was booked before the change came into effect.
With his wife just a few days after birth, he'd pulled every string imaginable to get the necessary paperwork for an emergency passport, with a lot of help from Chaim V'Chessed. But when he reached the embassy, he was told, "Sorry, we can't help you, next please." When he asked to speak to a supervisor, the embassy employee manning the booth threatened to call security if he didn't get out of the way.
"We were treated with such attitude — it was like talking to a wall," Duvy says. "We left because my wife was about to pass out. But we're American citizens, and this is the place that's supposed to help us."
More worryingly, he adds that he overheard an embassy employee telling another applicant that "there are too many Americans here." This seemingly antagonistic remark raises a broader question — are there adequate provisions at the embassy to accommodate the large number of US citizens in Israel? Embassy personnel themselves don't seem to think so.
Where's the Will?
"Where is the ambassador in all this, you might ask?" asks an insider familiar with embassy operations, rhetorically. "We've learned that the ambassador's role is almost exclusively political and diplomatic, and he has no influence over consular services. This decision was taken by the American Citizens' Services department at the embassy, and has nothing to do with the ambassador, however willing he may be to help."
Rena's experience jibes with this bureaucratic lack of accountability. "When I told my congresswoman I was having problems with the embassy, she told me any previous efforts at interventions on consular cases have been unsuccessful."
"There needs to be a complete change of attitude at the embassy," says one community representative bluntly. "The overwhelming sense we get from the US embassy is that they don't care. They need a much greater understanding of the unique cultural needs of the US community in Israel. Pesach is the busiest travel time for Orthodox Jews, and solutions need to be implemented to accommodate that."
Chaim V'Chessed, Agudath Israel, and Amudim are all working intensely for a resolution to the crisis, and several American politicians have joined the effort. Seven members of Congress, led by Rep. Mike Lawler of New York's 17th District, signed a bipartisan letter to the assistant secretary at the State Department, demanding to know what measures are being taken to ensure adequate provision of services for the large American diaspora in Israel. The Agudah have spoken to Senator Charles Schumer, who has publicly promised to work towards a solution.
The embassy has yet to respond to Mishpacha's request for comment.
The current crisis has made one thing clear — the American constituency in Israel is being badly underserved by their home country's representatives there.
GOOD NEWS: Emergency Passport Appointments Reinstated at US Embassy
March 20, 2023 10:42 am
As reported by Chaim V'Chessed, just last week the US Embassy rolled out troubling new rules, ending the issuance of emergency passports for babies born to US citizens residing in Israel. These rules greatly limited the ability of American families residing in Israel to travel to the USA for Pesach. This difficulty came in addition to the fact that the average wait time for appointments for Consular Reports of Birth Abroad and first-time passports for newborns in Israel is now a disturbing four to five months. Emergency passports were a solution for those with immediate travel plans who could not obtain a CRBA appointment. Chaim V'Chessed has been working intensely for an immediate resolution to this issue, along with other community organizations, such as Amudim and Agudath Israel. Additionally, numerous public officials have intervened in this matter. Notably, Senator Richard Blumenthal (D-CT), penned a scathing letter on this matter to Secretary of State Anthony Blinken. He also tweeted about the issue, saying: "US citizens in Israel are encountering inexplicable difficulties obtaining passports. These seemingly unnecessary obstacles are deeply frustrating before the Passover holiday. I am demanding that the State Department end these delays. "Chaim V'Chessed is pleased to relate that today, the US Embassy reversed last week's announcement. Effective immediately, the Embassy has reinstated emergency passport appointments for newborns. Though only a limited number of appointments are available, some Chaim V'chessed clients have already received emergency appointments this afternoon. We salute the elected officials who raised this matter at the highest levels of government, and we thank Embassy officials for implementing this change. At the same time, it is important to note that it is still quite difficult to obtain any type of passport appointment, and wait times are still very long. Chaim V'Chessed will continue to advocate for a complete resolution to this issue, for the benefit of US citizens living in Israel.(YWN World Headquarters – NYC)
(Originally featured in Mishpacha, Issue 954)
Oops! We could not locate your form.
>