| The Beat |
Is This How Erdogan Ends?
| May 16, 2023
"He will fight tooth and nail and do everything in his power to challenge the result and stay in the post"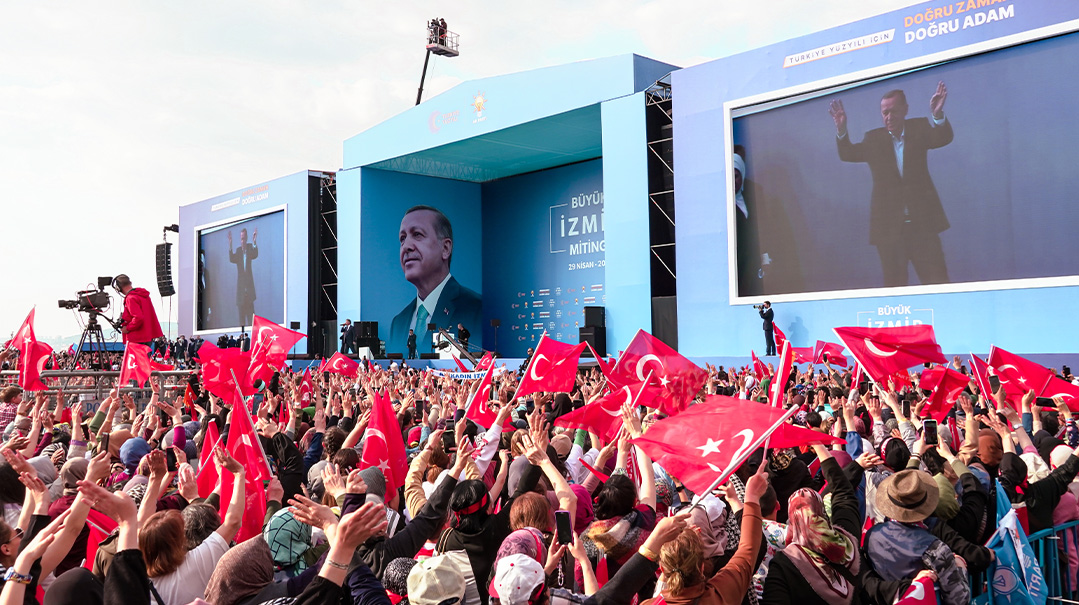 With 98 percent of votes counted, Turkey is headed for a runoff election on May 28. Twenty-one years after first taking office, charismatic strongman Recep Tayyip Erdogan fought his most closely run election, with consequences that will be felt from Damascus to Brussels. Israel will be watching closely, too. After years of hostility from Erdogan, relations have been recently repaired, and the election result will have implications for their fragile alliance.
Global Strongman
While Erdogan faces discontent at home, there's no doubt he's made Turkey a global power broker. Straddling the East-West divide, Turkey has a finger in the Syrian and Russian pies, and holds membership in the G20 and NATO, with ambitions to join the EU.
Erdogan has used these diverse alliances to tilt eastward in recent years, alienating Western allies.
The EU stopped accession talks with Turkey in 2018 when democracy went into reverse there. Erdogan has used the four million Syrian migrants absorbed by his country over the last decade as a bargaining chip with the bloc, threatening to allow them to flood into the EU.
While Turkey supplies Ukraine with weapons, Erdogan refuses to sanction Russia. He's been the only NATO member to express willingness to host Putin, and vetoed Sweden's bid to join the military alliance.
Israel and Turkey began drifting apart in the 1990s, as a creeping political Islamism took hold in Turkey. Following Turkish deaths on the Mavi Marmara flotilla on Gaza in 2010, relations were nonexistent until attempts were made at reconciliation in 2013. Erdogan has a history of making anti-Israel comments, including labeling Israel "fascist" and comparing them to Nazis. He hosted Hamas leaders until as late as 2020.
Somewhat surprisingly, then, the countries restored diplomatic relations last August. This was not borne of sudden pro-Israel sentiments on Erdogan's part, but a strategic effort to please Washington and moderate Arab Gulf states, and whomever Erdogan believes is in his economic interests to ally with. The opposition coalition includes a radical anti-Israel party, which may place this recent rapprochement in jeopardy.
After the first round, neither candidate has a majority, so the contest is expected to go to a runoff on May 28. But JINSA's Dr. Eytan Yanarocak has a gloomy assessment of the outcome: "Even if a majority vote against Erdogan, he will fight tooth and nail and do everything in his power to challenge the result and stay in the post. Whatever the result, I think Erdogan will win."
Trouble on the Home Front
Domestically, Erdogan faces multiple challenges. Inflation is pegged by official figures at 60%, but thought to be higher; its currency is down 46% year-on-year against the dollar. Voters hold Erdogan partially responsible for the tragic toll of a devastating earthquake. But the overarching factor in election is the desire for change, particularly from the under-25s, who make up 20% of voters this time around.
Opposition candidate Kemal Kilicdaroglu leads a coalition of six parties, something Erdogan is using to his advantage, says Dr. Eytan Yanarocak, a Turkey expert at the Jerusalem Institute for Strategy and Security.
"The coalition is an alliance of parties united only by hatred of Erdogan," he says. "The common wisdom is that the opposition is more liberal than Erdogan, but the six-party alliance includes two Islamist parties, one of which is very radical."
Erdogan has ordered the supposedly independent central bank to slash interest rates, which has led to high inflation. Kilicdaroglu has promised to restore economic orthodoxy to the central bank, which Dr. Yanarocak believes will halt the devaluation of the Turkish lira and attract more foreign investment into the country.
Tories Trounced in Local Elections
England's local elections confirmed what polls and focus groups have been showing for some time now. Voters are angry with the Conservatives, hence 1,063 council seats lost by the party who unleashed Liz Truss on the country. But they're hardly enamored with Labour, who picked up 537 seats and wrested control of 17 councils — a good showing, but not exactly indicative of nationwide enthusiasm for a Keir Starmer government. Center-left Liberal Democrats, the unofficial "none-of-the-above party," hoovered up votes from disillusioned Tory voters in rural areas where Labour can't penetrate, gaining 407 seats in the prosperous south.
Labour's projected vote share in these elections is 9 percent ahead of the Conservatives, not enough to give them a majority in an equivalent general election. Cue howls from the Tory side about dirty Liberal-Labour coalition deals in 2024, a prospect neither party denies.
Their electoral walloping has generated mutterings in Tory circles about Sunak's steady if uninspiring leadership, with some MPs warning of electoral wipeout at the next general election if Sunak fails to lay out a vision beyond "I'll fix the problems created by my immediate predecessors."
Velvet Hammer
That was how a 2012 Wall Street Journal article described Twitter's new CEO, Linda Yaccarino, a reference to her negotiating style with the media industry. This elusive combination is likely to serve her well as she inherits a financially struggling company and an unpredictable boss with clear ambitions to reform the public square, of which Twitter is the digital dominator.
The appointment of Yaccarino, who has decades of experience in the media advertising industry, is a giveaway as to Elon Musk's primary objective for Twitter; he's seeking to make it profitable. Ad sales, which account for 90 percent of Twitter's revenue, nosedived when the controversial billionaire took over last year.
Yaccarino has drawn criticism from the right for her work at the World Economic Forum, about as globalist elite as you get, and aroused ire on the left for her involvement in an advisory council on nutrition in the Trump administration — the perfect introduction for her foray into the Twittersphere, where everybody is angry.
Coal Minefield
With energy security a global priority, the Australian government has announced the opening of a coal mine in Queensland that will produce 2.5 million tons of coal over five years. Environmental groups and climate scientists are none too pleased, pointing out the decision is incompatible with the Paris Climate Accord or the Intergovernmental Panel on Climate Change's recommendations.
Handily for the government, their decidedly un-green decision still adheres to national environmental rules, and despite being elected just last year on a climate-friendly manifesto, Anthony Albanese's Labour Party is in no hurry to change said convenient regulations. Like Joe Biden on immigration, idealism in a democracy usually collides with political reality, and once a party gains power, it's quite happy to row back on pledges or renounce principles to stay there.
(Originally featured in Mishpacha, Issue 961)
Oops! We could not locate your form.
>