| The Current |
Inflation Nation
| November 16, 2021
When economies in the developing world run up against spiraling inflation, the international monetary authorities always advise austerity — cutting back on the money supply, and cutting back on government spending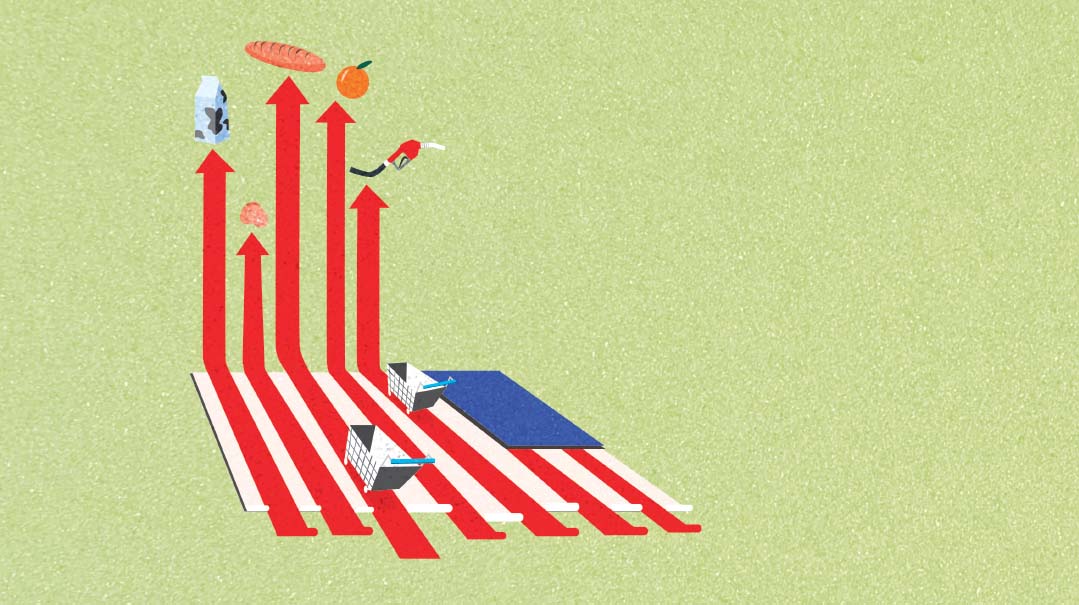 On a bustling Thursday afternoon at a popular Tristate-area supermarket, shoppers filled their carts with items one might find on any frum housewife's list: packages of trim sliced chicken cutlets, Kedem Grape Juice, one-pound packages of cholent mix, half-gallon containers of skim milk, a small, mild jalapeño dip.
But shoppers are finding the experience has changed in the last two years, or even the last two months — with prices going up, they're having to pay a lot more attention to the running tab.
"People are buying less," says Zeke Kreitner, general manager and purchaser at Seasons Kosher supermarket, "and we're noticing that our customers are focusing more on necessities, and not spending on luxuries as much as they used to."
Even after shoppers pare down to the minimum, their grocery bills are significantly up since the beginning of this year. It's a phenomenon not unique to the frum market. According to national estimates, the average American family saw their grocery bills increase by $175 a month since the start of the current economic crisis, the steepest price hikes in over 30 years.
With inflation hitting a 31-year high this past week, a labor shortage threatening an already broken supply chain, a still-unpredictable virus wreaking havoc on global markets — with governmental actions taking as high a toll as the pandemic itself — consumers and proprietors alike have been feeling the squeeze on their bottom lines.
The US Labor Department reported that the consumer price index — commonly called the CPI, which measures what consumers pay for goods and services — increased in October by 6.2 percent from a year ago. That was the fastest 12-month pace since 30 years ago. Even more worrying, according to some economists, was the duration; it was the fifth straight month that inflation exceeded 5 percent.
Inflation (defined as "a general increase in prices and fall in the purchasing value of money") had lately not intruded too much in the mind of the average consumer, instead primarily concerning think tanks and academics who pored over complex indices and indicators generated by economists at the Federal Reserve in Washington, D.C.
But today, everyone is feeling the bite. And the rising prices aren't just hitting one sector of the market — they're climbing across the spectrum, affecting clothing, computers, cars, and everything else. Gas is at its highest price in seven years, and recently, even the Dollar Tree retail chain — so named for its variety of products costing a dollar — has begun opening "Dollar Tree Plus" outlets, offering products priced at $3 and $5.
"What we're seeing now is far more drastic than your average inflation factors," explains Professor Meyer Peikes, chair of the undergraduate accounting and business department at Touro College.
As an example, he points to the Social Security Administration's recent announcement that the December 2021 cost-of-living adjustment will be 5.9 percent.
"Every year, Social Security adjusts payments to reflect the cost of living," Professor Peikes says, "but this is the biggest increase in 40 years."
For comparison's sake, Social Security payments increased just 1.3 percent in 2020, and 1.6 percent in 2019. What's behind these galloping numbers?
"The truth is, it's not very theoretical," Professor Peikes says with a laugh. "In economics, the rule is less supply equals higher demand. There is a global labor shortage, and a general inefficiency in the supply chain. People still need these basic products, so the demand remains steady while the supply can't keep up."
Further complicating matters, he says, are recent actions taken by the federal government.
"President Trump's Buy American tax is a tariff imposed mostly on Chinese goods, at rates of 10% to 25%, depending on whether an item is easily procurable in the US," Professer Peikes says. "Now President Biden is trying to get foreign countries to agree on a 15 percent minimum corporate tax, so that companies headquartered outside the US don't have an unfair advantage over American firms."
While many foreign leaders nodded in agreement when President Joe Biden broached the subject, in principal it remains to be seen if it will be enforced.
The supply chain "general inefficiency" Professor Peikes mentions is an everyday reality for Shlomie Milworm, COO at Tottini, a children's clothing manufacturer with stores in Lakewood, Brooklyn, and Monsey, as well as a heavy online presence. Tottini's frum-inspired skirts, sweaters, T-shirts, and maxi dresses are largely manufactured in China, and Shlomie has been working overtime to get the merchandise he needs to stock his stores. Even so, since June of last year, he's been dealing with uncooperative factory managers and skyrocketing invoices.
"Everyone is blaming something else for why they can't produce and why they have to raise prices on us," Shlomie tells Mishpacha. "My manufacturing companies are telling me they can't operate because they don't have employees — they're scared to come in because of Covid."
His contacts in Chinese fabric firms cite a shortage of another basic commodity essential to factory operations — electricity. With two-thirds of China's electricity coming from burning coal, climate-conscious regulators barred utility companies from raising rates, which hampered investment in the power grid. Chinese leader Xi Jinping touted the regulations as a significant step toward reducing the Communist country's carbon emissions by 2030.
Facing financial losses for every ton of coal they produce, Chinese utility companies are simply slowing production. Factories that manufacture goods for export such as stuffed dolls, electronic gadgets, and Tottini's line rely on coal-powered electricity, and are cutting back hours of operation and closing plants to stay within their allotted energy usage. Still, Tottini's management team made a decision not to pass on the additional costs to consumers.
"We had to raise our prices slightly," says Shlomie, "but for the most part, we're swallowing it for now."
Some industries have been even harder hit. Yidy Werzberger is the COO at Certified Lumber, a company that operates two lumber yards in Brooklyn, one in Lakewood, and another in Pennsylvania, providing wood, metal, and sheetrock to contractors for some 40 years. His industry has been among the hardest hit this past year.
"We're selling metal up 100 percent from what it was 12 months ago" says Yidel. "It's five problems intertwined. A lot of coils that our manufacturers used to produce metal came from Turkey, but they got shut down when they had a surge in Covid infections and couldn't produce."
Other foreign factories that managed to stay open at the time couldn't hire enough blue-collar workers to replace Certified's supply.
"Our Brazilian mills who send us plywood are raising their prices every month," he says.
And that's in addition to the rising cost of shipping the wood over the Atlantic Ocean.American mills are able to produce lumber, but are facing a different obstacle; they can't get the supplies to Certified Lumber's yards.
"There are no truckers around anymore," says Werzberger.
A dearth of big-rig drivers has long been a headache for the transportation industry. Even when the economy was booming in 2018, the American Trucking Association reported a shortage of 50,000 drivers. The Trump administration tried to get more truckers on the road by rolling back Obama-era regulations — scrapping speed limits, eliminating invasive sleep-apnea testing for drivers, and encouraging recruitment among nontraditional populations, such as women and young adults.
Despite those efforts, freight companies are still coming up short — the trucker shortage has now ballooned to an unprecedented 80,000. Joe Biden's suggestion for resolving the issue was decidedly more public-sector oriented: deploy the National Guard to truck the nation's goods. (A White House spokesperson later clarified that the administration wasn't actively pursuing the idea.)
The trucker shortage is one more issue compounding the supply chain problem and frustrating the White House's attempts to unload cargo backed up at the ports.
"We ourselves have trucks sitting in our own lot," said Werzberger, "and we can't find people to drive them anywhere."
The combination of factory labor shortages, the supply chain crisis at the ports, and the lack of truck drivers, have created a perfect storm in which even nonessential products are going to the highest bidders — or as experts like to call it, "inflation."
In this environment, supermarket owners and managers have been scrambling to keep prices reasonable, but are being squeezed on their operating margins. Fixed costs have continued to increase, but the rising prices are forcing customers to cut back.
"Sales are not going up at the rate our prices are" says Zeke Kreitner, the manager at Seasons. There are fewer special offers than there used to be, too.
"Regular products are constantly missing from the shelf," Zeke tells us, "so unlike in the past, when a brand would have offered a special to get name recognition, today vendors don't have the confidence that they will even have that product available, let alone give us a special on it."
And whereas competition used to hold retail prices in check, when stores receive higher invoices for products now, they simply factor in those costs. "Everything is changing so rapidly, it gets accounted for right away," Zeke says.
Is there an easy way out of this? Experts are not overly confident. When economies in the developing world run up against spiraling inflation, the international monetary authorities always advise austerity — cutting back on the money supply, and cutting back on government spending.
But with the Federal Reserve insisting the current difficulties are "transitory," and the Biden administration's $1.75 trillion Build Back Better agenda freshly signed into law, it seems austerity is nowhere on the US government's radar.
Buckle up, it's going to be an interesting ride.
(Originally featured in Mishpacha, Issue 886)
Oops! We could not locate your form.
>