| Magazine Feature |
In the Driver's Seat
| April 26, 2022
School executive Rabbi Yanky Robinson steers through Lakewood's driver shortage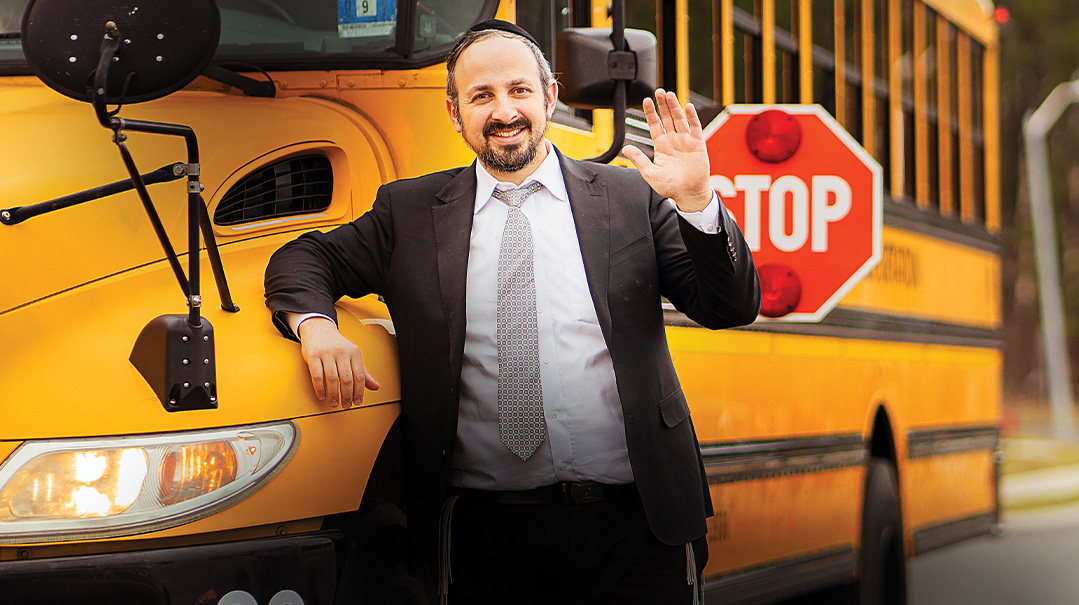 Photos: Yisroel Tesser
AS any motorist lucky enough to be on the roads of Lakewood, New Jersey on a weekday between 4 and 5 p.m. can attest, passenger cars, minivans and even luxury SUVs are relegated to a second-class status as a slew of ubiquitous yellow school buses pull out of their respective school parking lots and take over the roads. Traffic — always a challenge in this city characterized by a development boom with roads that haven't kept up to pace — is slowed to a standstill as the buses stop mid-street, their amber and red flashing lights warning cars not to pass until the children are safely on the sidewalk, after which they rumble off in a plume of smoke.
Waiting for a bus to finally fold in its blinking stop sign can get long for the lowly passenger cars intent on continuing their commute. Yet from high atop the brown vinyl school bus seats, one can sense a begrudging reverence for these Rulers of the Road as they haul their precious cargo back home after a long day at school, as we discovered when we recently joined Rabbi Yanky Robinson, executive director of Lakewood's Nachlas Bais Yaakov for a bus ride around town.
But why would the suit-and-tie-clad Rabbi Robinson, whose primary obligations include overseeing the admissions process and fundraising for his fledgling school — choose to spend a good chunk of his day ensconced in the driver's seat of a school bus traversing Lakewood's labyrinth of streets? We bumped up and down with Rabbi Robinson as he dropped off talmidos of Nachlas Bais Yaakov after a long day in school, while he filled us in on his latest adventure — and explained why he hopes other parents will join him for the ride.
Driven Away
"Simply put, there's a bus driver shortage here now," Rabbi Robinson says as he maneuvers the bus onto a wide, tree-lined boulevard. The shortage he's referring to is affecting school districts, parents, and students across America. As schools reopened for in-person learning after their Covid closures, districts suddenly had to contend with a challenge they hadn't seen coming: They couldn't get the kids to school. Parking lots full of yellow school buses, eager to move after an unexpected two-year sabbatical, were left driverless.
"The pandemic completely exacerbated what was already a difficult industry, to be able to recruit and find individuals to come work and transport children," said a transportation manager in Philadelphia.
According to a March 2022 poll conducted by the National School Transportation Authority (NSTA), over 94 percent of respondents said their staffing levels were not at the levels they needed in order to satisfy the needs of their districts schools, with over half saying they are short more than 10 percent of their workforce. NSTA executive director Curt Macysyn called the poll results "staggering" and said the bus driver shortage has now reached "severe" levels.
Experts attribute the driver shortage to  myriad factors that have only been compounded by the pandemic. Ever since the popularity of ride-sharing apps took off, they say, finding folks who were willing to drive buses was a struggle. The logic matches up: Driving an Uber or Lyft is more comfortable, the downtime is minimal and licensing requirements minimal. By contrast, school buses are designed more for their practicality than comfort, there are long (unpaid) gaps between shifts, and significant paperwork, testing, and training protocols.
As for the drivers who enjoyed the thrill of reigning supreme on the streets and wanted to take advantage of their commercial driver's license (CDL), they were often wooed by private trucking companies, who had the ability to pay significantly more than what was essentially a government job. The average pre-pandemic wage for commercial truck drivers was $26 an hour, versus an average of $16.90 for school bus drivers — and without the stress and noise that inherently exists in school bus driving.
The pandemic, though, intensified   the problem. For starters, bus drivers tend to be on the older side — the average age for school bus drivers is 56, a whopping 14 years older than the typical American worker. This made them particularly concerned about contracting the coronavirus, especially in a bus full of unvaccinated and often unmasked kids. The choice between maintaining their health or having a job drove many of them into early retirement.
Then there were those hard-nosed drivers who adamantly opposed the vaccine requirements, and headed for the more forgiving private sector when the mandates were announced for public employees. The combination has led to thousands of routes being canceled across the United States, frustrating the ability of parents' to get back to work and schools to start and end on time.
In response to the shortage, states have been offering various solutions. Some districts have staggering start and dismissal times, and others are encouraging kids to patronize mass transit. Some states have gotten more creative: Texas started asking their teachers to pitch in with the routes. Pennsylvania is offering parents stipends to opt out of busing. New York governor Kathy Hochul announced an aggressive outreach and advertising campaign targeting commercially licensed drivers, using available data the state has from unemployment claims to recruit drivers to join the school force. The public sector-minded Massachusetts legislature has offered perhaps the most extreme response: bring the National Guard — fatigues and all — on board to drive kids to and from school, and Ohio and South Carolina have since followed suit.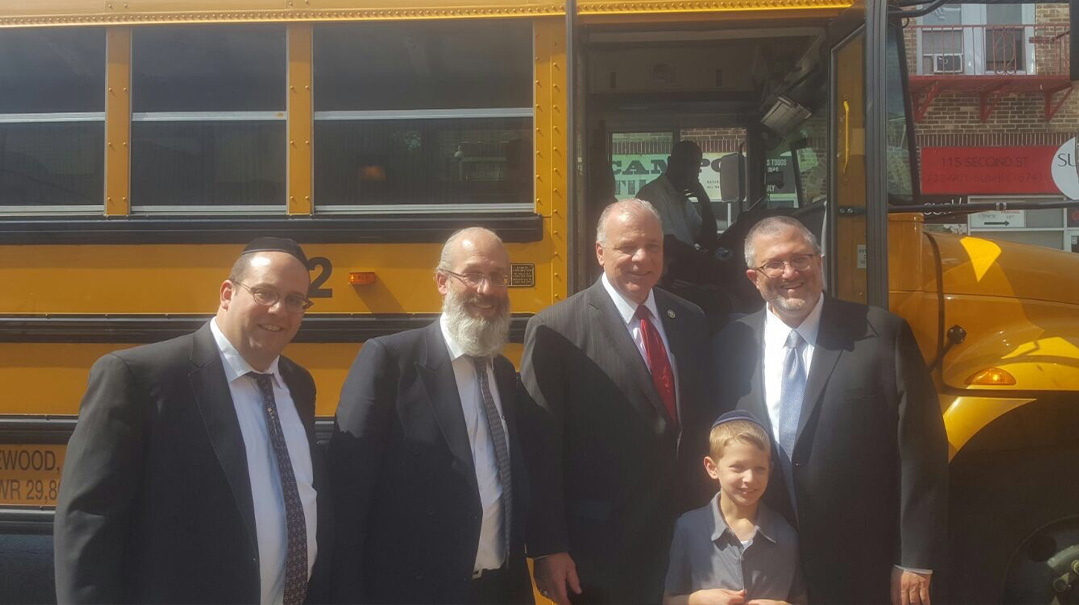 After numerous legal battles, Lakewood askanim (L-R: Agudah's Rabbi Avi Schnall, Rabbi Osher Lederer of Yeshiva Ktana, former Senate president Steve Sweeney, and Lakewood Township Committeeman Meir Lichtenstein) celebrate the formation of the Lakewood School Transit Authority, the country's only district-approved private entity to transport non-public school children
Every Day's a Scramble
Yet even with all the creativity states are exhibiting, the most obvious answer to a driver shortage has been to increase wages, a strategy that has been adopted by Lakewood's neighboring Township of Jackson, New Jersey. In late February, the Board of Education voted in favor of a proposal to increase wages for drivers to $30 an hour, up from $22.67.
"It's a scramble every single day, and on some days it feels almost impossible to get every child where they need to be," Jackson School District interim director of transportation Kristopher Soto said in a statement explaining the increase. "We do our best every day, but we can only do so much with the numbers we have. Something has to change."
The township hopes to be able to bring on an additional 30 drivers with the influx of cash it's offering — and while the raise is likely to attract drivers to the Jackson public school, it's also just as likely that those drivers are likely to come right out of Lakewood's already too small pool of drivers.
Why can't Lakewood simply up its own salaries in response?
"The government does pay for transportation for private school kids, but unlike the public schools students, we're capped at how much each student is entitled to so we're limited in our ability to compete," Rabbi Robinson says as he edges his bus into an intersection, using the vehicle's full 35 feet and hulking 30,000 pounds to his advantage.
Echoing his words is Rabbi Avi Schnall, director of the New Jersey office of Agudath Israel, who explained the back end of how busing in Lakewood operates — a system, he says, that is unique to the country.
"New Jersey state law has developed a tiered system for which students are entitled to transportation" says Rabbi Schnall. "The first group of students are referred to as 'mandated' students — these are students who reside outside of a two-mile radius from their schools. Mandated students are officially entitled to transportation on the state's dime."
The next tier are those students who live within a two-mile radius. Those students are called "non-mandated" students, meaning that while the Board of Education does not have to provide them with busing, they can if the routes allow it.
"Yet even while mandated non-public school kids are entitled to busing just like their public schools counterparts, there is a catch with the non-public school kids: They're limited to $1,000 a year per child annually. If no route can be created that would be worthwhile enough for a bus company to pick up, the Board of Education has the option of giving the amount it would have spent on the transportation to parents in check form. This is known as 'aid-in-lieu' and at that point it's essentially on the parents to figure out how to get their child to school," Rabbi Schnall explains.
The city's incentive to create routes for non-public school students that are profitable enough to get picked up by bus companies is relatively low, as the boards of education are primarily focused on their public school population, and often lack the resources and willpower to deal with their non-public school students. Thus, it's simply easier for them to discharge their obligation by writing out the checks and having parents figuring out the rest.
Yet given Lakewood's unique makeup — the city has over 10,000 non-mandated children — the sheer number of cars on the road would be too much of a traffic burden for Lakewood's streets to handle and a safety issue to boot, says Rabbi Schnall. "The idea then, was to come up with a way to allow the district to send all of the aid-in-lieu to a private entity that can combine all of the funding allotted for the mandated students and design routes that would pick up the non-mandated students by using the allotted funds."
Though the $1,000 per child from the mandated students wasn't quite enough to get all of the non-mandated kids on board, the state — recognizing the need and as a nod to the relationships Lakewood askanim have built with the power brokers in Trenton — agreed to kick in the extra few million dollars needed to make it work.
Thus, the Lakewood School Transit Authority was conceived and the country's only private entity built specifically to relieve a district of its obligation to transport non-public school children was born. In the years since its existence, the LSTA has faced numerous legal battles from public school advocates challenging its legality, but each year, it's managed to overcome the roadblocks and, with a sheer amount of coordination from school administrators and perennial lobbying from Agudah's Rabbi  Schnall and Lakewood Township Committeeman Meir Lichtenstein, it's managed to get Lakewood's 50,000 non-public school students to each of their respective 130 yeshivos.
Take the Wheel
That formula — a private entity managing the busing affairs with the money allocated by the state — worked. But it also presupposed that there were enough folks out there who would be willing to drive school buses. When the pool of available drivers shrunk considerably, coupled with better offers from districts such as Jackson, Lakewood's non-public schools felt the pinch. Especially ones with a considerable number of out-of-district students, like Rabbi Robinson's Nachlas Bais Yaakov — whose younger parent body is spread across not only Lakewood, but in Jackson and Toms River as well.
"Already at the end of the last year, there were rumors that schools such as ours would be facing a lack of drivers the next coming school year," Rabbi Robinson says. "We were told at the beginning of the year that we shouldn't go out and take the money and hire our own vans because the drivers would all come flocking back after the enhanced unemployment checks stopped," says Rabbi Robinson.
As such, he decided that Nachlas Bais Yaakov was not going to take their $1,000-per-child "aid-in-lieu" and hire their own vans, but that they were going to wait it out in the hope that the drivers would return to the old arrangement of transportation managed by the LSTA instead of overseeing its own transportation apparatus.
But the drivers never returned. And the situation turned chaotic. "Some of my parents were driving their kids in the morning from Toms River, which can be a good 40-minute trip," he says.
"Before this solution came about, all the parents had to chip in with car pool," says Rabbi Shmuel Iann, a Nachlas parent. "The morning run wasn't so difficult for me personally because my office is near the school, but the afternoons were really hard," he remembers. "You have to be there at 3:45, which basically kills your whole afternoon. Especially for the mothers who are juggling so many other responsibilities with the kids, having to make a 45-minute trip both ways smack in the middle of the afternoon can be very tough."
Many parents were simply unable to work with their car pool responsibilities. The constant stream of parents pulling up to school at various times also threw the school's schedule off-kilter, disrupting the flow of the school day.
With all other options effectively stalled, Rabbi Robinson called an emergency, mandatory meeting of Nachlas parents, in which he begged and pleaded with fathers to consider getting their own commercial driver's license and chip in by getting behind the wheel and actually running the routes themselves. The driving force behind the initiative — Rabbi Robinson himself — took the plunge first. Two parents signed up for the ride as well: Moshe Goldberger and Yitzy Karman. The groups of dads went for training, studied for their CDL licenses together, and in less than six weeks had hit the road, doing a round of pickups and drop-offs before or after (or both, in Rabbi Robinson's situation) their regular jobs.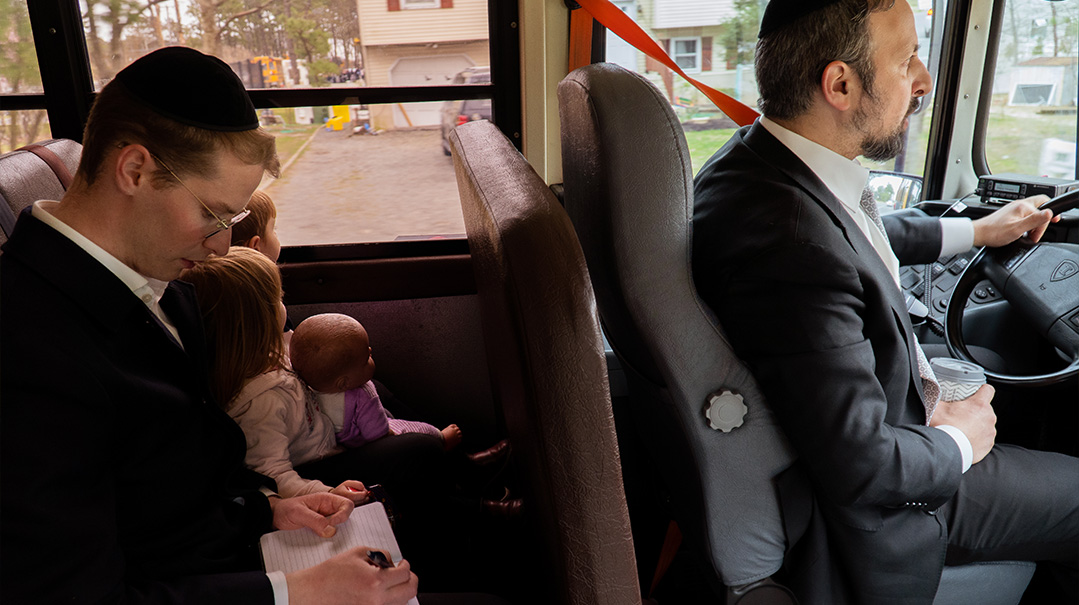 Rabbi Robinson steered the solution as Mishpacha's reporter goes along for the ride
Unexpected Gifts
As we stop, go, stop, go to the background chatter of elementary school girls, Rabbi Robinson tells me that before he started his gig as bus driver, he focused primarily on the fundraising aspect of his school. The chinuch is in the capable hands of his aunt, famed mechaneches Mrs. Suri Smith, while his wife runs the administrative end. To ensure the school is kept afloat, Rabbi Robinson has set a quota for himself of how much money he has to raise — a staggering $25,000 a week. While he was initially concerned about how he would be able to raise that kind of money while spending his day observing Lakewood traffic from his driver's perch, he already has his share of stories.
"I usually daven Minchah in a certain shul, but once had to go to a different shul because I wasn't able to make it back in time after a route had some unexpected traffic," he tells me. "And punkt at that minyan was a specific donor I had been trying to get to for quite some time." When Rabbi Robinson approached him — and explained to him that he was only there because of his bus driving stint — the donor wrote out a check for $5,000.
There was also the grandparent who was so grateful that Rabbi Robinson was willing to do whatever it takes, even if it meant driving a bus for his granddaughter's chinuch, that he committed to sponsor an entire week's quota. The parents appreciate it, too. At one stop, an appreciative father picked up his two daughters with a coffee in hand for Rabbi Robinson, as a small gesture of appreciation.
"He's my own kids' driver, and when we watch our four daughters get onto Rabbi Robinson's bus in the morning, it's an unbelievably powerful thing to see," says Rabbi Iann. "He gives over his entire heart and soul to the school. He saw an issue and rather than just sitting back and complaining about the problem, he decided to be a part of the solution."
Though Rabbi Robinson's position as executive director doesn't give him any direct role with the students (he purposely doesn't have an office in the school building), his new job affords him plenty of opportunities, and the affable driver showers compliments on the girls. "Look at how that girl said 'thank you,' " he says in an exaggeratedly loud voice. "We must have the greatest talmidos in the world!"
Still, there have also been a few speed bumps along the way. The most obvious are the scheduling hardships, but there is the stigma as well. "After their first day on the road, some teachers called me that the kids whose parents drove a bus were being poked fun at in school," he relates. Rabbi Robinson quickly went out and bought several trays of doughnuts, one for each class in which any father-bus driver had a daughter.
"We turned them into heroes, which they really are. Soon afterward, I got calls from parents, telling me their daughters were pleading with them to get in on the act as well."
Moshe Goldberger, one of those "hero drivers" and CEO of a local medical billing and consulting office, had to restructure his daily schedule to include a morning route, which meant getting up an hour earlier than he was used to and rescheduling meetings he would normally hold at 9 a.m. to a little after seven, a convenience he readily admits is not available to everyone. Yet despite the early hour, it's been smooth sailing for him.
"It's great," he says. "The kids are happy and the parents are grateful. The only surprise for me was how much nosh these kids eat in the morning. My run is from 8:10 to 9:40 and by the time I'm done, my garbage can is full of wrappers."
Looking toward the future, New Jersey politicians have stepped forward with bills aimed at increasing the number of drivers by decreasing regulatory hurdles. Legislation sponsored by Senator Bob Singer, along with Assemblymen Ned Thompson and Sean Kean, all Republicans representing parts of Ocean County, would cut down on the time it takes to earn a commercial driver's license with the coveted "S" endorsement required to drive school buses. The bill would also allow schools themselves to be authorized to administer the CDL exam, in an attempt to streamline the process. An additional bill would allow drivers with non-CDL licenses to transport students in smaller school buses that can accommodate up to nine passengers.
Yet given the cap on how much the non-public schools can spend when compared to the public school's unlimited budget, did the politicians effectively throw non-public under the bus? Senator Singer, who is seen as a stalwart Lakewood advocate in Trenton, told Mishpacha that the bill would indirectly help non-public schools as well, though he agreed a bigger solution was needed.
"The good news is that misery loves company," said the senator, "and this problem is on everybody now — public and non-public schools alike. Right now, we need a Band-Aid to get us through the next school year, but the governor is committed to working with us to make sure we can resolve the transportation issues."
Government promises to help out notwithstanding, Rabbi Robinson doesn't plan on slowing down. Talmidos need to learn, he said, and in order for them to learn, they need to get to school. And even if it means climbing up on a bus and giving up on precious working hours, he and his team of dedicated parents are at it, keeping the wheels of Lakewood's buses going round and round.
(Originally featured in Mishpacha, Issue 908)
Oops! We could not locate your form.
>