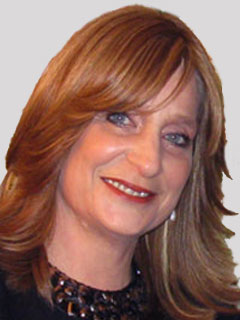 "I
s Mom willing to get Dad out, and keep Dad out?"
"Are the police involved yet?"
"Mom will need a therapist. You need to support her, give her the strength to do what's right."
I'm in a hotel lobby, sitting across from Debbie Fox, LCSW, director of Aleinu Family Resource Center in Los Angeles. She's speaking to someone on her BlackBerry. Her forehead is furrowed, but her voice is completely even-keeled.
"Invite Children's Services to your office. Explain to them that there are cultural sensitivities here, that the children can't just go from an Orthodox environment into a non-Orthodox home. Tell them that Mom is willing to work with them — maybe she needs to join a parenting group to understand the effects of abuse on her children. You need to make it clear that if she can't protect her children, they'll be taken away."
Debbie hangs up. "I'm sorry," she apologizes. "I normally don't take calls on vacation, but I sensed it was urgent."
A Powerhouse in Disguise
Pegged by some as "the linchpin of Los Angeles" and "the religious world's most potent advocate for children's safety," Debbie is a power to behold — in a remarkably unassuming way.
The woman at the helm of a daring, nationwide battle against domestic violence, molestation, and a host of other community ills is tall, dignified, and impeccably professional. She's not one to respond without thinking hard, her carefully measured words revealing astuteness and judgment. Yet, at the same time, she has an unmistakable out-of-town friendliness, a genuine warmth. Bearer of a wide, gracious smile, knowing blue eyes, and a tasteful blonde wig, she converses in an unhurried, slightly Southern drawl that immediately puts you at ease.
A mental health professional for over two decades, Debbie has immersed herself in some of our society's most sordid issues; most recently, creating and distributing a first-of-its-kind safety and awareness program for frum communities that's already made significant inroads in eliminating a deep-seated passivity toward abuse.
For Debbie, Jewish activism is in the blood. When she was a child, her father, Rabbi David Rebibo, a longtime mechanech and community rabbi, moved out to the then spiritual boondocks in Memphis, Tennessee, at the request of famed chinuch pioneer Dr. Joe Kaminetzky z"l to teach Jewish children Torah.
After planting seeds in Memphis, the Rebibo family relocated to Phoenix on yet another Torah-strengthening mission. There, a teenage Debbie began teaching in the local day school, jump-starting a lifetime career in Jewish community involvement.
At age 19, she married now-well-known psychologist Rabbi Dr. David Fox and continued to impact students' lives. "Over the course of 12 years," she says, "I taught limudei kodesh to preteen girls in San Diego, Baltimore, and Los Angeles — where we ultimately settled. I absolutely loved it. At some point, though, I realized I was expending inordinate amounts of energy on a slightly different passion: addressing the needs of the community at large."
Almost unconsciously, Debbie had been integrating community projects into her lessons. From a classroom cookbook to raise money for a child's phonic ear to intergenerational assignments that reached out to the lonely elderly, Debbie's deepest desire became clear — and it made sense for her to move on.
Hands-On Help
Though Debbie had started her college education just after seminary with plans to go to grad school, the blessings that came soon after — her four adorable children — pushed her academic goals to the back burner. "I kept starting and stopping school with each baby," she laughs. "After a decade, I realized I had to step on it — my credits were about to expire." And so, with her oldest aged ten and her youngest in diapers, Debbie set out to finally get her master's in gerontology and social work.
After earning her degree, Debbie was off to Hollywood — or more accurately, Hollywood's psychiatric ward. "Oh, it was great," she chuckles. "Back in the prehistoric 1990s, this facility was almost a vacation resort for some of Hollywood's rich and famous — and depressed. They'd cut a record, take leave, and come to us to pull their lives together again."
From this illustrious unit, Debbie moved on to a partial hospitalization program, "a place for people who are either on their way out of the psych ward or trying not to get there," she explains. For years, Debbie worked in both the geriatric and regular units of this quasi-psych unit, treating people with anxiety and depression, as well as schizophrenia and bipolar disorder.
Here, too, Debbie worked with an array of world-famous writers, actors, and singers. "They gave me all the high-profile cases," she laughs, "because I had no clue who they were."
Debbie's professional reputation grew — and several years later, she was hired as the outpatient manager at Cedars-Sinai Medical Center. At Cedars, Debbie managed 99 employees while developing numerous new programs, including a cutting-edge telepsychiatry unit that provided rural dwellers with specialized psychiatry services.
"Although I loved the place, in this kind of managerial position, I'd moved too far from the personal connection that brought me into social work to start with," says Debbie. "I wanted to help people in a more hands-on way." And so — to the shock and dismay of her colleagues — Debbie resigned.
This decision was a turning point, one that brought her back professionally into the religious world. Soon after giving notice, The Jewish Family Service of Los Angeles quickly snapped her up, asking Debbie to determine if their humble two-employee Orthodox unit was well utilized and viable. "They promised us funding for two more years," Debbie says. "We had to prove it was worth keeping."
 It's Our Responsibility
The Orthodox Unit soon evolved into Aleinu, and since Debbie's arrival, it hasn't stopped growing. Aleinu means "it's our responsibility" — and that's how Debbie and her team feel about their work. Staffed with social workers, psychologists, marriage and family therapists, and school-based therapists, Aleinu has become the de facto address for frum individuals struggling with marital strife, parenting difficulties, family trauma, depression, anxiety, domestic violence, substance abuse, and a slew of other challenges.
"It's known as a frum safe place," says Debbie. "No matter what the issue — whether it's job loss or bipolar disorder — people know that Aleinu is there to help."
Since Aleinu works under the umbrella organization of Jewish Family Service (JFS), Debbie often acts as a bridge — making the broad range of JFS services accessible and culturally appropriate to the frum community.
"Once," Debbie offers as an example, "we worked with a very frum, battered woman who needed to be placed in a shelter along with her children. JFS runs a full-service women's shelter, and we provided her with kosher food and a specially trained volunteer. She entered the shelter a few weeks before her son's bar mitzvah. But since part of shelter protocol is changing all existing contacts and creating all new aliases to protect the family, the boy wondered what kind of bar mitzvah he would have."
Determined to make the milestone special, Debbie and her team brought in someone to teach the boy his parshah, coordinated funding for beautiful simchah clothes for the entire family, and arranged for the bar mitzvah to take place in a shul near the shelter — under an alias. "It's been eight years," says Debbie, "and this woman still calls to thank me every Rosh HaShanah."
Debbie deals with a wide range of social issues in her line of work — some more pleasant than others. As part of her job for JFS (she's also senior director of their Child and Family Services), she developed Moms Connect, a highly successful program geared to women grappling with — or at risk for — postpartum depression.
In another flourishing program, the ATARA Society, Debbie coordinates a social and intellectual support group for the "crown" of her community: the elderly. "Our goal is to keep our seniors active and stimulated," she states.
But of all the issues Debbie confronts, the one thorny, festering weed she's become especially determined to uproot is what some describe as the "elephant in the Orthodox room": sexual abuse of children.
The Emperor Has No Clothes
From the moment Debbie donned Aleinu's weighty robe of responsibility, she was thrust into the unenviable role of liaison to rabbis and government agencies for every abuse case that came to the fore — and come they did.
But it was only when Los Angeles faced several horrific molestations incidents in unnervingly close proximity that Debbie resolved to grab the bull by the horns — and galvanize her entire community into significant, long-lasting action.
"We got together and said 'What can we do?'$$SEPARATEQUOTES$$" she remembers, describing the intense meeting that took place between the Aleinu team and their rabbinical board. "We needed something concrete that would help prevent similar horrors in the future." Since that fateful day, Debbie has thrown herself into the cause.
As we broach this difficult topic, I fire the million-dollar question: "Just how common is molestation?"
Her normally relaxed features turn grave.
"According to the most widely accepted study in the field, one in every four girls and one in every seven boys will get abused before age 18."
I shudder. "Do you think the numbers are less frightening in the frum community?" More a plea than a question, it's my desperate wish that our light-unto-the-nation status comes into play here.
She sighs. "We don't have statistics, so no one really knows the answer to that. But if I had to make an educated assumption, based on my experience and that of other national experts in the Orthodox world, I would estimate the numbers to be pretty similar to the general population."
Debbie notes that the number of disclosures is also on the rise — which may be a good thing. "I have never given an abuse workshop for parents or teachers where an attendee hasn't approached me at the end to divulge an incident that occurred years before," she shares. "But lately, the amount of disclosures has grown exponentially. At my most recent workshop, I had a line of parents out the door."
Once, a woman who'd attended Debbie's lecture discussed it that night with her husband — and unknowingly prompted him into revealing a dreadful list of abuses he'd experienced as a child. "My life changed last night," the woman later told Debbie. Everything about her husband made sense in a flash of a moment.
"Robbing people of their innocence," says Debbie, is a most unpleasant part of the job. "When I get up in front of a crowd, I feel a pit in my stomach. I don't want to have to share with them the shocking — but undeniable — reality of abuse. I don't want to have to tell them 'Folks, the emperor has no clothes!'
While many attendees are receptive to her dire message, Debbie sometimes feels she's perceived as the boy crying 'wolf': "One of my biggest frustrations is that people just don't believe me. And a part of me understands them — it's just not believable how widespread this has become."
Debbie describes the deluge of phone calls she received this year between Rosh HaShanah and Succos — a vacation time when children are unsupervised, structure is minimal, and extended families spend lots of time together. "At one point, after yet another horrible conversation, I just felt like standing on a rooftop and shouting, 'Everyone! Keep your hands in your pockets!'
What's even more alarming, Debbie points out, is that statistically, a child who's been molested once is almost certain to be molested again: "A perpetrator can tell in a flash who to target — he smells out vulnerability. He'll choose a child from a dysfunctional family, a very large family, an immigrant family, or even a rabbi's child — because that sort of kid is less likely to tell."
Abusers also pursue rebellious children because they've already become less believable to the adults who can protect them. Unsurprisingly, a vast majority of at-risk youth were once molested — and it's not far-fetched to posit that the trauma played a role in their unfortunate choices.
But contrary to what some believe, says Debbie, these abusive incidents generally don't happen overnight. "There's often a grooming process. The abuser lulls the child very slowly — with treats, trips, and kind words. Sometimes he grooms many at a time, hoping to yield 'success' with at least one. This is why I constantly stress in my workshops: a child should not have a special relationship with an adult, and certainly not in an unsupervised context. Adults socialize with adults, and children must play with children."
Creating Safer Schools
So how is Aleinu addressing the issue? Debbie swings back to that seminal meeting in Los Angeles prompted by the triple set of abuse horrors. "Until that point," she says candidly, "we'd been dealing with molestation as isolated incidents, on a case-by-case basis. Now, though, its pervasiveness struck us: we realized we needed a formal, community-wide prevention program, as well as a strictly defined, strictly enforced response protocol for perpetrators."
The first leg of Aleinu's groundbreaking solution — largely the brainchild of their Halachic Advisory Board — was a "conduct policy:" a contract signed by every faculty member in every LA school in which they vow to avoid engaging in a number of unacceptable behaviors: locking the door to a classroom, taking a student off campus, or touching a child below the shoulders, to name a few.
In addition to pledging that they themselves will not engage in these behaviors, each signatory binds himself to reporting any infractions sighted at the hand of colleagues. "The power of this policy," explains Debbie, "is that everyone is on board. We are sending a message to the perpetrator: this school is not a safe place to act. There are too many eyes watching, there is too much awareness of the danger signs, there is too much transparency."
The policy has rippled far beyond LA's city limits. After no less than a year of refining its nuances, Aleinu's Halachic Advisory Board sent it to Rav Shmuel Kamenetsky shlita, who unilaterally approved it, penning a letter that acknowledged the changing times and encouraged schools to enforce the contract. Torah Umesorah also reviewed the policy and used an edited version for their schools.
The support and guidance of Aleinu's Halachic Advisory Board during the entire process, Debbie emphasizes, was critical: "If I attempted to do my work without their backing, it would go nowhere. It is leaders like them who have the power and influence to integrate our programs into the frum world."
Debbie also notes that the behaviors listed on the contract are not an arbitrary set of activities: "We were not being overcautious or extreme; based on our documented experience, each of these conducts has ultimately spiraled into a child being abused."
And the power of reporting such behaviors cannot be underestimated — as underscored by the following tragic encounter. "I had finally completed a rigorous, three-day safety workshop in a school where a respected rebbi had just been exposed for repeated, awful offenses," Debbie recounts. "On my way out, another rebbi approached me, white-faced.
"'Mrs. Fox,' he said tremulously, 'out of everybody in this school, do you know who has been traumatized the most by these horrific events? Me. I saw the kids going in with him year after year — I had no idea. I said nothing. Now, I will carry on my back for the rest of my life every child who was molested.'"
Beyond School Doors
Following the implementation of this conduct policy, the frequency of school-based incidents in LA dropped. But additional cases were still pouring in — because, as Debbie plainly observes, "abuse can happen anywhere."
That's when she resolved to educate the parents and children, too. "It takes a community to protect a child," she says, "and it takes a community to allow abuse. We'd tackled the school administration and staff part of the equation, but there were gaping holes in the safety net."
Debbie embarked on perhaps her most ambitious project yet — researching and developing a didactic safety program tailored to the frum community. With a generous $100,000 grant from Mitch and Joleen Julis, she and her team were mentored for a full year by the National Center for Missing and Exploited Children, whose program — used as Debbie's base — has been rated as one of the country's finest in educating and protecting children.
Predictably, there was much tweaking required. "Often we had to nix a certain image or scene, or fine-tune some phrasing," she describes. "We changed and enhanced the materials so much that ultimately, they took our new and improved versions!"
Debbie notes that parents, especially, need to know how to react when their kids come off the school bus, eager to share everything they've gleaned from the Safety Kid program (see sidebar, "The ABCDs of Safety").
"Those first five minutes are critical," she stresses. "If Child starts sharing something and Mom says, 'One minute, I need to stir the noodles,' Child absorbs the message that this subject is just not important to Mom. Even worse, if Mom reacts by saying 'Oh, we don't talk about this stuff in our house,' Child has learned that he cannot share items of this nature with his parents."
On this note of openness, Debbie shares a disturbing reality: the #1 reason kids don't tell their parents about abuse is because they think they won't be believed — and they don't want to make their parents uncomfortable.
"By the time many children are four or five years old, they've already internalized that their parents are not comfortable talking about private parts — and they'll keep quiet at all costs. This assumption can be deadly."
A 24-Hour Job
Though she's purportedly on vacation in Israel now, Debbie seems to be perpetually mired in painful situations. "When people meet me in the street, BOOM! They want to tell me a story, an incident, but I don't always want to hear it just then," says Debbie. At the same time, she understands that while she may be taking a break — the perpetrators aren't. In her critical role, there's no 9–5.
Indeed, a quick sampling of Debbie's received text messages on an ordinary Tuesday substantiates her nonnegotiable vacation requirement.
"Crisis with so-and-so," reads one from a community rabbi, referring to a molestation suspect. "Need to speak to you ASAP."
"Mrs. Fox, oh no, new situation developed in my shul over Shabbos. Please call."
"Mrs. Fox, is domestic violence reportable? When would you be able to meet with Mrs. X — situation escalated!"
Aside from the emotional drainage, an acute challenge of Debbie's job is the demoralizing contradiction she faces daily — between the sickening incidents occurring next door and the beautiful, prototypical Jewish life for which she strives. "There is no life more enriched in the entire world than that of a religious Jew," she states. "Yet, my day is often spent hearing things that are very painful — the antithesis of what we believe in and teach."
But there are also glimmers of light in this maelstrom of disorder and depravity — and for Debbie, they're a lifeline. "Several years ago, I worked with a woman who experienced severe postpartum depression. She became suicidal and actually needed psychiatric hospitalization. Her husband was in kollel and we worked hard to help him understand the condition and how to be supportive. About a year ago, I received a handwritten card from the woman's mother who lives on the East Coast. 'I just returned home from my oldest grandson's bar mitzvah,' she wrote. 'I never believed my daughter and son-in-law would have such a beautiful, happy, functional family — and that I would have so much nachas. Thank you for your guidance to our family.'$$SEPARATEQUOTES$$"
In another heartwarming case, Debbie worked for several years with a client who'd been molested when she was young. Once the girl married, she continued working with her and her husband post-wedding — and recently, Debbie received a grateful card in the mail with a picture of their happy young family.
But even more thrilling to Debbie than these uplifting boosts is the kind of phone call she got last Friday. "There was a frightening incident of inappropriate touching on the East Coast by a highly respected community philanthropist," she relates. "Two rabbanim, both leaders of large shuls and directors of rabbinic organizations, called Los Angeles for guidance on how to get help for the alleged perpetrator, victim, and community. This kind of response is groundbreaking for rabbinic leaders — and shows that the rabbanim of the Aleinu's Halachic Advisory Board are seen as the gold standard. I am very proud of the fact that they dare to intervene, and are now nationally recognized for it."
There's a long road ahead, but Debbie is finally witnessing the wheels of a slow but steady revolution rumbling through Jewish cities all over — and a newfound, resolute commitment to preserve neshamos for eternity. For Debbie, this is the greatest nachas. "I want our frum world to be unsafe for any perpetrator," she says. "I want every potentially inappropriate adult to know that our children are our most treasured possessions — and we will do anything to protect them."
Abuse — By the Numbers
90% of child molestation occurs in the hands of someone loved and respected by the child.
Only 1 in 10 victimized children report abuse of any kind to someone who can do something about it.
30% to 50% of all abusers are under age 18.
88% of abusers are never reported.
17% of abusive incidents in Israel in 2007 took place in educational institutions. Of these, 11% were in religious yeshivos.
In 60% of the cases involving children under age 12 in Israel in 2007, the perpetrator was a father or brother.
Source: National Child Abuse Data System, 2005, ARCCI (Association of Rape Crisis Centers in Israel), 2007
The ABCDs of Safety
In Aleinu's cutting-edge "Safety Kid" program, children ages three to 11 are taught fundamental principles and skills, including:
Ask for Help:

When something is wrong, call 911.
If you're lost, find a safe helper — ideally a mother with children.

Bring a Friend. You're always safer with a friend or in a group.
Check First: No opening doors, answering phones, changing plans, or accepting gifts without checking first with a parent.
Do Tell:

What's covered by your bathing suit is private — and if someone makes you feel uncomfortable, run away. Your body is yours alone!
Good touch makes you feel safe and happy. It's never a secret. If you're not sure, ask a trusted adult.
If someone tells you "Do not tell!" be sure to tell a trusted adult immediately.
False Accusations
Despite the overwhelming incidents of confirmed molestation, a percentage of accusations are fabricated. The exact number is a subject of debate — although the stat indicating that only 3 percent of all criminals are wrongly convicted is likely applicable to molestation cases, too.
"In my ten years of dealing with abuse," says Debbie Fox, "I've encountered one false allegation." The staunch accusation was actually made not by a child, but by parents, who charged a third-grader with molesting their first-grade son. "Most children don't lie about these things. It's hard for them to lie about it. In this case, the parents were found to be disturbed."
False indictments are more prevalent when dealing with child custody cases. In fact, says Debbie, when filing a child abuse report, one of the questions asked is if there's a divorce in the process. "It's probably the most common framework for fabricated charges," she says.
Individuals who have been falsely accused can testify to the shadow of shame that will never be stripped off, regardless if they're eventually proven innocent.
But some argue that the concern for these people is overrated. Dr. Asher Lipner, a Flatbush psychologist who has worked extensively with survivors of sexual abuse, asserts that false accusations are a possibility with every offense, but that doesn't preclude the necessity of an efficient justice system.
Dr. Lipner cites a study (Oates, R. K., et al, 2000) indicating that aside from custody battles, 98 percent of molestation accusations by children have been shown to be true. "In the frum community," he asserts, "where the stigma of being a victim of abuse is only slightly less than that of being a perpetrator, and the stigma of being a victim who reports to the police even higher, it stands to reason that the statistics might be even higher than the general 98 percent."
10 Pointers for Parents
When a child discloses abuse, it can be horrifying. But there's also a positive: Now the child can be protected from further exploitation. Below are 10 pointers on the right way to react:
Remain calm. Reassure your child that you can handle this.
Soothe. Tell your child you'll do everything in your power to keep him safe.
Listen. Find a private place to talk and listen carefully. Try to write down the child's story in her own words.
Validate. Let your child know that telling you is the most important thing he could've done.
Believe your child. Most kids don't lie about abuse.
Don't blame. Child abuse is never a child's fault — don't find ways she could have done things differently.
Update. Keep the child informed of everything you may need to do.
Reassure. Even if the situation becomes complicated and others have to get involved, continue to stress that your child has done the right thing in coming to you.
Be your child's advocate — do whatever it takes.
Make your love clear. Let your child know that protecting her is more important than protecting the perpetrator.
(Originally featured in Family First Issue 279)