| The Current |
Hotel Hostages | January 4, 2022
Two years into the pandemic, why are chaotic quarantine hotels back?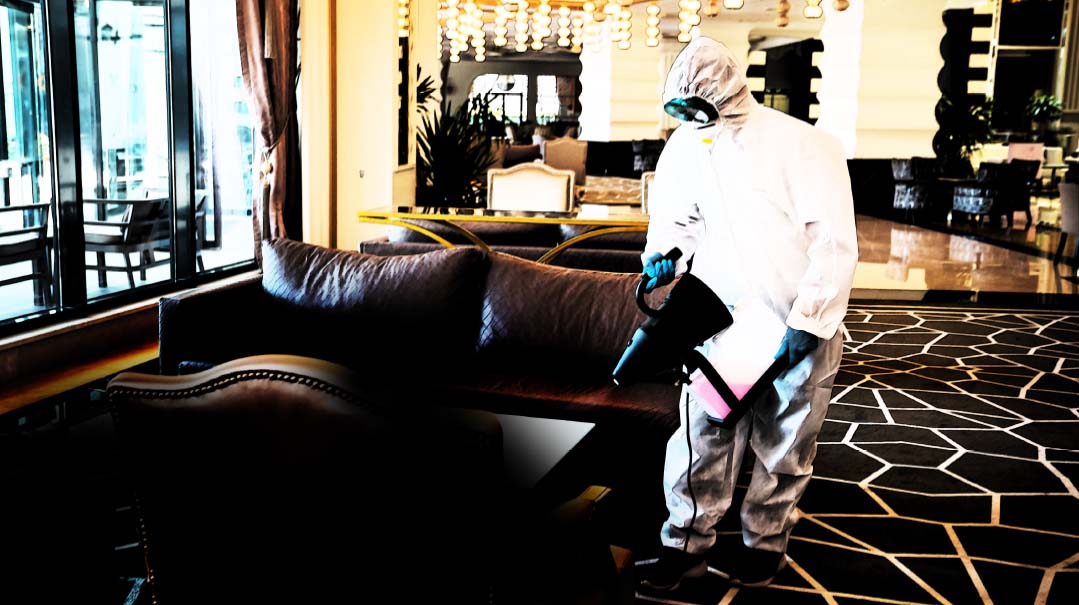 Two years into the pandemic, it is clear the Israeli government has still not learned about handling arrivals of international passengers, as can be seen from the experience of multiple families who landed at Ben-Gurion Airport last Erev Shabbos.
Travelers from America and Britain were subjected to arbitrary or ill-considered directives at the airport, and in some cases government officials violated their own written procedures by quarantining people who had been vaccinated in Israel.
Mishpacha's lengthy attempts to reach government representatives for a response or explanation were greeted by buck-passing and denials, raising suspicions that the public health state of emergency is masking significant operational deficiencies. Even as Israel prepares to dial back entry restrictions on non-red countries, the latest restrictions underline the haphazard nature of the country's Covid policy making.
This was definitely not the welcome that Chaya Berger was expecting when she arrived at Ben-Gurion Airport as a Nefesh B'Nefesh olah with her fiancé two weeks ago. Sarit Schonberg, her fiancé's mother, spoke to Mishpacha about what happened.
"They arrived at the airport on Thursday, December 23, around 5 p.m., and were transferred to the Dan Panorama quarantine hotel in Tel Aviv, to wait for their results," Mrs. Schonberg said. "Chaya got her PCR results at around 1:30 p.m. Friday via her phone, but the hotel staff told her she couldn't leave until she got a formal email stating that she was allowed to leave. So she waited and waited for this email. She didn't know what to do.
"She never did get that email. I guess the Health Ministry stopped working Friday afternoon, so they never bothered to send anything. We had to rush to Tel Aviv to where she was, to give her Shabbos food."
The Shabbos food delivery was necessitated by an oversight on the part of the hotel where Berger was quarantined. She informed the staff that she was a vegan, but they supplied her with turkey. The Health Ministry's failure to send her release meant that Chaya had to stay in the hotel for all of Shabbos.
Her fiancé, meanwhile, fared even worse. He also never got his results before Shabbos — "Not by phone call, nor text, nor email, nothing," says Mrs. Schonberg. When his results finally came Motzaei Shabbos, they were positive, so he was taken by an ambulance to a hotel in Jerusalem.
"He's totally asymptomatic, though," his mother points out.
In the end, Chaya Berger couldn't leave quarantine until Sunday. On Motzaei Shabbos she was administered another test, which was also negative — but the soldiers at the hotel would not release her. A Jewish Agency representative took up her case with the Home Front Command and demanded they let her leave.
"Basically nobody knew anything, nobody knew what to do, nobody knew protocols," says Mrs. Schonberg. "While this lady from the Jewish Agency was trying to get her permission to leave, they were trying to force her to stay.
"And on top of everything, she had a place in Ramat Beit Shemesh, where we live, that was empty, with no other family staying there, where she could quarantine by herself. I don't know why wouldn't they let her just go there to begin with."
"This Won't Take Long"
If you thought the situation might have improved by last Shabbos, the experiences of many other international arrivals should disabuse you of that notion. Frontline staff were either left to enforce poorly understood protocols — or were simply completely unavailable.
Mrs. M., who asked that we not reveal her full name, told Mishpacha that her husband arrived at the Jerusalem Gate quarantine hotel last Friday and was told he could leave Motzaei Shabbos. He did get his negative PCR result when Shabbos was over — but when he went to seek his release, there was no one to talk to. He and other travelers in the same quandary were trapped, with no way out.
"Everything on the floor was locked," says Mrs. M. "The elevators, the door to the stairs at the end of the floor, all locked. And there was nobody to speak to! After a while, another traveler, who had some phone number, said, 'Let's try to send a message to this person, who apparently will be able to get our information and then hopefully release us.' "
In the end, it was Mrs. M.'s persistence that freed her husband. "I had to call the hotel and speak to the soldiers who were there, to check the computer for his details, and then I had to convince them he had permission to leave. Finally, they released him."
The Piller family, who have lived in Jerusalem for the last eight years on student visas, were victims of government officials failing to adhere to their own written procedures.
They arrived at Ben-Gurion from New York on Thursday afternoon, December 30. They had done everything right, playing by all the rules: the family members each have a tav yarok ("green passport") showing them to be fully vaccinated in Israel, and according to the protocols, they were supposed to be allowed to go home for quarantine.
But after landing at the airport, once they showed their American passports, they were directed to a different line, without being given any further details or instructions.
"They sent us across the airport, following a soldier, and we were made to wait while they collected our details," Mrs. Piller tells Mishpacha. "Our passports were taken from us, and they held them until they finished processing us. We felt like we were enemies of the state, just because we were holding US passports and not Israeli ones."
The Cherry on Top
That was just the beginning of the Pillers' ordeal. Despite their protests that they each had a tav yarok, that they were legal residents and not tourists, the family was sent to a small, standing-room-only waiting room filled with about 40 people, all designated for Covid testing. After an endless wait, the entire family — including their three children, aged seven, three, and 18 months — were tested, then bused to the Jerusalem Gate hotel for quarantine. The entire process took four hours.
"As much as we told them we have tav yarok, and we're not tourists, nothing helped," says Mrs. Piller. "In the hotel, we didn't want to go up to the room, but the soldiers kept convincing us that it wouldn't take long, and in ten hours tops we would have our test results."
The two adjoining rooms the Pillers were assigned to were small, with most of the floor space consumed by the beds; along with their cribs and luggage, there was almost no room to move. They were provided with no food, no diapers, and no water; after repeated calls to the front desk, they were allowed a pizza and one bottle of water. Mrs. Piller's cousins brought food for them to the hotel, but the staff took 90 minutes to bring it to them.
Meanwhile, the Pillers were trying to get their PCR test results, to no avail. They were bounced between the Ministry of Health and their health plan, waiting on hold interminably.
This continued all through Friday. Mrs. Piller asked her cousins to bring them food for Friday night, and also to take their luggage; they realized that since they would not be getting their test results before the zeman, they should hatch a plan to leave on Shabbos morning.
"We didn't sleep the whole night," she recounts. "In the morning, we went to the door to beg them to let us leave. Finally they checked and said they got approval. We left on Shabbos at 9 a.m. Motzaei Shabbos we checked — the results had gotten there by 6:40 a.m., but no one had bothered to check."
There was one final irony to the whole affair, which Mrs. Piller dubs "the cherry on top of it all."
"My grandparents, who are Israelis, were with us on the flight, and they tested positive," she says in disbelief. "So they, the Israelis who tested positive, were allowed to go home. But we, with our student visas, who tested negative, had to go to a hotel. Why? The rules don't make any sense."
Avrohom (not his real name), a yeshivah student, was in the same hotel as the Piller family, and saw what happened with them. Just like them, he was fully vaccinated, and he made sure that according to the rules, as published on the Population, Immigration, and Border Authority (PIBA) website, he would not be sent to a hotel for quarantine.
He describes the same treatment — no explanation as to why they were being separated from other travelers, despite their being vaccinated. Avrohom echoed the Pillers' points about the inadequate food, adding that his requests for a more mehadrin hechsher were ignored. The hotel also made no special provisions for Shabbos.
"No candles, no tissues, no clock, no siddur, nothing for Havdalah," Avrohom tells Mishpacha.
He added that before Shabbos, he tried to film what was going on outside his room by holding his phone through the door — but the hotel staff didn't like it and physically pushed him in. By Motzaei Shabbos, when he received his negative results, he was quick to be released.
Making Policy on the Fly
The K. family's experience demonstrates that two years into the pandemic, Israeli government officials are still making policy on the fly, as if it were still the beginning of the outbreak, regardless of the human cost. The K. family, visiting from the UK, were also in the Jerusalem Gate hotel, along with the Piller family and Avrohom.
They had come in to sit shivah for Mr. K.'s mother, who had just passed away. They had been fully vaccinated and had all their papers approved before they departed, and should have been allowed to proceed to their destination upon landing. But while they were en route, midair, the law changed, requiring them to quarantine in a hotel upon their arrival.
Going through the same treatment as the others, they said that, as a couple in their seventies, they felt violated.
"It wa extremely hurtful that every Israeli was allowed to choose their place of quarantine, but we were sent to a hotel," says Mr. K. "The rules don't make sense. If we had a safe place for quarantine, why were we worse than an Israeli going to his home with his family?"
Arriving at 9 p.m. on Thursday, Mr. K says they had the feeling that no one handling their case was in a rush. They were tested at the airport, but the results weren't processed right away, and they waited there for hours.
"There was no reason why they couldn't have expedited it," he says.
Reaching the hotel, the K. family was sent to the seventh floor, and found all the exit doors locked. When they tried calling the front desk, it took ten minutes for someone to pick up.
"What if we had an emergency?" Mr. K. demands. "What if there was a fire, or a heart attack? This is a heinous way to treat people!"
By pulling many strings, the K.'s got out of the hotel ten minutes before sunset.
Wild Goose Chase
Paysach Freedman, CEO of Chaim V'Chessed, has been working around the clock on cases like these, and has reached a state of frustration.
"I'm ashamed of my government," he tells Mishpacha. "They have the right to make rules — but they should follow them. This is continuing the harm to the relationship with the Diaspora. The State of Israel is telling them, 'Don't come or we will lock you up.' "
Freedman says that there were situations in which it made sense to send people to hotels, as when the only locale for a bochur to quarantine would be the yeshivah dormitory. "But what about young families going to their homes? Or older people, sick with fever, coming in after a surgery? PIBA just changed the rules on the spot."
Mishpacha attempted to reach several of the Israeli government agencies involved for a response. That in itself entailed something of a bureaucratic wild goose chase, as we were bounced around among several spokespeople.
First we contacted PIBA, the border control authority, about the process at the airport; on this, they were unresponsive. About the quarantine hotel policy, the spokesperson responded: "We don't deal with hotels. Ask the Ministry of Health."
The Health Ministry spokesperson directed us to the Home Front Command. After many hours, a spokesperson for the Home Front Command issued the following carefully prepared statement: "The Home Front Command is an operational body that follows the instructions of the Ministry of Health and the Population and Immigration Authority [PIBA], and will continue to do so in order to help maintain the health and safety of all Israeli citizens. Hotel owners are responsible for safety and food."
On the core charge of people confined to hotels, out of compliance with the government's own procedures, the spokesperson said: "As for discharge from hotels, the Home Front Command releases patients when a negative result is received for their Covid test in the Ministry of Health system. As for the claim of separation between the isolated returnees to the country, there is no policy of such separation."
And finally, the spokesperson promised the Home Front Command would take all complaints seriously. "If details of an individual problem are provided, it will be checked and treated accordingly."
(Originally featured in Mishpacha, Issue 893)
Oops! We could not locate your form.
>