| Jr. Serial |
Home Ground: Chapter 31     
| August 15, 2023
Huh? Some random girl returned my diary, fine… but she wants to talk to me? That's, like, next-level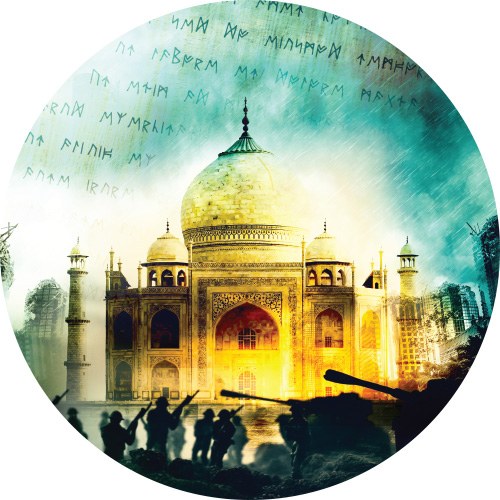 There's an envelope, thick and covered in colored stamps, waiting on the little bureau next to Bubby's front door.
And it's addressed to me.
Yay, a reply letter from India!
I hold the envelope a minute, feeling warmth spread through me. Trust Ima to reply to my mailed letter with one of her own, rather than answer me over the phone. It takes way longer to receive it this way, but oh, it's so much more fun and exciting. And I can read it over and over. And it's like a piece of home. A piece of Ima.
I say hi to Bubby, grab a snack bar, and go upstairs for privacy while I read the letter. The envelope is jammed full; besides Ima's reply, there are letters from my sisters and a folded paper containing Ayelet's handprints. Ima must've done painting just for me. Wow.
I read my sister's letters, put them aside, and finally reach for Ima's thick missive. It's a few pages long, like mine was. I know how busy Ima is, so this is… really special.
I've almost forgotten what I'd written to her, but reading the reply reminds me. She writes about how happy she was to hear that it worked out at Aunt Chana's, and with Raizy — "…family is so important, Ashira, remember that. These years are hard because we are far apart, but they're also a gift in that you have a chance to get to know your extended family, your aunts and uncles and cousins, like never before. There's nothing like being close with family, so I'm happy you're getting a chance to do this…."
She wrote a page or two about my social life, commiserating over what I'd written about Tammy and my loneliness in the play. I've told her about the scenery girls, but now I feel like I should write her a real letter back, filling her in on every detail. Because wow, have things improved since when I sent her the first one.
Well, not with Tammy, but I have friends now, even if none of them are in my class.
"I'm so proud of you, Ashira. You're doing a great job of making it work under difficult circumstances, and I know you — you'll figure things out. You can always call me and Abba, we're here for you. And remember, the key to everything is closer than you think."
Next to the word key, Ima drew the picture of a key, decorated with squiggles and sparks. I blink and reread it. The key to everything? I mean, Ima says things like that a lot. She's written something similar before, but this sounds a little… random.
Oh well.
I shrug.
She probably wrote it super late at night, or maybe I'm just tired and not getting it. Or maybe she just wanted to do the cute key illustration.
Anyway, I don't think I agree. The key to everything is back in India. Where I belong. Isn't it?
I sigh, put the papers safely back in the envelope, and feel a wave of homesickness wash over me. Isn't it supposed to get easier with time? I guess in some ways it is getting easier, but in others… well, I just miss my family more and more.
And it happens randomly; I'll be sitting laughing with Faiga at play practice and boom, I'll think of my mother, my sisters, and it'll stab me in the heart. It's just been so long since I sat and laughed with them.
I stretch and head downstairs for the phone. I should really write a long response letter back to Ima, but I don't have the patience. I'll call, fill her in on everything, and maybe just feel like I'm back in our little kitchen in India with the exotic furnishings and the scent of spices wafting in from the market down the road.
"Ashira? Is that you? Someone came for you," Bubby calls to me from the kitchen.
Someone came?
"A friend of yours. She brought something for you. Said you left it in school."
I left something in school? Strange. And who would've brought it for me?
Bubby's holding a small book — green, soft leather, with gold embossed….
My diary!
My heart stutters. My diary. I'd had it in school, kept it in my bag with me. It must've fallen out somewhere, somehow, maybe in class or maybe in scenery or in practice… who brought it back? One of my classmates? One of the scenery girls? Tammy? And how did they know it was mine? It has my name on the front; am I the only Ashira in the school? Or did they look inside to work it out….
Oh please let them not have opened it up, read what I've written….
I take the diary from Bubby with trembling fingers. I'm mortified. I don't even want to open it up, reread my entries. There's so much inside there, so much I'd never want to share with anyone, let alone a random girl from the school.
"Do you… do you know who the girl was? Who brought it?" I ask. Not that it makes much difference but just to know who… and how… and where they found it….
Bubby frowns. "Libby something. Libby… Stein? Shine? Something like that."
Libby.
I wrack my brains. I don't know a Libby; there definitely isn't one in my class.
And it's not one of the scenery girls.
So I guess it fell out of my bag during play practice, or in the hallway somewhere. Ouch. Is it better or worse that I have no idea who this girl is?
"She said you should call her — she wants to talk to you," Bubby continues.
Huh? Some random girl returned my diary, fine… but she wants to talk to me? That's, like, next-level. Did she read it, think I have major issues, and wants to help out?
Well, maybe I do, but I don't need some girl I've never met doing her good deed of the day by talking to me after reading my private diary. I mean, what on earth?
I take the diary upstairs, and only remember when I'm back in my room that I'd wanted to call Ima. Ugh, now I'm in the worst mood ever.
I drag myself down again, mumble something when Bubby asks me about my day, and escape back to privacy. I dial India on autopilot, listening for the long rings of an international call.
Please be awake, Ima.
But the phone doesn't ring. Instead, there's a series of short, sharp beeps, like the line has been disconnected.
I hang up, then try again, and again. Nothing doing.
Even the phone lines of India are conspiring against me today.
To be continued…
(Originally featured in Mishpacha Jr., Issue 974)
Oops! We could not locate your form.
>