| Jr. Serial |
Home Ground: Chapter 19
| May 23, 2023
Now she's annoyed at me. I hadn't shown her I cared in the slightest, and I don't know how to go back on what's been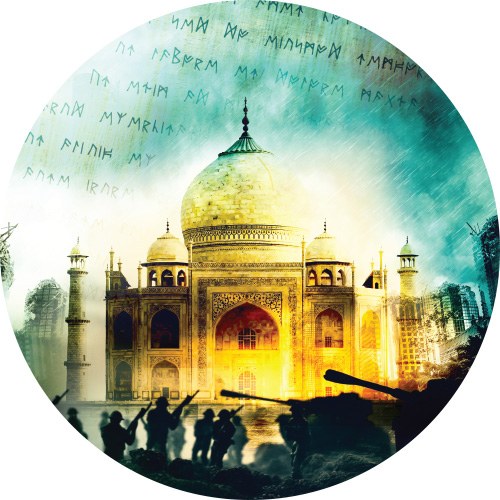 Mrs. Sefson's halfway through explaining the activity when she notices me on my own.
"Ashira, you don't have a partner? Never mind, just join a group."
Oh, joy.
I stand up, trying to look confident and nonchalant, but like hello, Mrs. Just-Join-a-Group Teacher, can't you just make things even more awkward by pointing out to everyone that I'm friendless? And now what, march up to a pair and ask them to let me join?
I'm not joining Tammy and Fraida, that's for sure.
Raizy, no chance, not if she's busy playing let's-pretend-we're-not-cousins again and deep in whispered conversation with Suri at her desk at the back of the room.
"Come join us," Miri says, turning around. It can't have been more than two seconds of the awkward scanning the room for salvation, but I'm so relieved to drag my chair over. Miri's nice, and Shevi's just plain fun, even if they probably won't get much work done.
"Thanks," I tell Miri.
"Hey, sure thing," Miri says. "I mean, if you're as good at English as you are at cooking, we should thank you!"
She and Shevi giggle. I'm faintly annoyed; do these girls take nothing seriously? But then again, they've just rescued me from social mortification, so I should just smile back and be grateful.
Still, I can't help but let my eyes stray over to Tammy's desk, where she's sitting and determinedly working with Fraida Berg. What was that all about? Since when do she and Fraida have anything to do with each other? And why… why now do I realize that I'd really have preferred working with Tammy, more than any of the others?
I've realized why.
I should've realized earlier, but it must be because of yesterday, because I didn't end up calling Tammy to study with her.
Ugh, so stupid.
Well, I just have to tell her what happened, right? Visiting Bubby, trying to call Ima, the evening just running away from me….
I don't get a chance to speak to Tammy until lunch time. Then, by some miracle, I manage to corner her alone in the classroom when my classmates have disappeared to the lunchroom to eat, all talking animatedly about the upcoming tryouts.
"Tammy?" My voice is too high-pitched. I swallow and modulate it. I didn't do anything wrong. She's being super duper oversensitive. And besides, she wasn't nice either — ignoring me and working with Fraida when she heard me ask if she wanted to pair up….
Tammy turns around too fast, almost as if she'd been hoping I would corner her. I resist the urge to gag, why are these high school friendships so… aarrrgh?? Like, what happened to talking like mature, well, almost-adults?
Like I'm about to do.
"So, about last night," I say, giving Tammy a small smile. "I'm so sorry I didn't call you in the end. My aunt took us to visit my grandmother in the hospital, and then—"
Tammy looks at me, the kind of look you'd give someone you aren't all that sure about. "Us?" she asks me, grudgingly.
"Me and Raizy… wait, you know Raizy's my cousin?"
Tammy's eyes fly open. "Raizy? From our class?" She's so surprised, she forgets to talk coldly. Oh well, at least Raizy's useful for something.
"Yes. So I'm staying at her house now — long story, my grandmother is in the hospital, whatever. So when we got back it just got so busy—"
"With Raizy. Right. I get it." Tammy looks away, toying with the strap of her bag. "It's fine. We hadn't confirmed anything."
Her voice sounds like it was anything but fine, and I suddenly picture what must have happened: Tammy rushing home, making her plans for the evening around our study session, waiting by the phone. Getting annoyed when her younger brother made a call, what if she called right then?, debating whether she should call my phone, maybe dialing Bubby's number… without knowing I'm not staying there these days.
She might have spent the whole evening agonizing over it, even as I agonized over Ima not answering her phone.
I feel a surge of kinship for Tammy, and too late, I also realize how much I relied on her: For the past two months, she'd constantly rescued me from the awkwardness of feeling totally alone. Every time she'd sought me out, I'd rolled my eyes, but also was kind of pleased: I look like I have a friend.
And now….
Now she's annoyed at me. I hadn't shown her I cared in the slightest, and I don't know how to go back on what's been.
But I can go forward, I guess.
I take a deep breath. I've apologized, she's pretending it's okay, maybe we can just move on?
"Did you… how was the assignment? I guess you did it yourself in the end."
"Yeah, I did it." She still looks upset. So much for moving on.
"Me, too. I mean, by the time I remembered, it was far too late to call you, my aunt would've been… not happy about it," I finish lamely. Actually, what would Aunt Chana have said? She's actually pretty chilled; she wouldn't have minded me calling a friend close to midnight; Raizy does it all the time.
So why hadn't I called Tammy?
And why do I suddenly care about this whole friendship?
She gives me a tight smile. "I'm happy it worked out for you."
I don't know why I do it, but maybe this version of Tammy — one who doesn't seem to need or want me — is making the idea of being friends with her a whole lot more compelling. I file this thought away to mull over in privately, maybe write about in the diary Ima gave me (I'm discovering how therapeutic writing my thoughts and feelings can be), and make one last attempt.
"Maybe we can study together right after school? For the—" I trail off. Because just as Tammy's eyes cautiously lit up, showing me I've hit the jackpot with the offer, I remember: I'd planned to call Ima right after school. And I really, really did not want to miss the chance to speak to her yet again.
"Actually, today's not great," I say quickly. "But maybe another day, I'm sure we'll figure it out sometime…."
Tammy's eyes shutter again. Ugh, I don't blame her; that came out all wrong.
"I just realized I have to make a phone call after school today," I tell her, which just makes things worse, because why exactly does a phone call mean I can't study with a friend?
"It's fine. Totally fine." But her voice tells me it isn't fine at all.
As she gives me a tight smile and walks deliberately off to join the rest of the class, I am left to digest the unsettling realization: I have exactly zero real friends in this class, in this school.
And while I've been telling myself for two months that they're too different from me, too immature, that I have so many more important things to think about and deal with than friendships — as I watch Tammy's receding back, I somehow wish things could be different.
And suddenly, I'm sad.
to be continued…
(Originally featured in Mishpacha Jr., Issue 962)
Oops! We could not locate your form.
>