| Magazine Feature |
Half a Century of Halachah | May 15, 2019
Dayan Moshe Aharon Kurtstag never expected to leave his Jerusalem beis medrash for far-off Johannesburg of the 1960s. Now back in Eretz Yisrael 50 years later, he's left behind a thriving Torah kehillah and a strong, centralized beis din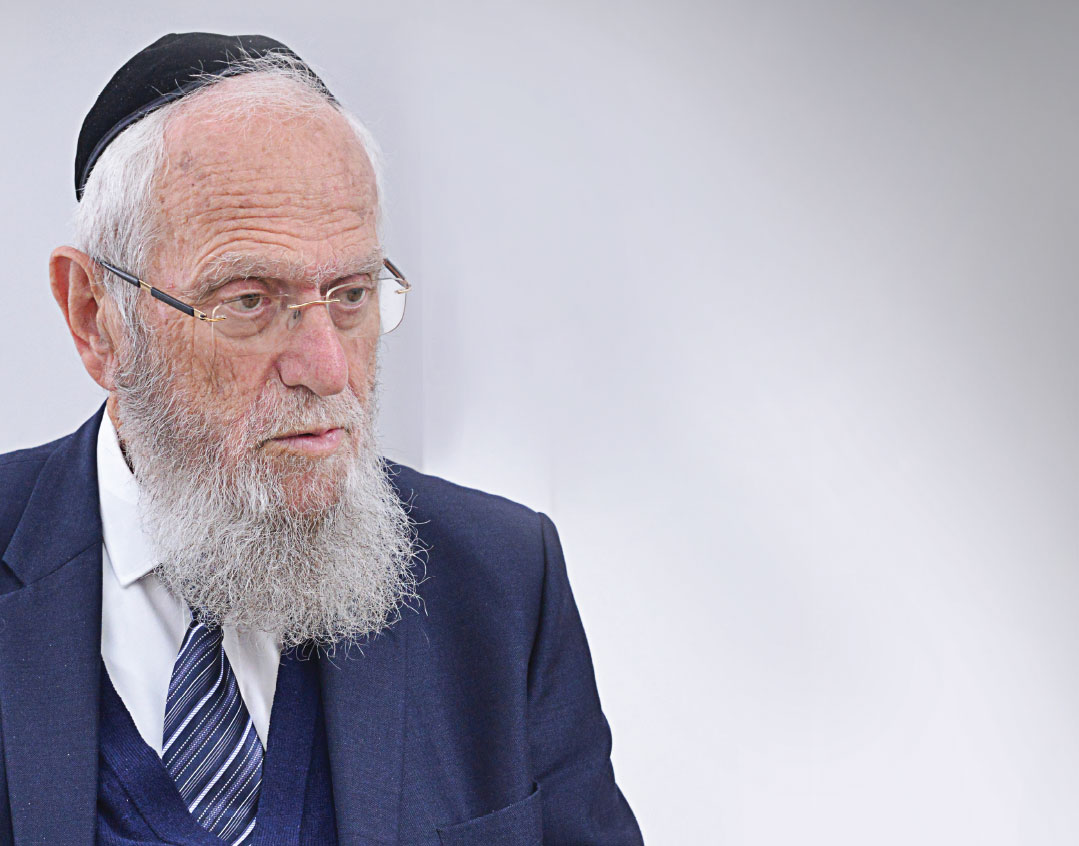 I
f you were to observe Rav Moshe Aharon Kurtstag walking down a Jerusalem street, you'd see a tall, imposing Torah scholar, a graduate of Yeshivas Chevron surrounded by children and grandchildren true to his values, many of them learning in Chevron too. You might find it hard to fathom that this Israeli-born-and-educated man spent half a century of his life in far-off South Africa, taking a leading role in a community he found utterly foreign. But to the Jews of South Africa, Dayan Kurtstag was clearly a Heaven-sent emissary who took a leadership role at a critical juncture for the community.
Now he's back where it all started, looking back on a life's journey he never envisioned, never planned, and wasn't even sure he wanted. But in hindsight, it all makes sense. "Hashem plucked me out of Bnei Brak and put me where I needed to be," he says.
Found in Chevron
It's a long way from Poland to Johannesburg. As Dayan Kurtstag traces the family history, a colorful multitude of faces, figures, and passionate ideals take their turns in the spotlight, propelling him toward a calling he could never have imagined.
Moshe Aharon Kurtstag was born in Tel Aviv to parents who'd escaped Poland shortly before the Holocaust. His father, Yehoshua Gershon, a passionate religious Zionist, made his way to Palestine first. Once there, he obtained immigration papers for Tova Neiman, a student of Sarah Schenirer who resisted her family's doubts and fears and joined him in the Holy Land, where they married.
After attending the Talmud Torah Hahistadrut Hachareidit and Yeshivat Hayishuv Hachadash in Tel Aviv, young Moshe Aharon continued to Yeshivas Chevron, then situated in Jerusalem's Geulah neighborhood. Fellow students included Rav Nosson Zochovsky and Rav Moshe Shapira ztz"l.
The yeshivah consisted of just 250 boys at the time, but its character was already apparent.
"If you wanted to learn, it had all the facilities to make that happen; if you didn't, it had the facilities for that too," he remembers with a wry smile. "I remember that there was tremendous tension in 1956 during the Suez Crisis. Some boys with more modern backgrounds had the feeling that they couldn't go on learning when the country was in crisis and left to join the army. Others remained in yeshivah. I was one of those who remained."
Moshe Aharon formed a close relationship with Rav Simcha Zissel Broide. That relationship eventually led to his shidduch with Batya Aloy, whose father, Rav Yirmiyahu Aloy, was a rav in Johannesburg, South Africa.
"Rav Aloy's oldest daughter married Reb Shalom Ber Gur-Arye, a promising talmid chacham and son of Rav Moshe Gur-Arye of Tel Aviv," Dayan Kurtstag says. "His second daughter — who eventually became my wife — wanted a husband who was a talmid chacham, and her father took her to look for a chassan in Gateshead, in America, and in Eretz Yisrael. Rav Aloy remembered how Rav Elya Lopian came from Mir to England together with his daughter to find her a shidduch as well and followed that example.
"When they came to Eretz Yisrael to look for a chassan, they spent a few days at the home of Rav Tzvi Broide (Rav Simcha Zissel's brother) who was a relative of my sister-in-law. That's how Rav Simchah Zissel saw Batya and thought of me. I knew some English, since I had taken the bagrut matriculation exams, and Batya knew Hebrew — she actually taught the subject in South Africa. So, we met and got engaged."
The Litvak Gene
For Rabbi Kurstag's father, an ardent Zionist, the South African shidduch presented a problem — he had to be persuaded to leave his beloved country to attend the wedding. But there was no question that the young couple would be making their home in Eretz Yisrael.
Dayan Kurtstag still remembers his own shock at his first encounter with South African Jewry. "That first Shabbos after my wedding, I went with my father-in-law to the shul where he served as rav. It was a large Orthodox shul, but I couldn't believe how many cars were pulling up on Shabbos. Who had I married, I wondered, the daughter of a Reform rabbi?"
It was only when he and his wife came to live in South Africa — after five years living in Eretz Yisrael and not being blessed with children — that he got a better understanding of the unique character of the community.
"South Africa had a very interesting Jewish community," he says. "I call it the Litvak gene. There is an abiding respect for Torah, no matter how little halachah a person keeps. I remember a fellow who'd learned in the great Lithuanian yeshivos before coming to South Africa. When I met him, he was no longer frum — but nothing made him more excited than hearing a good shtickel Torah. There was another man who left the path of Torah so completely that he didn't even keep Shabbos. Then he returned and wrote a lomdishe sefer!
"I remember some people would attend Shabbos morning davening then go straight to work. Then, there was a friend of my father-in-law's from yeshivah, no longer mitzvah-observant but who would attend a regular shiur, and one night, he mentioned that he had yahrtzeit. So, he took the amud for Maariv and began davening with such intensity that he began to cry. This man had come to South Africa to be a shochet but somehow wound up dropping everything. These people — they didn't keep Shabbos, but they had great respect for yeshivos and rabbanim."
Yeshivah fundraisers knew they'd always received a warm welcome in South Africa, whose Jews had great respect for rabbanim and for Torah learning. Yeshivas Ponevezh, for example, was built with South African money.
The fruits of that abiding respect for tradition and for Torah blossomed years later, when the children and grandchildren of this nonobservant yet Orthodox-affiliated generation returned to observance in astounding numbers.
"Virtually everything you see today in South Africa," Dayan Kurtstag says, "comes from parents who were not particularly frum — but felt eminently comfortable in an Orthodox shul. We saw all these families pulling up to shul in their cars; now their grandchildren are learning in the Mir."
Education Above All
When young Dayan Kurtstag landed in Johannesburg in 1967, his immediate focus was educating the younger generation. Back then, most people, even those affiliated with the Orthodox, ended their Jewish education with high school. He had to send his own children to Eretz Yisrael to continue their Torah education — not an easy decision for any parent to make. But for the average South African parent, there was no concept then of traveling to Eretz Yisrael for yeshivah. "We knew that to ensure a Jewish future for this community, we'd need to train a new generation of home-grown rabbis."
Dayan Kurtstag trained the young rabbanim in halachah as well as the practical and functional areas of the rabbinate: public speaking, pastoral duties. "And we focused on the main halachos they'd need to know," Dayan Kurtstag says. "For example, the halachos of aveilus had to be at the tips of their tongues. Even South Africans who weren't frum kept the halachos of aveilus."
What the Kurtstags found was that there was equally a need to serve young people attending non-Jewish colleges and universities. In those years, Jewish institutions existed from preschool through high school, but then young people went to non-Jewish colleges and naturally grew distant. To help stem this tide, Dayan Kurtstag managed to organize a Jewish campus, called the Jewish Students University Program, and even set up chavrusas with local rabbinical students.
In 1968, a year after Dayan Kurtstag arrived, he helped establish what would be a forerunner to a kollel erev. "We met twice a week to discuss Torah subjects. Eventually it became a proper kollel, and they never had to bang on doors begging for contributions, because the kollel is community supported, and they're extremely proud of it."
Dayan Kurtstag himself is still giving a shiur that started 40 years ago. "In 1968, I started a Yarchei Kallah during the summer break in December. One of the members of that original group is still participating in my shiurim — which I deliver every Thursday night via Skype."
Called to the Court
After making so may promising inroads in chinuch, Dayan Kurtstag saw his future as a mechanech. But a Higher Hand pulled him in a different direction — to the beis din.
"At first, it was only a part-time occupation," he explains, noting that when he began serving in the beis din, he never sat on a panel together with his father-in-law. "All the dayanim were actually only on a part-time basis — they also had shuls. The beis din, like in other places around the world, wasn't just there for dinei Torah and gittin, but was also involved in kashrus, which was under its purview. The unique thing about South Africa is that the community is very cohesive and very organized. There is only one united kashrus framework and one united beis din in the entire country, which serves both Johannesburg and Cape Town — essentially all of South Africa."
That unity is much to the credit of Rav Yirmiyahu Aloy, Rabbi Kurtstag's father-in-law, who was instrumental in setting the tone for tolerance and togetherness. But Dayan Kurtstag waged many a battle to maintain that singular authority over the coming decades.
Rabbi Kurtstag became head of the beis din in 1989, and maintained close contact with Rav Elyashiv and other leading poskim of Eretz Yisrael. He remembers when Rav Betzalel Zolty visited South Africa to raise money and sat in on the beis din for several sessions. "Afterward, I asked him for advice on a very difficult case of mamzeirus. I remember the way he sat and deliberated. When he finally came up with a way to resolve the case, he was so ecstatic, that he literally stood up and began to dance!"
During his early days at the beis din, Dayan Kurtstag's primary focus was kashrus. "I worked hard to centralize the kashrus system, so there would be a single certifying agency and one comprehensive list for the entire country. I realized that our unity was the key to our strength."
The young, ambitious dayan oversaw kashrus certification throughout the country, even opening a matzah bakery in the 1970s, when he realized that the threat of an embargo would mean a matzah shortage for South Africa's Jews. The embargo indeed came to pass, but thanks to his determination and creative solutions — such as employing yeshivah students during their December summer vacation to staff the factory — there was no matzah shortage during those years.
Years after establishing the kashrus authority, Dayan Kurtstag got an interesting phone call from London. "It was a fellow who was doing a master's degree in economics with the School of Economics in London. He decided to research the marketing of kashrus and received a grant from the United Hebrew Synagogues in London for his research. They sent him to America to observe the procedures at the OU. For three weeks, he sat in the OU offices, trying to figure out some way to translate their procedures and protocols into a version for England's Jews. Then he just gave up — he realized it wouldn't work for his constituents. There were half a million kosher consumers in US at the time and only 120,000 Jews in the British target market. The American model was just not relevant to the UK. Not only did he drop the OU, he dropped the entire project."
Then, the fellow saw the South African kashrus guide, and he got a second wind. As he told Dayan Kurtstag on the phone: "You have only 100,000 Jews and you can put out such a comprehensive list? How do you do this?"
Dayan Kurtstag shared his overriding principle first. "I told him the first thing you need is a single centralized authority. I also gave him a couple of practical tips for setting a kashrus system in place."
Ultimately, the fellow wrote his paper and sent Dayan Kurtstag a synopsis. "On the front page was a list of all my recommendations based on the South African experience."
We Know It's the Truth
With time, Rabbi Kurstag began to focus on gittin, marriage, and dinei Torah. From a part-time job, he became a full-time member, and then in 1989 was chosen to lead the beis din.
During his tenure, there have been a series of landmark rulings in which South African's civil courts have upheld the beis din verdicts, including a civil court order to uphold a beis din cherem against an individual. Perhaps the most significant of these is an amendment to South Africa's Divorce Act, which permits a spouse to petition a judge not to grand a civil divorce until a get is given. If a Jew comes to a hearing regarding a civil divorce, either side can demand that a get first be finalized in beis din.
The beis din is also noted for its highly regarded conversion program. Although Jews don't actively solicit converts and no beis din awards itself honors for the number of converts that pass through, Rabbi Kurtstag notes that at least 70 percent of the beis din's converts remain Torah-observant, which is a comparatively high figure. In fact, he says, there has been an inexplicable surge in the number of people seeking conversion, and they come from all sectors of South African society — Afrikaners, black Africans, and even Christian pastors.
"During the last couple of years, we had full families of Afrikaners converting," he says. "Most of these families lived in little shtetl-like settlements outside the big cities, and they displayed tremendous mesirus nefesh, leaving their homes and sources of income in order to join the Jewish community. One particular family comes to mind — they gave up so much to be Jewish, and if you'd see them, you'd think they come from Meah Shearim the way they dress. When these Afrikaners approached us to convert, we'd ask them, why are you doing this? Clearly, it wasn't for marriage — they were married already. We kept hearing that they'd become disillusioned with the church. 'We have question, but we don't get answers. Not only that, we're not allowed to ask,' they'd tell us. I had to warn them that while we encourage questions, sometimes in Judaism you won't get answers either. 'Yes,' they said, 'but we know that this is the truth.' "
Respect and Authority
Dayan Kurtstag is most proud of his beis din's central authority, which he believes is the envy of other communities who face infighting and competition between different agencies.
The traditional South African respect for rabbanim and cohesive communal structure plays a unique role in ensuring the power of the beis din. In Johannesburg, says Dayan Kurtstag, the threat of a cherem is a potent deterrent. "When we gave that threat of a cherem, some people ran to issue a get almost before we could publicize the cherem. All because the community is so homogeneous."
In one case, a man refused to give his wife a get unless she paid an enormous sum of money. He had already left her for a non-Jewish woman — clearly, he'd abandoned the embrace of the Jewish community. How would a cherem prove effective?
"It's hard to believe," says Rabbi Kurstag, "but this man faced such pressure from his own family and community once we issued the cherem that he simply couldn't hold up. After a year or two of isolation, he moved to England. I asked the beis din there to keep up the pressure, and eventually, he gave the get."
In one memorable case, Dayan Kurtstag was summoned to civil court after issuing a cherem for a man who refused to give his wife a get. "Three top lawyers took my case," he remembers, and all refused to take payment. "It is our duty as Jewish members of the community to defend the beis din," they told him, "and we will not take money for performing our duty."
The deep respect for rabbinic authority led to several instances where even non-Jews made appointments at the beis din for arbitration services. "We'd have a non-Jew bring a Jewish plaintiff to us," he remembers. "He'd explain, 'I heard that you guys are fair and there are quick results here without major legal expenses.' "
It was clear to them that these bearded scholars were reliable, knowledgeable, and fair, and deserved obedience and respect.
The Human Level
In Dayan Kurtstag's view, it's imperative that a dayan love his people. "He should want to help people, not just issue judgment. As a dayan, you can rule according to the letter of the law, or you can try to find a psharah."
He still remembers a woman who came to beis din complaining that her neighbor had extended his home in a way that detracted from her privacy, causing a hezek re'iyah. "I took along another dayan and we made a 'house call,' to see the situation with our own eyes. The other dayan said that the halachah was clearly on the woman's side, and the neighbor simply had to knock down the extension.
"You have to understand something," Dayan Kurtstag told him. "These people are going to be neighbors for many years. Your solution will cause endless resentment and bitterness and destroy their relationship forever. It's true that halachah might be on her side, but on a human level, we should find a way to make it work."
After the two dayanim talked it over with the neighbor, he offered to plant a row of trees that would restore the woman's privacy. Two months later, the neighbor was sitting shivah for his father and Dayan Kurtstag came to be menachem avel.
"Rabbi, do you know who was just here?" he asked. "Thanks to you, the woman next door came to be menachem me too. You saved the relationship."
"That's what a dayan can do," Dayan Kurtstag says. "You can use your knowledge of halachah, but you can also use understanding of human nature."
And this is never more important, he feels, than when mediating divorce cases. "In divorces, you have to think about the future of the children, not just the strict letter of the law. What kind of childhood will the children experience if there's an ongoing fight between their parents?"
Rabbi Kurstag bluntly says that in most divorce cases, lawyers only make issues worse. "When there's a divorce, the lawyer will often promise to get one side everything. I personally presided over many divorce mediations. And every time I met with a couple, my first condition was — no lawyers. Let's talk informally without lawyers and see if we can draw up an agreement. I find that this approach prevents a lot of fuel from being added to the fire."
So They'll Want to Come
After 50 years serving the South African community, Rabbi Kurtstag and his wife are now back in Eretz Yisrael where all their children and grandchildren live. But he's confident that he's left the beis din in quality hands. He's trained a cadre of younger dayanim and has served as their role model. Even today, he liaises regularly with the team he left behind and travels back occasionally as he guides the next generation of South Africa's dayanim.
From his new vantage point, he's able to observe an insightful contrast between the Israeli and South African batei din.
"In Israel, the Rabbanut-appointed dayanim have nothing to do with the people they serve," he says. "In one sense, that's good, because they're more independent. On the other hand, they don't necessarily have the feel of the community. I have friends who are dayanim in the Rabbanut in Israel. I tell them, you have the advantage of having the law on your side; if someone doesn't show up, you can use the force of the law to compel him to obey. In South Africa, though, we knew that if we didn't make the beis din an inviting place to be, these Jews might get a civil marriage instead. We had to make the beis din a place where people would want to come, like to come."
There are many secular Israelis who struggle in their relationship to the rabbinate, feeling that it's a form of religious authority that's been forced on them. In South Africa, however, there's a universal respect for the beis din.
"Part of it is cultural," Rabbi Kurtstag concedes, "but part of it is because we worked on it. I feel that the ideal dayan doesn't act like a legislator; he's more of a social worker. Obviously halachah must rule. But if you can implement the halachah through means other than sheer force, then you win the case."
You Could Be a Rav in America: The Unlikely Journey of Rav Yirmiyahu Aloy
Much like Dayan Kurtstag himself, Rav Yirmiyahu Aloy never dreamed he'd put down roots in South Africa. A descendent of the Baal HaTanya, he was born in a town near Minsk. His first job was as an errand boy at the bank, then he was promoted to bookkeeper, learning the profession on his own. At the age of 14, he traveled to Vilna to look for work, but he had nowhere to sleep. He had a friend learning in the Rameiles Yeshivah who made space for him, and the next morning, he learned in yeshivah for a bit and felt his spirit restored by the experience. One of the rebbeim approached and asked, "Why do you need to look for a job? Stay here and we'll provide you with money, food, and a place to sleep. What more do you need?" And so, he stayed in yeshivah.
"Rav Chaim Ozer, the nasi of the yeshivah, would lead a minyan in his home on Rosh Chodesh, and the bochurim from the yeshivah would attend," explains Rabbi Avishai Kurtstag, a son of Dayan Kurtstag who developed a close childhood relationship with his grandfather and later researched Rav Aloy's early years. "My grandfather served as the baal korei there. Rav Chaim Ozer told him that he should daven Shacharis from the amud, and then Hallel, and he also leined from the Torah. Then, Rav Chaim Ozer said to him, 'You did this all so well, daven Mussaf too.' Afterward, Rav Chaim Ozer put a hand on him and said, 'You could be a rav in America…' In time, my father-in-law said that that was the most important 'semichah' he had ever gotten — he was just a teenager then, and he subsequently received many prominent semichos after that, but this was a huge motivator for him."
The Kurtstag family still has the notebooks with Rav Aloy's notes on the shiurim of Rav Shabsi Yagel, Rav Boruch Ber Leibowitz, and Rav Leizer Yudel Finkel — precious mementos of a nearly forgotten era. The straight lines and letters are lined up like pearls.
In Slonim, Rav Yirmiyahu met Rav Yitzchok Kossovsky, a Lithuanian Torah genius and brother-in-law of Rav Chaim Ozer. Rav Kossovsky moved to South Africa in 1934, where he served as rabbi of the Union of Orthodox Synagogues of Johannesburg and the region until his passing in 1951. In time, he would be influential in bringing Rav Yirmiyahu to South Africa as well, helping register him as a meshulach for Yeshivas Toras Chesed in Brisk; he would therefore be permitted to travel to South Africa.
During Rav Aloy's first Rosh Hashanah in South Africa, he noticed the gabbai writing down the pledges for aliyos. In his letter to his father describing the scene, he wrote, "Dear Tatte, all these years you've said 'b'Rosh Hashanah yikaseivun' — but I've actually seen it in action!"
Thanks to his dedication and that of his children and fellow rabbanim, that ironic picture of a misguided observance has been reversed, and South Africa's Jewish community has blossomed and embraced its Torah heritage.
(Originally featured in Mishpacha, Issue 760)
Oops! We could not locate your form.
>