| Magazine Feature |
Gut Shabbos, Guatemala | October 5, 2021
A group of Guatemalans embraces Torah and chassidus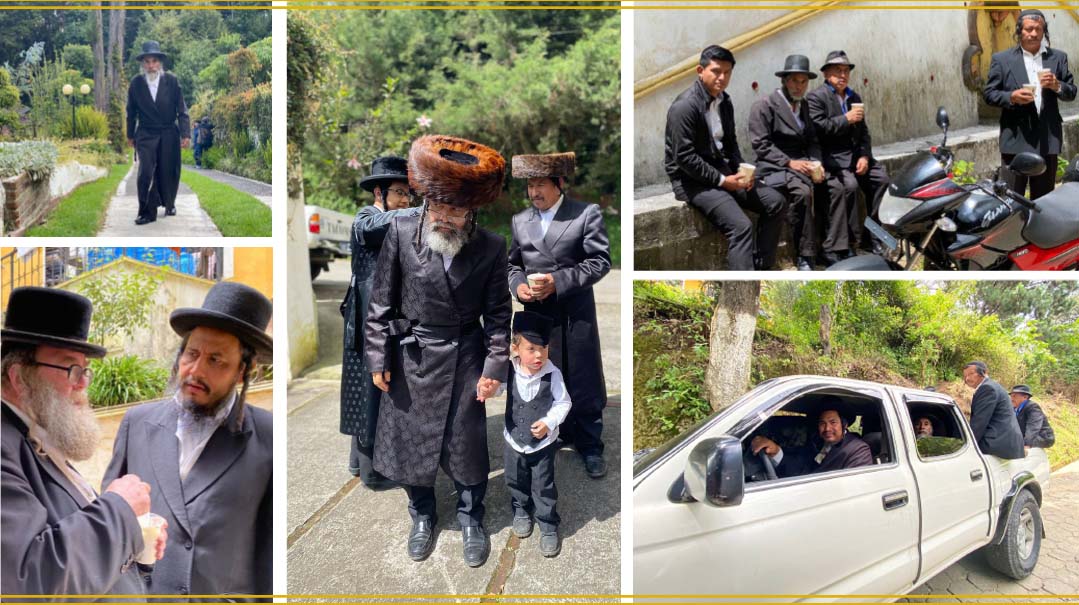 Photos: Ohr Chadash archives
A popular story coming out of Latin America these days is that the mysterious communities of geirim that have sprung up in recent years — from Peru to Colombia to Brazil to other Spanish-speaking countries — can somehow trace their roots back to the Anusim, the "hidden Jews" of the Spanish Inquisition and beyond, who are returning to their original identity. But in fact, for most of these new Jewishly affiliated communities and kehillos of converts or geirim-in-waiting, there's actually a different narrative.
It used to be hard not to be Catholic in South America, with over 90 percent of the continent's population adhering to that religion. But those numbers have declined in recent years, and the religious vacuum and a search for religious identity mean that many have become evangelical Christians who feel attached to the Old Testament and to Eretz Yisrael — yet within these groups, some members moved further, abandoned Christianity altogether, and ended up aligning themselves with Judaism in spite of the hardship and rejection.
And that was the big surprise of the Ohr Chadash community of geirim in the village of San Lucas Sacatepéquez on the outskirts of Guatemala City. Entering the shul of these former Christians, most of them descended from the Central American Maya people, at the end of a regular morning Shacharis, you'd think you were in a mainstream chassidish shtibel. The chazzan finishes Kaddish while the tzibbur answers Amen ("umain") in chassidic dialect, a young bochur wearing a long rekel and chassidic "Samet" hat kisses his tefillin, while a young avreich with long curled peyos prepares Gemaras for the shiur that's about to start.
But then you notice the jungle foliage visible from the open windows, the Sierra Madre mountain range, the exotic toucan birds and spider monkeys jumping from the treetops, and the elderly man with the white beard and curled peyos swaying next to his shtender and shteiging away in Yiddish laced with inflections of Spanish and the ancient regional Mayan language. Mayan natives with curled peyos speaking Yiddish, affiliated with Satmar chassidus? How did that happen?

Real Jews Here 
There is a festive atmosphere today in this small community of geirei tzedek in San Lucas, which currently numbers some 40 families. It's not every day that two members of the community marry according to Jewish law. Among the guests at the marriage of Yisrael Moshe ben Avraham Zilberstein (a name he chose) and Nechamah Rus are several Satmar dayanim from New York, who serve as the spiritual guides for the Guatemalan community, as well as a few donors and askanim who've been a support for the community's institutions and activities.
"This is a very significant day for us," Reb Avraham Baruch ("Burich") tells me as we converse in Yiddish sprinkled with a bit of Spanish on his side, English on mine. The celebration wasn't only a kosher wedding; given the visiting guests, they combined it with a hachnassas sefer Torah, a bris milah for several men in accordance with the conversion process, and the cornerstone laying for a new mikveh that will be built in the coming months.
Their day begins and ends with Torah learning.
"We have an excellent melamed, Reb Shaul Boyer. He teaches the children and also gives shiurim to adults," says Reb Avraham Burich. After Maariv we learn Kitzur Shulchan Aruch and Mishnah Berurah together. In the morning, after Shacharis, we learn Chumash and Rashi. We also learn mussar, Orchos Tzaddikim, and Shaarei Teshuvah."
Once a month, a Satmar shochet comes from America and slaughters enough chicken and meat to supply them for a number of weeks.
Reb Avraham Burich is the father of two young girls, Sura Malka, age nine, and Miriam Gittel, age three. Like the rest of the community members, he has a simple job. "Ich bin a miller, I grind wheat with a stone mill to make flour," he tells me. But what he doesn't say is that he's also a highly talented artist, a fact you discover when you enter his living room and see his gallery of paintings. "What can I do, a Yid darf a bissel parnassah, a Jew needs to earn a living."
True enough. But how did it happen, I wonder, that Guatemala, a country with a miniscule native Jewish community, became home to a vibrant kehillah of converts who, for some reason, adopted all the trappings and customs of Satmar chassidus? The answer is actually intertwined within another interlocking and heartbreaking story, that of the extremist Lev Tahor group.
Lev Tahor made international headlines in November 2013 when the group evaded a Quebec court order related to claims of child abuse and hurriedly transplanted their community to Chatham, Ontario. A Quebec youth-court judge had ordered 14 children belonging to three families to be placed temporarily in foster care, undergo medical exams, and receive psychological support. Quebec's Youth Protection cited grave concerns that included underage marriages — some girls as young as 12 married men 20 years older or more, children being removed from their parents' home and placed in other homes as a form of punishment, and emotional abuse. When an Ontario court upheld the Quebec ruling, the children and their parents escaped to Guatemala via Mexico and Trinidad and Tobago.
The exclusively Yiddish-speaking sect, which practices a kind of extreme, non-normative chassidic Judaism and claims to represent a true, pure, and uncorrupted form of Yiddishkeit, is known for its hours-long devotional prayers, study of Lev Tahor founder Rabbi Shlomo Helbrans's own writings, forced underage marriages, violent punishments for communal infractions, and absolute obedience to the authority of the community's leaders. Since Rabbi Helbrans's sudden death by drowning in the summer of 2017 when he immersed in a river in Mexico on an Erev Shabbos, his son Nachman assumed the mantle of leadership as the group's rebbe, instituting even more stringent takanos and communal strictures. He was eventually arrested in a cross-border operation including the American FBI, together with the group's other leaders, and is facing kidnapping charges for abducting minors whose mother — his own sister — fled Lev Tahor's clutches.
Before Shlomo Helbrans's death, however, the Lev Tahor leader developed an additional following: spiritual seekers from the local Guatemalan population who were on their own journey to Judaism and who couldn't believe their good fortune when a group of black-clad chassidim landed in their midst.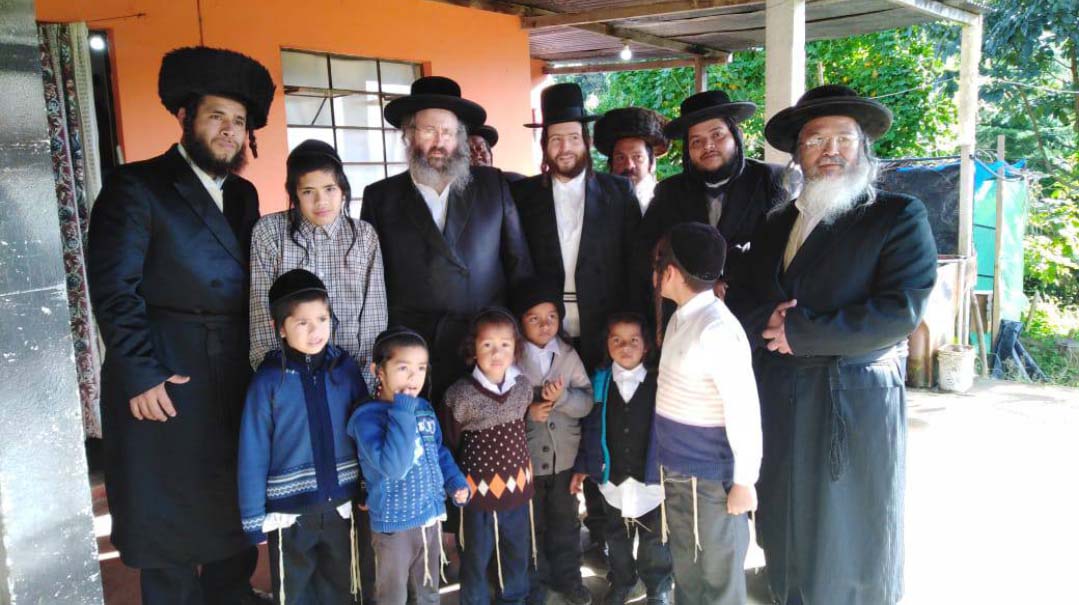 For Us, a Windfall
With a population of 1eleven million scattered over a breathtaking mountainous region, Guatemala is considered the last holdout of the Mayan people, with remnants of Mayan culture scattered everywhere — from the stone ruins of ancient cities covered by the forest thicket to mysterious pyramids with intricate stone carvings that rise up between the summits of the volcanoes, where the Mayan tribes used to bring human sacrifices to their gods. It's therefore remarkable that in this very foreign land, there are a number of natives who decided to grope through the darkness to find the true light.
The Ohr Chadash community is not the only group of converts in Latin America. Jewish researchers in South and Central America estimate that there are at least 60 communities with between 10 and 15,000 members in various stage of conversion, from Mexico, Guatemala, Honduras, and Nicaragua to Costa Rica, El Salvador, Venezuela, Brazil, Chile, and Bolivia. In Colombia alone there are some 30 convert communities that have cropped up around the country, although most of them are not halachically Jewish.
"We were actually drawn to Yiddishkeit long before Lev Tahor arrived," Reb Avraham Burich relates. He was born in El Salvador and was part of a mainstream Christian community. Ever a spiritual seeker, at one point he decided to switch to a church where they integrated Jewish customs. Later, he discovered a few like-minded friends who decided that this church, too, was not enough for them: If they wanted Judaism, they'd take it to the end.
And Reb Avraham Burich was ready to pay a heavy price for it. He sold his family car to pay for a private doctor to do the circumcision. "At the time," he says, "I thought that was enough to become a full Jew."
Then he and his friends found out about a group of Jews who had somehow landed nearby, in the town of San Juan La Laguna, and saw this as a sign from Heaven. "After all," he says, "what were the chances that serious Jews who observed all the mitzvos should suddenly turn up in our remote country? We decided that they would be our spiritual guides."
Shlomo Helbrans and the heads of Lev Tahor welcomed them with open arms. Perhaps they viewed the converts as a means to expand their ranks, or as a way to garner support and legitimacy from the Guatemalan locals. Perhaps Rabbi Helbrans was flattered by the fact that these people accepted his way as the truth, while he'd been essentially vilified by the Jewish Orthodox establishment in America and Israel.
Either way, the converts from Guatemala quickly became an integral part of Lev Tahor. Helbrans converted them and taught them how to keep mitzvos.
The influence of Lev Tahor explains the chassidic character with which the community in Guatemala was molded: They learned Yiddish and learned to daven with a chassidic inflection.
The paradise, however, wasn't to be. With more and more potential converts accepted into the group — 70 in all — the indigenous local Christian population found Lev Tahor's manner of dress and general behavior irritating and forced the group out of San Juan. On the move again, Lev Tahor rented accommodations in a dilapidated, abandoned commercial building in Guatemala City that once housed the country's immigration directorate, and where they lived six people to a room. The building didn't have toilets, electricity, or proper sleeping facilities. There was no safe place for children to play outside or enough money available for food, even though quite a bit of funds had been coming in from abroad. The community subsisted on the few fruits and vegetables that Rabbi Helbrans allowed them to eat, plus some bread they baked with their own stone-ground flour. Kosher milk was available from a local farmer, but the cost was prohibitive.
The geirim rented them better housing and gave them food. But soon some of them began to reexamine their loyalty to Rabbi Helbrans's ever-increasing stringencies until they were given an ultimatum: Either they comply with all the takanos, or they leave. Most of the families refused to comply and left the compound at Rabbi Helbrans's insistence, but not before he separated some boys from their parents. Furious, one of the parents fought back by going to court — but they were shocked when their 15-year-old son spat in their faces, called them resha'im, and told the court he didn't want to live with them. The authorities placed the boy in foster care; he later returned to Lev Tahor and married a young girl. The incensed parents reported Lev Tahor to the police, who raided its facilities in September 2016 and made sure the group was no longer welcome in Guatemala City. With funds from abroad, Lev Tahor purchased a several-hundred-acre remote farm in the village of El Amatillo, in Oratorio, Santa Rosa.
After leaving Lev Tahor, the group of geirim reconverted under the auspices of Rabbi Pinchas Rabinowitz of Monsey and dedicated themselves to living a life of Torah. While they rejected the extreme practices of the group, they retained their commitment to halachah and to a chassidic lifestyle. Some of the geirim, including Yojeved and Moshe Avrum Santos, rented a large house that would be used as a safe house for those escaping Lev Tahor.
Yojeved and Moshe Avrum, who spoke with Mishpacha in 2018 during the time that Shlomo Helbrans's own daughter was trying to escape with her children, remembered how they embraced Lev Tahor wholeheartedly.
"Lev Tahor didn't reach out to us. We reached out to them," Yojeved said at the time. "We saw them as good people. For us, their way of life was Yiddishkeit. We rented them houses by the lake. We offered them food and hospitality. Why not? They were Jews in need. Rabbi Helbrans gave us a Jewish neshamah — he loved the geirim."
For two years, she, her husband, and their two children had called Lev Tahor home, until their ignominious dismissal by Rabbi Helbrans in 2016. At the time it seemed like their dreams were shattered, but her perspective soon changed.
"We are straight people," Yojeved said. "We didn't like how they controlled people. They couldn't control us."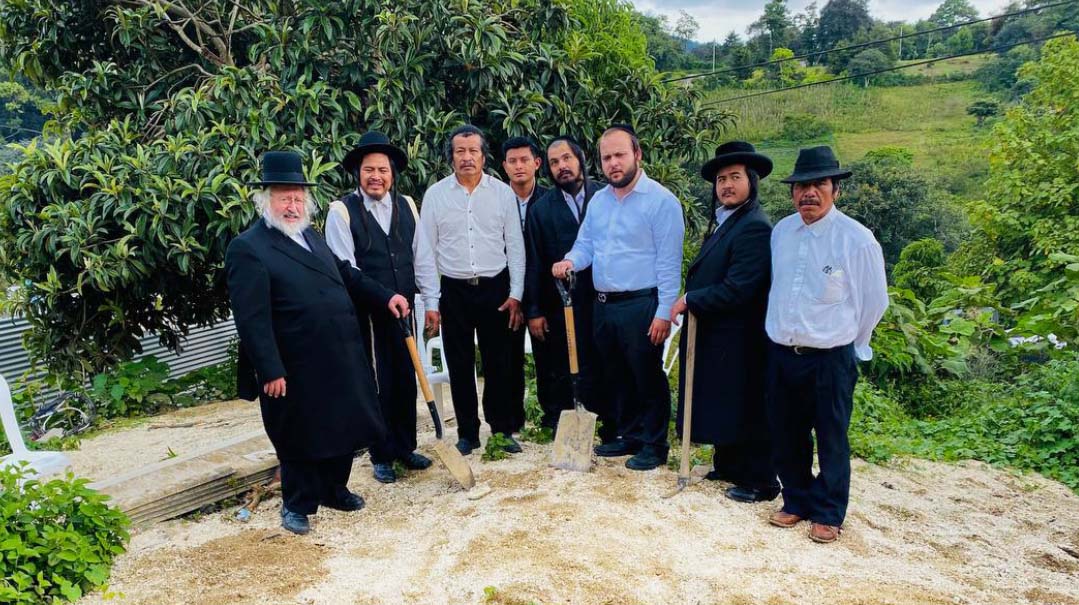 A Question of Life
One of the Ohr Chadash kehillah's main patrons today is a Brooklyn-based businessman and community activist named Reb Yanky Flitchkin. His discovery of the kehillah also has its roots in the murky underbelly of Lev Tahor. He originally had dealings with the sect when they were still in Quebec, and he also has business connections in Latin America and contacts with the various governments and their justice systems. He was first introduced to the kehillah when he was called upon to intervene on a Lev Tahor-related rescue mission.
It started with a desperate phone call in 2018 from Sara Feige Teller, daughter of Shlomo Helbrans and sister of Nachman, his inheritor. She had protested the new strictures her brother instituted after their father's death, and she also protested the forced marriage of her 12-year-old daughter to the 19-year-old son of Mayer Rosner, one of the group's most influential voices.
But her status as the original rebbe's daughter, current rebbe's sister, and rosh yeshivah's wife, couldn't help her. One of the sect's tenets is to report to the "mashgichim" about the sins of one's own spouse or children. Under such a cloud, not only was there no one to listen to Teller's warnings, she was also marked as a rebel and needed to be severely punished.
She was put into cherem and demoted to the position of cleaning lady in the home of her mechutanim; worried for the safety of her children, who could receive lashings or worse for her sins, she took two young daughters and fled to the safe house of the geirim in Guatemala City. But she was determined to go back and collect her other children too — her now 13-year-old married daughter and two bochurim.
And that's when Yanky Flitchkin's phone rang in Brooklyn, with a caller ID from Central America. It was Sara Feige Teller on the line, begging him to help her. She told him that her brother Natan said he was the right address, and it was true. Reb Yanky had actually been a one-time supporter of Shlomo Helbrans, but he did an about-face after Helbrans's own son Natan defected while still in Canada and when he was called on to help another bochur, who was thrown out of the compound in Guatemala for refusing to marry a 12-year-old girl, to get safely back to New York. Would he be able to help her extricate Mrs. Teller's remaining three children?
Before he got involved, he decided to consult with rabbanim.
"I knew that it was a very complex disengagement, and I wanted to be sure I was doing the right thing," he tells me from his home in Brooklyn. "This sect has a long and convoluted history, and I'd had dealings with them in the past, on both sides of the fence. So I wanted to be cautious and responsible."
The rabbanim with whom Flitchkin consulted advised him to do whatever he could to extricate the minors, as it was literally pikuach nefesh — given the new draconian measures that even hinted at suicide in the face of forced evacuation (the group applied for asylum with Iran's Revolutionary Guard). Reb Yanky activated his legal and political connections, flew to Guatemala, got as close to the compound in Santa Rosa as he could, and attempted to communicate with Nachman Helbrans.
"The conditions I discovered there were horrific by any measure," Flitchkin relates. "Families were living in tin huts and plastic tents under the pounding sun, without even minimal sanitary conditions. There was hardly any electricity — although Nachman Helbrans had an air conditioner going in his hut — and the sparse list of foods that his father allowed his followers to eat was stripped down even further. A girl was severely punished with lashes after she was caught eating an egg.
"I knew they were crazy, but I didn't know just how crazy," he admits. "In retrospect, if I would have known how violent and dangerous they could be, I might have had second thoughts. The miracle is that I didn't know quite what I was getting into."
Finally, with police backup along with reinforcements from the Jewish convert community, Avraham Burich included, Mrs. Teller entered the Lev Tahor compound in the middle of the night and, while knives were brandished and bullets were flying (Avraham Burich's leg was grazed), she whisked away her daughter and one son. The other called her a rasha and refused to go.
Mrs. Teller managed to escape to the US with her children, arriving in New York in November 2018. But a month later, Lev Tahor men kidnapped the girl and her brother in the middle of a Friday night and brought them back to Mexico. The minors were returned to New York several weeks later by law enforcement, but the group tried to kidnap them again on two further occasions. This past summer, in an operation coordinated with the Guatemala police, dozens of FBI agents raided the compound and arrested two of its leaders who were directly involved in the kidnapping operation.
"The group still exists," Flitchkin says. "But it's much more scaled down, after its senior members were incarcerated and sources of support in America and England have dried up."
Simple Living
Getting involved with Lev Tahor in Guatemala wasn't exactly Yanky Flitchkin's choice, but along the way, he discovered the Ohr Chadash kehillah in San Lucas, which he says made it all worthwhile. Once the geirim were on their own, though, who would worry about their spiritual welfare?
Apparently the Guatemalan converts have been adopted by Satmar chassidus. Their leadership and guidance is directed by the beis din of Satmar dayan Rav Ezriel Meir Cohen, and the rav of the kehillah for day-to-day matters is Rav Ezra Moshe Kayero, a Spanish-speaking Satmar chassid born in Argentina, who now lives in Williamsburg.
"Each year, we receive requests from all kinds of outlying communities seeking help," says Yaakov Hammer, a director of the Mikveh Olami organization that builds mikvaos in remote locations around the globe. "When we received the request from the converts in Guatemala City, we first wanted to make sure that it was a serious, halachically sound group, and that there was someone who could and would take responsibility to ensure that the mikveh was managed properly. When we realized that this was a sincere, authentic community that had the backing of serious rabbanim, we decided to get involved to help them."
According to Reb Avraham Shaya Waldman, a Satmar philanthropist in New York who funded the foundation for the mikveh, one of the most remarkable things about these Jews is their simplicity. "Guatemala is, after all, a third world country, and the geirim there live in the same simple conditions as the rest of the population. Most of them live in simple huts, under conditions that we would consider substandard. In some areas, there is no electricity, and wherever there is, they can never rely on regular supply."
But they have a shul and will soon have their own kosher mikveh. One of the community members has been appointed to learn all the relevant halachos in order to determine the answers to any questions that may arise.
It's no surprise that the wedding of Reb Yisrael Moshe ben Avraham and his kallah, Nechamah Rus, was such a moving and joyous event for the entire community. Many who had played a role in the long, tumultuous and challenging journey of this kehillah, from their early days seeking out Hashem, through their period with Lev Tahor, and on to the independent community they are today, now gathered near the banks of Lake Atitlán to celebrate the establishment of a new Jewish home.
It's a young kehillah — as of now, the oldest child in the community is only 14. What is the chinuch track that is expected for him going forward? Reb Avraham Burich does not have a ready answer — perhaps they will open the first yeshivah ketanah in Guatemala's history. "Ad heinah azarunu Rachamecha," he smiles. "Der Eibishter veht helfen veiter (Hashem will help further)."
If their idol-worshipping Mayan ancestors could see them now, they'd surely be happy that their progeny has banished the impurities of times past. Outside, a purple dusk settles over the dark waters of the lake, concealing the ruins of the early Mayans, who would call out to the gods of the night. Now, from the beis medrash of Ohr Chadash, comes the cry of Yidden all over at this time of day: "A tzenter! A tzenter!"
(Originally featured in Mishpacha, Issue 880)
Oops! We could not locate your form.
>