| On Site |
Got Wheels | August 30, 2022
Just like all trends that make their way to the Holy Land, skoolies have hit the roads of Israel as well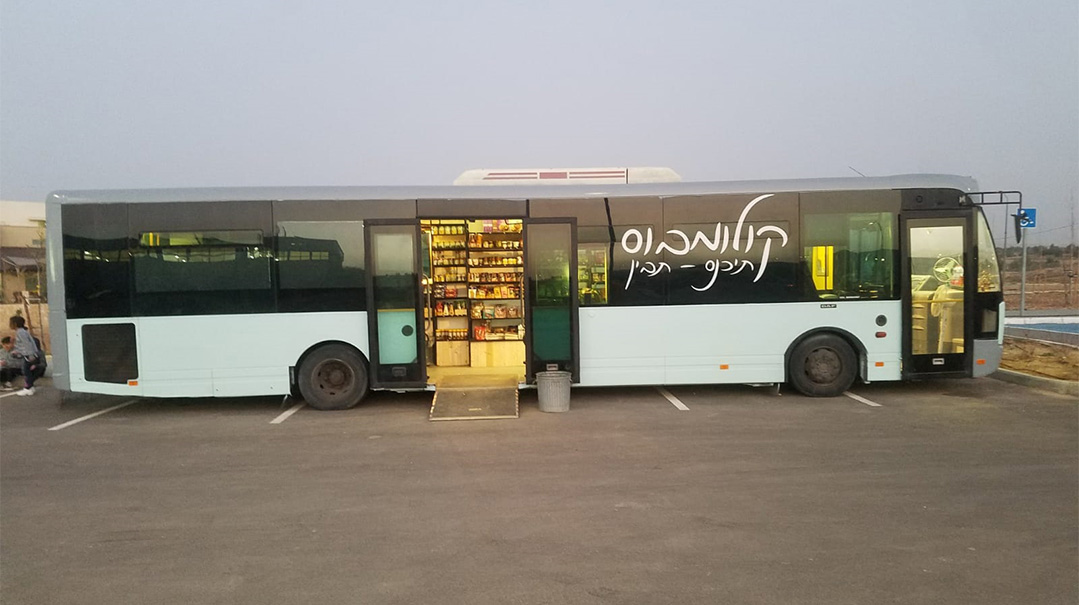 With real estate skyrocketing and permanent housing out of reach for so many, some people have decided to opt for life on the road. Can you really take an old bus and make it into a home? Meet the people who decided to think out of the box and move their lives into one
You can spot these vehicles in cities all over the US today, and they're not just for antisocial misfits or free spirited nonconformists.
They're called "skoolies," school buses converted into a living space for singles, couples, and even families with children — those who can't afford to buy a home, don't want to pay rent, or just want the freedom of being constantly mobile.
And just like all trends that make their way to the Holy Land, skoolies have hit the roads of Israel as well.
With skyrocketing housing prices that make even buying something small or renting on the periphery impossible for many, some citizens have packed up their few belongings and moved into protest tents — while others have taken to the streets in another way.
From the outside, they look like old buses. But inside, the seats have been removed and replaced with walls, cabinets, home furnishings and appliances. The roof has been fitted with solar panels to provide electricity, and there's even a composting chemical toilet and fresh water tank for cooking and a very quick water-conserving shower.
People assume that for skoolie dwellers, there's no hefty mortgage, you're always on vacation mode, you can park anywhere, and the entire town is your backyard. On the other hand, it's thought to be extremely claustrophobic and a considerable initial financial outlay.
None of these assumptions (except regarding the mortgage) is totally accurate, though. You don't have to be rich to do a bus conversion. After the initial outlay of the bus purchase, the conversion can run anywhere between $10,000 and $30,000, depending on the fanciness and amenities. Still, full-time bus life is anything but a vacation. For example, you have to figure out where you're allowed to park, where to find water and propane, and where to dump your waste water. But the biggest misconception is that people who live in buses are just plain weird, that they can't handle responsibility or manage the "real world."
So, who are the people carving out their lives in these refurbished buses, and what led them to forgo their permanent homes in favor of one on wheels?
Living The Dream
Ran Ben-Shushan, Haifa
Ran Ben-Shushan, a locksmith living in the Haifa area, says his customers are surprised each time they ask where he lives and he replies, "I'm not sure. Yesterday I lived in Haifa; last week it was Rosh Pinah and I don't know where I'll be living tomorrow."
A few years back, Ron and his wife decided to leave their home and move onto a bus.
"It was a basic equation," he says. "We were priced out of the housing market. Although some people think living on the periphery is cheap, it's not true. If you want a reasonable apartment in a good area you need to pay. And buying an apartment is a dream that really is out of reach for a lot of people. That includes me, even though I'm already 50."
But Ben-Shushan fulfilled a different dream. "A few years ago, I purchased a private bus and brought it to a factory where they turned it into a dream home: They put in beds, a living room, a lighting system, sinks, a stove, a bathroom with a composting toilet, everything that we need to live comfortably."
At that time, Ben-Shushan and his wife used the bus primarily for trips and vacation. "My wife and I love nature, but with the hectic pace of life, we don't have much time to travel. We hoped that with the bus, we'd travel a bit more, and that actually was what happened. But then, rental rates rose drastically, as did the cost of living, and we made a decision to move out of our apartment and into the bus."
Ben-Shushan emphasizes that in essence, their day-to-day life hasn't changed. "I go to work every day, and so does my wife. We come home in the afternoon, we cook, we sleep, everything is normal. We often host our grown children. They love to come, and if they're all together and there isn't room in the bus, then we take a folding table and chairs out of the baggage hold and sit in an open area. It's really wonderful — show me another person who has an endless-sized garden right next to his house."
He says that his housing costs today are comprised of gasoline expenses, maintenance and insurance premiums. All these are in addition to the initial expense of purchasing the bus, for which he paid NIS 350,000 (a little over $100,000). Solar energy panels maintain the appliances; once a week he fills the water tank (showers are a quick affair of soaping up and rinsing off, in order to conserve water), and he never pays for parking.
"With a few exceptions, I only park in free places," he says. "I always find parking, and if I don't, then I create my own parking space — as long as there's no sign warning of no parking for more than four and a half tons."
The Ben-Shushans take their bus to the beaches, parks, and all kinds of interesting routes. "We mostly stay in the northern region, where we also work, but we're not afraid of trips. We don't have to worry about the hassle of making a roundtrip back home — we always only go one way, because our house is with us."
Ben-Shushan says they're welcomed wherever they go. "People are always telling us, 'That's my dream.' Yet at the end of the day, there aren't too many who get to realize the dream. Although the trend has become a bit more popular lately, we're still an unusual sight."
Does Ben-Shushan see himself living in a bus ten years from now? "Why not? Maybe I'll upgrade to a bigger vehicle and continue to live like this once I retire. You don't give up on a dream."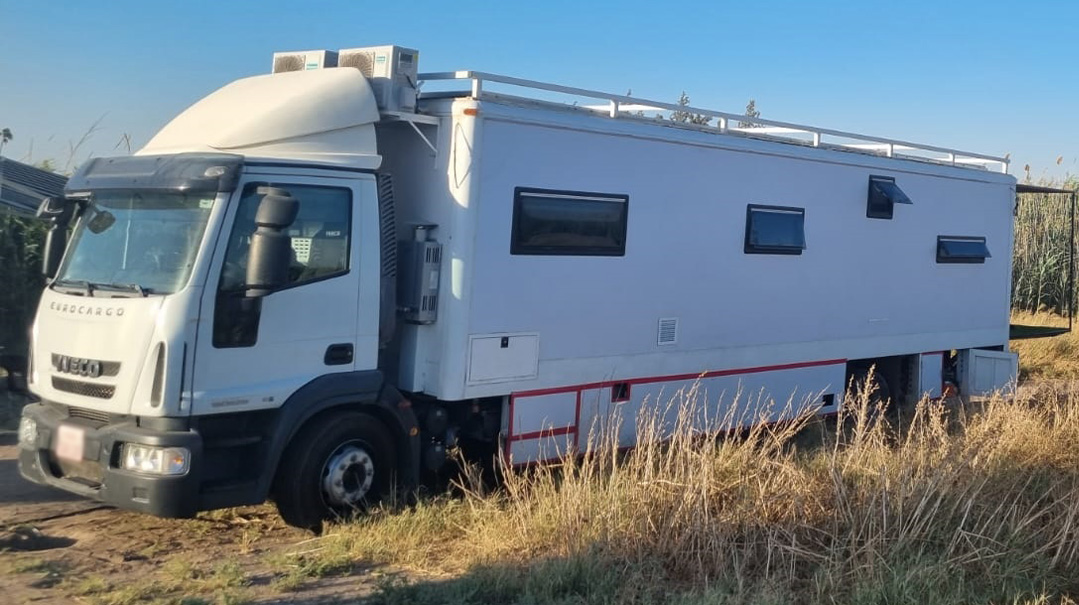 My Own Landlord
Sachar Zohar, Shomron
Sachar Zohar, a young man from one of the Shomron communities, decided to purchase a mac truck and convert it into a house. "I'm studying and I have no money to pay rent," he says. "My truck is my house. People might think it's strange, but for me, it's reality."
Sachar's father is in the business of building prefab homes and caravans, and when Sachar realized he wouldn't be able to make the rent in the area near his university, he decided to buy a truck instead and asked his father to help him refurbish it.
"I took out a loan and applied for a trucker's license, but I see it as a long-term investment. I can live here for years."
He says what he likes most is that he's his own landlord, and that he can always change the scenery. But mostly, he likes the fact that he's saving money.
Sachar notes that he doesn't move around a lot with his truck; he mostly parks it for long stretches at a time in organized lots that cost him just NIS 20 a night. "In Jerusalem, for example, there's such a lot I sometimes stay in near City Hall and another one close to Bayit Vegan. How many people can live in Bayit Vegan for NIS 600 a month?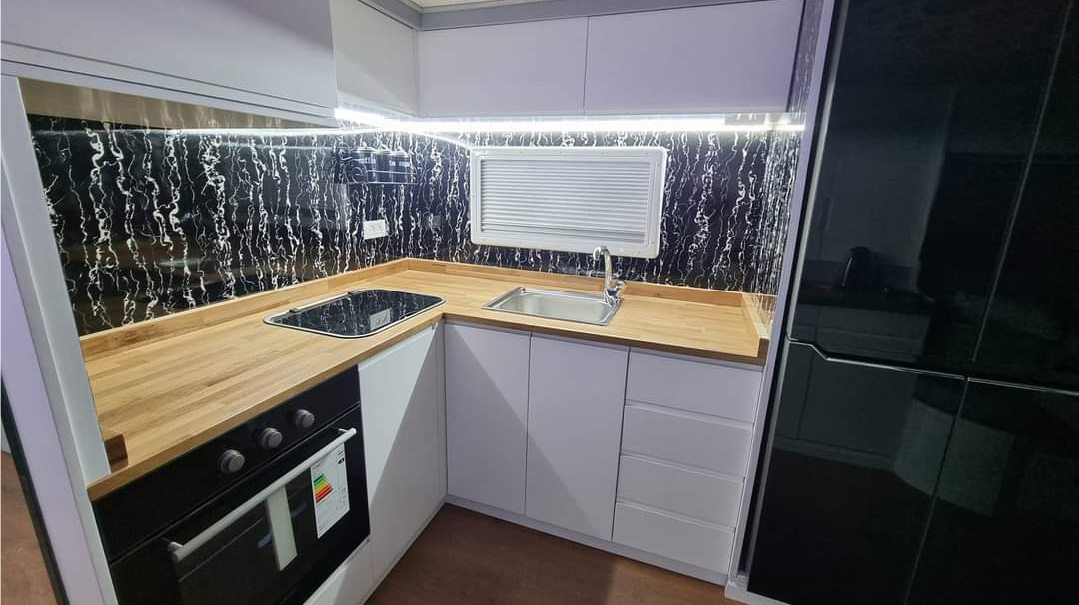 "And if you want a more pastoral setting, there are the forests right outside Jerusalem. You can park the truck there and then get around by public transportation. If you want to be in the Tel Aviv area, you can park in the Tel Aviv Fairgrounds."
The truck is adapted exactly to Sachar's specifications. "There's room for four passengers while driving. I could have made room for eight, but I didn't think that was necessary. Living space was more important. On the left there's a small kitchen, on the right a living room, two air conditioners and a fridge, a bedroom, and a bathroom with a shower. I built this all with my father over three months."
There's also a special Shabbos feature: "The water pumps can't be used on Shabbos, but my father came up with a bypass water system where the water flows without pumps."
The biggest drawback is that he has to be extremely organized. "Everything is built very precisely and there's not an inch of spare room. But maybe some would see that as an advantage."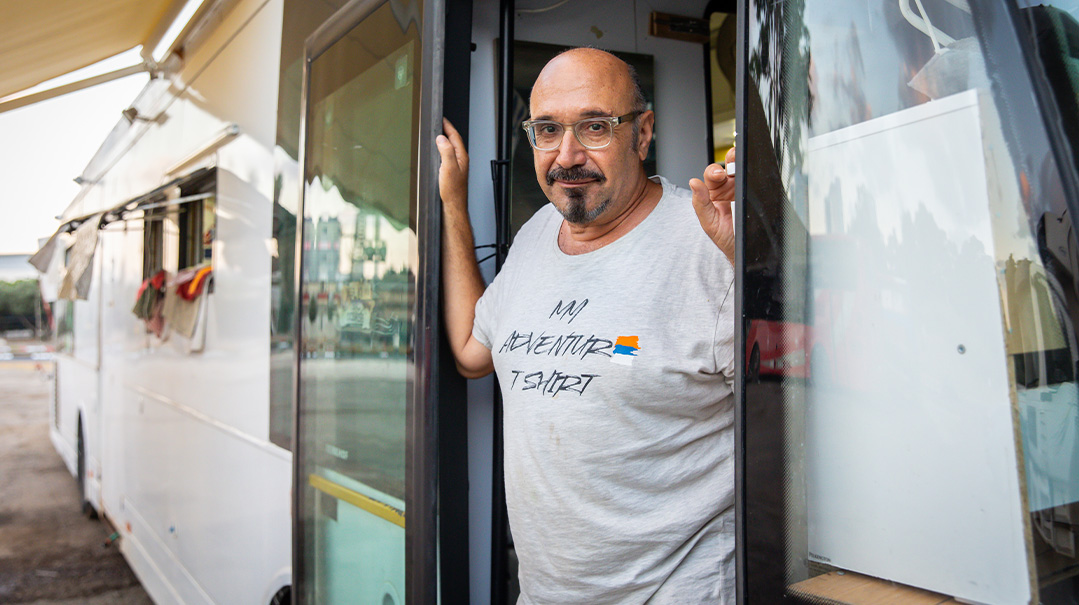 Wherever The Sun Shines
Rami Gabaso, Petach Tikvah
Rami Gabaso is a senior manager in a company that provides air-conditioning for office buildings and he owns an apartment in Petach Tikvah's Kfar Ganim neighborhood, but that didn't stop him from joining the trend on wheels. "When I turned 60, I purchased a 'cargo bus for residential use,' as the Transportation Ministry classifies it. I use it a lot, and even during Covid, I continued to travel. No one could complain because I didn't violate the guidelines — I didn't leave my house…
"My house today is a massive 13-meter bus. I made sure to invest in a good bus that will hopefully last for years. It's fitted out with a washing machine, stovetop, oven, two air conditioners, kitchen cabinets, clothes closets, sink, bathroom, and everything I need. The water tank has a 1200-liter capacity, which is always enough."
The solar panels on the roof are connected to huge batteries that are fitted under the bus. "They accumulate power all day, and this way I can use electricity during the day and the night," he explains. "And I use air-conditioning all day long without paying a penny."
In the past two years, Gabaso has travelled all over the country in his bus. He says it's all wonderful and amazing, except for one challenge: parking.
"I once parked somewhere around Tel Aviv, in a place that allows parking for trucks over four tons, but then the inspector came and said: 'You don't have a permit to park here.' I told him that I pay the Department of Licensing for living in my bus and that I have special insurance. He left, but then another inspector came and demanded that I move the vehicle. Again, I explained patiently: 'I don't see any sign forbidding parking for caravans. Go bring a sign and come back.' By law, I'm allowed to park wherever I want for up to 30 days, as long as there is no sign saying it's forbidden, and then I can move the bus one meter and park it for another 30 days. The main thing is that I shouldn't be in a fixed place for more than a month.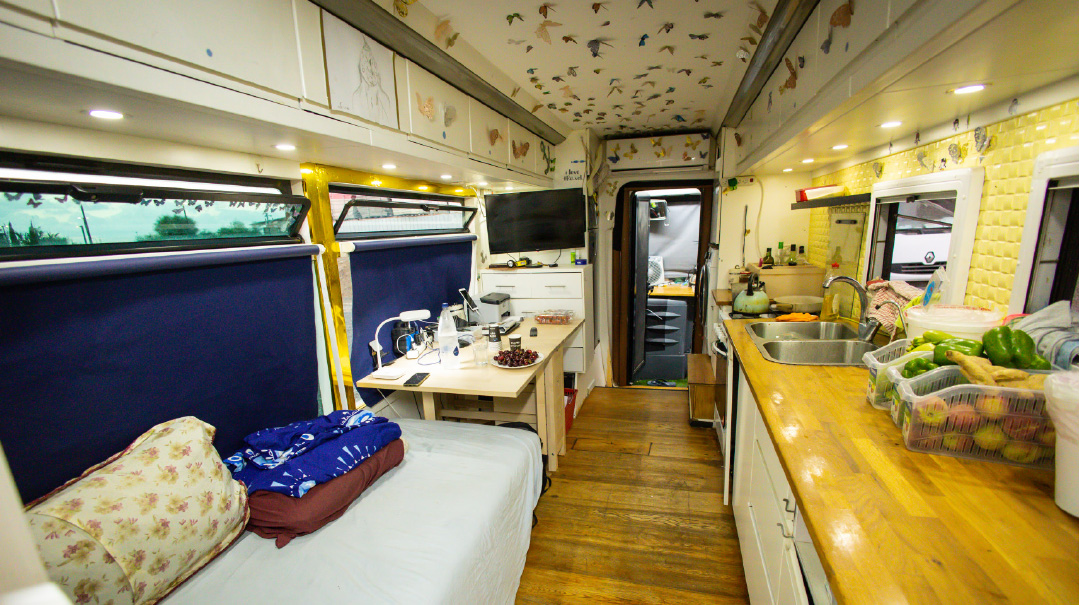 "But that's not how the inspectors saw it. After I was parked there for about a week, the inspectors came again and put boulders at the entrance to the parking lot and claimed, 'We didn't get a permit to put up signs, so we're closing the place.' I was stunned. There's such a big parking crisis and they're closing the parking lot because they have a problem with me parking there? Where do they want me to park? On the moon?"
Today Gabaso mostly works remotely, which is a boon for his new lifestyle. "I can work wherever I am and at any time. In the winter I go down south, where it's warm, and in the summer, I drive up to the green, flowering north. Since I have this bus, life has become very colorful and varied. Of course, I still have my house, so I can really go back any time."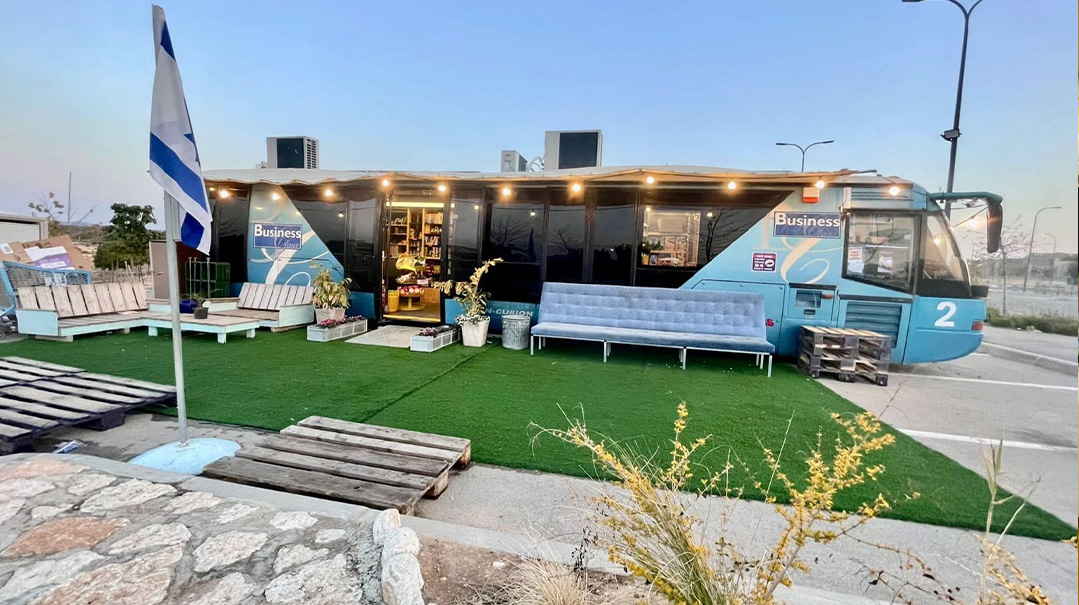 Special Delivery
The Dekel-Chen Family, Southern Israel
Sagi and Avital Dekel-Chen live in a permanent home, but their workplace is in a bus. That's because they opened the first mobile supermarket in Israel.
"My husband likes buses. He bought his first bus when he was just 18, dismantled the seats and turned it into a cabin," says Avital. "About four years after we married, we moved to Kibbutz Nir-Oz, in the area not far from Gaza. We had a baby then, I was looking for an interesting place to work, and at the same time, my husband really wanted to buy another bus. So we had an idea to combine the two plans. Sagi would buy a bus, convert it into a mobile grocery store, and I'd run the business."
Avital admits that neither had any experience in this field. "I have a degree in psychology and Sagi is a project director for a philanthropic organization. But as we developed the idea, we discovered that there was a need, because the south has many communities that have been existing for years without a permanent grocery store."
The dream was easier on paper than on the road, though. "We purchased a city bus — a local bus that used to have a route in Ashdod. But we needed to get a special permit to be able to drive this bus on intercity roads, and the Transportation Ministry demanded that we prove that the bus would be able to handle these drives. So we went all the way back to the manufacturer in Holland, who issued us the relevant paperwork. At the same time, because it was a bus that would be carrying foodstuffs for sale, we also needed a Health Ministry permit. But the offices didn't know how to deal with us because they had never received such a request."
Finally, the permits were in order, and the first town that hosted them was Givot Bar, near the Bedouin city of Rahat.
"There are 280 young families living there without a grocery," Avital Dekel-Chen says. "Later, we added other towns, and our traveling minimarket went all over the Negev region. We made sure to offer a variety of products, and tried to bring mehadrin kashrus as well. It meant always thinking about the needs of each person."
The sleepy south has become a volatile area where people live with the background sound of air-raid sirens. Early last summer, there were 11 days of fighting during Operation Guardian of the Walls, and after a two-hour run, the Dekel-Chens made sure to park their bus near the preschool, where there is a shelter.
The military operation ended, the region quieted down, and then the accident happened: "One day, after we'd parked the bus, people called us screaming 'Fire!' Apparently, there was an electric short, and the bus went up in flames along with everything inside it. It was a miracle that we weren't on the bus, but still, we were left with nothing. Sagi didn't give up though, and half a year later, we launched our bus businesses from the start.
"But this time we invested in a bus that was used for airport pickup. It's big and nice and much more expensive. It was very exciting to return to the towns with our new supermarket bus, and to see that the residents were waiting for us."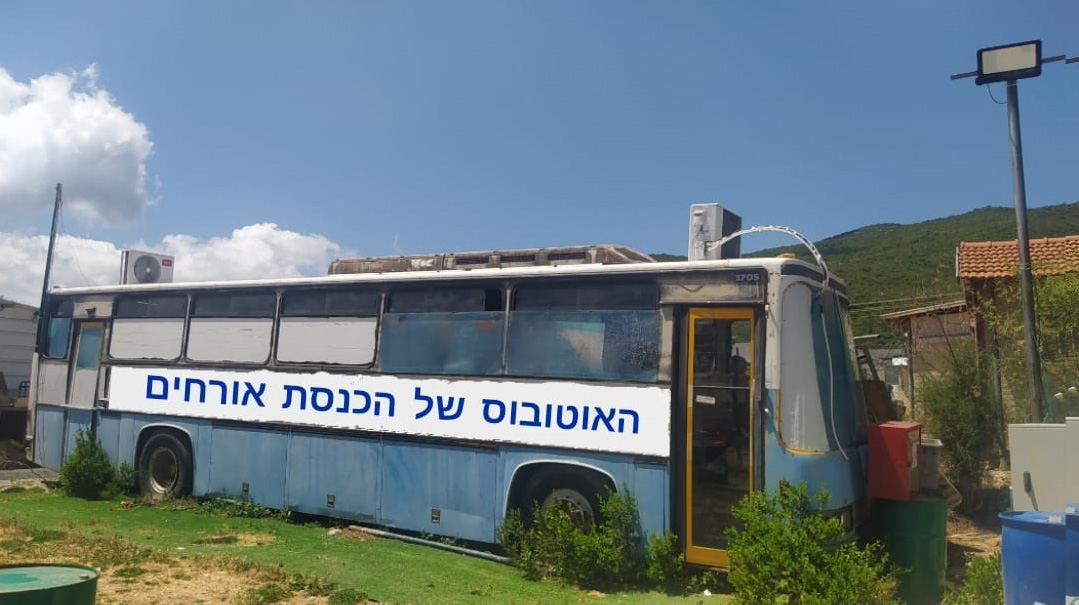 Hospitality Without Borders
The Bolton Family, Meron
Reb Yosef Chaim Bolton and his wife Bracha are well known in Moshav Meron. And so are their six children, two of whom have cerebral palsy. But these challenges have never prevented them from hosting dozens of people every Shabbos — and often during the week as well, where their dining room table is a veritable distribution center of cakes and drinks. In the Boltons' industrial kitchen, they prepare dozens of portions for a regular Shabbos; for Yamim Tovim like Rosh Hashanah and Lag B'Omer, this is multiplied many times over.
"We felt bad that we didn't have more room for our guests, because our house does have limits," Mrs. Bolton explains. "Then, one day, we saw a bus that had been repurposed for living. It had been in Meron for a while but its usage hadn't worked out. My husband asked the owner for permission to park the bus in our yard, and it's been here ever since — that was five years ago. We installed air conditioners and put in ten beds with linen. We use it each Shabbos, and sometimes during the week as well, to host the many guests that come to us. This is in addition to those who are staying in the house, of course. Outside the bus, in the yard, we also have showers and restrooms, and we even opened a small petting corner to keep children entertained."
Bracha says that since the bus was installed, the guests have only multiplied. "For example, people hiking the Shvil Yisrael [the Trans-Israel Trail) might stop here for Shabbos. People also come because they're trying to get to Tzfas or another town in the area and get 'stuck' on the way. We always host lone soldiers. We've also hosted families making an upsherin in Meron and didn't manage to get home before Shabbos."
Sometime after they bought the bus, the Boltons decided to add a large shipping container, with additional beds and air conditioning. "It's really pretty simple accommodations, but there are still times when there's no room for more guests. I wish we could provide even more places."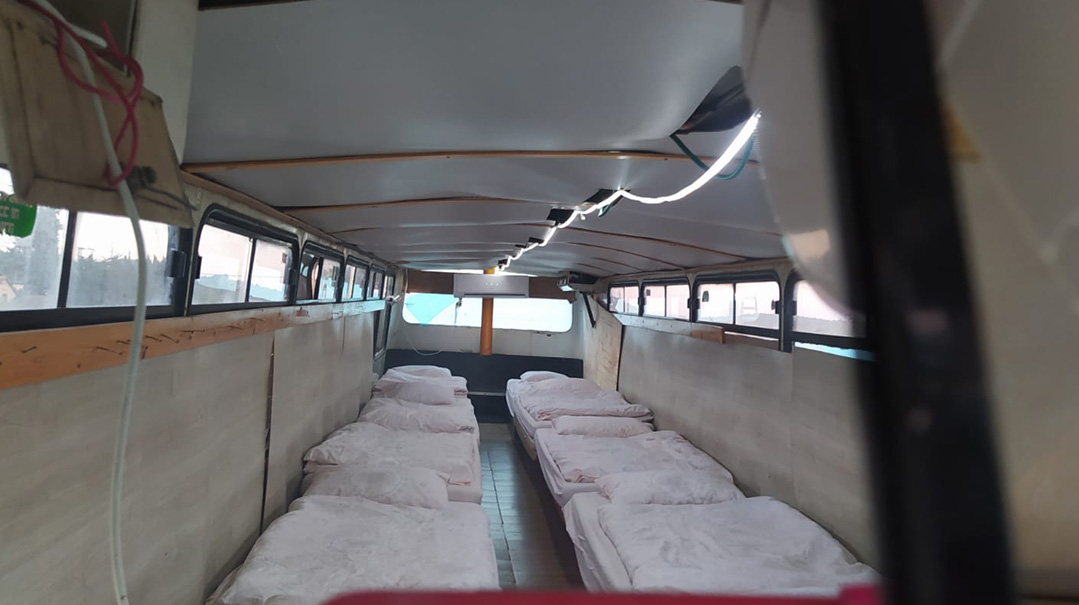 (Originally featured in Mishpacha, Issue 926)
Oops! We could not locate your form.
>