| Standing Ovation |
Give a Lot of Tzedakah | November 22, 2022
Veteran producer Dovid Nachman Golding hosts a walk down musical memory lane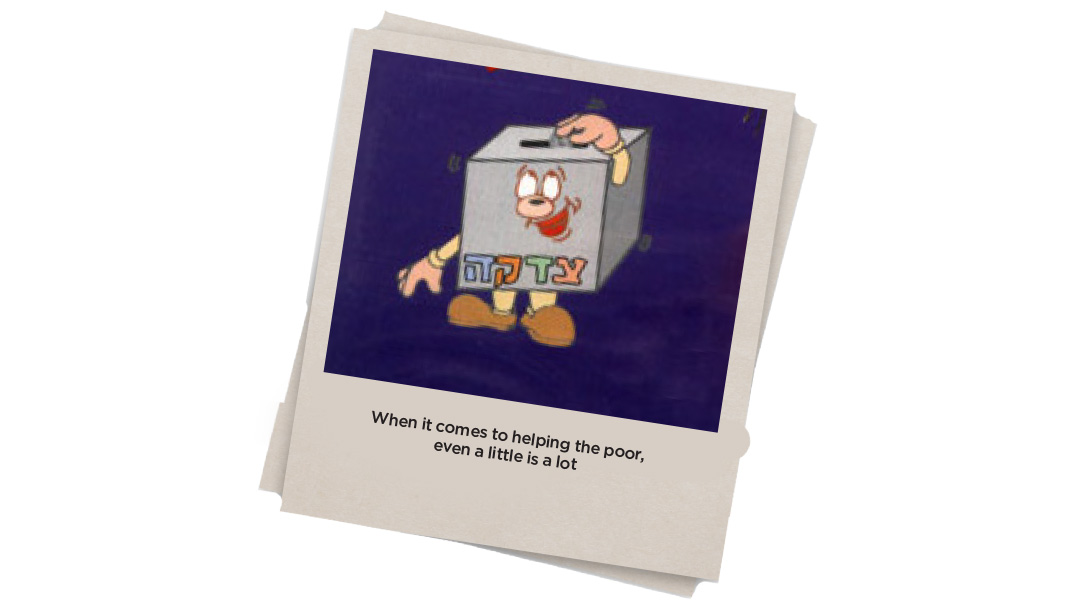 Without thinking too much, each of us can rattle off the top of our heads at least a few dozen (or maybe hundred) songs that speak about Mashiach, an equal amount about Shabbos, and probably double that number of songs about Torah. But how many songs come to mind when we talk about tzedakah?
I can think of two classics from way back. One is "Ish Chassid," which was composed by Ali Scharf when he was a teenager and released on the 1975 JEP II album in combination with English lyrics.
The zemer that we sing on Motzaei Shabbos tells the story of a great talmid chacham who is penniless, with no clothes or food for his children, although his wife tried for years to support the family. So the Torah scholar goes out to look for a job and meets a man who offers him 800,000 golden coins if he'll build him a palace. It's a job that would normally take decades, and after the first day on the job, the talmid chacham sits down and cries, realizing how many years he won't be able to learn Torah because of this tremendous job. Just then, Eliyahu Hanavi appears to him and calls in an army of angels to build the palace. By the next morning, the palace is miraculously built, and he goes home as a wealthy man, able to continue his Torah learning in comfort. I don't know where that palace is today, but I'm sure it would make a great tourist attraction…
The JEP song is an adaptation of the beloved zemer, with English words written back then by Rabbi Mordechai Finkelman and sung by Rabbi Berel Leiner and Rivie Schwebel — one of Rivie's very first solos. The song begins with a knock on the door ("One night a man knocked on my door, at a glance I could see he was poor…"), followed by lyrics whose message I still remember 45 years later when I give tzedakah: "The money will last for a while, but I'll always remember your smile." As important as the money is, equally important is the smile with which it's given.
The other classic tzedakah song is one we all grew up with, Uncle Moishy's "Give a Little Tzedakah," written by Zale Newman on the first Uncle Moishy album and probably played over a million times, much to the chagrin of grownups everywhere.
But the story that I will never forget took place at one of our first Uncle Moishy concerts in Chicago. It was an evening performance (we usually did kid-friendly afternoon shows), and we decided to add a cute segment to that show where we'd call children up to the stage and let them ask a question. A perky seven-year-old boy got up in front of 1,500 people and asked, "Why should we give a little tzedakah? Shouldn't we try to give a lot of tzedakah?"
I was utterly speechless for a moment. Zale, however, took the mic, praised the boy for his clever question and replied, "The Gemara states that if one does not have enough money to help the poor person out of his troubles, he nevertheless has the same obligation to fulfill the mitzvah of tzedakah. Even a little is a lot."
For years, people have been curious: Was the sound effect of the tzedakah box shaking a real pushke or just a bunch of coins? Actually, Suki had come to the studio that day carrying at least five tzedakah boxes. I remember asking him why he needed so many. He explained to me that each box, depending on how full it is, will sound different, and he was hoping to get the most realistic sound out of them. Which box was the winner? It was the blue Chinuch Atzmai box that every yeshivah would give out.
Now, I'm sure if Zale were writing the song today, those lyrics would need updating. "If you're walking along the street and find / A penny or a nickel, or luckily, a dime…" are cute, but just won't fly anymore. Given over four decades of inflation, how much does "a chocolate bar or gum" cost these days?
(Originally featured in Mishpacha, Issue 937)
Oops! We could not locate your form.
>