| Standing Ovation |
From Where I Sit | January 6, 2021
Ten years ago, during HASC 24, four percussionists opened the show, playing the now-famous HASC theme with nothing more than drumsticks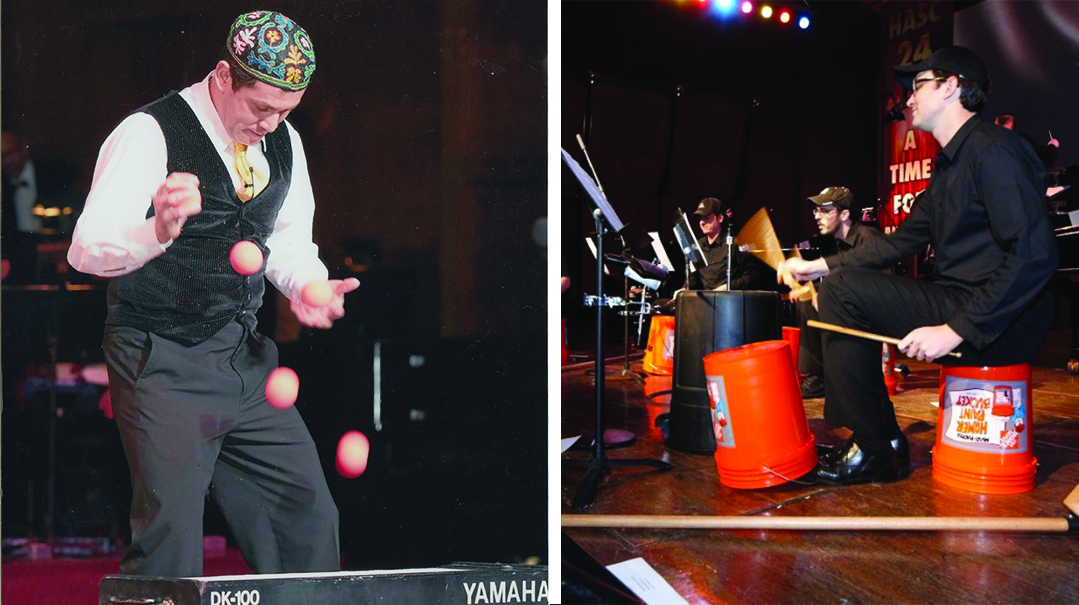 The month of January always gets me into HASC mode, even though this year, due to COVID concerns, "A Time for Music 34" (that's 34 years of these amazing concerts) will be pushed off to February 14 — but will still feature some very exciting firsts in Jewish music (although, in accordance with the well-known concert mystique of keeping the lineup a secret until the curtain rises, I can't tell you too much else).
Instead of looking toward the uncertain future though, I prefer to look back to those blasts from the past, when we had a dream to go big and reinvent the whole concert formula — it's still hard to believe we'd actually managed to sell out Lincoln Center at $500 a ticket that very first year. And from where I sit, it's so much more than just the singers, great as they are.
For me, a truly memorable moment was Yaron Gershovsky playing Abie Rotenberg's "Hamalach Hagoel" at the HASC 5 concert nearly 30 years ago. It was a popular tune (still is) that every kid would go to sleep with (and probably still do). Yisroel Lamm and Yaron worked on the piece for over two weeks. Yisroel arranged the concerto in classical mode, and Yaron added his personal touches to the piece. Yisroel has told me many times that when the song ended to the deafening applause, he felt that there was actually a malach there, guiding them through it — the music was extremely complicated, and even the orchestra musicians were doubtful that he would pull it off.
Then there was Daniel Ahaviel, the British-born master violinist from Israel, who ran around the stage playing his violin. He began playing with his back to the audience and then faced them, picking up the rhythm and astonishing them by playing like the master violinist he truly is, while dancing around the stage like a wound-up spring.
Ten years ago, during HASC 24, four percussionists opened the show, playing the now-famous HASC theme with nothing more than drumsticks, empty buckets from Home Depot and a few whistles. Until then, no one had any idea what to expect when the music started — all they saw were guys sitting on the stage near bright orange buckets.
Yisrael Lamm wrote the famous overture for the very first concert, but right before HASC 6, he told me that Yaron would be conducting it that year instead. "What will you be doing?" I asked him. He told me that during the four-minute overture, he would be painting the HASC logo, with paintbrushes and a canvas, on center stage. And that's exactly what he did. Other than the fact that paint got onto the Lincoln Center floor, it came out perfect. (FYI, before Yisroel went into music, he was actually a graphic artist.)
One moment I'll never forget, from Year 10, 1997: Someone had sent me a clip of a juggler named Wally Eastwood, who was able to juggle eight balls simultaneously, against a keyboard, to various popular tunes. I contacted him and asked him if I gave him a song, would he be able to do his act using that tune? One month later, at HASC 10, he was proudly playing the HASC theme song while juggling eight balls against his electric keyboard.
Over the years, there were many famous people who made their way onto the HASC stage. When Mayor Rudy Giuliani appeared onstage a couple of months after 9/11, the applause was the loudest ever received at any Jewish event — a seven-minute standing ovation! One year, Israeli prime minister Ehud Olmert appeared, but the most fun was during HASC 19, when I arranged for a George Bush lookalike to come on stage. It took the audience a good 30 seconds to realize he wasn't actually the president, but it provided a good laugh, especially with our fake Secret Service agents standing by.
There have also been a variety of costumes that graced the stage: Dedi dressed as a marine, and also as Pavarotti; MBD as Napoleon; and Lipa, who changed into five different costumes in a span of five minutes. Same goes for Avraham Fried, dressed as the old man in the Great Adventures ad, Mr. Six.
After 34 years, not everyone remembers the highlights. If you do, you probably like to reminisce as much as I do; and if you don't, no matter — just catch the next concert. They'll surely be around for a long time to come.
Oops! We could not locate your form.
>