| Standing Ovation |
For Old Times' Sake | March 29, 2022
As soon as the summer was over, the three of them recorded Simchatone Volume One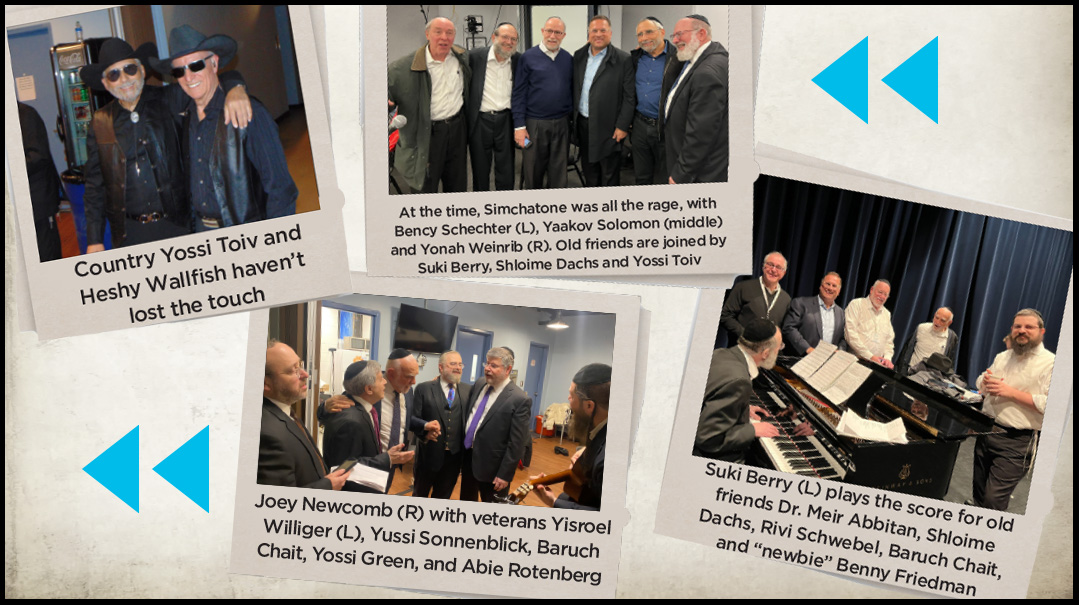 When I arrived at the Tilles Center out on Long Island last month for the first Jewish Music Hall of Fame concert sponsored by the Makor Care and Services network, I realized that, while there would soon be an amazing show taking place in the auditorium, the real treat was backstage, where a major reunion of Jewish music was happening.
It was like watching a slideshow of my own career over the last four-plus decades. The concert, produced by Shea Mendlowitz and arranged by Yisroel Lamm brought together both new talent and industry old-timers, and when the backstage reunion began, everyone was hugging, taking pictures, and reminiscing about the past — and so was I. In one corner, there was a kumzitz going on with Rabbi Baruch Chait, Yossi Green, and Abie Rotenberg. Accompanying them were Yussi Sonnenblick (Pirchei's first star soloist back in the 1960s, famous for his iconic "Eilecha" solo and more), Yisrael Wulliger, Rivi Schwebel, and Dr. Meir Abbitan (of Amudai Shaish back in the early '80s).
"You know, singing together with Burry [Baruch Chait] and Abie was one of the greatest moments I can remember," Yossi Green told me later. He said that his passion for Jewish music began first by listening to Cantor Dovid Werdyger, and then to Ohr Chodosh and Simchatone.
The first Ohr Chodosh album, for those who might be too young to remember, was released in 1971 by Yossi Toiv and Rav Shmuel Brazil when they were still bochurim — and those classic Shmuel Brazil compositions such as "Eileh Barechev," "Bilvavi," and "Shmelke's Niggun" still endure. Simchatone, on the other hand, sort of dissolved into obscurity, although back in the day it was a sensation. One night at Camp Torah Vodaath in the early '70s, three counselors — Yaakov Solomon, Yonah Weinrib, and Bency Schachter — were playing guitar when Yonah said, "Guys, I want you to know, I have enough songs to make an entire record." As soon as the summer was over, the three of them recorded Simchatone Volume One. Even if you don't remember the songs on the album, you might recall the cover. It featured a movie theater marquis that said, "The Sensational Simchatone: Fifth Record Breaking Month." Yaakov told me that they found the movie marquis on New Utrecht Avenue in Boro Park and paid the guy $50.00 to get up on a ladder and install the lettering so they could take a picture.
One big backstage treat was running into my good friend Dovid Nulman. Not too many people know that Dovid, aside from his talent as a popular long-time music instructor skilled at an assortment of instruments, was also a part of the Rabbis' Sons, Ohr Chodosh, and the Pirchei albums. It was a real treat listening to him and Baruch Chait playing some of the Rabbis' Sons classics. Later that evening, Rabbi Chait — composer of "Mi Ha'Ish," "Rabos Machshavos," "Kol Ha'olam Kulo," and hundreds of other songs (in addition to his prolific writing and chinuch career) was inducted into the Hall of Fame, a well-deserved honor.
It was also fun to bump into two great partners in Jewish music — Yossi Toiv and Heshy Walfish. This partnership, 50 years strong, began with Ohr Chodosh, moved on to Country Yossi, Kivi and Tuki, and still holds up today. Seeing both Heshy and Yossi dressed in cowboy outfits was an indicator that they had indeed not lost their great sense of humor or spot-on talent, despite the years. I reminded Heshy and Yossi of the first time I saw them in the lobby of the Pioneer Hotel when I was a kid, and how important it is to treasure their long-lasting partnership. "We don't take it for granted," they said, which made me think of my own cherished long-term partnership with Suki Berry, who created some stunning arrangements for the concert.
Of course, it couldn't have been a nostalgia event without Mordechai Ben David (also entered into the Hall of Fame), who was walking around the same way he did when he was in his twenties. He's not considered "the King" for nothing, and his youthful exuberance and humble demeanor made everyone — old-timers and newbies — feel included. I remember the first time I'd ever recorded in a studio with MBD. It was in Sound Ideas Studios in NYC, and we began with the song "V'chol Maaminim." He sang through the song without stopping, and I, still a young teen, pushed the button and said, "Okay, great! Next song!" Everyone in the studio started giggling, until someone explained that this was just his warm up, and it gets much better. I just want everyone to know that I still believe it was just as excellent as the final take.
What was especially moving was the backstage camaraderie between all the old-timers and the "newcomers" such as Benny Friedman, Joey Newcomb, Uri Davidi, Baruch Levine, Shloimy Dachs and Eli Marcus — the main back-up performers keeping the music of the veterans pumping. Which just goes to show that although there was a lot of grayer hair, whiter beards, and even a few canes, the talent backstage is still making the same kiddush Hashem it always did.
(Originally featured in Mishpacha, Issue 905)
Oops! We could not locate your form.
>