| The Beat |
Five Slightly Lesser-Known Facts About Israel's New President | June 8, 2021
In an attempt to move beyond the clichéd, some things you may not know about Israel's 11th president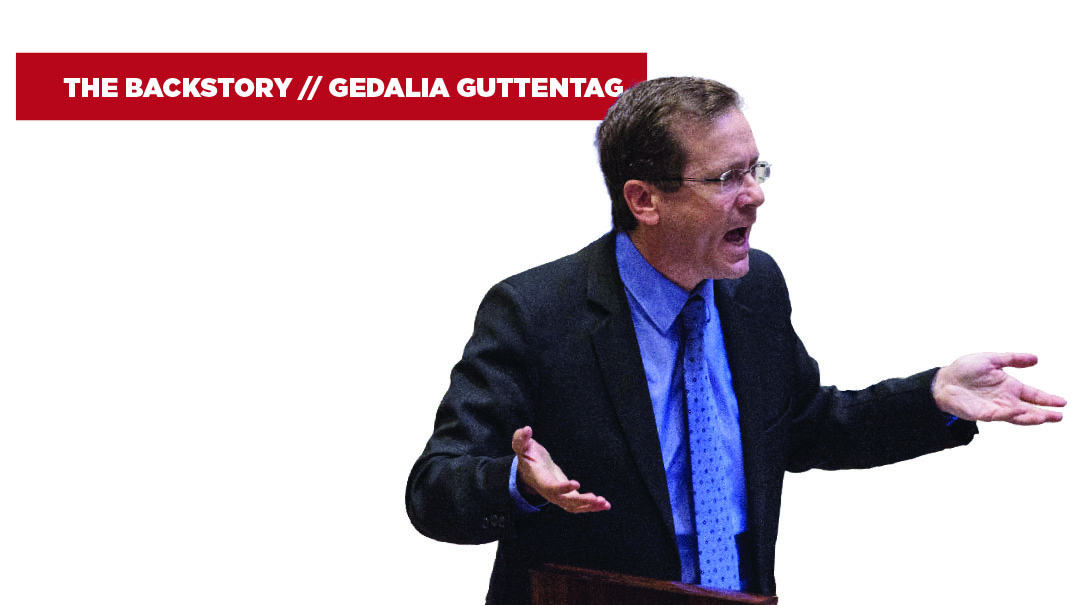 The Backstory // Gedalia Guttentag
Electing an Israeli political princeling like soon-to-be President Yitzchak Hertzog is all well and good, but makes for boring copy. Everyone knows, for example, that "Bougie's" grandfather was Israel's first Ashkenazi chief rabbi, Rav Yitzchak Eizik Herzog, and that father Chaim was a general and then president. So in an attempt to move beyond the clichéd, here are some lesser-known facts about Israel's 11th president:
1. It's a fair bet that when next meeting with rabbinic delegations, as the president does, the Herzog yichus will come up. But if my conversation last year with the president-elect is anything to go by, Bougie will deftly move the conversation beyond his grandfather to his great-grandfather.
"Have you heard of Rav Shmuel Yitzchak Hillman?" he asked me.
A talmid of Volozhin, Rav Hillman received semichah from the Aderes and the Ridvaz, among others. He then went on to become a rabbi in Glasgow, Scotland, dayan in London, father-in-law of Rav Herzog, and founder of a high-achieving Israeli family.
2. While the Herzogs went in many different directions, Yitzchak's uncle Dr. Yaakov Herzog probably gets the prize for dancing at all the chasunahs. A broad figure in his father's mold, he was both a proficient diplomat and talmid chacham. During a stint as ambassador to Canada, he successfully debated British historian Arnold Toynbee who had famously dismissed the Jewish People as a "fossil." Back in Israel as head of the prime minister's office, he was appointed the next chief rabbi of Britain and its Commonwealth, but then backed out due to ill health.
3. Whatever yichus his father bestowed on him, it was Herzog's Egyptian-born mother Aura who gave him the moniker "Bougie." Reportedly overwhelmed by her darling baby's good looks, she called him a doll ("Bougie" is apparently related to "bubah"). For those who wonder why the Knesset sometimes looks like a glorified kindergarten, the infantile nicknames surely don't help: Last week Prime Minister Bibi welcomed President-Elect Bougie while thanking outgoing President Ruvi.
4. Semantics apart, in Yitzchak Herzog's case, the numbers do the talking. Despite being a leading figure on Israel's left, he won the presidential race with 87 of 120 votes, meaning that significant help from the right put him over the top. This, despite the fact that the other candidate, Miriam Peretz, is identified with the Israeli right. What's the secret to Bougie's appeal? Low-key, diplomatic, with a warm Jewish heart, he's a figure that both right and left can live with.
5. And there's more: As an anonymous chareidi politician was quoted as saying of Herzog, with heavy hints in Naftali Bennett's direction, "We've had enough of right-wing figures bending over backward to appease left-wing elites. We'd rather have a left-winger who knows how to work with us."
The Question
Q: Which petition to the Irish government should matter to frum Jews everywhere?
The one brought by the Alliance Defending Freedom (ADF UK), a religious-rights group, calling for a commitment that Dublin never again ban religious worship.
Background: In National Review, the ADF's Lois McLatchie accused the government of what was until recently one of the most Catholic societies on earth of "religious illiteracy" for imposing draconian penalties on worship even when many other aspects of life were deemed essential.
Takeaway: COVID has exposed that Western societies' break with their religious pasts has gone so far that freedom of religion has to be strongly anchored in law, not left to the mercies of post-religious elites.
Boom Time for Air Travel
As the air travel industry struggles to gain altitude like an overstuffed jumbo after sitting out the pandemic on the ground, one American aeronautics company is flying high.
Denver-based Boom Supersonic announced a deal last week to supply United Airlines with up to 50 passenger jets capable of supersonic flight, to enter service before the end of the decade.
The top speed of Mach 1.7 would make Boom's "Overture" liners faster than the F-35, America's latest warplane, and cut New York-London flight times in half to 3.5 hours.
With its sleek profile, long nose and body, plus swept wings, the Overture mock-up looks very much like its supersonic predecessor, the Concorde, which retired in 2003. So is Boom just proposing a retread of the Anglo-French Cold War icon?
Far from it. Even though the Concorde was a technological marvel, it was cramped and notably warm, a result of the heat its speed generated. At least to judge by the manufacturer's specifications, Overture will be a spacious — and presumably cool — experience, thanks to quantum leaps in advanced material technology.
But is this science or fiction? Will the Colorado company open new horizons for air travel, or is this another false dawn of the supersonic era? If they succeed in reducing flight times, a travel boom may well be on the way.
$3.05
That's the current price for a gallon of gasoline in the United States. A year ago, when people were barely leaving their homes due to the pandemic, the price stood at $2.
Not many remember this, but the demand for oil was so low that at one point the price of the black gold actually turned negative, trading at -$40 per barrel. This week, a barrel of oil was priced at $70.
The surge in oil prices means a rise in commodity prices, which in turn translates into higher consumer prices. It could also translate into a surge in fuel expenses for families that use a car (or two cars) to drive to work, and could lead to President Biden taking flak, as Americans don't enjoy paying over $2 per gallon, and definitely not over $3.
—Omri Nahmias
(Originally featured in Mishpacha, Issue 864)
Oops! We could not locate your form.
>