| True Account |
Filed Away
| February 10, 2021
"Thank You, Hashem," I whispered, "for choosing me from so many thousands here": An adopted child makes the journey of discovery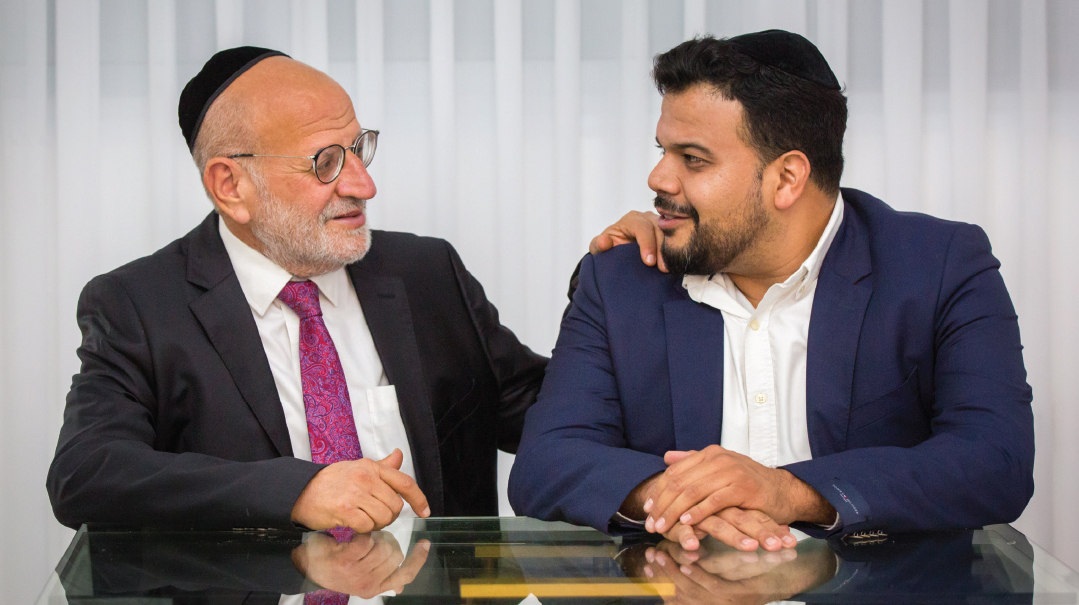 As told to Shmuel Friedman
He was born in a poor Brazilian town and left in the local orphanage. At the same time, Reb Shaul Tzemach and his wife, a frum couple from Ashdod, Israel, decided to adopt a child and bring him up in their Torah home. And so, as Hashgachah brought their lives together from two ends of the world, little Andiano Fernandez soon became Yossi Tzemach. Three decades later, Yossi decided to complete the puzzle. What would he find on his search in a rundown Brazilian alleyway?
SHAUL TZEMACH
When my wife and I realized that b'derech hateva we wouldn't be able to have biological children, we considered all the options and finally decided, on the advice of our rav, to travel to Brazil. This was 1987, and when people hear that, they immediately think of the horror stories of baby trafficking that plagued the country in the 1980s and '90s, but our agreement was supervised and legal on all fronts — and saved us several long years had we decided to wait in line and try for adoption in Israel.
It's important to note that, in relation to adoption procedures, Brazil is divided between north and south. In the south, at least back then — although they say it's been cleaned up — it was common for babies to be abducted and sold to the highest bidder, or even for mothers to sell their infants on the streets. The agency we worked with was in the north, and the process was organized, legal, and humane. That's not to say that we weren't afraid to travel to Brazil. We didn't speak a word of Portuguese, and had no idea how we would manage or how we would deal with all the government offices. But our rav in Ashdod has a brother in Brazil, and he agreed to take us through the process. He introduced us to a Jewish doctor there who helped us work with the authorities and even took us to the orphanage.
It was pretty common then for an indigent mother to leave her newborn in an orphanage. Brazil has many poor neighborhoods, and some of these families prefer to leave their children in the orphanages, hoping it will give them a chance for a better future.
When we arrived at the orphanage, a nurse told us to wait, and then she came out, wheeling a large carriage that was divided into five compartments — with five babies inside. But for some reason, these babies put us off — we didn't connect to any of them, and asked the nurse if there were any more babies available.
"There's a long line," she told us abruptly. "Either take a baby from this carriage, or leave. I have no time."
At that moment, a doctor emerged from the nursery, and I went over to him and put a wad of cash in his hand. The doctor looked at the nurse, and instructed her in Portuguese to bring out another carriage. As we peered inside, we both spontaneously pointed to the last baby in the carriage, a four-month-old infant. We felt an instant connection, as if we were somehow redeeming the soul of this child. The baby looked back at us, with what seemed like pleading eyes.
The adoption process required us to stay in Brazil for a month, and after a week with our new son, we decided it would be better if our new child had a sister to grow up with. The agency, for their part, agreed to give us another baby. The entire process went smoothly until we hit a snag at the end, when the agency refused give us back the passports they'd taken as security. Apparently, two Israeli couples who'd preceded us had given back the babies they'd taken, after discovering that the infants had major medical issues.
Between a helpful Chabad shaliach and our rav's brother, we were finally given back our documents and allowed to leave with our precious cargo — an instant, beautiful family. The first thing we did upon arrival was to make a bris for Yossi, with Rav Meir Bransdorfer ztz"l, with whom I'd had previous connections, serving as mohel. Rav Bransdorfer was always there for Yossi, from his early childhood until his teens, and Yossi was literally a ben bayis in his home.
We didn't want the issue of our children's adoption sprung on them by surprise, and we knew that if we didn't tell them, sooner or later they'd find out anyway — between the neighbors who remembered their arrival, and their own South American look. So we told them how they were born in a different country, to different parents, and that we became their parents.
YOSSI TZEMACH
One day when I was in first grade in cheder, I came home and noticed my parents sitting around the dining room table, which was filled with candy and treats. They asked me and my sister to sit down at the table because they wanted to tell us something important. That was when my parents told us, in basic terms, that we'd been adopted. Okay, so we knew. But it really didn't make a difference for us.
The next day, though, I shared the scoop with my friends. How was I to know the onslaught of mockery and scorn that would be directed at me? Eventually the novelty faded and they got busy with other things — or so I thought.
Three years ago, I was walking down the street when someone called my name, asking if I was Yossi Tzemach. It took me a minute, but then I recognized him. He was one of the children who had harassed me mercilessly in cheder. His constant needling and mockery definitely took its toll on me.
"Listen," he said quickly, as if he were afraid he'd backtrack, "I've been married for ten years and I don't have children. When all else failed, I went to Rav Chaim Kanievsky to ask him what to do, and he said to me, 'You really hurt someone. You need to ask forgiveness from him.' "
He told me that the Rav's words frightened him, and he immediately remembered my eyes filling with tears as he hurled insults at me.
"When I left Rav Chaim," he told me, "I began to look for you. It's been a long time, and I just found out that you live here."
He was quiet for a moment, and then, in a broken voice, he asked forgiveness. Of course I forgave him — we were just children. And of course you can imagine the rest of the story, how he called me a year later with good news.
For my bar mitzvah in 2000, my parents made me a beautiful celebration. But there was something else too — as an adopted infant convert, this is the point where I was supposed to choose my future — I had to declare: Do I want to remain a Jew, or go back to the land of my origin? Rav Bransdorfer came over to me before the bar mitzvah seudah and asked me the question in the presence of two witnesses. Honestly, I felt a little confused and a bit offended…. As far back as I can remember, I grew up in a chareidi home and got a Torah education. I didn't know any other life. Suddenly I'm being asked if I want to stay Jewish. But it was actually very special, and in a way, I felt like I'd been reborn. Now it was real.
SHAUL
When Yossi turned 18, I gave him two large envelopes.
"One," I told him, "is your adoption file, just in case you ever decide you want to meet your biological family. The second has a sum of money that will be enough for a trip to Brazil to look for them, if you want to."
I always told my son and daughter that if they were ever interested in traveling to Brazil to find their parents, I would help them and even go with them. I waited for it to come from them, even though, I admit, I too was interested in meeting their biological parents.
YOSSI
I put both envelopes away in a drawer. At that point, I really had no interest in knowing who was connected to me on the other side of the world — I was happy with my life just the way it was.
Who knew what was waiting for me in the big envelope? What kind of Pandora's box would it open? Why look for adventures that would flip everything over? My sister agreed. The entire adoption issue never interested her. She's married, has built a frum home, and is raising a Torah family.
But then something happened. About four years ago, when I was close to 30, a friend told me about a group of people around my age who had also been brought from Brazil to be adopted in Israel, and that they kept in touch with each other. I admit I was curious, and so I reached out to them.
When I came to one of their meetings, I was stunned. I couldn't believe there were other young people like me. They exchanged experiences of searching for their families, and talked about a trip to Brazil that could bring them closer to their goal. I went home, a bit shaken. I decided to open the envelope.
SHAUL
I won't deny that it was a painful, emotionally conflicted time for us. On the one hand, we were the ones who encouraged Yossi to do this if he wanted to. On the other hand, it was clear that opening the file meant opening old wounds and digging around in places that hurt.
YOSSI
In 2017, the group, me included, flew to Brazil. Still, I felt disconnected, with my emotions churning. I was afraid of the future, and really just wanted to get back to myself, whoever that was. But it was too late, and I knew I'd have to confront a different reality: Who are my biological parents? What do they look like? Are they still alive? And most of all, why did they decide to give me up?
For the members of our group, the roller-coaster emotional journey came to an end in various — and very different — ways. Some of them satisfactorily checked the meeting off their list of things to do — some more disappointed, some with mixed feelings. Some of them found parents or siblings who were happy to meet them. Others were disappointed, having been met with cold indifference when they discovered their birth family. One fellow told me how his birth mother said hello, apologized politely for giving him up for adoption, and then made it clear that she was not interested in keeping in touch.
But most of the cases where parents don't want to know their children are in southern Brazil, where some of these children were sold by their own parents. Even the children who are searching are aware of this, and that's why a lot of them don't really want to meet their parents, or at least, aren't interested in a relationship. There's a lot of anger and feelings of betrayal, so in a way the low expectations make the rejection easier and less disappointing.
One of my friends connected me with a Brazilian lawyer who is very active in the crusade against the rampant corruption in the country, and I thought maybe she could help me find my birth parents. I gave her all the information I had, but Brazil is a big country, and not all of it is developed.
In the 1980s, everything was documented only on paper, and not by computer, and things easily got lost or disappeared. Sometimes, the adoption documentation was kept in an archive, and sometimes, if the clerk was lazy, he just tossed the papers out. My father asked a lot of details about my birth mother at the time of the adoption, which helped me track her down in the end, but it wasn't an easy journey.
The lawyer suggested I return to Israel, and said she'd let me know as soon as something came up. A month later, as I was driving, my phone rang and I put the phone on speaker, but all I heard was a babble of voices in Portuguese. Of course, I didn't understand a word. I tried to speak, to say something, but the connection was terrible. I hung up the phone, and realized I wasn't too far from a friend's house — he's South American and speaks Spanish and Portuguese. I pulled up in front of his house, just as the phone rang again. I handed my friend the phone, and watched his expression — his eyes were fixed on my face.
"It's the lawyer from Brazil," my friend said. "She's in your mother's house."
It turned out that for an entire month, the lawyer had been scouting the alleyways of the slums of Belém, Brazil, where my birth family was supposedly living. She went from house to house, finding out new details about the family at each stop — until she hit the jackpot.
Apparently, when my birth mother understood what the lawyer wanted, she nearly fainted with excitement and pleaded with the lawyer to call me immediately. It was the strangest conversation I ever had: a Brazilian woman from the slums of Belém who was my mother and hadn't seen me in 30 years. The conversation changed my life.
My first reaction was to jump on a plane and meet my biological family, but in reality, it took me an entire year to muster up the courage to make the trip. I just didn't feel ready yet. And besides, how would I communicate with them, with so many questions: Why did you put me in an orphanage? What were you thinking at the time? What did you think afterward? At which points in time did you remember me?
And so, I immediately found a teacher and began learning Portuguese. After a year, I felt ready enough for the meeting. And so, in 2018, I took off again for Brazil, together with a few people from the group also traveling to meet their families.
I'd already been communicating with my biological family for some time, discovering that I had three brothers and three sisters and a few nephews and nieces. My mother had written to me that she'd given me up because she felt she had no choice, and she also expressed her desire to also meet my adoptive mother, and to hear how she had cared for me and raised me.
When they heard I was planning a trip to Brazil, they wanted to meet me at the airport, but I declined. It would just be too overwhelming, and I needed my own time in the country for a little while first.
Instead, I was welcomed at the airport by the Chabad shaliach in Belém, Rabbi Disraeli Zagury. It's ironic, I thought to myself. He'd helped my parents more than three decades earlier to take me out of Brazil, and now he was welcoming me to bring me back into Brazil, to help me meet my biological family.
I divided the trip to Brazil into three parts. The first week, we settled in. I traveled around with my friends who had come with to get to know the place a bit better. During the second week, we split up, as each one went to meet his family. I wanted to be with myself a bit more, and postponed the meeting by another week. By the third week, I felt it was time to meet them.
During those weeks, I traveled around the area, trying to imagine myself as a local — what I would have been if Hashgachah had not ordained that I be adopted by the wonderful Tzemach family from Israel…. But it wasn't working: I felt detached and ungrounded. I couldn't find myself.
One morning, as I was walking to the shul for Shacharis together with Rabbi Zaguri, I heard a burst of gunfire. I managed to see a motorcycle driving off and a person lying injured in the road. As a volunteer Hatzolah paramedic, my instinct was to run and help him, but Rabbi Zaguri grabbed my hand and pushed me forward.
"Why?" I asked, looking back at the victim lying in a pool of blood on the road.
"Continue walking," he replied. "Ignore it. Unless you want to get in trouble. You'll be linked to the incident. This kind of stuff happens every day."
Suddenly it hit me: If Hashem had not chosen to take me out of this place, where would I be today? Also lying in a pool of blood on the street? Living in a South American slum with no future? As I'd walked through the city during the last weeks, I saw entire families scrounging around in garbage cans, living in squalor with running water just a few hours a day. Each day, when I say "Asher bachar banu mikol ha'amim v'nasan lanu es Toraso," I feel that for me, it has an even greater meaning.
And there I was, at the "Gateway to the Amazon," as the tour books describe Belém. But the surrounding slums, with aluminum shacks and hovels built on stilts, were a stark contrast to the highrise buildings on the horizon — two worlds, so close yet so different, a buzzing metropolis and the surrounding poverty.
The tropical winds carried the stench of sewage and garbage. If not for being plucked out of this morass, I would have been part and parcel of the scene.
"Thank You, Hashem," I whispered, "for choosing me from so many thousands here."
Finally, the meeting. Lots of tears, and for me, not a little confusion as well. After everyone calmed down, the local media, who got tipped off, swarmed around us. The cameras began to click and local journalists began to pepper us with questions. The next day, my picture was splashed on the front pages of the local papers. Actually, they wanted our meeting to be broadcast live, but I refused. These moments were too personal and private for me. When I came to the family's house, they kept asking me if I wasn't angry with my mother. I thought about it a lot over the past year, and realized I really wasn't. In fact, in my heart I thanked her. Without even knowing it she had rendered my destiny to grow up as a Torah-observant Jew.
I spent the next week and a half with my new family, but there was definitely an impasse that was unbridgeable. When I gave them gifts that I had purchased in Israel, they were really surprised. I bought them cheap things that are sold on every corner, but for them, these were things only the wealthy could afford. Each time I entered their courtyard, they all moved aside in awe. And of course, they kept insisting that I eat something, but I had to refuse even the water. Not for kashrus reasons, though. My friends warned me not to dare drink tap water, because of malaria.
The truth is, as one of my sisters mustered up the courage to reveal to me, there was no food in the house. Discreetly, I pulled out a 50-real bill and gave it to her to go buy some food. She looked at me with combined joy and shock; it was a fortune for them (50 reais is less than ten dollars).
Even when I went with my younger brother and offered to buy him a game, he refused. He just pointed to the nearby pizzeria.
"That will help me more," he said unabashedly, "so that I won't be hungry tomorrow."
I wanted to buy them food, to help them, but because I knew they were trying to maintain their dignity and not be humiliated, I couldn't really offer much help. In the end, I found a solution. I asked my birth mother to come with me to the local grocery. When we went in, I took a large cart and asked her to put in whatever she needed. She put in a few things, not understanding why I had taken such a big cart. When I saw how things were going, I took a large package of sugar off the shelf and then another package of flour and put them in the cart. She looked at me, puzzled. Packages of this size were beyond their reality.
Finally, it was time for me to leave my biological family and return to Israel, to my real place, to my family. I learned to appreciate my life more than ever, and only in Brazil did I come to the full realization of how much mercy Hashem had on me when He took me out of there. I can't stop thanking Him for the wonderful family that raised me, and the family that I myself have established.
But while I thought the trip would give me closure and serenity, in truth, it made me feel cut in two. I felt like I was part of two worlds, and one of those worlds was one that my birth family could never fathom. The family accompanied me to the airport, weeping, and my younger brother gripped my hand and asked me with tears in his eyes to stay. How could I tell him it would never, ever work?
I thought maybe I'd find some secret — like that our family was really from the Conversos and I was the link to coming back. But I think that's just for the frum novels. Or maybe not — because my neshamah was definitely at Har Sinai. And I'm so grateful that one caring couple from the Holy Land reclaimed it for eternity.
(Originally featured in Mishpacha, Issue 848)
Oops! We could not locate your form.
>