| Family First Serial |
Fallout: Prologue | May 23, 2023
Maybe he'd been away too long. Perhaps it was time to leave the memories behind and go back to Coney Island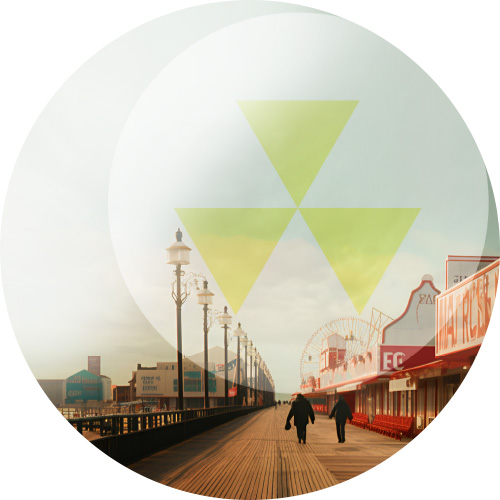 Prologue
Friday, January 21, 1961
Yeruchum Freed had lost this battle.
He'd tried. Tried so hard. Spoke about bitul zeman, the waste of time, the nonsense and the silliness and the lack of modesty. But somehow, some way, the boarders of the Freed Hotel had, for once, prevailed, and an RCA Victor wooden console television set was given pride of place in the parlor.
Today, on this day of days, the boarders huddled around the television set, listening to the newscaster speaking about the historic events that had led to this moment, eagerly waiting to hear the clipped, odd-sounding Bostonian tones of their new president.
Snow had fallen the night before in the nation's capital and a chill wind was blowing. Though many of the women seated on the portico in front of the Capitol building were wrapped in their minks, the president-elect and those standing next to him were bareheaded and dressed only in suits and ties.
Hundreds of thousands of Americans watching the inauguration in person on Washington's snow-covered streets had shivered their way through an interminable speech by a cardinal. Famed poet Robert Frost then recited a poem. And, finally, it was time for John Fitzgerald Kennedy, 35th president of the United States, to take his oath of office.
"I, John Fitzgerald Kennedy, do solemnly swear that I will faithfully execute the office of president of the United States... So help me G-d."
The years had been kind to Yeruchum Freed, owner of Coney Island's Freed Hotel. Now in his mid-sixties, his beard and hair were white, but his back was straight and his ebony eyes still sharp. Not so the hotel itself: age had faded the curtains, and while the parlor was immaculate, the chairs were scratched and the springs of the sofa creaked and sagged.
Though he would never step into the parlor when the boarders were watching the shtissim on that terrible, terrible screen, he decided to make a rare exception that Friday afternoon. After all, there was a special brachah one made when seeing a king, and though a president did not fall into the category of malchus, still, he was arguably the most powerful leader in the world....
And so, standing quietly and unobtrusively in the doorway, he saw the new president lift up his right hand and repeat the words of the chief justice — and on the wooden podium between them, a book.
Yeruchum had seen a picture of that book in yesterday's Daily News. It was the President's family Bible, with its brown cover and the sign of his religion proudly displayed, embossed on the leather cover.
The sign that had brought torture and murder and forced conversion to generations of Yeruchum's people.
Abruptly, Yeruchum turned away and left the room.
Hastily wiping her hands on her apron, Annie raced into the living room of her Boro Park home, dropping wearily next to her husband, Dr. Abe Levine, on their cut-velvet couch. It might be a historic day, the inauguration of the youngest president to ever have been elected, but it was also Erev Shabbos on a short Friday. Annie had been in the kitchen since dawn, making sure that everything was ready for Shabbos, so she could watch the noontime inauguration.
She was just in time to see the flickering black-and-white image of the new president as he began his inaugural speech.
"…Let the word go forth… to friend and foe alike, that the torch has been passed to a new generation of Americans…"
A new generation of Americans. Annie and Abe exchanged delighted glances. It was true — this new president was one of them, just a few years older than Annie, and actually a few months younger than Abe. A war hero, just like Abe, though JFK, as everyone called him, had been a Navy man, while Abe had served as a proud paratrooper.
"Let every nation know… that we shall pay any price, bear any burden, meet any hardship… oppose any foe to assure the survival and the success of liberty…"
Oppose any foe. Annie Levine knew, better than many, the price one sometimes paid, the burden that had to be borne, to eradicate evil, to battle for liberty. Baruch Hashem, her Abie had come back to her after the War, whole in body and mind, but there were others, so many others, young men buried in blood-soaked foreign soil, soldiers who had not come home to their mothers, their wives, their children….
But there was evil out there, the Soviet Union, an ally during the War that had become an enemy. Facing such an implacable foe to liberty, one that possessed unimaginably terrifying weapons, it was every citizen's job to protect this country.
She looked anxiously at Mutty, her 18-year-old bechor, sitting comfortably in an easy chair, watching the president intently. Her boy. The boy who loved listening to his father's war stories. Her "naches'l," brilliant, idealistic, good-natured. Her boy, a college student old enough to be a soldier, if what the newspapers called the "Cold War" grew hotter.
Annie felt a suspicious moisture gathering in her blue eyes. Hastily murmuring a few words about checking on the food, she raced into the kitchen.
The chicken soup was bubbling merrily. Annie turned down the gas under the pot, as a few unstoppable tears ran down her cheeks.
And when she opened the oven door she saw, not a crispy brown potato kugel, but an image of a soldier lying face down on a merciless earth.
"If a free society cannot help the many who are poor, it cannot save the few who are rich…"
Marjorie Burton curled up on the family couch, while her parents, Fred and Alice, gazed at the grainy colors from two comfortable, striped wing chairs. Imagine: Watching the very first presidential inauguration that was televised, and seeing it in color! It had cost them a small fortune, this color television, but it was the envy of their neighbors, worth every cent.
Hearing the new president's words, Marjorie laughed quietly to herself. A Kennedy talking about the poor? What did he and his ultra-fancy wife know about poverty anyway?
Her attention wandered, and her eyes fell on the book she'd carelessly tossed onto the coffee table. She liked the novel's cover design: Black background, gold letters, and a shock of blood-red. Intriguing title, too: Jew at War.
She knew exactly why Father had casually handed the book to her this morning, asking for her opinion of it. Frederick R. Burton was no fool, a successful publishing executive who worked hard to keep one step ahead of his daughter.
A daughter who always kept two steps ahead of him.
She shifted on the couch and glanced at the book once more, this time at the name of the author.
Moses B. Freed
S
itting in the quiet of his London apartment, Moe Freed was watching the grainy images of the presidential inauguration when the grandfather clock gave off its doleful sounds.
One, two, three, four, five. Half an hour to candlelighting.
Moe pulled his eyes away from the small television set he'd bought for his wife, Rob, G-d rest her soul, when she no longer had the strength to read her beloved books. He glanced at the sideboard, where he'd carefully set up two bronze candlesticks. He'd been invited out for the Shabbos meals, so at least he didn't have to deal with preparing food, giving him time to see and hear JFK take the oath of office.
With a sigh, he turned his attention back to the screen. He certainly was a good speaker, his new president.
His new president? The thought surprised him. Moe had been living in London for about 20 years, yet, he realized with a start, he felt a closer connection to this handsome and charismatic stranger who was becoming president of the United States at this very moment than he did to the queen, the monarchy, and all those quarrelsome members of Parliament whom Rob had so admired.
He laughed quietly at this unexpected discovery of his ties to a country he hadn't seen in decades, and he listened once again to the president's words.
"Together, let us explore the stars, conquer the deserts, eradicate disease, tap the ocean depths, and encourage the arts and commerce…"
Well, he and Rob had explored, together, not galaxies, but life. Moe and his wife, Rob, had never been blessed with children of their own, but they had raised Rob's orphaned younger brother and sister, watching with satisfaction as they'd married and begun their own lives. With Moe's teaching in a small Jewish school and Rob's increasingly successful academic career as a professor of mathematics in a London college, they'd become, not rich, but comfortable. And when Moe's school had closed down, and while searching for another job he'd used his spare time to write a war novel that had, shockingly, become a bestseller in England, they finally had the money to fulfill their dream of traveling to exotic locales.
That dream quickly became a nightmare as a merciless illness chained Rob to a hospital bed before her 40th birthday, and, ultimately, brought her to a quiet and peaceful spot in London's Edmonton Jewish Cemetery.
Now that the first yahrtzeit had just passed, Moe could look back at the grief with his author's eye for metaphor. The waves of heartbreak washing over him, drowning him in sorrow. The piercing stab of sadness triggered by a few notes of song or a favorite food. The almost physical feeling of being kicked in the gut whenever a Yom Tov approached, a Yom Tov spent with pitying neighbors, well-meaning friends, or just alone with those sad, flickering candles.
Now, watching the new president of the United States of America on the BBC program, Moe felt a stirring of still another emotion.
His president. Could it be that he was homesick?
Maybe he'd been away too long. Perhaps it was time to leave the memories behind and go back to Coney Island. To discover who he was without Rob at his side. To start again.
As John F. Kennedy began to conclude his speech, Moe pulled a letter off his desk. He stared at the words and the signature:
Frederick R. Burton
Jones and Burton Publishers, New York
"And so, my fellow Americans: ask not what your country can do for you — ask what you can do for your country."
Mutty Levine's face lit up. What a man! What a speech! The blue eyes Mutty had inherited from his mother, Annie, fell upon his father, the decorated war hero who now spent his days healing children in his pediatric clinic. Yes, Dr. Abe Levine had done so much — was doing so much — for his country.
And he, Mutty?
He was yawning his way through college courses that interested him not at all.
But, he thought, there were opportunities out there in the real world, chances to do meaningful things, to achieve greatness.
And he would find them.
(Originally featured in Family First, Issue 844)
Oops! We could not locate your form.
>