| The Current |
Exit Stage Left
| July 31, 2020
UN Ambassador Danny Danon reflects on five years in the lion's den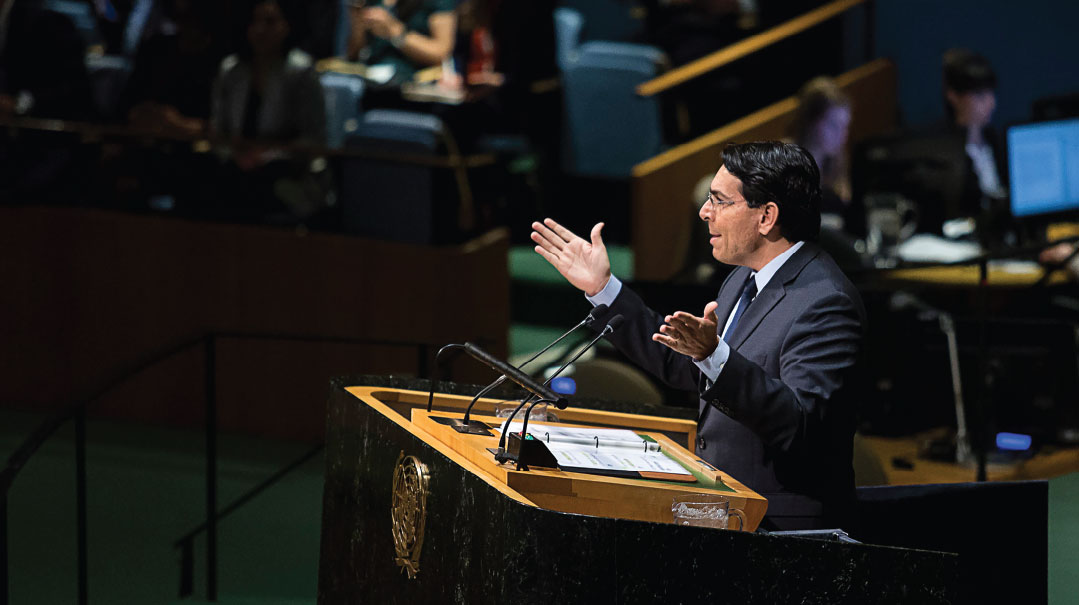 A few weeks ago, Danny Danon, Israel's ambassador to the United Nations, booked a one-way ticket from New York to Tel Aviv, having just returned to Israel after a tumultuous five-year tenure. But this last segment, he tells Mishpacha during his mandatory 14-day quarantine, was less turbulent than usual in the corridors of the UN —for the simple reason that they were deserted. There was no General Assembly this year, and the generally tense, often explosive, sessions of the Security Council have been replaced with Zoom meetings.
Danon, for his part, wasn't born a diplomatic. In fact, he was very undiplomatic in his previous post as chairman of the Likud Central Committee. In that capacity, he waged a number of battles with Prime Minister Netanyahu on procedural matters, and even competed against him in the primaries for the party leadership. The bad blood between them reached a boiling pint in 2014, at the height of Operation Protective Edge in Gaza. Danon, then the deputy defense minister, criticized the government's handling of the fighting, and Netanyahu immediately dismissed him. But less than a year later, their relationship took a turn for the better, and Danon found himself on a plane to New York. At the time, there were a large number of senior Likud members expecting a promotion, and there were not enough jobs to distribute after the 2015 election. As such, Danon was offered the position of UN ambassador, which helped Netanyahu clear some space at the cabinet table.
It was not the first time a political insider was appointed as UN ambassador. From the 1990s, most of the ambassadors were sitting or former politicians, or people close to the foreign minister. Danon's replacement, Gilad Erdan, also comes from the Likud, and has served as a government minister for the past decade.
No Daylight
Danon's years in the UN were tumultuous, but not exceptionally so. Over the five years of his tenure, the security situation was largely quiet, and there was no significant military operation in Gaza or on the northern border. In other words, compared to the stormy years of 2006 (Second Lebanon War), 2009 (Operation Cast Lead and the Mavi Marmara flotilla incident), 2012 (Operation Pillar of Defense) and 2014 (Operation Protective Edge), Danon oversaw a relatively quiet period. He was able to focus on strengthening ties with moderate Arab nations, and those ties are slowly becoming more public, although they are still mostly managed in a sensitive, behind the scenes fashion. Those nations and Israel have a mutual interest: to prevent Iran from obtaining nuclear weapons, and for them, the Palestinian issue has become of secondary importance. That doesn't mean that the United Arab Emirates, Bahrain, or Oman will vote tomorrow with Israel on sovereignty, Jerusalem, negotiations with the Palestinians, and a range of other diplomatic matters. But it does mean that there is a channel of cooperation that is not visible, that diplomats like Danon in New York, Ron Dermer in Washington, and a number of senior officials in Jerusalem are nurturing far from the camera's lens.
Danon also competed — and was chosen — to be the chairman of the United Nations Judiciary Committee. It was the first time an Israeli ambassador was appointed to such a senior position — and with the support of 109 nations in a secret ballot. The position triggered protests by a number of Arab nations, but Danon was hardly moved.
The Israeli ambassador did have one notable dustup during his tenure, and he tells Mishpacha that it was the nadir of his term — and that was Resolution 2334. The decision to condemn the settlements passed with the American abstention at the end of the Obama presidency, and it was considered a diplomatic crisis between the two nations. As part of the unwritten alliance between the two countries, the United States always backs Israel in international forums. At this point though, against the backdrop of the soured relations between the Netanyahu and Obama governments, the alliance was violated.
But as soon as Obama and Secretary of State John Kerry left the stage, Nikki Haley was appointed UN ambassador, which launched the "golden era" of Danon's tenure at the UN. It was a time when Israel and the United States advanced a series of diplomatic resolutions relating to recognition of the Golan Heights and Jerusalem and transferring the embassy. The American backing on these issues has been very significant for Israel. For example, this past February, after the unveiling of President Trump's peace plan, the Palestinians tried to form a united front in the Security Council against Israel. But the United States exercised all of its influence to persuade the member nations, and the Palestinians backed down.
In another incident, the US and Israel advanced a resolution to condemn Hamas at the General Assembly — and even mustered up a majority for it — but not enough votes were found and therefore it was not formally adopted. Either way, these were years when there was no daylight between the Israeli and American ambassadors.
"One of the reasons, I believe, for our recent successes at the UN, was the switch we made from defense to offense, and bringing Judaism and Eretz Yisrael to the UN," he says. "Over my years at the post, I learned that everything is possible. You don't need to automatically disqualify, but you do need to try and reach out to all kinds of people and objectives. I was on a tour in Dubai, and I got to talking to someone about his desire to visit Jerusalem. Dialogue is the key, on matters of cooperation as well. We are a strong nation. We have know-how and technology, we have abilities. We can help lots of countries and that is something I plan to continue working on. We were always in the position of receiving aid. Today, with the abilities that we have, we can help other countries. That is true with regard to the more esoteric tikkun olam, but also as far as status and reciprocity."
Aim Higher
When asked about a sense of missed opportunity, or something that he regrets not being able to advance, he points to getting Israel a seat on the Security Council. "I hope that those who come after me will be able to compete for the Security Council," he says. "The Foreign Ministry made a decision not to compete for the job — they were in a difficult state and didn't have the energy for the competition at that point. It's true that it's very hard to win. But I believe that the competition is worth it even if you don't win."
Danon is being replaced by a colleague of sorts, former government minister Gilad Erdan. The two have served together in the Knesset and as Likud government ministers and they know each other well.
"I would advise him to aim high," Danon says when asked what he would advise Erdan if he could give him a note with three tips. "I think we need not only to be defensive, but also to initiate and to get things done, to move into offensive mode."
The second thing Danon plans to advice Erdan is to be available for other ambassadors on a personal level and to develop interactions with them. "Ultimately, the personal connection is significant. When you know someone and build ties with him, he will cooperate with you, even if he doesn't support you," he says.
But the customary mingling between ambassadors and the informal conversations that take place at receptions and the like, are a thing of the past, at least for now. Those were the moments where it was possible to exchange ideas, relevant bits of information about international developments, and even secrets, that couldn't be conveyed through official channels. In the new era of Zoom and virtual meetings, this dimension has all but disappeared from the diplomatic process, and it's not clear when it will be back.
"The third thing I would say is to work with the team," Danon says. "The Israeli delegation at the UN has a dedicated, quality, professional team and they need to be activated and put to good use."
What surprised you most during your tenure?
"I was surprised to see that in contrast to the negative image of the UN, there is actually an overall admiration for Israel. There are resolutions passed against us, but many people admire Israel. If you would conduct an anonymous survey, you'd see that we're really not in such a bad position. Sure, they vote against us, but they appreciate our initiative and the state itself. People have told me in off-the-record conversations, 'You know that we really do support you.'"
One of the questions asked regarding the votes against Israel in the UN is whether the ambassador himself has any influence on the result, or whether the outcome is dictated based on the identity of the state, irrespective of the content of the proposal. Danon says that he was able to bring about changes in the voting patterns by telling ambassadors ahead of time to actually read the content of the resolution and to see if a specific nation could, for example, abstain. He says that the practice of many nations has always been to automatically vote against Israel even if the content of the resolution was something they could live with.
What did you learn about the Jewish communities in America during your stay there?
"We Israelis always say that everyone needs to learn from us, but I learned that we can learn many things from the Jewish communities in America. The Jewish education there is on a high level. They educate the children about traditions, which does not exist in Israel outside the religious frameworks. The summer camps are very unifying and they strengthen the Jewish identity and the bond to Israel. My daughters were in camp there and enjoyed it very much. There are things in the Jewish community that the State of Israel can adopt."
He relates that many ambassadors he met were surprised at the intensity of the support of the evangelical community, and of the broader Jewish community, for Israel — and that despite the fact that many countries have communities of citizens living in America, the bond between Israel and the Jews is unique. "It's amazing — we need to preserve it and not to take it for granted. It's an asset both for Israel and for Diaspora Jewry," he says. Danon says he takes into account that the situation is not the same across the United States, and that New York doesn't necessarily characterize America as a whole.
It's Not Easy
Over the years, a worldview has developed in Israel that there is an automatic majority against Israel in the UN, and therefore, there is little point in investing energy into changing that trend — as Prime Minister David Ben-Gurion said back in 1955, referring to the Hebrew acronym of the UN, "Um Shmum." Yet when Danon is asked if there is a point to all this diplomacy and if it in fact yields results, he answers yes.
"The UN is a hostile place. It's also a place of outrageous waste, and it doesn't always focus on important matters. But I don't totally discount it, because it's the only place where nations sit and speak to each other. The fact that this dialogue between happens in one building, is important. Of course, the UN needs budget reforms, plus an overhaul of what their focus should be. Take for example, the UNIFIL peacekeeping force. We have a lot of criticism about this force, and about its powerlessness. But if you ask any [Israeli] officer if he prefers to disband the force, they will all say it's better than nothing, even though more is necessary, and that their mandate needs to be expanded to prevent the arming of Hezbollah."
It's hard for Danon to assess how his tenure will be remembered. He was appointed in October 2015, three months after the most substantial diplomatic crisis that Israel has waged in the past decade — fighting against the nuclear agreement with Iran. In his first year, he had to deal with the Resolution 2334 settlement condemnation, but that wasn't a resolution he'd had any influence over as the ambassador; it's considered more an outcome of the relationship between Netanyahu and Obama.
Years before, Chaim Herzog tore up the resolution that compared Zionism to racism; those were stormy years at the UN, but it was also a time when the organization's status was more respected than it is today. During Danon's tenure — in contrast to Herzog's UN of the 1970s — three out of the five years were under a friendly administration that thwarted many anti-Israel initiatives, and even went on the offensive against anti-Israel bias in various entities, from UNRWA to the Human Rights Commission and the International Criminal Court in The Hague. From 2017 until today, Israel and the United States have been working together on these issues.
Does that mean his job was easy?
Absolutely not, says Danon. The UN still has anti-Israel positions, and even if there has been a softening of those positions by some African, and even European nations, every day at the UN is still one where Israel is diplomatically inferior. This is evident as it tries to extend the UNIFIL mandate in Southern Lebanon and the weapons embargo on Iran — two of Israel's most pressing security issues.
An Eye on the Hourglass
He doesn't expound on his plans for the future, elegantly skirting the question. When asked about the rumors that he might once again be appointed as an ambassador, his diplomatic response is that he intends to "remain in a position of action." It's safe to assume that he has one eye on the window of opportunity for diplomacy, and takes into account that another diplomatic appointment is not a bad option. But it's also safe to assume that Danon — a veteran and skilled politician — is keeping an eye on the political hourglass. If a budget is not passed by August 25, the government will be dismantled and the country will again go to elections. In such a situation, Danon can compete for a place on the Likud list for Knesset. But it is not clear if there will be elections, and if so, if the Likud will choose a new list or if it will copy-paste the existing one. In any case, it's likely that now that he's out of quarantine, he won't waste any time returning to action.
(Originally featured in Mishpacha, Issue 821)
Oops! We could not locate your form.
>