| SisterSchmooze |
Do Gowns Make the Woman?
| March 22, 2022
Come join us Sisters as we explore how gowns have affected our lives in strange ways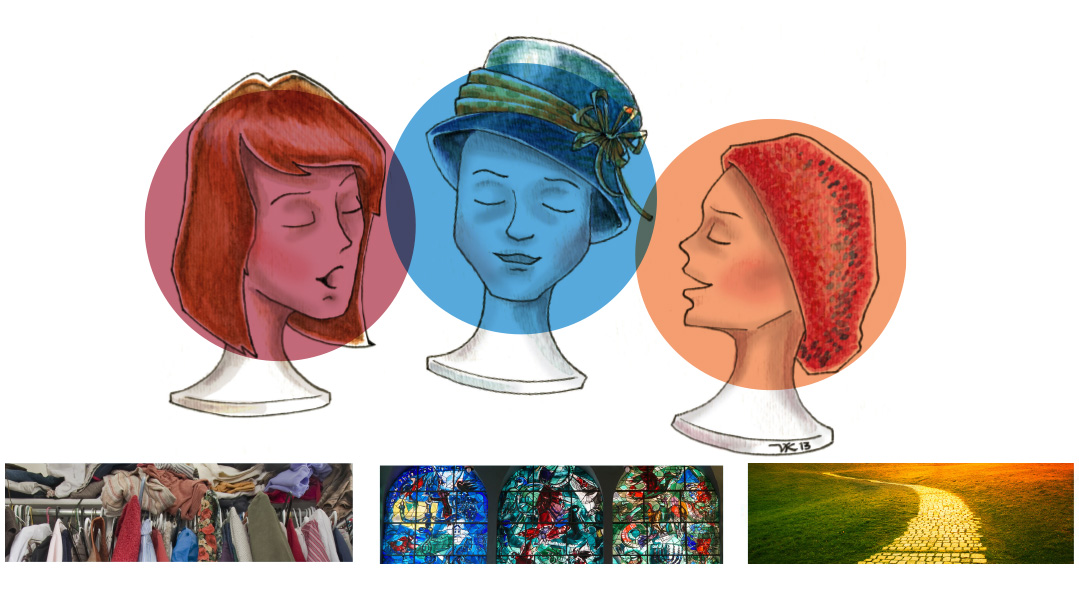 Clothes make the man, they say.
But do they really? And what about the woman?
On most levels, that adage seems contrary to Torah values. It's usually about people judging others based upon external trappings. And yet… perhaps there's some truth to the saying. It's all about how clothes make us feel about ourselves, how they help define us. Women, especially.
As girls, who of us didn't love playing dress-up? Our mothers' hats, high heels, and scarves. Lots of fake, glittery jewelry. And our nightgowns transformed into ball gowns… or bridal gowns…
There's something about a gown… Even as an adult, what woman doesn't feel extra special when gussied up in a spectacular gown? A gown can be like a mood-altering drug. It can convert boredom into excitement, gloom into elation.
But what happens to those feelings when we're back in our everyday clothes? Do they linger on? Do they fade? Do they leave us feeling a little better about ourselves? Do they give us a different perspective on life?
Come join us Sisters as we explore how gowns have affected our lives in strange ways. Visions of bridal gowns evoke… thoughts of work ethics and the Wizard of Oz. The image of a graduation gown represents… a life-altering decision. And the sight of a simchah gown validates… keeping clutter in closets!
Miriam connects gowns to…
Mommy and the Mob and the Wizard of Oz
In the two decades during which I was privileged to live next door to my mother, Mrs. Rose Stark a"h, she shared many memories. One of the stories I loved most took place in Budapest, in 1943.
The Hungarians had taken control of her hometown of Munkacs. Life was getting harder every day. Food was scarce. Anti-Semitism, in hibernation during the peaceful interwar years, was awakening, snarling and maddened and fatally dangerous.
My mother, always a devoted daughter, went to live with relatives in Budapest so she could find work and earn money to send to her parents. There, against the backdrop of war, came a glittering moment of escape: Her cousins took her to the "cinema," she told me, and they watched The Wizard of Oz, with Hungarian subtitles.
I sometimes wondered: Had Budapest, with its elegant bridges, blue Danube waters, and magnificent architecture seemed to her like the Emerald City? Was Munkacs, with its wooden shacks and widespread poverty, an Eastern European Kansas?
I'll never know.  What I do know is that whatever her thoughts about Budapest and Munkacs and the Land of Oz, she never accepted the Emerald City's unusual work ethic: We get up at twelve / and start to work by one. / Take an hour for lunch / And then by two we're done ... Jolly good fun!
For Mommy, work wasn't "jolly good fun." It was serious business.
In Sweden, convalescing after the nightmare of Auschwitz, when she'd regained enough strength, she went to work. And, as she proudly told me, when she reached American shores, "I arrived on a Monday. By Wednesday I was enrolled in night school to learn English, and by Thursday I had a job."
For the next five decades, Mommy worked in clothing stores. There was Melinda's, and Symonds, and Michael's.* They were all about the same: small shops with two or three shabby fitting rooms, pretentious clothing for lower-income budgets, and bosses who smiled greasily at customers and treated their minimum wage workers as shabbily as their fitting rooms.
No, not "jolly good fun." But, as Mommy often told us, with my father a"h retired because of poor health, she worked "to put spaghetti on the table for you kids."
Then she went to work at Rothman's, one of American's largest bridal stores*. Gone was the shabbiness; here were gorgeous — and pricey — designer gowns.  In Rothman's, Mommy was no longer a seamstress.  Now she was a "bridal consultant." (Even though her salary, as always, remained the same: far too low.)
Before graduating to bridal gowns, she worked in the Mother of the Bride department. MOB for short. Well-named, considering Rothman's was located in a Brooklyn neighborhood famed for its underworld populace. Mommy told us that she could always tell when there was a hit on an underworld boss: "The store was full of women buying black dresses for the funeral." And there was the memorable time when a Mafia don's daughter bought her wedding gown in Rothman's. "It was so big they sent a stretch limo for it," Mommy laughed.
In addition to underworld thugs, there was another large group: frum women. "Wiggies," they were called in the backrooms, with a touch of anti-Semitic spite. Every day Mommy could see how easy it is for a frum customer to make a kiddush Hashem — a generous tip, a grateful word, and smile — or the opposite, when a nervous bride or her mother let out her anxiety on a saleswoman or fitter.
And so it went, until, finally, Mommy took a well-earned retirement and moved to Eretz Yisrael, fulfilling her lifelong dream.
So my hard-working mommy would never be a citizen of the Emerald City. Yet she did have something in common with the denizens of Oz. Like the Scarecrow, she was brilliant. She had the Tin Man's loving heart. In refusing to ever give up, no matter how difficult life was, she had the courage of a Lion.
And, like Dorothy, though forced by circumstances to work for so many years, she truly believed: There's no place like home.
*names have been changed
Emmy Leah dreams of…
Caps and Gowns
The late 1980s. I'm sitting on a bench in a courtyard at Hadassah Hospital, outside the arched Chagall windows. My husband is davening Minchah inside, my kids are running around outside. Our family just planted a tree in a nearby forest, classic tourist activity.
I reflect on my life back home. I've started researching my doctoral dissertation, and I'm working part-time as a lecturer at the University of Rochester. Hard work, but I hope someday b'ezras Hashem to finish the degree.
Daydreaming under the blue Jerusalem sky, I imagine myself passing my exams, writing a book-length thesis — and finally, finally, marching down at graduation. I picture myself in the traditional scholar's black gown. The graduation cap, with its flat top and silly tassel, is pinned securely to my sheitel.
I smile, remembering how I'd found myself in grad school almost by accident. Home with the kids and feeling a bit restless, I'd decided to take a college-level literature course just for fun. I found out how much one course at the university cost: a lot. But then, based on my college grades and graduate exam results, the English Department offered me a complete scholarship — if I became a full-time graduate student.
Commit to full-time graduate school? With a houseful of little ones? Plus, a full calendar of community obligations? In endless discussions before deciding, one comment by my best friend stood out: Go for the degree. Study full-time. You never know where life will take you.
Now, after years of long days in class, longer nights studying, it had taken me on a short winter vacation to Israel. To a courtyard at Hadassah.
A woman passes by. First, I think she's a surgeon, wearing green scrubs. Then I see she's pulling a bucket and carrying a sponja stick. Cleaning staff.
The woman throws soapy water on the courtyard tiles. Suddenly I feel like someone's thrown a bucket of cold water on me.
I'd been sitting there, feeling good about my promising university career. I was forging ahead with my research, already lecturing part-time. How cool was that?
Not cool at all. I suddenly understand that this woman mopping the floor is luckier than I am with my budding academic career. Because she's scrubbing tiles… in Eretz Yisrael.
Why did it hit me so hard that day? Not sure. Maybe because we'd just planted a tree in Israel, and I realized I'd never watch it grow. Possibly the Chagall windows I'd seen, that world-famous rendering of the 12 Shevatim, reminded me of our people's roots, deeply planted in this land. Or perhaps seeing the bulletproof glass placed outside the windows after they were hit by bullets during the Six Day War makes me appreciate the sacrifices my people made as we returned to the land Hashem had promised us.
Whatever the reason, at that moment I realize that the most prestigious academic career, and all the caps and gowns in the world, would mean less to me than working at a menial job in Israel.
Days later, the family continues touring, heading to Yaffo. I take a different route, visiting an Israeli university just to look around. I meet a frum professor, the English Department head. We talk academics, Judaism, and a bit of Jewish geography, and I do what academics generally do, leave him my CV, academia-speak for a résumé.
Five months later, I receive an unexpected message from the professor. A faculty member is going on sabbatical. Would I like to teach in the English Department in Israel for a year?
Dissertations are notoriously long, but Schmoozes have word limits — in brief: we pack up the family, go to Israel for our year, and end up making aliyah.
Did I ever get to wear that graduation cap and gown? No. Baruch Hashem, I did finish the dissertation and got my diploma, but I didn't make the trip back to Rochester for the graduation ceremony.
No matter. The diploma hangs on a wall in my home in Israel. Hashem in His kindness made it my ticket to aliyah; I could live in Israel and have my academic career at the same time.
Like my friend said — you never know where life will take you.
Marcia collects…
Email, Paper, Fridge Photos, and Gowns
My kids think I'm a hoarder.
Take my email: 29,767 messages — eight months' worth — in my inbox. Nearly 19,000 unread,  leaving over 10,000 messages read but, for some reason, not deleted. Also, I often mark a message as "unread" even after reading it — after all, it might be worth rereading someday!
Moving on to paper — stacked on my desk, crowded into drawers, piled up on every available surface. How much? Only Hashem knows.
Next, my refrigerator doors. Not a millimeter of stainless visible beneath dozens of plasticized, magnetized photos of kids and grandkids from babyhood through adulthood.
Finally… my closets. One for current clothes. One for skinny clothes — in case I lose weight. One for fat clothes — in case I regain weight. And one for "happy-memory" clothes. I admire people like Penina, my daughter-in-law, whose organized, up-to-date, uncluttered closets are legendary.
Why do I hang on to things? Why does anyone hang on to things? Laziness? Procrastination? Disorganization? Inability to keep up with the sheer quantity?
Altered brain connections? ADHD?
Plain old sentimental attachment?
In my case, probably all of the above.
I'm baruch Hashem between simchahs. Just a few weeks separate two grandkids' weddings. Major problem: the "family color" at my granddaughter's wedding was silver; for my grandson's upcoming wedding, the color will be navy blue. What with Shabbos kallah, aufruf, sheva brachos, and all the interstate travel in between, there's not enough time to find and alter a new gown.
We should all have such problems!
Why even bother having a family color at a chasunah? It's such an expense for everyone. Not to mention the alterations costs. And it's such a headache to find your size in your color. Some even claim that the biggest stressor in wedding planning isn't finding a hall, a caterer, a musician, a florist — it's getting clothes for the family women.
But for me… the sparkling silver gown I wore at my granddaughter's wedding visibly identified me as a family member. Somehow that enhanced my joy. Gone was any pre-wedding stress, replaced by jubilant energy. I didn't miss a single dance. I didn't even notice the aching feet, the creaking knees, the heavy breathing.
Now, contemplating a new round of gown-hunting stress, I kvetch to a roomful of granddaughters: "What should I do!"
"Don't worry, Bubby," they all console. "You can still wear the silver gown. It won't clash with navy."
Fine. No one will notice if I wear the same gown twice within four weeks. After all — I'm just the bubby.
Just the bubby?!!!  No! I want to recapture that family-happiness-bubble feeling. I have to figure out how to find a navy gown and have it altered within a miniscule timespan.
Wait! Three of my four children's weddings had as their color… navy!
I rush to my happy closet and pull out the gown — actually, a blazer with a long skirt — I wore to my daughter's wedding 23 years ago. Still in good shape! A classic style still in fashion. I try it on, and… it almost fits.
The fashion-savvy granddaughters approve. My daughter-in-law Tamar — whose sewing skills are among her many talents — grabs the blazer, threads a needle, and repositions a button, a snap, a clasp. Just a few inches — not too bad after 23 years of pizza and pasta. The skirt's zipper reaches almost to the top, nothing a seamstress can't fix.
Then I remember something else. Again, I rush to my happy closet and pull out a gown my daughter — then 20 years old — had made for my older son's wedding 25 years ago.
"Who wants this one?" I ask the svelte granddaughters. No takers. They already have gowns in various stages of purchase or alterations.
But Penina eyes the gown contemplatively…
Three weeks later. My Gmail inbox now holds an additional 400-plus unread messages. The latest aufruf/wedding/sheva brachos round is behind us. So many memorable highlights, including the look on my daughter's face when she spotted Penina:
"Your gown!" she gasped. "That's mine… I had that made 25 years ago! It fits you like a glove! Where on earth did you find it?"
"Mom found it in her happy closet."
Score one for hoarding.
(Originally featured in Family First, Issue 786)
Oops! We could not locate your form.
>