| For the Record |
Divinity Exemptions Denied
| May 17, 2022
Wise as Rabbis Sherer and Neuberger were, they realized they needed a face for this campaign, and both agreed that there was nobody better to represent the group than Rabbi Herschel Schacter, a musmach of Chaim Berlin, Torah Vodaath, and Yeshivah College.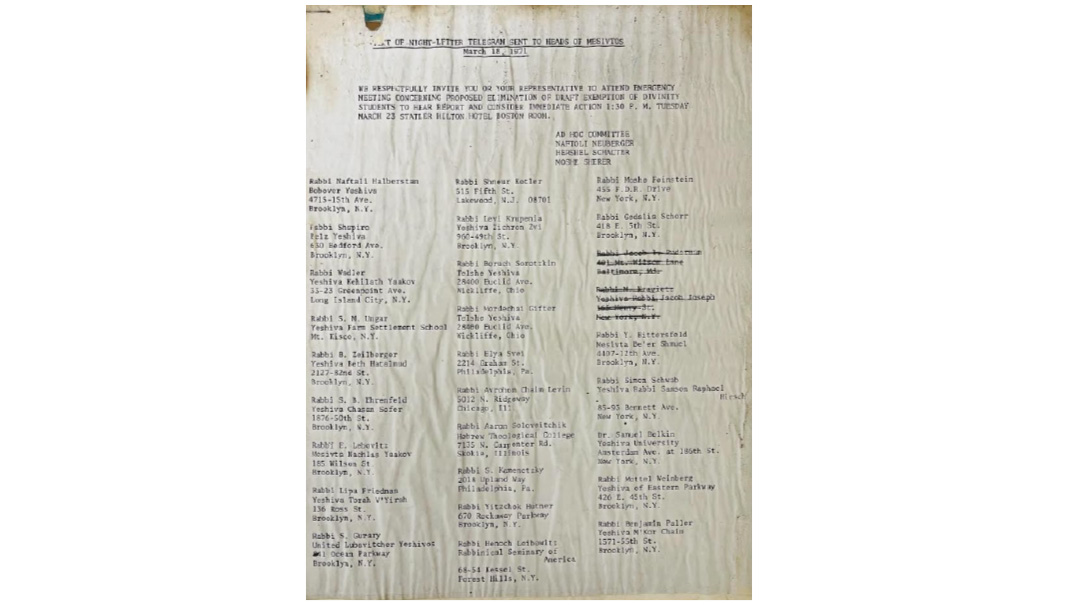 A partial invite list for the emergency meeting
Title: Divinity Exemptions Denied
Location: New York
Document: Telegram
Time: 1971
"I have pieced together from notes jotted down in my diary and in various reports of meetings attended, the highlights of these two months. Actually, I do not know why I am doing this, except my sense of history dictates that somewhere there be a record of a battle over one of the most serious spiritual crises that ever faced the yeshivos movement in our country. During all those weeks, I had a loyal partner in Rabbi Neuberger of Baltimore, who similarly attempted to divest himself of his immediate obligations."
—Rabbi Moshe Sherer
The Vietnam War, which drove a wedge deep into American society, brought about a highly unusual alliance as it wound down. Though the Nixon administration was pursuing a policy of "Vietnamization" and steady troop withdrawal by 1971, collapsing troop morale and the anti-war "GI movement" among soldiers led the president to seek changes to the draft law to increase enrollment. On January 28, 1971, upon the urging of Curtis W. Tarr, the director of Selective Service (the independent government agency that administers military conscription), President Nixon called upon Congress to abolish deferments for divinity students as part of a draft policy overhaul. If this passed in both the House and Senate, then yeshivah students would be instantly eligible for the draft.
Perceiving the full implications of this bill for yeshivah students, Rabbi Moshe Sherer, president of Agudath Israel of America, sprang into action. What followed was three months of intense lobbying and networking with religious leaders across the spectrum, both Jewish and non-Jewish. Catholic bishops, Protestant ministers, and divinity school leadership from every denomination within the Jewish community were all contacted by Rabbi Sherer, Rabbi Herman Neuberger, and their team, in hopes of garnering widespread support that would ensure the divinity school draft proposal died in committee.
Wise as Rabbis Sherer and Neuberger were, they realized they needed a face for this campaign, and both agreed that there was nobody better to represent the group than Rabbi Herschel Schacter, a musmach of Chaim Berlin, Torah Vodaath, and Yeshivah College. In addition to serving as rabbi of the Bronx's 1,000-plus member Mosholu Parkway Jewish Center and in leadership positions for several major Jewish organizations, Rabbi Schacter was well respected for the role he played as a chaplain in the Third Army's VIII Corp.
Rabbi Schacter was the first US Army chaplain to enter the Buchenwald concentration camp on April 11, 1945, barely an hour after it had been liberated by George Patton's troops. Schacter remained at Buchenwald for months, tending to survivors and leading religious services. Rabbi Schacter also maintained close relationships with gedolei Yisrael, communal leaders, and important politicians, so it was only natural that someone with his pristine reputation and résumé represent the group's interests before government and military officials.
March 2, 1971: "Phoned Rabbi [Elya] Svei in Philadelphia to seek contact with Senator Schweiker of the Senate Armed Services Committee, and promise him that once he arranged an appointment, we would get leaders of other faiths to accompany a Jewish delegation. Phoned Bostoner Rebbe in Boston re making contact with Senator [Ted] Kennedy, who may be a problem because his alternate bill includes the same removal of draft exemption of divinity students. Phoned Rabbi Avrohom Chaim Levin of Chicago to urge his mobilizing the local people re the Illinois members of the House Armed Services."
On March 19, an urgent message was sent to leading roshei yeshivah from across the country inviting them to a meeting later that week at the Statler Hilton in New York to discuss this paramount issue. Rabbi Sherer — whose daughter was getting married that week — refused to allow it be a distraction from this avodas hakodesh; in fact, he used the wedding to assist the cause:
March 22: "At [daughter] Elky's wedding [to current Touro College Dean Robert Goldschmidt], [Rabbi] Neuberger and I exploited Senator Javits' participation to speak with him at length on this draft issue. He promised wholehearted support and assistance to us, and gave advice."
The March 23 meeting, led by Rabbis Sherer, Schacter and Neuberger, was attended by a who's-who of American Orthodoxy: Rav Moshe Feinstein, Rav Shneur Kotler, Rav Boruch Sorotzkin, Rav Gedalia Schorr, Rav Aaron Schechter, and Rabbi Yaakov Perlow, then representing Yeshivas Shamshon Raphael Hirsch in Washington Heights. Rabbis Louis Bernstein and David Hollander (who was Rabbi Sherer's brother-in-law) came for the RCA, and many chassidic sects were represented as well.
This call to action was followed by an intense telephone lobbying campaign across the country to each congressman, and then in Washington itself ahead of the House vote.
March 31: "At 9 a.m., a contingent of 30 Ner Israel students arrived [on Capitol Hill], well-dressed, for the purpose of hand-delivering to each of the 435 congressmen that morning, before the vote was to take place in the afternoon, our inter-denominational memorandum explaining our position. After I gave these 'shock troops' a briefing and directions on how to act, the various congressional buildings were divided among them, and they left for their assignments.… At 1 p.m., we went to the House gallery to watch the debate.… At 2:35 p.m. a division vote was taken, and we won 114 to 29. Our people quietly marched out of the gallery and there was hardly a dry eye among us."
The campaign was far from over, as the debate now shifted to the Senate Armed Services Committee, whose members would also have to be convinced of the necessity of keeping the divinity student deferment in place. Another round of lobbying and interfaith and interdenominational meetings was held in the ensuing weeks. In addition, Rabbi Sherer consulted on the appropriate course of action with leading Torah sages.
April 4, 10 a.m.: "Rabbi Neuberger and I had a top secret meeting at the New York Hilton Hotel, which we had asked for, with the major roshei yeshivos from the entire country: Rabbis Feinstein, Ruderman, Hutner, Kamenetsky, Gifter, Kotler, Schorr and Kalmanowitz. The topic related to highly confidential matters relating to the draft policies of the yeshivos of all types."
Rabbis Sherer, Neuberger, and Hollander were gratified to be able to look back at an overall successful campaign. Having taken the initiative and tireless action, yeshivos across the country were able to continue growing and nurturing generations of students for years to come.
Don't Forget about Ford
A helpful ally in the House fight had been House Minority Leader Gerald Ford, who fully supported the deferment of divinity students. As a close ally of President Richard Nixon, his support was crucial to the campaign. Though Ford couldn't know at the time that he'd soon replace Spiro Agnew as vice president due to financial scandals, and then emerge as the US president himself as the Watergate scandal unfolded, he was still an experienced politician to ensure that any good deed was duly noted and received proper credit.
April 15: "Received letter from House Minority Leader Ford acknowledging my thank-you letter to him for his major assistance in the House fight, and in which he asked me to do him the favor of telling the rabbis in his Congressional District how helpful he was to us. (Just shows how the big people do not forget about taking care of little items.)"
Relying on Rabbi Schacter
Another crisis that was averted with the assistance of Rabbi Herschel Schacter involved the opening of a sports club and ensuing chillul Shabbos on the outskirts of Meah Shearim in 1955. Following stormy protests in both Israel and America, Rabbi Schacter traveled to Israel along with Rabbi David Hollander to meet with the various groups ranging from government ministers to Rav Amram Blau of the Neturei Karta. Ultimately a compromise was worked out that ended the debacle.
For more on the incredible life story of Rabbi Herschel Schacter, see the highly recommended 2021 book The Rabbi of Buchenwald — The Life and Times of Herschel Schacter by Rafael Medoff (YU Press).
(Originally featured in Mishpacha, Issue 911)
Oops! We could not locate your form.
>