| Inside Israel |
Digital Warriors Gather in Jerusalem | March 21, 2018
Pro-Israel cyber warriors go offline to trade tips in the real world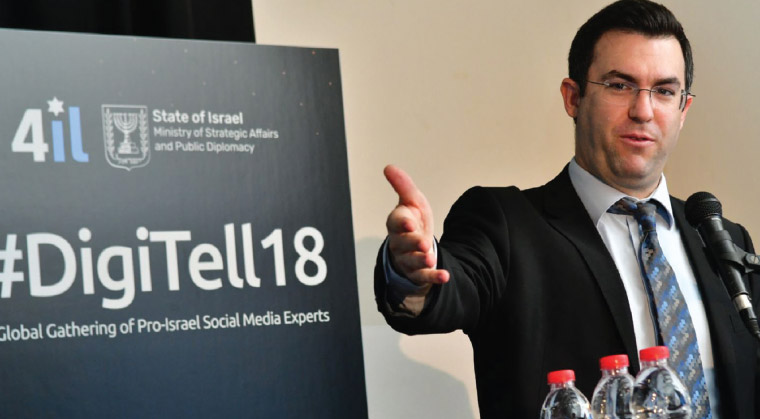 "T
here is no such thing as an armchair warrior."
That admonition — to get involved and not consign yourself to sitting and carping — was repeated over and over in different ways by participants at the first-of-its-kind #DigiTell18 Conference, hosted by Israel's Ministry of Strategic Affairs and Public Diplomacy. The aim of the conference, held at Jerusalem's YMCA Hotel, was to bring together 60 activists from 15 countries on six continents, all of whom are on the front lines in the battle against anti-Israel bias and disinformation on the Internet.
Among the participants were some of the biggest names in Jewish digital media, including blogger "Elder of Zion," who works anonymously — and intensively — on behalf of Israel; others represented global organizations like Stand With Us, a pro-Israel advocacy group. What united them all was a shared commitment to counter anti-Semitism and its contemporary version, anti-Zionism, on social media, and to protect Jews in Israel and the world over. The stories they shared served as proof that work in the digital room can bring about positive changes.
For instance, one participant related how he shamed a restaurant owner into dropping his anti-Israel business practices. When the restaurateur posted an "Israelis not served here" sign in his window, this digital warrior publicized the story, leading thousands of people to give this restaurant a one-star rating on its social media page. As a result, the restaurant's ratings dropped from 5 to 1.5. After a local journalist picked up the story, the owner removed the sign, though he never apologized. In this way, thousands of people around the globe created change with their keyboards.
Another participant, a high-school student from Holland, described how he and his friends succeeded not only in preventing the appearance of Palestinian terrorist Rasmea Odeh at a BDS-sponsored event in Amsterdam, but also at several other locations. Odeh, who is responsible for the murder of two Israeli students in 1969, served jail time in Israel, and then lied about it on her immigration application in the US. As a result, she was recently deported from the United States. The BDS movement is now using her as a featured speaker around the world to spread anti-Israel hate.
The conference consisted of workshops, discussions, and presentations on the do's and don'ts of social media, led by leading global digital experts from Google, Facebook, and Snapchat, among others.
Ido Daniel, director of digital strategy at the Ministry of Strategic Affairs and initiator of the conference, said a major goal of the gathering was to facilitate cooperation and networking opportunities among the various bloggers and organizations.
"We discovered that there's a major lack of cooperation among pro-Israel organizations that are active online," Daniel told Mishpacha. "We wanted to create that cooperation — from India to the US to Italy to Ireland to Australia to South Africa. Friendships and connections have been created here, with activists discovering that they can complement each other's activities, as well as embark on joint projects."
(Excerpted from Mishpacha, Issue 703)
Oops! We could not locate your form.
>