| Hidden Heroes |
Dealing with Diabetes: part 3 of 6     
| December 21, 2021
Kids with type 1 diabetes monitor their blood sugar with finger-pricks and a tiny device (glucometer)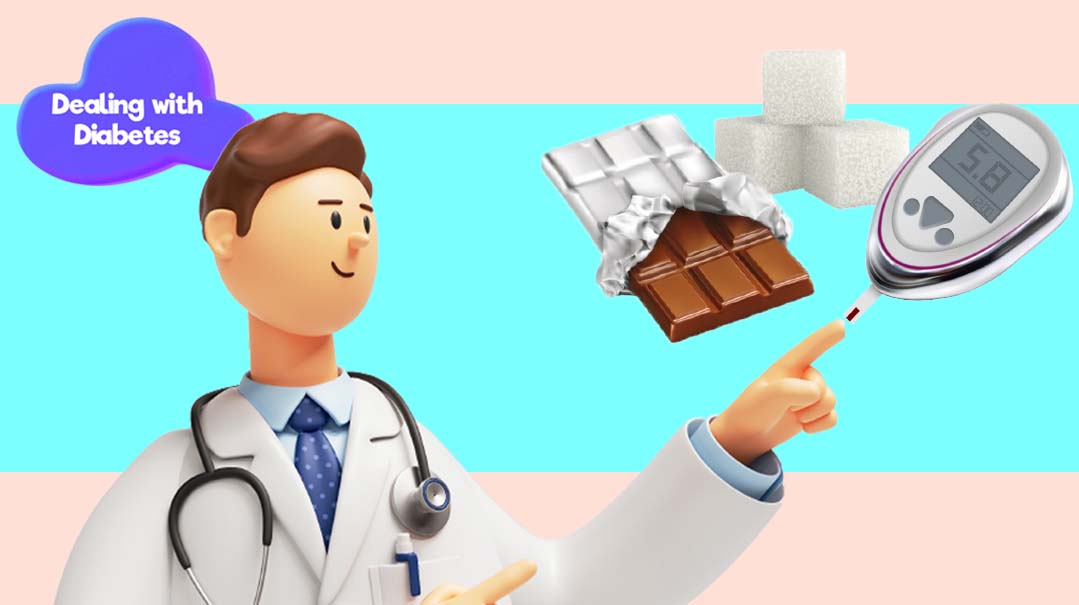 What is type 1 diabetes?
There are two basic types of diabetes: type 1 and type 2. Type 1 is the one seen mainly  in kids and teens. With type 1, the pancreas produces little to no insulin (an important hormone). When you eat, the sugar in the food rushes into your bloodstream. Insulin helps get the sugar from the bloodstream into the cells, where it belongs. Not enough insulin = too much sugar in the blood. Kids with type 1 monitor their blood sugar with finger-pricks and a tiny device (glucometer). They also use insulin pumps, which provide them with artificial insulin. Newer glucometers monitor 24/7, removing the need for frequent finger pricks.
Tell us about how you were diagnosed
Ephrat
I was ten years old when I started feeling tired all the time. I was drinking a lot, too. My mother is a nurse, but she's not the type to always be diagnosing her family members, so she didn't do anything about it right away. After watching my increasing exhaustion, constant drinking and bathroom trips, she took me to the clinic where she worked. She pricked my finger to check my blood sugar level. I hadn't eaten anything, but my blood sugar was 280 (it's supposed to be under 100 before eating). We went straight to the hospital.
Shalom
When I was twelve, I needed to go to the bathroom constantly; I was drinking a crazy amount. My aunt was diagnosed with type 1 when she was five, so my mother recognized the symptoms. She took me to the doctor, who sent us straight to the hospital. My blood sugar was 708. I wasn't sure what was going on and felt a sense of dread. A doctor told us that I had diabetes. I'd never heard the word before and didn't know what it meant. When he said I had too much sugar in my blood, I was worried that I'd eaten too much sugar. I was assured that eating sugar doesn't cause type 1.
The doctor told me that I would need to take medicine every single time I ate. I was upset to hear that. Then he told me that the medicine wasn't just any medicine, it was a shot — for every meal! And that I had to check my blood sugar by pricking myself, multiple times a day. I was horrified.
Malky
When I was two and a half years old, I was drinking nonstop. Eventually I started feeling unwell. My parents kept taking me to the pediatrician, but he repeatedly told them that I was fine. One afternoon I had trouble breathing, and my mother rushed me to the doctor again. He sent us to the hospital. I lost consciousness as we arrived; my blood sugar was 1,500. I was in intensive care for a few days in critical condition.
What's the hardest part about having diabetes? The best part?
Ephrat
Dealing with my school friends. The staff knew I had diabetes but my friends didn't. I had to check my blood sugar and inject insulin privately (the pump that kids use nowadays, which makes this much easier, was a far-off dream). Once, I wasn't feeling well, and the principal was so worried that she walked me the entire way home. It wasn't even because of the diabetes; I just had the flu. When I came back to school my friends were like, what was that all about?
Shalom
Feeling that it wasn't fair. I struggled and asked "Why me?" Everyone else has enough insulin, why don't I? I felt very alone.
The best part? I got a huge amount of attention. And I got to eat candy and soda when my sugar dropped too low, which was fun, because my mother doesn't usually allow that stuff.
Malky
Before I had my pump, I wasn't able to eat whenever or whatever I wanted. That was hard, especially at parties or events. Once I started using an insulin pump this got better.
The best part was lots of extra attention. Because I was so young, I had an aide, called a shadow, in school. She was the one who did my finger pricks and administered insulin. It was fun to have my own personal grown-up in school; I was a VIP!
Any interesting stories?
Ephrat
Once, we stayed in an empty apartment in another neighborhood for a Shabbos bar mitzvah. When we arrived, I put my insulin in the fridge, where it should be stored. While putting it in, I noticed that there was already insulin there. I cried, "Hey, someone living here also uses insulin!" The best part came years later: We were staying in the same neighborhood again, in a different apartment. My vial of insulin broke, and I didn't have a spare. My mother sent me to that other family to ask if I could borrow a vial. They were happy to lend me some insulin!
Shalom
Soon after I was diagnosed, we joined friends for a BBQ. I calculated the amount of insulin I'd need based on the food I was planning to eat, and I included the marshmallows. The problem was that the insulin started working way before the marshmallows appeared (this was before I had my pump). My sugar dropped all the way to 35 — it should never be lower than 65–70. I felt awful. Everything felt so far away; it felt like I was detaching from my body. My sugar started rising after a sweet drink, and then I felt sweaty, shaky, and insanely hungry.
Malky: When I started learning to read numbers, I read them from the wrong direction — from right to left, like in Hebrew. I'd never get my blood sugar right. Instead of 124, I thought it was 421. Quite a difference!
Is there something you wish everyone knew?
Ephrat
Be more open-minded about people with chronic conditions. Everyone has challenges; this is ours. We're still people! Once, on a hike, I told the tour guide that I had diabetes. She got all weird. It made me uncomfortable. I remember wondering: What was she expecting someone with diabetes to look like?!
Shalom:
Sugar lows are real! When I have too much insulin and my sugar drops, I need to eat so badly. It feels like when you're holding your breath and you have to breathe — that's how badly I need to get sugar into my body. People don't understand what a desperate feeling it is.
Malky  
Having diabetes isn't so bad! It doesn't affect my personality. You don't need to treat me as if I'm ill. With today's technology, type 1 diabetics can live perfectly normal lives.
Any tips for other kids with diabetes?
Ephrat
A practical tip for Shabbos meals: Ask your doctor about programming your pump to divide the bolus (a dosage given all at once) into two — once at the beginning of the seudah, and once in the middle.
Shalom
You have two options: You can feel sorry for yourself, or you can decide that despite your medical condition, you'll be the best you can be — without allowing anything to hold you back.
Malky
Keep a close eye on your sugar levels, even though it's annoying. When your sugar isn't stable — it's climbing and dipping — you can't be yourself. The more you monitor it, the easier it is to control.
Something I wish I had known
Ephrat
I wish I'd realized that when my parents nagged me about what, when, and how much to eat, it was because they loved me, not because they wanted to bother me!
Shalom
I wish I could've had all the medical information that I have now, back when I was first diagnosed. It would have been less confusing!
If I could change one thing about my challenge
Ephrat
I'd get all diabetics the brand-new technology, which is basically an artificial pancreas.
Shalom
Not to get so crazy hungry and eat so much sugar when my blood sugar is low.
Malky
I'd want my blood sugar to not go so high; highs make me nauseous, dizzy, and head-achy.
How does having diabetes affect your day-to-day life?
Ephrat
I have to calculate how the food I eat will affect my blood sugar, and program my pump to give me the right amount of insulin. Your body does this all for you, all the time!
Shalom
Dealing with sugar highs and lows. On stable days, I live a normal life, besides for checking sugar and taking insulin. But on days it's not controlled, I don't feel well at all.
Malky
I have to be more responsible than my friends. No matter what's going on, whether it's a trip or a special occasion, I need to keep my sugar level stable.
Something I want to remember for myself:
Ephrat
Have a sense of humor!
Shalom
The more I keep my sugar level stable, the better I'll feel.
Malky
Hashem chose this for me, so it's good for me.
One thing I want to tell the world
Ephrat
Nowadays kids are much more open about having diabetes. That's amazing. It makes no sense to keep it a secret. Don't waste energy trying to hide it! Surround yourself with supportive friends.
Shalom
Don't feel too bad for people with diabetes, but do empathize with their difficulty. It's a tricky balance.
Malky
Never say you can't handle something. If Hashem gave it to you — you can!
There are about 200,000 children (under the age of 20) with type 1 diabetes in the USA.
Only 5%-10% of people diagnosed with diabetes have type 1. Most of the others have type 2, and the remaining few have rarer types.
There is nothing you can do to prevent type 1 diabetes, but eating a healthy diet and exercising can help prevent type 2.
The artificial pancreas Ephrat mentions? It's a nifty device that monitors blood sugar and releases exactly the right amount of insulin, all on its own. This makes a huge difference to the life of a diabetic, and prevents all the bothersome sugar highs and lows that are part of handling diabetes today.
Meet our next Heroes in Issue 893
(Originally featured in Mishpacha Jr., Issue 891)
Oops! We could not locate your form.
>