| Profiles |
Cream of the Crop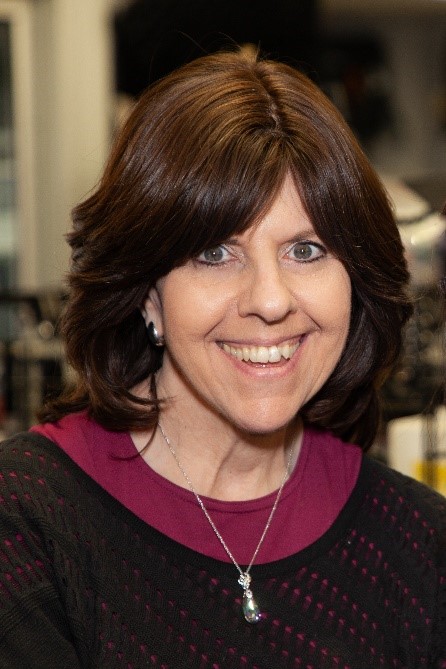 | December 25, 2019
What do a Skverer chassid and an Amish farmer have in common besides their mode of dress?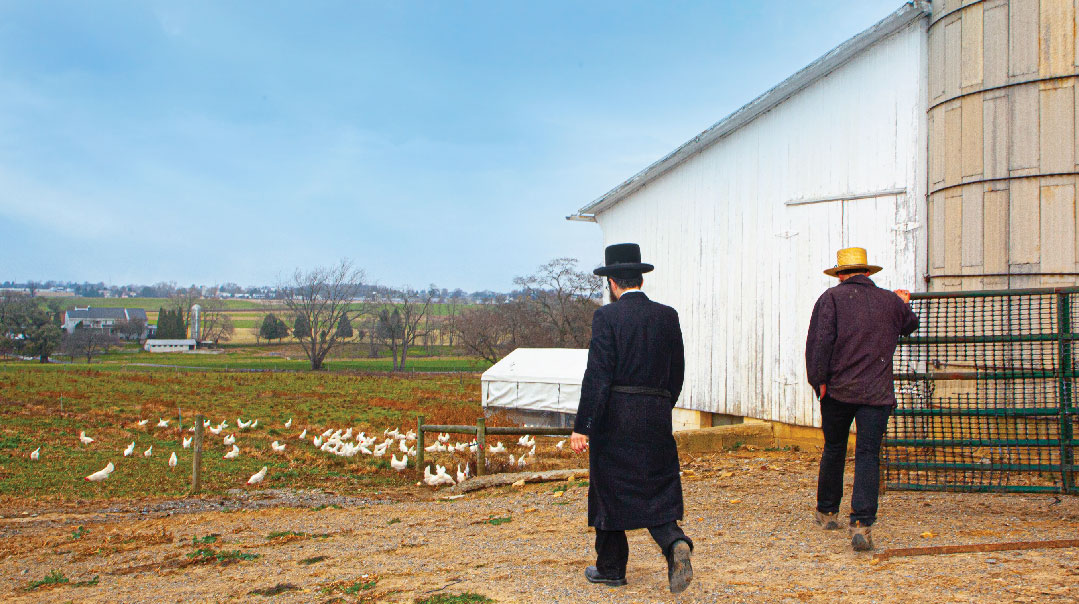 Photos Esky Cook
W
hen a chassid from New Square discovered the secret to healthy eating at an Amish enclave in Pennsylvania, he just had to get those products for his family and a few health-conscious friends. He never imagined it would be the beginning of a business that's spread all over the Tristate area, or a shidduch between two very different cultures that happen to look a bit similar on the surface
Ask Rabbi Chaim Pal of New Square, New York, and he'll tell you that if you want the richest milk, the most nutritious eggs, the healthiest chickens, and authentically organic produce, Amish country in Pennsylvania is the place to get it.
Rabbi Pal was a long-term learning yungerman from New Square who never really considered going into the natural produce business, until he partnered with the Zook family and other Amish farmers in Lancaster County who raise grass-fed cows and chickens without antibiotics or added hormones and market their produce under the brand name "Meant to Be." Today these Amish farmers raise whatever Rabbi Pal asks them to and then sell it to him. Rabbi Pal, in turn, sells the "Meant to Be" products to stores in the New York/New Jersey area under the New Square Kashrus Council hashgachah.
Rabbi Pal started his business as a private endeavor for his own and a few other families about five years ago, in his search for healthier food options — such as milk and eggs that wouldn't cause allergies.
"I learned full-time in kollel for over ten years in New Square," says Rabbi Pal, 31. "My little hobby became a business about two years ago, while I was still learning. I really didn't want to leave kollel, but it got to a point where the business needed full-time attention." Rabbi Pal's first introduction to Amish produce came from Rabbi Hershel Meisels, a well-known chassidic health researcher who has helped many people treat their diabetes through diet. "He speaks a lot about various health topics on the Yiddish hotline Kol Mevaser," Rabbi Pal elaborates. "He dedicated a number of programs to kosher, mobile-pastured, soy-free egg production and explained that regular 'organic' eggs are not the same thing. He was speaking about eggs that are high in Omega-3 and don't have blood spots, and that can be tolerated by those who are generally allergic."
Rabbi Pal further learned that Rabbi Meisels was getting his milk from a farm in Pennsylvania, which he claimed had a good track record in clearing up certain ailments such as ear infections. Rabbi Pal, always interested in healthier alternatives himself, reached out to Rabbi Meisels, who was happy to share the information with him. He was reluctant at first, but then gave Rabbi Pal the address and telephone number of an Amish farmer.
"Even the Amish who have access to phones don't answer them regularly, so I went to Pennsylvania to meet him," Rabbi Pal says. "Suddenly I saw a whole new world — cows, chickens, produce, all being raised in a healthy environment, with no injections, no hormones, all in tune with the nature around them. I was particularly interested in farmers who were raising mobile-pasture chickens, and I asked this farmer for other farm connections. I went to dozens of farms until I found some that were willing to work with me — even though at this point it was just for my family and some close friends."
Mrs. Pal, who joined us on our excursion to Amish country, says her husband's business "just evolved," when all he really wanted to do was help people. "We feel fortunate to be the shluchim for people who, for example, were off eggs for years because of allergies, struggling to digest all the genetically-engineered and processed food out there — but here it's pure, easily digested, no additives, no genetic engineering and not harmful — the way Hashem wanted food to be."

Business Calls
Rabbi Pal doesn't have a smartphone, as per the instructions of his chassidus, but his Amish partners, who eschew technology in general, made it even more challenging. The Amish, a Christian with Swiss-German origins similar to Mennonites, don't fully accept the modern conveniences of life all around them, although it is permissible to use some limited forms of electricity and some machinery. Yet most conveniences of mainstream society, such as electricity generated by public power lines for private use, computers, and modern tractors and automobiles, are considered to be tempting elements from the "outside" that could lead them away from their close-knit community and weaken the family structure. The original ban on telephone ownership, which is thought to contrast the spirit of humility and contribute to pride and individualism, has been somewhat relaxed, though. They might use their non-Amish neighbors' phones, or make calls from a little hut outside their home that serves as a community phone building. Still, it's not always easy to reach an Amish manufacturer by phone, as they generally check their messages two or three times a day, and then return the calls.
"I still see farmers who don't have phones, but I think that today most of them do, just in order to stay relevant in the market," says Rabbi Pal. "If they don't have a phone, I have to call their neighbor and leave them a message. But even those who do have a phone don't keep it at home, and certainly not in their pockets. It's kept in a small room by the barn. Basically, though, if you leave a message, they'll usually call you back within 24 hours."
Rabbi Pal says that when he started out, regular communication wasn't easy. "I'd leave a message, and when they called back it could be 4 a.m. And on Sunday, they don't talk on the phone at all — they're busy with their religious services. The Skverer Rebbe asked me once if they have phones. When I told him 'No, just in the barn,' he told me, 'Those people are smart! They know where the phone belongs — with the animals!' "
Rabbi Pal shares another cultural difference he encountered: "Once we saw how the egg and cheese productions were going, it pushed me to do more, to raise more chickens and market more products. At a certain point, we got the farmers to raise chickens exclusively for us, and I wanted to make an agreement with them that they wouldn't share any proprietary information. They didn't understand what I wanted. For them, there's no such thing as competition — everything is shared. None of the farmers are afraid that others among them will take away their business. They don't believe in making written agreements either, but that was something I had to stand on."

Greener pastures
"See the tractor?" Rabbi Pal points. "It moves the hen house to new pastures, so the hens can always have fresh green grass. These happy and healthy chickens graze freely alongside farm cattle on fertile grasslands that are completely free of herbicides, pesticides, and other dangerous chemicals. They are constantly moved to fresher pastures for optimal nutrients. There are four houses, and a dog keeps watch over each one of them, so no wild animals will kill them."
Rabbi Pal says that the results of this mobile farming are nutritionally superior eggs, bursting with valuable omega-3 fats (EPA, DPA, and DHA) and extremely rich in many important vitamins and minerals. The supplemented chicken feed is organic and soy-free to avoid the influence of synthetic estrogen-like hormones. The chickens are unvaccinated, receiving no hormones or antibiotics.
"Each egg," he explains, "is a true gift of nature."
Cockadoodledoos and cackling greet us as we walk on the meadow outside the customized hen houses — where dozens of chickens are on the loose — complete with water, feed, and ropes for the hens' swinging pleasure. During the day they can go in and out; there's a door in back that opens and they go in and out off a ramp.
"Young chickens lay smaller eggs; older ones lay bigger ones," explains farmer Jonas Zook, who tells us that the hens generally lay eggs once a day. "From 340 chickens in each hen house, I get about 270 eggs every day."
Their nest is an enclosed contraption from which we watch eggs roll out after the hens modestly lay them out of public view. "And, this is their feeder," Zook demonstrated. "They eat grass, but still get organic and soy-free feed. Soy makes for a bad balance of hormones in the body."

Season of joy
It's a bit tricky scheduling an Amish farm tour in the post-harvest season, when weddings are ritually held on Tuesdays and Thursdays. Through a series of phone messages, we finally set the date for a sunny, windchilled Wednesday.
The walk from the vintage 1835 farmhouse, past the woodburning stove — used in lieu of electric heating— to the custom-made mobile hen houses up the dirt path is quite a hike, but we take advantage of the time together with our escort, Jonas's sister, Anna Zook, who gives us a description of the Amish weddings that pushed off our trip.
"The weddings all take place on the farm, and everybody helps," says Anna, a, a sixth-generation farmer, whose ancestors migrated in 1742 from Switzerland to Germany, before settling in Pennsylvania. "The wedding starts at about eight o'clock in the morning, and there is about three hours of formal service. It's over about 11:30, and then everybody eats lunch. Lunch is always the same — we have what we call chicken filling. We roast chickens and make a bread dressing and mix it altogether with celery and eggs and butter. That's what we call 'rohst,' the Dutch name for chicken filling. We cook celery in a sweet-sour dressing and we have mashed potatoes, gravy, and coleslaw — it's pretty good. "
Since the Amish religion does not allow posed photos, our own photographer Esky Cook is intrigued by the fact that no wedding pictures are taken to remember the occasion.
Anna explains that those images are stored, rather, in their memories. "We prefer not to take pictures, because we don't want to make idols of our personal selves… the beauty is inside, not outside. It leads toward pride. Not that I think what you are doing is wrong, it's just that we choose not to — we stay away from that temptation."
We pass a mule stable and a buggy garage. Horse and buggy are the Zooks' primary mode of transportation, since the Amish typically do not own or drive cars. Next, we enter a small structure that doubles as an egg washing/weighing/packing room. Since Amish do not use electricity, this room is warmed by battery-generated gas heat.
"First of all, we go through the eggs and pick out the ones that are clean," says Anna. "See — that one has a speckle on it and needs to be washed in the washer with plain water under these rotating brushes. Whatever is clean is put in a separate carton. Even though they look the same, an unwashed egg has a natural protective coating on it to make it stay fresher longer and keep the bacteria out. After you wash them, it is especially important to refrigerate them, because you wash off that protective coating."
The Zooks explain that they don't use any harsh soaps in the washer, in order to preserve that coating as much as possible.
Rabbi Pal says that he prefers to market clean, unwashed eggs when possible.
"These smaller, unwashed eggs are marked 'Medium' on the 'Meant to Be' label," says Anna, who mentions that she's only found a blood spot two or three times in the last four years of production. "After we package the eggs, we weigh each dozen to make sure the customer gets the right weight of egg. If it weighs one and a half pounds, we label them Large. If it weighs one pound, five ounces, it gets labeled Medium. We sell the unwashed eggs to Chaim Pal who sells them to private customers. The washed eggs are sold to the stores."
The price of these eggs, we learn, are more than the average egg, but as Rabbi Pal and the Zooks point out, you get what you pay for — a better, healthier-for-you egg with a brighter yellow, sometimes orange, yolk.
"They're mobile pastured, soy-free, and organic," notes Jonas. "Organic chickens, according to regulations, need to have outdoor access but don't necessarily get grass. Eggs that you buy that are labeled 'organic' are from hens that are fed organic feed, but don't necessarily get fresh grass and they are mostly inside. Cage-free is all indoors, too — regulations do not require these chickens to go outside. Our chickens always live outside on fresh grass."
Jonas adds that his chickens generally lay eggs for a year. "They are usually about 17 weeks old when they start laying and then, after 13 or 14 months, we use them for broth. These aren't the best meat chickens."
Cheese and honey
We next drive "down the road a piece," as they say in farmer lingo, to a second farm where cheese-making takes place. Efrem, an Amish farmer, is making and cutting blocks of Colby cheese as we arrive. Chaim opens a commercial refrigerator to show us his kosher run, labeled with the New Square hechsher.
"We make Colby and Cheddar twice a year, put it in a cheese press, and cut it up every three weeks," Rabbi Pal shares.
Right across the street is a third farm, owned by an Amish farmer named Alvin, whose dairy cattle produce the milk used for "Meant to Be" cheese, and, in the future, other dairy products.
"Commercial milk comes from Holstein cows, which are black and white cows," explains Rabbi Pal. "We only use Jersey cows, brown cows that have much more fat. They just eat grass — they aren't fed any corn, just what G-d gives them. We only use what are called A2/A2 cows, from both the mother's and father's side — their genetic makeup is different and the protein of the milk is different. Holsteins are 99 percent A1/A1. Goats are always A2. This farm is certified organic — it's 100 percent grass-fed, A2/A2 Jersey cows. There's nothing better than that."
We "city slickers" are in for a treat, watching Alvin lasso one of the 40 ear-tagged cows on this 80-acre farm, to secure it to a post so his children can demonstrate how they milk it into a small, shiny silver pail.
"If you take all of these cows and mix them with 500 others, Alvin will still be able to tell them apart — he knows each cow," says Rabbi Pal, as the children take turns milking, filling the pail with a gallon of milk.
"Some farmers still milk cows just like this," says Rabbi Pal. Chalav Yisrael supervised milk means that a Jew was standing from the beginning of the milking until after the milking, observing that the equipment is clean from any other milk and ensuring that it's coming from a cow that is kosher and mum-free. A Jew doesn't have to milk it, he just needs to oversee the milking. But, for the Skverer Rebbe, who is makpid not to use any machinery or keilim from a non-Jew, the cow is either hand-milked or milked with his own pump into his personal kli."
Rabbi Pal points to a triangular outlined shape on the side of the cow. "Sometimes there is an issue with a cow when a hole is made in its stomach, which can render it not kosher. It's a bit hard to see this triangle, but this is one of the places where they do the surgery. We check this spot to see if there were any surgeries that would render the cow treif."
"Time to bring in the cows," announces Alvin, as 40 cows cross narrow Quarry Road to the milking barn, while Alvin's children, dressed in traditional Amish garb, form a human chain to block this country road, creating a makeshift cattle crossing. A single car stops and waits about ten minutes for the procession to cross.
In the milking barn, Rabbi Pal points out the handheld battery-operated milking machines, another of the Amish farmers' begrudging bows to modernity.
"Those machines are connected to the cow, and the warm milk is then put into this large cooling vat to cool it down," Rabbi Pal explains, noting that if the mashgiach sees that there is milk inside the vat, it can't be used until that unsupervised milk is completely discarded. This fresh milk is so good, he says, that "you don't have to cook it, just drink it straight from the milking. I promise — the milk tastes great. That's what we drink every day.
"This milk is extremely high in Omega-3 because the cows eat so much fresh grass. The milk also contains the nutrient CLA, which is usually taken in supplement form. K-2 is a certain vitamin that is also in our milk, that you get high amounts of in the springtime when the grass grows extremely fast. It's very important for bones and growth, as it helps the body absorb calcium. And best of all, for 99 percent of the people who can't tolerate milk, this milk they can tolerate, even better than goat's milk."
There are several dozen more farms working with Rabbi Pal to market products such as 100 percent grass-fed beef, organic and soy-free mobile-pastured chickens, flour, yogurt, butter, cheese, honey — all produced under the New Square hechsher. "There's a big demand for these products," he says, "those who are health-conscious, those who have a problem tolerating milk or eggs, or those who want Omega-3 in a natural way. You know, I never considered myself a businessman and certainly not the farming type — this business just evolved out of a communal desire. I'm just happy I can be the shaliach to bring these healthy products to the people they're important to."
(Originally featured in Mishpacha, Issue 791)
Oops! We could not locate your form.
>