| Cooks Compete |
Cream of Chicken Soup
| November 9, 2021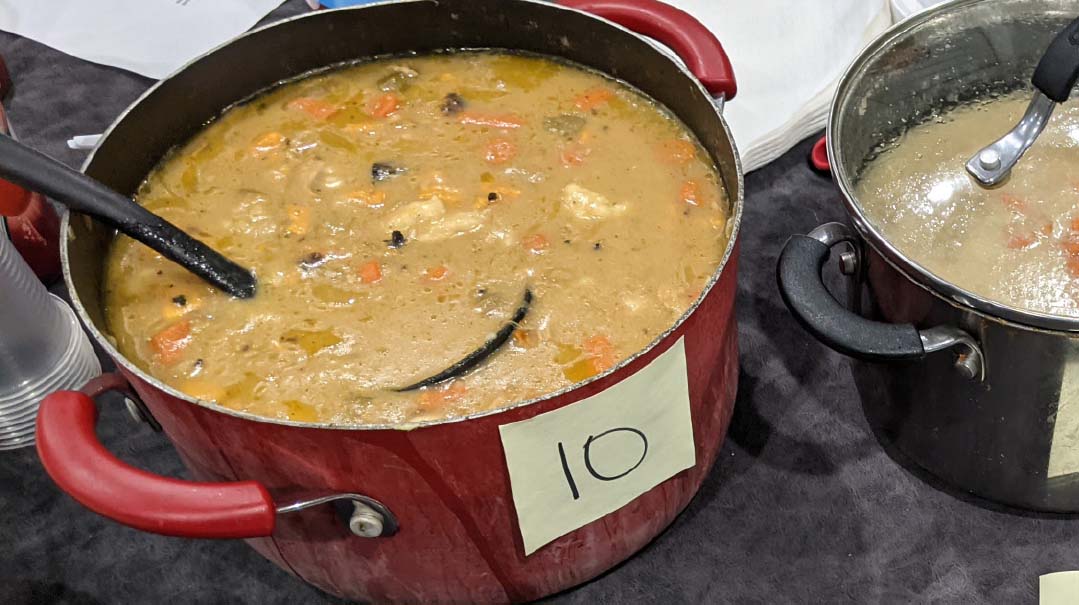 Everyone has the best chicken soup recipe… or so they say. What happens when we take a classic and make an even homier version? Cream of chicken soup provides the perfect comfort food in the way of flavor and texture. These home cooks battled it out, and here are their winning recipes.
Creamy Chicken Soup with Knockerlach
Submitted by Chaya Davidowitz, Los Angeles, CA
I created this recipe a few years ago when I was nostalgic for my Bubby Portnoy's knockerlach. They really thicken the soup, and turn it creamy looking without using a blender!
SERVES ABOUT 20
4 large onions, sliced into half-rings
10 (flavorful) carrots, sliced
5 stalks celery, diced
2 sweet potatoes, cubed
1 celery root, diced
¾ cup flour
4 Tbsp oil
1 whole chicken, or chicken bones (or chicken thighs) + ½–1 lb (450–910 g) chicken breast
a few sprigs prechecked dill
salt, to taste
1–2 Tbsp chicken soup mix (optional)
Knockerlach
2 cups flour
4 tsp baking power
2 tsp sugar
1½ tsp salt
2 Tbsp oil
1 cup unsweetened pareve milk (can substitute with water)
parsley (optional)
Heat oil in a large soup pot. Add onions and sauté until soft. Add vegetables and sauté for 5–10 minutes to seal in the flavor. Stir in flour. Add salt to taste, followed by the chicken in a mesh bag. Fill the pot with water and add the dill. Simmer over low flame for at least 4 hours. Add chicken soup mix, if desired.
Remove the mesh bag and shred the chicken using two forks. Add it to the soup.
To make the knockerlach: Mix the ingredients together. Using the edge of a spoon, drop small pieces (the size of gnocchi) into boiling soup. They should be added as close to serving or Shabbos as possible.
Hearty Cream of Chicken Soup with Flanken
Submitted by P. Stern, Monsey, NY
I got this recipe from my cousin Yitty. Definitely a family favorite!
YIELDS 20–24 PORTIONS
3 large onions, diced
6–7 cloves garlic, minced
1–2 celery knobs (see note)
3–4 parsley roots
3–4 parsnips
3 zucchini
5–6 Yukon gold potatoes
2 bags chicken bones
6 chicken cutlets
3 strips boneless flanken (I always double the flanken)
water, to cover
salt, to taste
In a 20-quart pot, sauté onions and garlic. Add in all the remaining vegetables. Place bones, cutlets, and flanken into separate soup bags. Add water to cover, and salt to taste. Cook for at least 3 hours. (I cook it for much longer.)
Let cool and remove the soup bags. Remove 1½ cutlets from the bag and blend them with the soup. Shred the remaining cutlets and flanken and mix into the blended soup. Discard the bag with the bones.
Tip: Shred cutlets and flanken while still very warm so they shred smoothly. When I place the cutlets in the bag, I put 1½ of them directly into the soup so I don't have to separate them out later.
Note: Some find the celery knob taste too strong. You can use just one if you prefer.
All-in-One Cream of Chicken Soup
Submitted by R. L. Schwartz, Brooklyn, NY
This is the only soup requested by my family. They never get tired of it!
SERVES 10–12
oil, for sautéing
4 large onions, diced
8 frozen cubes garlic
3 large carrots, peeled and diced
1 parsley root or parsnip, peeled and diced
3 large green zucchini, peeled and diced
3–4 stalks celery, diced
water, to cover
salt, to taste
1 Tbsp chicken soup mix
1 24-oz (680-g) bag frozen cauliflower
3–4 raw chicken cutlets or bottoms
In a large soup pot, heat oil and sauté onions and garlic until cooked down and almost changing color. Add all diced vegetables to the pot and sauté another 5–10 minutes. Add water to cover, along with soup mix and salt. Cook for 1½ hours over low heat.
Place chicken in a net bag and add to the pot. Cook for another hour. Add the cauliflower during the last 15–20 minutes of cooking.
Remove chicken from pot and shred. Blend soup and adjust seasoning if needed. Add shredded chicken to soup and enjoy!
Special thank you to the women of Yates Avenue, Waterbury CT for hosting this tasting party.
(Originally featured in Family Table, Issue 767)
Oops! We could not locate your form.
>